Loving this: Votre Vu Bebe Duette 2-in-1 a Tarte D'Amande Luxe Hand cream in one side which smells sweet and delicious, and a Luxe Lips Moisturizing Lip Balm with a hint of red color on the other side. Secret: I use the hand cream on my body too especially when I'm traveling. It's very thick in texture and moisturizing and I'm sucker to the smell.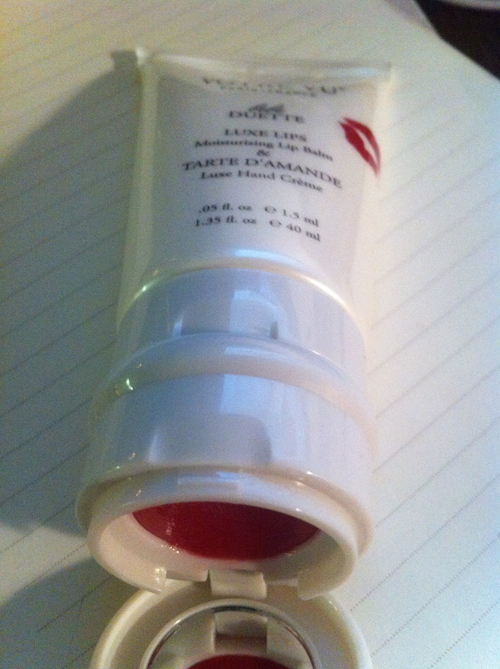 Votre Vu's Bebe Duette is a perfect combination of intensely moisturizing lip balm and decadently nourishing hand cream. With its innovative packaging, 1 part hand crème/1 part lip balm (with a handy mirror for application perfection). Luxe Lips lip balm created with coconut, sunflower and premiere pressed castor oils, shea butter and beeswax.
Available in either clear or raspberry tinted balm, the raspberry balm adds a subtle hint of color to lips, offering a juicy passion fruit flavor to your pout. The vitamin E infused anti-aging formula is worth its weight in gold! UV filters add extra protection to your luxe lips.  The Tarte D'Amande Hand Crème nourishes hands using a unique combination of sunflower, jojoba and grape seed oils, combined with aloe and wheat proteins, with added natural sun filters.
BTW. Did you know that…
Harold Zimmerman, founder and CEO of Votre Vu, is the winner of the Fashion Group International's prestigious 2011 Rising Star Award in the Category of Beauty/Fragrance Entrepreneur. Other nominees included Christopher Chong of Amouage, Francis Kurkdjian of Maison Francis Kurkdjian, and Ellen Sirot of Hand Perfection.
The 14th Annual Rising Star Awards, which recognize emerging talent in the Fashion and Design related industries, was held on Thursday, January 27, 2011 at Cipriani 42nd Street in New York City. Bobbi Brown Worldwide president Maureen Case presented Zimmerman with the award, of which he says,
"Winning this award from Fashion Group International is truly an honor; I'm proud to be recognized for what we've accomplished so far at Votre Vu. However, my plea would be for everyone to stay tuned to the Votre Vu channel because baby, you ain't seen nothing yet!"
Founded in 2007, Votre Vu is a luxury skin care company offering the finest French-made, natural products. Vu's premium formulas—created by a French, family-owned laboratory that boasts more than 80 years of research and development expertise—are botanically based with the best, freshest, and most potent ingredients used in skin care.
Votre Vu products are available at www.votrevu.com