All Posts Tagged With: "VOTRE VU"
Celebrity makeup artist Jeffrey Paul created the look for Jaimie Alexander tonight for the premiere of 'Thor: The Dark World' using Votre Vu products. They went for a feeling of soft velvet texture of the 20s and 30s, "kind of like a black and white movie that has been slightly colorized."
Jeffrey began by prepping the skin with Votre Vu's Fleur Blanc Tonic and then massaging in the Best Regard Crème Du Jour moisturizer. "The humectants bring moisture to the skin leaving it moist so makeup won't look heavy or too overdone." Then after letting it set in, he applied Love Me Deux Moisture Tint in Limoges lightly to even out her skin.
Madonna's makeup artist, Sammy H. Mourabit, used Votre Vu products to create her look for last night's premiere of the MDNA Tour documentary in NYC. He drew inspiration from Marlene Deitrich's iconic 1930's look from the movie "Morocco."
To achieve Madonna's flawless complexion, Sammy first hydrated her face with Votre Vu Attentive Crème de Jour for Sensitive Skin without forgetting the neck with Portrait Collar Restorative Neck Crème. He then dabbed Votre Vu's Love Me Deux Concealer in Champagne under her eyes and also on the darker areas of her skin, to even out her skin tone.
HOW TO GET Madonna's makeup Look
Here are my picks for the Best Makeup Skincare Hair Perfume of the week. Hope you love them as much as I do. To see what else I love make sure to follow Marta Walsh on Instagram. Good day all X
Celebrity makeup artist Nick Barose used Votre Vu products to create the look for Alicia Keys' surprise appearance at the 2013 Sundance premiere for 'The Inevitable Defeat of Mister and Pete'. "For the look of Alicia's surprise appearance at the premiere of 'The Inevitable Defeat of Mister and Pete,' we wanted to go for a very simple, fresh and modern look. Here's how-to.
I first applied the Votre Vu Love Me Deux in St. Tropez. Then I lightly dusted the peachy pink blush from the Beaute en Bronze blush/bronzer duo. This gave her a very natural, glowing flush because the blush has gorgeous light shimmer in it.
Travel & jet-setting are some of my favorite things in life. I love going places and exploring the world. I love getting out of a routine into the fun adventures of the unknown. But I only like to travel when I'm feeling fresh and pretty. These are the skincare and makeup products that are my best travel company. My routine? I get to the airport showered, well dressed and with the perfect makeup. The challenge, however, is to stay like this for hours during a tiring flight with a flight full of dry air.
How do I stay fresh and pretty when I travel? Well, Simple Cleansing Facial Wipes are a MUST for a fresh travel. I actually remove all my makeup before landing and re-apply my Simple Skincare Vital Vitamin Day Cream with SPF 15 and Simple Skincare Soothing Eye Balm. Then I use matte moisture tint SPF 15 & oil free because I hate looking shiny and oily anywhere, including on a flight. Then Jouer Cosmetic brightener in neutral is like concealer – it's easy to use and fragrance free, so it conceals redness and skin imperfections on the go. Plus, it's so small it fits perfectly in my makeup or travel bag.
Quite impressed with Votre Vu makeup. Top to Bottom (see pic): Votre Vu French Accents Eiffel Power macara (black), Votre Vu Arch De Triumphe Warm (light brown) eyebrow gel, and Votre Vu Belle Poudre in Medium face powder.
"We wanted to create a look that would mimic the softness and femininity of Carly Rae Jepsen's dress, while still remaining sexy. The colors on her dress were baby pink, teal, and gold – very feminine, but it was also very form fitting with an open back that gave it a little edge."-Celebrity makeup artist Tina Turnbow
HOW TO
I smoked my eyes today with Votre Vu Le Joli Crayon In Aubergine shade which is the perfect super dark black/purple. And purple is my color when it comes to makeup. I often like to use it instead of solid black because it's has a hint of color and it has a softer effect. It's an eye pencil but applies as smoothly like a liquid eyeliner. It doesn't pull on my skin, and I don't have to go over many times just to see it working. The icing on the cake, it comes with a pencil sharpener.
Votre Vu Le Joli Crayon In Aubergine Smudge & Set Soft Eyeliner
Priced at $23, is now available at www.votrevu.com
I always have luck with Votre Vu skincare. Their products feel good and smell good. My latest picks from the brand are Votre Vu Self Preservation Self Tanning Milk for Face, and Votre Vu Royal Treatment Gentle Pearls Scrub an organic formula of refining pearls enrobed in a soothing exfoliating emulsion.
Think of the Votre Vu Royal Treatment Gentle Pearls Scrub as an 'exfoliating water'. Apply on dry skin, massage, and rinse. It has a very liquid consistency, lighter than a serum, cream, or lotion.
Gita Bass for Votre Vu created Best Actress in a Comedy Nominee Tina Fey's classic look for the 2012 SAG Awards tonight, using Votre Vu Skincare and Makeup.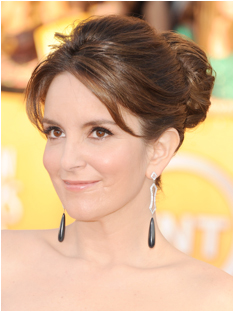 Tina Fey's makeup
"We were inspired by Tina's black strapless Versace gown. We wanted her look to be equally classic and sexy," says Gita.