All Posts Tagged With: "Madonna"
Madonna's makeup artist, Sammy H. Mourabit, used Votre Vu products to create her look for last night's premiere of the MDNA Tour documentary in NYC. He drew inspiration from Marlene Deitrich's iconic 1930's look from the movie "Morocco."
To achieve Madonna's flawless complexion, Sammy first hydrated her face with Votre Vu Attentive Crème de Jour for Sensitive Skin without forgetting the neck with Portrait Collar Restorative Neck Crème. He then dabbed Votre Vu's Love Me Deux Concealer in Champagne under her eyes and also on the darker areas of her skin, to even out her skin tone.
HOW TO GET Madonna's makeup Look
TM and Marta Walsh has got the word that Riccardo Tisci for The House of Givenchy "…designed all costumes worn by Madonna during her half time performance at the Superbowl on February 5th, 2012 in Indianapolis.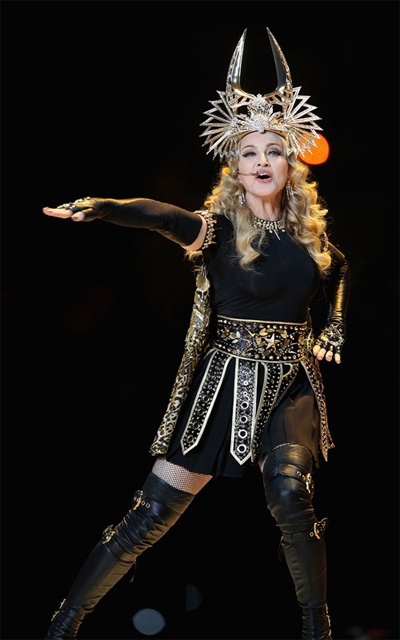 Madonna in Givenchy Haute Couture at Superbowl 2012 half time show Indianapolis, USA
After watching Midnight In Paris by Wood Allen I'm all about the 1920s golden days and of course style. Why I absolutely LOVE Madonna's dress at the premiere of the film W.E. last night, 1/23/2012, in New York City. I want it:)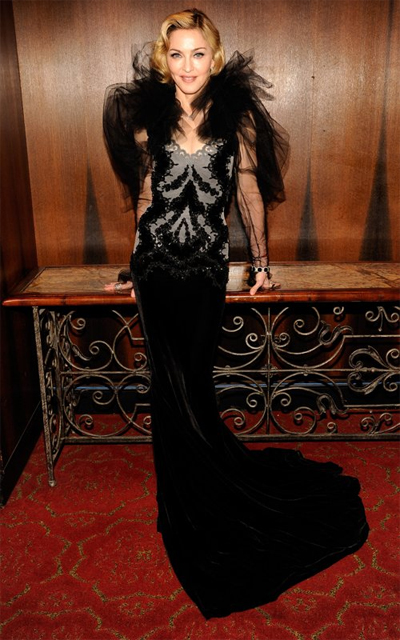 Madonna film & fashion
TM & Marta Walsh has got the confirmation that…Coty Prestige will be launching global icon Madonna's first fragrance in April 2012, called Truth or Dare by Madonna.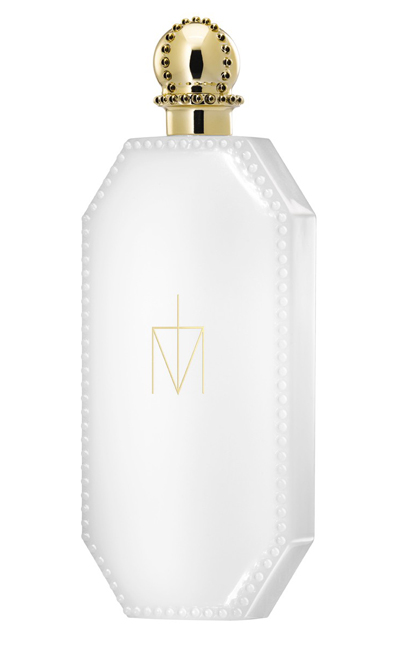 Madonna to Launch First Fragrance  Truth or Dare by Madonna
COTY INC. ANNOUNCES AGREEMENT WITH MADONNA'S MG ICON
Madonna stated to Women's Wear Daily, "I have always been obsessed by fragrance and for years wanted to create something personal that was an expression of me but that other people could relate to as well. Something honest, and yet daring, hence the name Truth or Dare."
Madonna wore a TOM FORD black silk corset dress to the 'W.E.' Premiere on September 12, 2011 in Toronto, Canada.
Hourglass Artistic Director Gina Brooke did Madonna's makeup for this evening's "Alexander McQueen: Savage Beauty" Costume Institute Gala at The Metropolitan Museum of Art. "The Met Ball is one of fashion's biggest nights out, and I wanted Madonna's look to be elegant, timeless and absolutely luminous – inspired by 1930s glamour. The focus is flawless skin and ravishing eyes—Madonna's gorgeous eyes and lashes are among her best attributes—which always resonate on the red carpet," says Gina Brooke.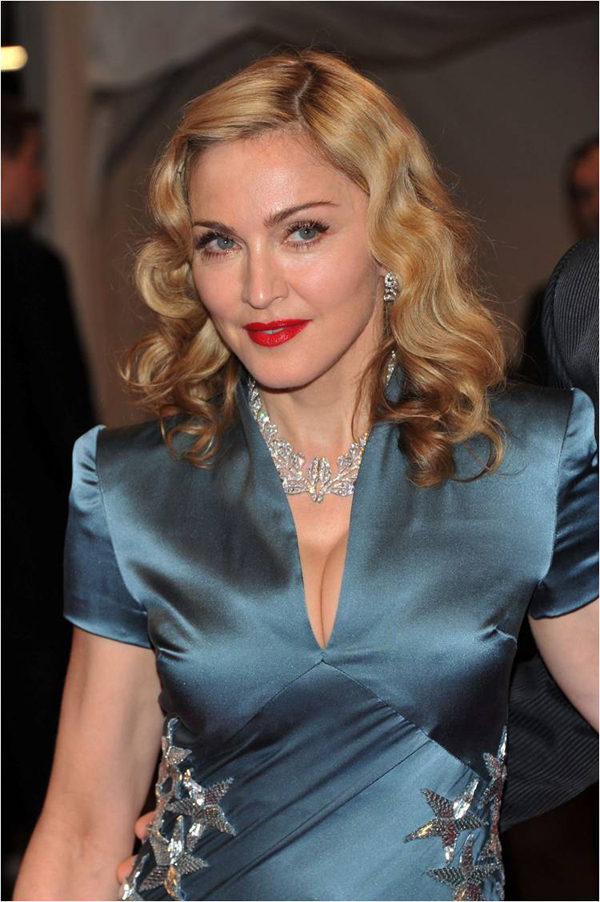 Madonna at the 2011 Met Gala in Stella McCartney dress and Cartier jewelry
How to get Madonna's makeup look:
Skin:
Prep skin first with Intraceuticals Rejuvenate Daily Serum to increase vital moisture and visibly revive the complexion. Follow with Hourglass Veil Mineral Primer, a must-have product for any event because it ensures that makeup lasts all night. It also neutralizes the skin, reduces the appearance of fine lines and pores and enables an artist to paint the perfect canvas.
Milan, November 2010. Dolce & Gabbana will represent Italian fashion, creativity and craftsmanship as a part of the second edition of the exhibition "Les années 1900-2000: Histoire Idéale de la Mode Contemporaine. Vol. 2" which will take place from November 25th 2010 to June 26th 2011 at the prestigious Parisian Musée Des Arts Decoratifs.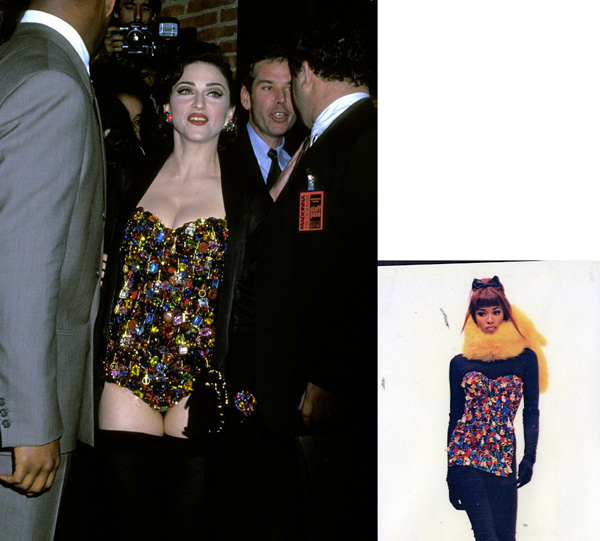 In the first case the chosen piece is a corset embellished with multi-coloured stones and charms, which became iconic when worn by Madonna at the 1991 "Truth or Dare" premiere in New York.
With the holiday season about to begin, Marta Walsh has a sneak peel on Hourglass' holiday gift set, as well as holiday looks and tips from Hourglass Artistic Director Gina Brooke who is one of the most sought-after makeup artists in the world. Gina has worked with such luminaries as Madonna, Anne Hathaway, Naomi Campbell and Gwen Stefani. The makeup artist believes in radiant looking skin without too much sparkle—even during the holiday season. "I like fresh, beautiful makeup all year round," she says. "That said the holidays are the perfect time to make a statement." Here's how to pull it off elegantly.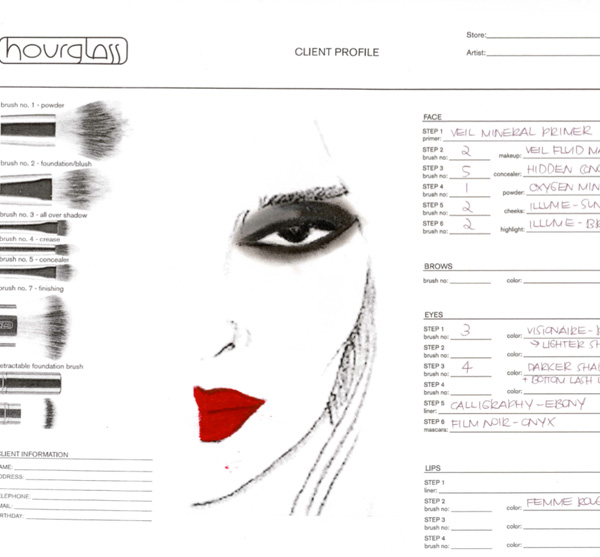 • "When it comes to chic cheeks, I have a three-dimensional approach that anyone can replicate at home.
I'm a Madonna fan and admire her incredible never ending youthful spirit and energy. However, aging catches up with the best of us and her hands are showing their true age. How to deal with aging hands? Well, one option is to wear gloves like Madonna did here in her concert. Dermatologist to the Stars, Dr. Lawrence Moy, who performs cutting-edge Anti-Aging Treatments for the Hands explains!
As women age, they lose fat in their hands. The tendons on the back of the hands are more visible. Years of sun exposure reveal themselves as brown spots and discoloration. Finally, loss of collagen results in less resilience, fine lines and wrinkles. With anti-aging products/treatments for the hands getting a lot of attention in the health/beauty industry today, Dr. Moy weighs in with his popular 3-pronged approach to successfully treat aging hands:
1. Skin Lighteners-Moy suggests a product from his own line of skin formulations featuring Kojic Acid and Salicylic Acid – both effective skin lightening agents with no side effects (Brighten Up). A sunblock must be used during the day to prevent further sun damage from occuring. Moy recommends a UVA/UVB product such as Neutrogena's Norwegian Formula Age Shield Hand Cream, SPF 30.
Madonna directs Miu Miu's Fall Winter 2010-2011 video campaign. WATCH!
Lindsey Wixson, Ginta Lapina, Daphne Groeneveld, Siri Tollerod in Miu Miu Fall Winter 2010-2011 video Campaign. Music: Generations Of Love (Dj Filix Remix) – Phunk Investigation Vs. Boy George.