TM and Marta Walsh has got the word that Riccardo Tisci for The House of Givenchy "…designed all costumes worn by Madonna during her half time performance at the Superbowl on February 5th, 2012 in Indianapolis.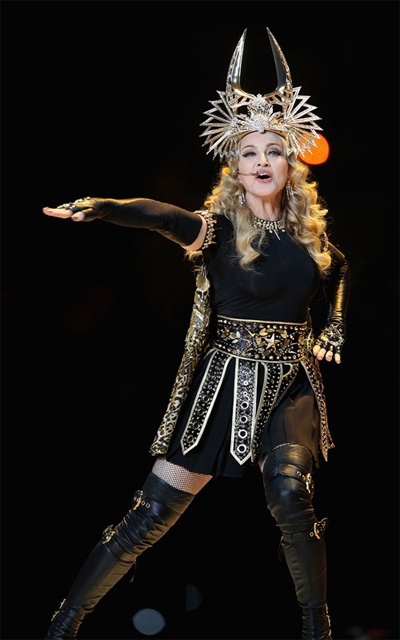 Madonna in Givenchy Haute Couture at Superbowl 2012 half time show Indianapolis, USA
Designed as part of the spectacle, all costumes were changed on stage, from an all over hand-embroidered gold cape that served as the performance's opener, to the unveiling of a black mini dress worn with its hand-studded belt and an embellished black coat that completed the three costumes set : Madonna's legendary music met Riccardo Tisci's codes in what seemed to be the most perfect way.
Channeling Riccardo Tisci's work for Givenchy in the past years, the designs for Madonna's Superbowl performance incorporate signature references such as bold leopard print, three-dimensional embellishments, graphic placements and evocative cuts. Following my collaboration with Madonna on her last tour three years ago, it is a great honor for me to be a part of yet another historical and iconic moment.
People say everything has a limit, but limits do not exist with Madonna. I am so happy that, after being busy in other scenes, she decided to go back on a music stage. Not only to bring us Music, but also to make such a statement of Performance and Fashion.-Riccardo Tisci
Wearing Givenchy Haute Couture by Riccardo Tisci, Madonna performed a 12 minutes set including some of her greatest hits ("Vogue", "Music", "Express yourself") and her brand new single ("Give me all your luvin'" featuring Nicki Minaj and M.I.A.) for the first time.
Gold cape all over hand-embroidered with gold metal cut out pieces, studs, crystals, sequins and paillettes, lined in leopard-print chiffon. Black mini dress in silk cady, worn with leopard print short cape in silk charmeuse hand-embroidered with gold metal cut out pieces, studs, crystals, sequins and paillettes and a black python hand-studded and hand-embroidered belt with its removable matching flaps. Black coat in silk cady hand-embroidered with shiny black rectangular sequins and micro pearls. Gold metal hat hand-embroidered with crystals. All worn with hand embroidered nappa leather gloves."
Via: Givenchy Couture