All Posts Tagged With: "Givenchy"
Dahlia Noir Eau de Parfum – A powerful yet fragile scent for the dynamic woman. Riccardo Tisci's first fragrance for the house of Givenchy embodies the modernity and femininity of his ideal woman. A truly couture scent. Sandalwood and patchouli lend a woody depth to the powdery base that envelopes the senses.
TM and Marta Walsh has got the word that Riccardo Tisci for The House of Givenchy "…designed all costumes worn by Madonna during her half time performance at the Superbowl on February 5th, 2012 in Indianapolis.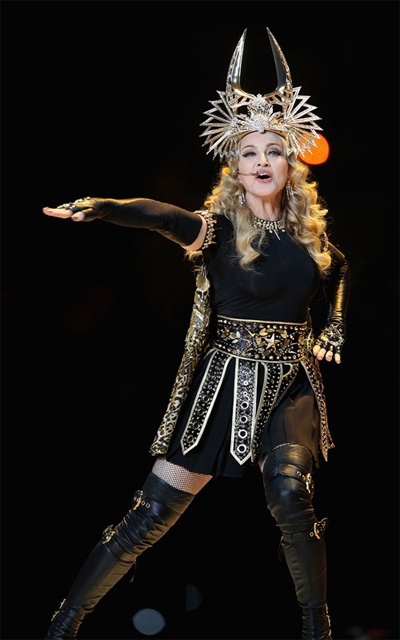 Madonna in Givenchy Haute Couture at Superbowl 2012 half time show Indianapolis, USA
Ange ou Démon Le Secret Elixir reveals the absolute secrecy of its seductive power to the one who wears it. A mysterious lucky charm, this new fragrance explores the magic of its bewitching olfactory seduction. Ange ou Démon Le Secret Elixir reveals a new facet of the same mysterious woman: Uma Thurman, the actress with a captivating presence; a charismatic woman with a distinctive beauty.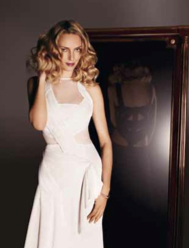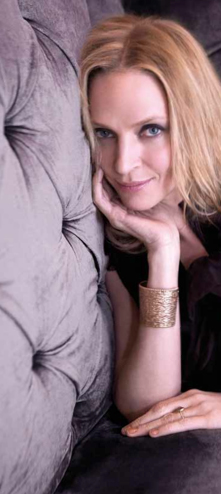 The NEW Givenchy Ange ou Démon Le Secret Elixir available: August 2011 at Macy's, Dillards, Lord & Taylor and Sephora
The Fragrance: A deeply sensual floral fragrance
Givenchy's Riccardo Tisci showed his first presentation-style couture show of ten stunning looks in Paris in July 2010, having decided intimate surroundings and fewer looks was better than a runway for viewing couture. "My style is about the little details," said Tisci. "If a dress goes by with the kind of speed of my shows, you might go, 'Oh, there's a lace dress.' You won't see why it took 1,600 hours to make." Read full article in www.coutorture.com. BTW Marta Walsh is seriously obsessed with the Givenchy Haute Couture Fall 2010 lace dress below! I will definitely wear it, now all I have to do is just find a venue:)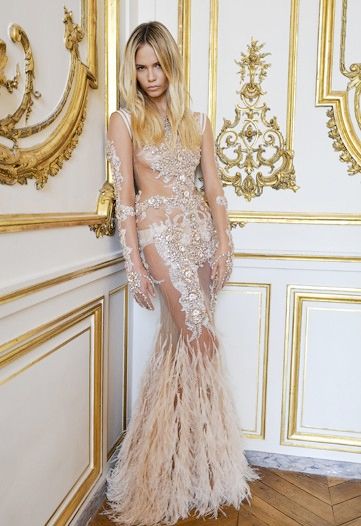 Givenchy introduced this year its newest women's fragrance Ange ou Demon Le Secret, featuring Uma Turman. Givenchy's Ange ou Demon Le Secret is a delicate radiant floral fruity perfume inspired by the "jasmine tea" theme.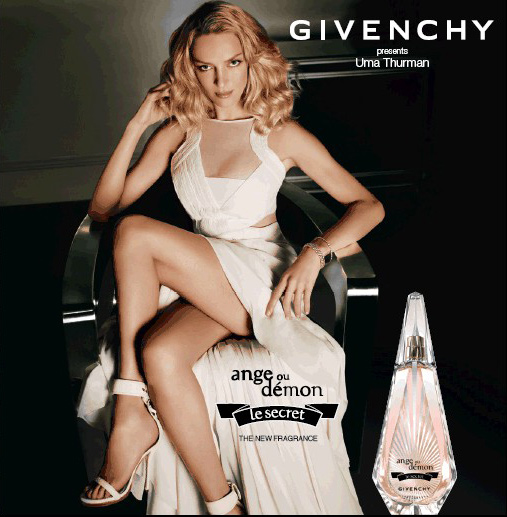 Fragrance Notes
Top: Italian Winter Lemon, Cranberry, Green Tea Leaves
Middle: Sambac Jasmine, White Peony, Water Flowers
Base: Blonde Woods, Patchouli, White Musk
Ange ou Demon Le Secret Eau de Parfum 30ML, $51; 50ML, 473; 100ML, $95
Available at Macy's, Dillards, Sephora, and GivenchyBeauty.com
With all the buzz at the Oscars 2010, Zoe Saldana's glamorous gown and looks had all eyes on her!
The hairstyle: "We wanted to to have an editorial look because she was wearing Givenchy. We also didn't want the hair and make up to compete with the dress so we created an elegant but effortless look."-TRESemmé Celebrity Stylist Mara Roszak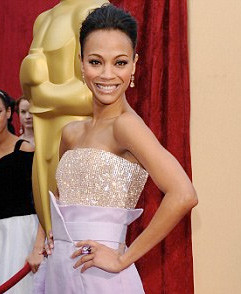 How to get Zoe Saldana's Oscars 2010 super-chic up-do:
1. Apply TRESemmé Naturals Lightweight Mousse all over damp hair and blow dry away from the face with volume, flipping head upside down when the hair is almost dry to finish.
Givenchy Holiday Makeup Collection 2009: A strand of of pearls, grey, pink, white, and with gold reflections. All these shades romantically come together in Givenchy's 2009 Holiday Collection.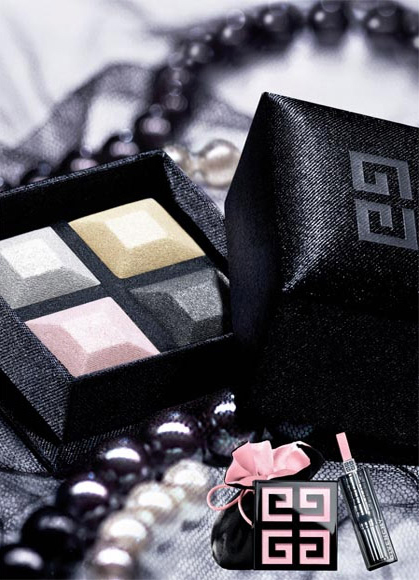 Le Prisme Interdit-4 Pearly Eyeshadows
Shade: Precious Pearls
Price: $51.50
I'm getting mixed comments on Scarlett Johansson's hairdo At The Moet & Chandon Tribute To Cinema. Some, like myself  love it, and some don't. I thought to bring to you the scoop on how to get Scarlett's hairdo, anyways, just in case you do want to try this look at home.
Celebrity hairdresser David Babaii traveled across the ocean to Tokyo, Japan to create this Red Carpet look for actress Scarlett Johannson at the Moet & Chandon "Tribute to Cinema" event on October 20, 2009.

The hair jewelry worn by Scarlett Johannson is DeBeers. Scarlett's dress was Givenchy with Dior shoes.
To create this "power look" and accentuate her fire red dress, David Babaii took Scarlett Johansson's long strawberry blonde hair and transformed her tresses into a dramatic side swept, short textured bob. After rough drying her locks with Hair Polish applied to damp hair, David loosely twirled large sections of hair and sprayed them with Bohemian Beach Spray, while finishing the drying process.
How hot is Monica Cruz? No, that's not Penelope Cruz, it's Monica, her sister. Don't they look alike? It took me few minutes to realize it wasn't Penelope. Monica is the ultimate brunette beauty. She almost makes me want to dye my hair brown again! I also love her very black smoky eye, the classic.  Any Thoughts guys?
To get Monica Cruz' black smoky eye try Magic Kajal Eye Pencil by Givenchy, $21.50. This eye pencil allows you to apply a precise line or a create a smudge or smoky eye effect.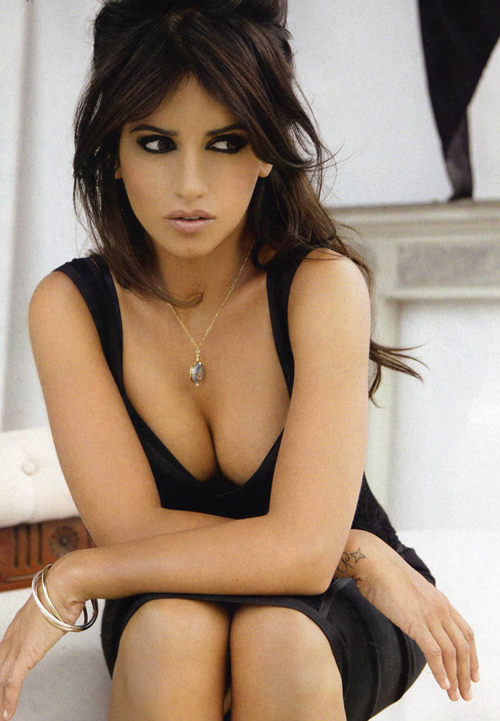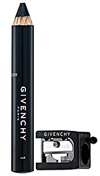 And, what do you think about Monica smoking in photo below? Maybe it's a cultural thing. It was shot for Spanish Elle, maybe smoking it's not as big a deal as in the U.S.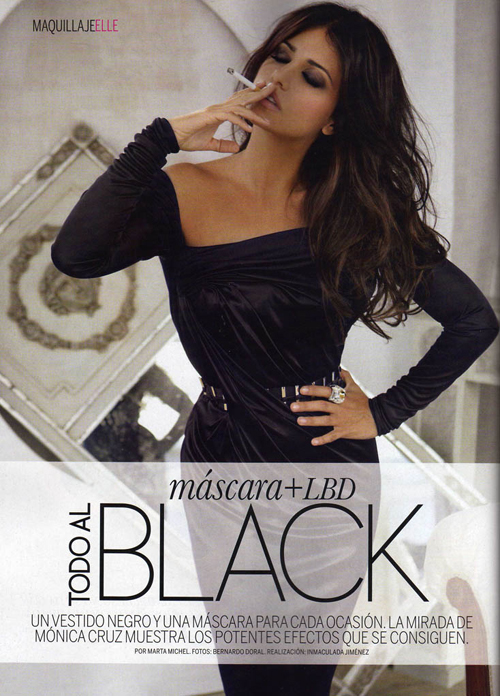 Images via: www.hollywoodtuna.com
Megan Fox is gracing the cover of Cosmopolitan Magazine October 2009. Wait, it's not October yet! Nonetheless, I don't mind the sneak peek to Megan's cover. I approve Megan's hairstyle. You can never go wrong with straight smooth hair parted in the middle. I do it all the time, lol:)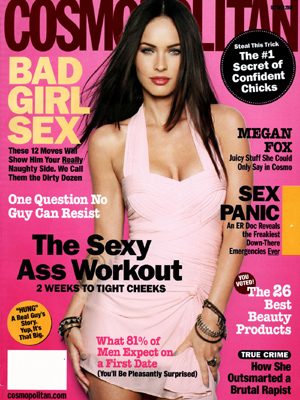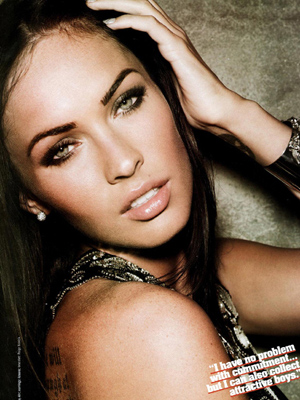 Wonder how to get Megan Fox's look on the cover of Cosmopolitan Magazine October 2009? Here are some tips! 
I detect grey nail polish. To get Megan Fox's grey nails try MAC Hello Kitty Nail Polish in On The Prowl.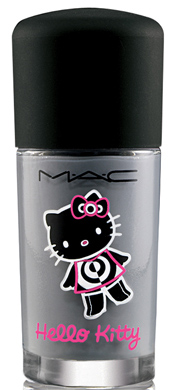 To get Megan Fox's sexy long eye lashes try ÔSCILLATION POWERBOOSTER by Lancôme: A two-in-one vibrating lash primer and conditioner that boosts the appearance of lash growth. HYPNÔSE DRAMA Instant Full Body Volume Mascara by Lancôme: The ultimate instant-volume mascara for lash drama. I use both the lash primer and mascara by Lancôme and they work amazing in getting my lashes super long, full, and Hollywood worthy.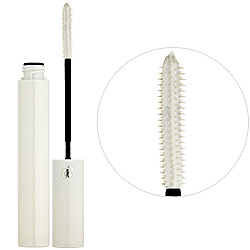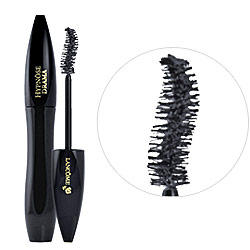 To add more drama and difintion to eyes use a black eye liner to upper lash line, and the corner of eyes try: Prescriptives NEW Longwear Kohl Liner in black hohl. Or, Givenchy Magic Kajal Eye Pencil in magic black.