All Posts Tagged With: "Penelope Cruz"
Oribe styles Penelope Cruz for British GQ. "I loved working with Penelope Cruz for her British GQ cover. The look was inspired by a voluminous '60s look," says Oribe.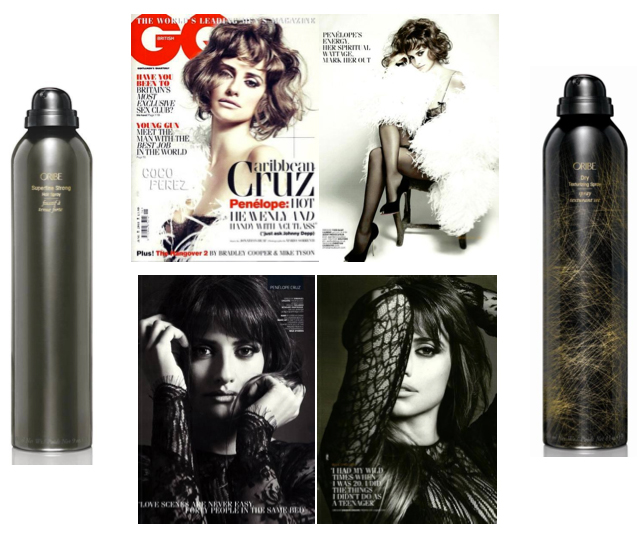 The style was partially inspired by Oribe Backstage Las Vegas, a big show I just hosted with my team at the Hard Rock Hotel. The theme there was "What's New Pussycat?" and I wanted Penelope to look like a modern-day pussycat…a sensual, seductive and confident woman who holds a sort of power over people around her.
Oribe shares with TM how to get Penelope Cruz's Stunning VOGUE Cover June 2011 hairstyle. Iconic hairstylist Oribe created care‐free beach hair to highlight Penelope Cruz's natural beauty and celebrate summer for the June 2011 cover of Vogue.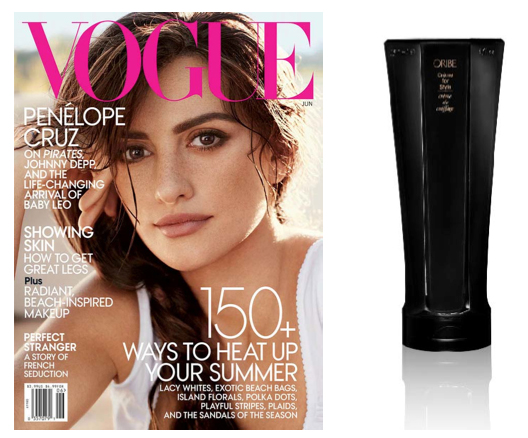 "I wanted her to have a cool, casual type of look," said Oribe. "The best part about this style is that there really are no rules – it's natural with a twist." Oribe found that his soon‐to‐be released beach spray was perfect to add separation, moisture and shine for relaxed yet elegant, simply styled locks. "It's just beautiful summer hair."
How to Get Penelope Cruz's hairdo:
Marta Walsh has the sneak peek to the images of Penelope Cruz in Vogue Magazine June 2011. Penelope is one my biggest beauty inspirations and the one I relate the most. It's not just her physical beauty it's her charming accent, wit, and the way she carries herself that makes her stand out from the rest.
"Fresh from the set of Pirates of the Caribbean, Penélope Cruz assumes her most exhilarating role ever: motherhood. In the June 2011 issue of Vogue (on newsstands nationwide May 24th) the magazine reports on the Oscar-winner's life-changing year…"-Read full article in Vogue.com
Marta Walsh has the scoop on Penélope Cruz' Lancôme look from her makeup artist Matthew Van Leeuwen as seen on the red carpet at last night's, Pirates of the Caribbean 4 premiere in Los Angeles.
Makeup Artist Matthew Van Leeuwen went the classic Hollywood route on Lancôme ambassadress Penélope Cruz. Well-defined brows framed Penélope's "strong, stretched out" eyes, which were topped with lots of lashes and eyeliner.
Penelope Cruz wore Oscar de la Renta to the 2011 Met Gala. Makeup Artist Matthew Van Leeuwen describes her look as all eyes, fresh skin and muted lips.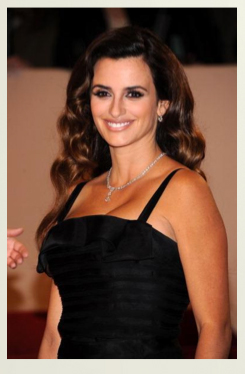 Lancôme products to get Penelope Cruz' makeup look:
Teint Miracle Foundation
Lancôme announced today that Penélope Cruz has joined the Lancôme family as an ambassadress for the legendary Trésor fragrance. Trésor, introduced in 1990, has been represented by the world's most iconic women. Stay tuned for more details in June 2010.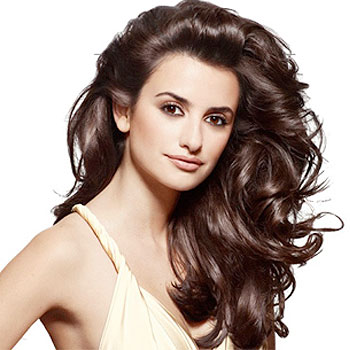 Penelope Cruz, Jennifer Lopez, and Paula Patton Oscars 2010: The Brows
The stars were shining bright on the red carpet at the Oscars last night, and it's no coincidence that the most beautiful women there all had their brows shaped by the same person: Anastasia Soare, The Definitive Brow and Eye Expert! Penelope Cruz, Jennifer Lopez, and Paula Patton all had appointments with Anastasia at Anastasia Beverly Hills in the days leading up to Oscar Sunday.
Penelope Cruz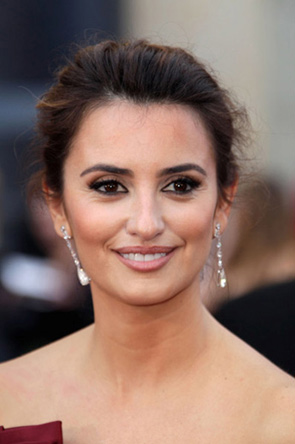 Anastasia shaped Penelope Cruz's brows in a high full arch, making her arches bold and defined. Penelope has big, beautiful eyes that can support a high arch.
Penelope Cruz Oscars 2010. The Hairstyle and Inspiration: "We chose a very easy, elegant bun because with this look, it was all about the dress," says iconic hairstylist Oribe. "All of the elements were already there, from a beautiful movie star to a beautiful dress, so we wanted to go with less is more and keep the hair simple and chic."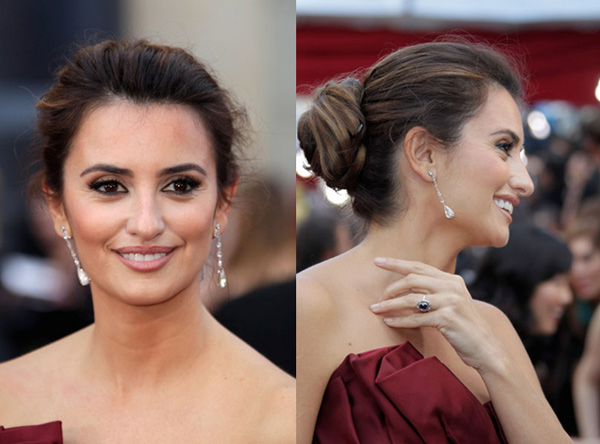 Hair Tutorial: How To Get Penelope Cruz' Oscars 2010 hairdo
1. Blow dry hair so it's dry but don't worry about making it too perfect.
I'm excited to share with you my interview with Amy Bailey who has begun to make her mark within Hollywood's demanding movie stars. Amy can be seen in the star-studded movie, "Nine" along side Nicole Kidman, Penelope Cruz, and Kate Hudson. Up next for the actress, she will be playing the Hatteress in Tim Burton's "Alice in Wonderland."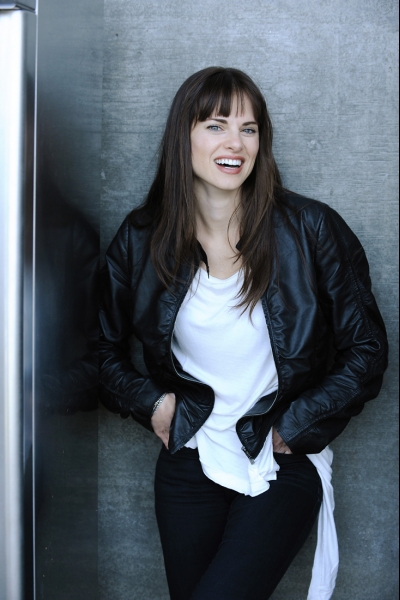 Amy Bailey
In this interview Amy Bailey tells Marta Walsh about how it all began for her in Hollywood. Her role in the film "Nine" and what was it like working with its director Rob Marshall. How one day she took Penelope Cruz and her sister to see the Royal Ballet perform. Her latest acting role in  "Alice in Wonderland", also staring in this film Johnny Depp. Future plans, and of course, style and beauty secrets!
Marta Walsh: Where did you grow up and where is home for you?
Amy Baliey: I grew up in a coastal town called Corpus Christi, in South Texas. I loved going to the beach right after school. Now I divide my time between London and L.A.
MW: How did you decide on a career in showbiz, and what were some of your first breaks?
AB: I was a professional ballerina by 17yrs old, so I guess being onstage always felt pretty natural. My parents couldn't believe that as a teenager I would skip out parties because I had ballet class the next morning. It kept me out of trouble, for the most part 🙂
GET THE LOOK: Love Fergie's brows at the 67th Golden Globe Awards? Well, the secret to Fergie's perfect brows is Beverly Hills' most sought-after brow expert, Anastasia Soare, who is a must for any A-Lister walking the red carpet. BTW-Fergie's lilac chiffon gown was by Elie Saab.
This year, Anastasia perfected the brows of Golden Globe winner Julianna Margulies, as well as nominees Penelope Cruz, Jane Adams, presenter Jennifer Garner. Other regular clients of Anastasia's who were also at the Golden Globes include Nine star Fergie and Mad Men's Elisabeth Moss.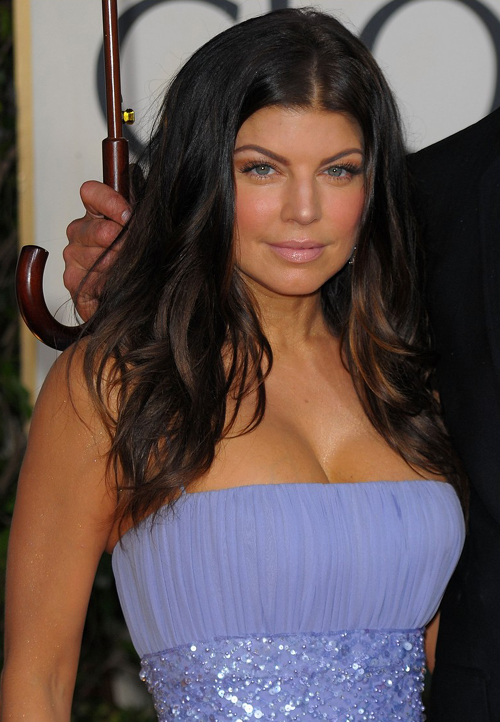 Anastasia's tips on how to get your brows red carpet ready:
How many days/weeks before a big event should you have eyebrows done? Why this period of time? 
"We never want to schedule brow shaping's for actresses the day before or the actual day of an event because there is too much running around between fittings, hair and makeup and your skin can become very sensitive to wax after a facial or with the application of makeup right after a shaping. I prefer 3-6 days before as this gives the skin enough time to be even with the skin tone of the face. When we remove hair with wax the dead skin is "exfoliated" off and can be slightly lighter in pigment for a day or two. In addition, in the event that there is any redness at all we want to be cautious and avoid this by shaping ahead."