All Posts Tagged With: "gown"
Talking Makeup & Marta Walsh has just found out that Julia Louis Dreyfus will wear a Black Silk Crepe and Tulle embroidered Narciso Rodriguez gown to the 2010 Emmy Awards tonight, August 29th, 2010 in Los Angeles, CA.
Kate Beckinsale looks gorgeous in Marchesa at the 63rd Annual Cannes International Film Festival at the "Robin Hood" premiere, May 12, 2010. Kate wears a strapless blue draped tulle Marchesa gown with ruffle skirt and embroidered detail. Do you love?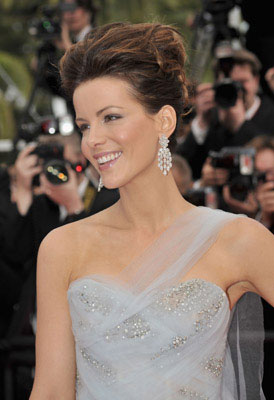 Melania Trump wears Christian Siriano to last night's Costume Institute Metropolitan Gala. Shoes: Manolo Blahnik. Purse: Rodo (from Italy). Jewelry: Harry Winston (earrings and broach).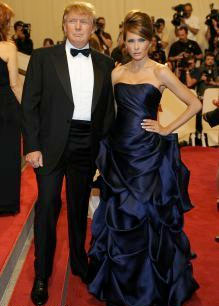 "It has been wonderful working with the young and talented designer, Christian Siriano. The dress for The Costume Institute Metropolitan Gala is a beautiful royal blue color; bold yet soft and elegant. Christian immediately knew what type of statement I wanted to make…a dress with a lot of drama…and he achieved that for me! I greatly admire his fashion creativity and I look forward to wearing many more of Christian's creations!"- Melania Trump
Joy Bryant stuns in a MARCHESA dress and carries a Marchesa clutch at the Metropolitan Museum of Art's 2010 Costume Institute Ball May 3, 2010. Joy wears a nude silk tulle hand painted draped gown and carries a beaded satin half bow draped medium box.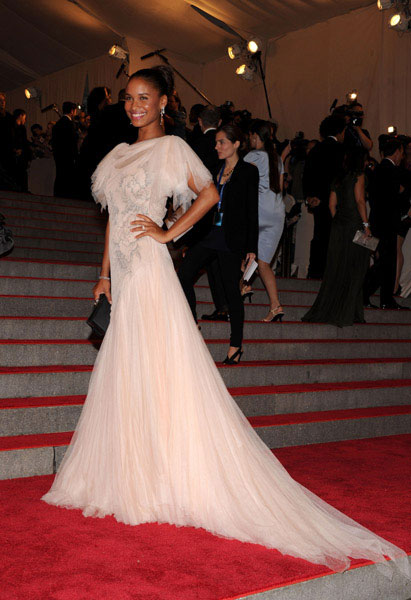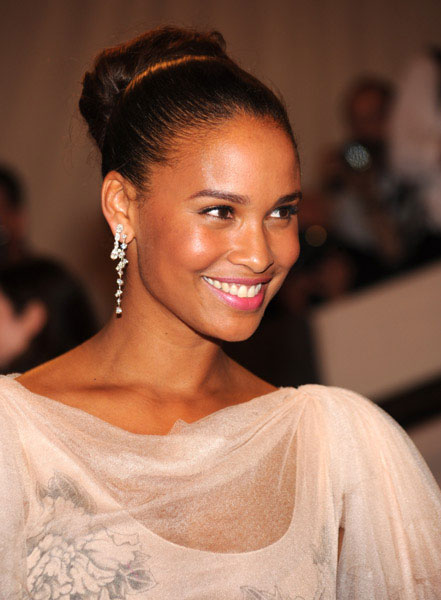 Taylor Swift wore a a wisteria chiffon embroidered draped Marchesa gown to the 45th Annual Academy of Country Music Awards (CMA), April 18, 2010. Do you love?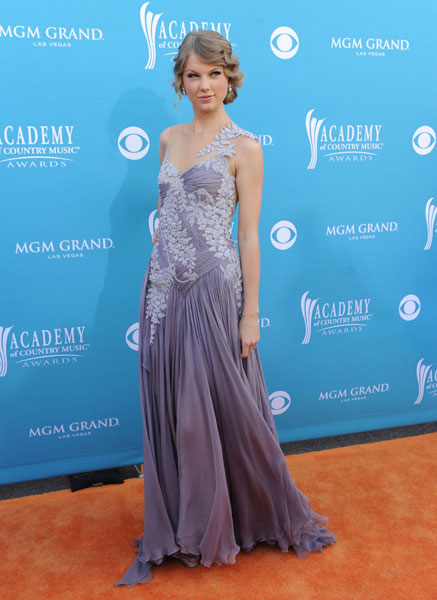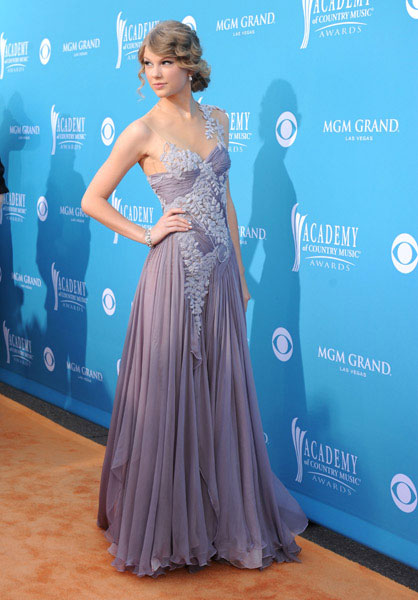 Oscars 2010 Nail Trends: Deborah Lippmann has been the authority on hot nail trends this year, so it's no surprise Meryl Streep and Kate Winslet put their hands in her hands for the Oscars this year!
Meryl Streep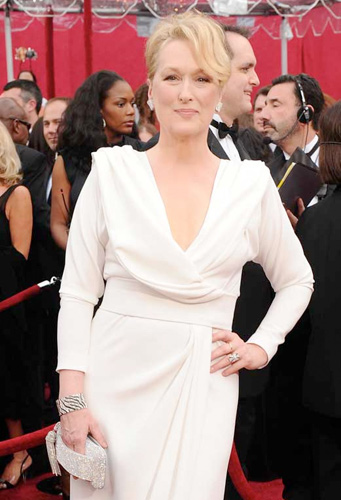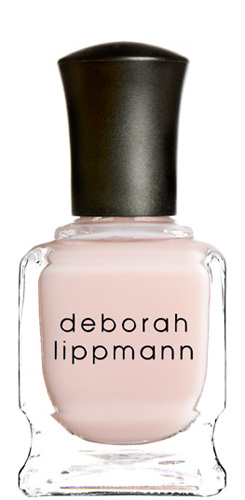 Meryl Streep accompanied her Chris March gown with a light blush from Deborah Lippmann called Tiny Dancer Sweet spot pink (sheer), $16.00.
Anna Kendrick wore a romantic blush-colored Eli Saab gown on the Oscar red carpet, complimented by an effortlessly elegant, modern updo designed by stylist Craig Gangi.
The Hairstyle and inspiration: Gangi, inspired by the graceful off-the-shoulder look, created an updo highlighting softly waved texture accenting healthy hair with natural-looking shine.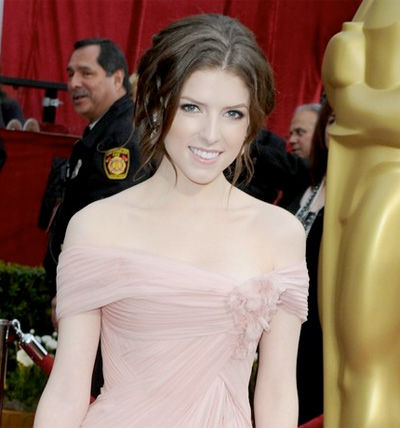 Hair Tutorial: How to get Anna Kendrick's Oscars 2010 hairstyle:
He first applied argan oil-infused Moroccanoil Hydrating Styling Cream to add moisture and give hair a soft hold that was smooth as well as frizz-free and static-free.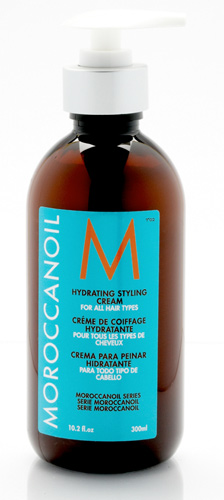 Maggie Gyllenhaal's 2010 Oscars makeup look by COVERGIRL celebrity makeup artist Molly R. Stern.
"The finished product was perfection. She looked like herself. Authentic, cool and beautiful. Being a part of Oscar day with a nominee is such an honor. It's like an actress' wedding day with Hollywood. I love being here. I feel so blessed."-Molly R. Stern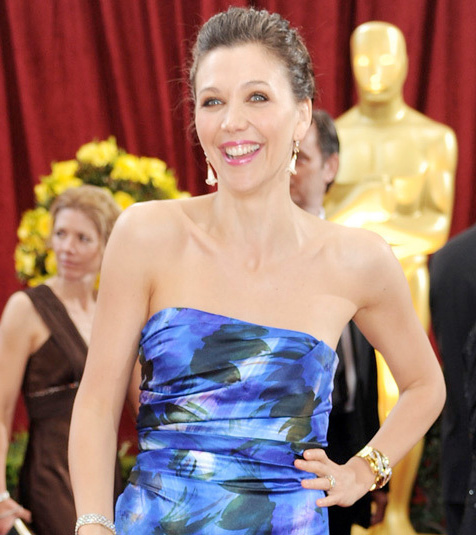 How to get Maggie Gyllenhaal's Oscars 2010 makeup look by Molly R. Stern: Maggie is the muse of spring. Her Dries Van Noten gown is a swirl of bright colors that fades into white. For her makeup I wanted to bring out the color of her eyes with some depth while keeping with the brightness of her overall style.
We started off the look by refreshing the skin with Jurlique Rose Water spray. Then I prepped the skin with Shu Uemura red:juvenus vitalizing concentrate and lightly moisturized with La Mer moisturizing lotion.
For a flawless complexion I primed Maggie's skin with COVERGIRL & Olay Simply Ageless Serum Primer (out in July 2010!!).
Lancôme abassador Kate Winslet looked resplendent at the Academy Awards yesterday, clad in an Yves Saint Laurent gown and bold jewelry from Tiffany & Co. Kate's long-time makeup artist, Jillian Dempsey, topped off the look with soft, ethereal makeup. Both the eyes and the lips got equal attention on this Oscar winner. Shimmering, champagne-pewter shades highlighted the eyes, while very saturated mascara delivered that extra definition. A pop of pink blush on her cheeks gave Kate just a hint of a natural flush. Jillian topped off the look with nude-pink lips.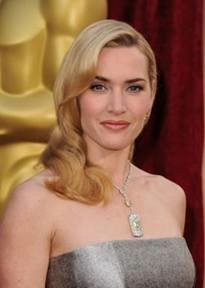 How to get Kate Winslet's Oscars 2010 makeup look:
EYES
Jillian Dempsey for Avon Professional Kohl Eyeliner in Black
Lancôme Hypnôse Drama Mascara in Excessive Black
For 2010 Oscar night, Cameron Diaz wore an elegant metallic Oscar de la Renta gown and a luminous hair look reminiscent of the Old Hollywood glamour of Veronica Lake – created with a modern point of view by stylist Lona Vigi.
How to get Cameron Diaz' Oscars 2010 hairdo: Vigi started by spraying on a volumizer, then used the high-tech Velecta Paramount Paris TGR 4000i hairdryer to create texture and shine in a unique way. The dual-function French-made dryer is built with the ability to turn an ionics switch off to build volume, and then back on to create shine and smoothness.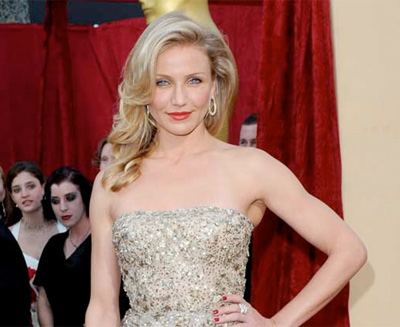 She first blow dried the hair with ionics turned off, volumizing by taking small sections of hair and using a medium round bristle brush to dry the hair back and up using high velocity and heat. Vigi then "set" the hair and gave it a boost of shine by turning on both the ionics switch and cool button to lock in curls and add a polished shine. She then freed the barrel curls and held each one in place with a pin.