All Posts Tagged With: "Oscar De La Renta"
Revlon's Global Artistic Director, Gucci Westman Created a Bright, Matte Lip for Oscar de la Renta's Spring/Summer '13 Collection at New York Fashion Week, Tuesday, September 11, 2012.
Revlon's Global Artistic Director, Gucci Westman, paired a suede-matte fuchsia lip with contoured skin and a slightly flushed cheek, to complement the hot pink and neon blue hair extensions the models wore for Oscar de la Renta's Spring/Summer 2013 collection.
Revlon's Global Artistic Director, Gucci Westman Created a Natural, Feminine Look for Oscar de la Renta's Spring '12 Collection at New York Fashion Week. Tuesday, September 13, 2011.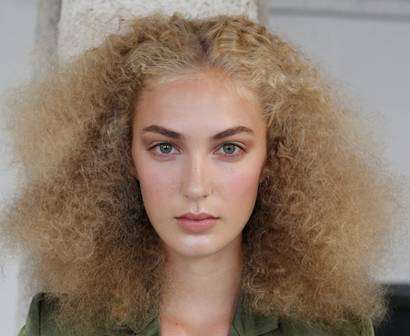 Backstage at Oscar de la Renta Spring 2012
Revlon's Global Artistic Director, Gucci Westman, paired a strong brow with a nude lip for Oscar de la Renta Spring 2012 collection, bringing forth the designer's romantic vision of an early Renaissance woman. "I was inspired by the Pre-Raphaelite painters," says Westman. "I used rich a palette of creamy, peach and nude tones to create a fresh dewy skin tone."
REVLON PRODUCTS TO GET THE LOOK:
Penelope Cruz wore Oscar de la Renta to the 2011 Met Gala. Makeup Artist Matthew Van Leeuwen describes her look as all eyes, fresh skin and muted lips.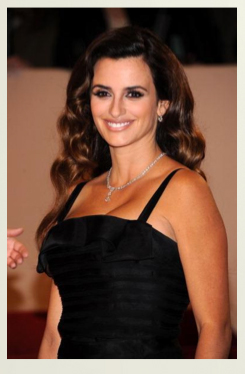 Lancôme products to get Penelope Cruz' makeup look:
Teint Miracle Foundation
New York Fashion Week SS 2011. Designer: Oscar de la Renta. Makeup by Revlon's Global Artistic Director Gucci Westman. Thursday, September 16, 2010.

Oscar de la Renta Spring/Summer 2011 Collection via: fashion.telegraph.co.uk
Revlon's Global Artistic Director, Gucci Westman uses her favorite products from Revlon backstage at Oscar de la Renta to create a look that she calls 'a modern day princess.' The Spring '11 Oscar de la Renta collection is full of feminine prints and rich color, which is signature from the designer.
"The clothes are so beautiful – classic Oscar," says Westman. "We wanted the girls to be vibrant and happy and chose to highlight the face with rich green shades on the eye. The jewel-tones just pop and compliment the entire collection. It's a great way to lighten up the traditional smoky eye for spring."
REVLON PRODUCTS USED TO GET THE LOOK:
Disney Family.com and Teri Hatcher will be launching GetHatched "A Chick's Guide to Life" on Monday, May 10th, 2010! The site will kick-off at an exclusive event in New York City. They're asking fans (you) to choose which designer dress Teri should wear on the red carpet!

L to R: white Jay Mendel dress, red Dolce & Gabbana dress, blue Oscar de la Renta dress. Click image above to enlarge.
Log onto http://www.facebook.com/GetHatched and Tweet @GetHatchedNews your favorite – either the blue Oscar de la Renta; the red Dolce & Gabbana or the white Jay Mendel.
The stars were out at the annual Met Ball at New York's Metropolitan Museum of Art, to help celebrate and raise funds for the opening of the Museum's 2010 Costume Institute Exhibit. Between thunderstorms, the weather was humid and hair stylists were challenged to create glamorous looks that were not only beautiful but also frizz-free. Hairstylist Mark Townsend created Rachel Weisz' hairdo for the ball.
The Hairstyle & Inspiration: "The theme of this year's Met Ball was "American Woman," and after seeing Rachel's Oscar de la Renta dress I knew that we should keep her hair down and sexy.
How To: Hair Tutorial
I started by adding a few drops of Moroccanoil Treatment to her hair, to condition and strengthen it while reducing drying time. This helped ensure a shiny, healthy look. Then I blow-dried her hair with a medium-sized, round brush.
Fine Hair Solutions: No doubt Cameron Diaz was one of my favorite beauties on the red carpet at Oscars 2010. I also loved Cameron's voluminous hair, Rita Hayworth Hollywood waves style, which went really well with her Oscar de la Renta dress. If you wonder how to get Cameron Diaz' full of volume hair here's the secret. This is according to hairdresser Lona Vigi who created Miss Diaz' hairstyle: "I also used (in addition to blow drying her hair using Velecta Paramount Paris TGR 4000 blow dryer) the Volumizing Catalyst from LiQWD ($28), which is the greatest product for fine hair."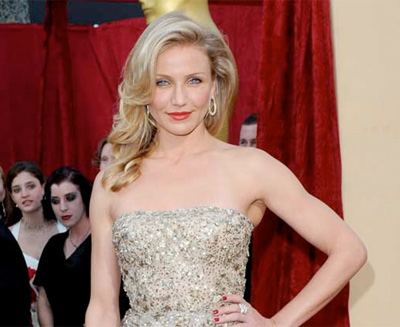 For 2010 Oscar night, Cameron Diaz wore an elegant metallic Oscar de la Renta gown and a luminous hair look reminiscent of the Old Hollywood glamour of Veronica Lake – created with a modern point of view by stylist Lona Vigi.
How to get Cameron Diaz' Oscars 2010 hairdo: Vigi started by spraying on a volumizer, then used the high-tech Velecta Paramount Paris TGR 4000i hairdryer to create texture and shine in a unique way. The dual-function French-made dryer is built with the ability to turn an ionics switch off to build volume, and then back on to create shine and smoothness.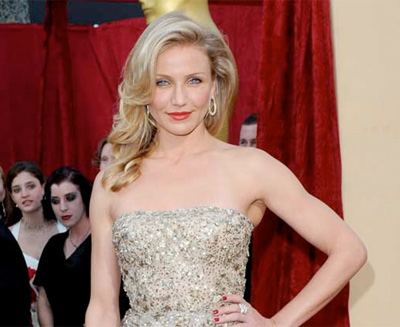 She first blow dried the hair with ionics turned off, volumizing by taking small sections of hair and using a medium round bristle brush to dry the hair back and up using high velocity and heat. Vigi then "set" the hair and gave it a boost of shine by turning on both the ionics switch and cool button to lock in curls and add a polished shine. She then freed the barrel curls and held each one in place with a pin.
GET THE LOOK: Nicole Kidman's hairstyle at the 2010 SAG Awards
Celebrity hairdresser David Babaii achieved Nicole Kidman's red carpet look by combining eras of vintage fabric textures with the perfect epoch red hair color. According to David, "Nicole Kidman always inspires me but for the 2010 SAG Awards, her beautiful skin tone and breathtaking beauty took the lead. The right style and hair color became my main objective." David fell in love with this unique period wig that had various tones of ginger.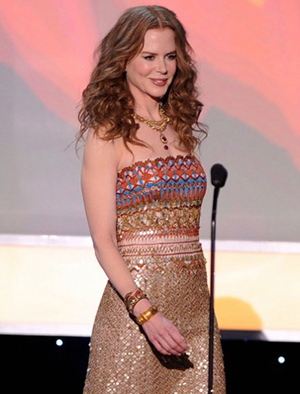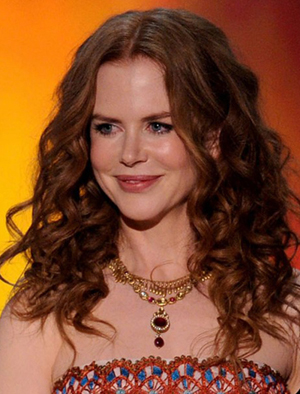 In order to achieve the perfect color match, David sought out the master talents of celebrity hair colorist Lorri Goddard-Clark. Lorri created Nicole's rich new color, while David created the perfect texture needed to enhance this natural but classic "Bohemian" look.
The Color: Lorri Goddard-Clark matched the vintage wig selected by David Babaii by utilizing a combination of deposit-only color, her signature foil-out reverse highlighting technique and a sulfate-free glaze. Nicole's hair was transformed from a medium blonde into a rich, warm Gingered Toffee Red to enhance her azure eyes and porcelain skin.
Congratulations to Lancôme's spokesmodel Arlenis Sosa who was honored at The Latin Pride National Awards last Thursday night in Boston. These awards recognize the most successful representatives of the Latino community in sports, film, music, education—and of course, fashion.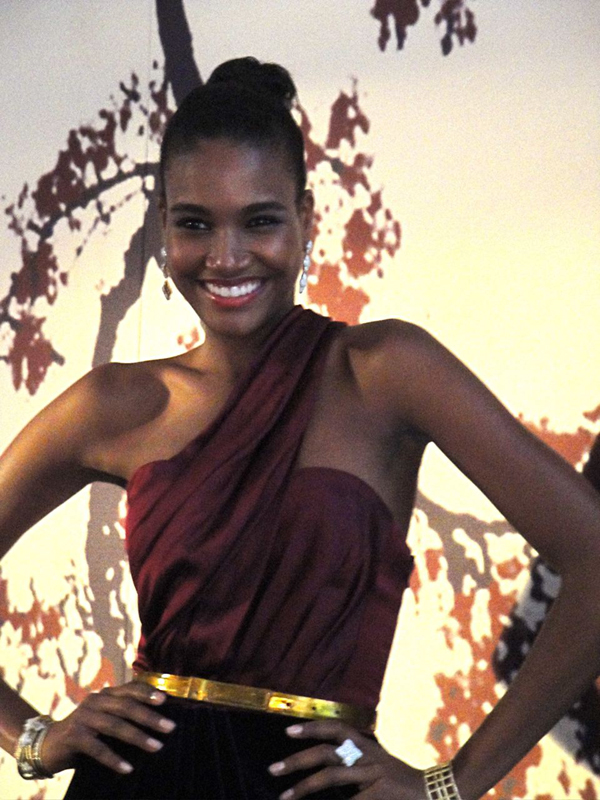 The annual celebration takes place in the middle of Hispanic Heritage Month to commemorate and celebrate the positive contributions of the Latino community to the American culture. As many of you know, Arlenis hails from the Dominican Republic and is quite proud to represent her culture whether she's in New York or on a runway in Paris.
Arlenis wore a gown by fellow Dominican Oscar de la Renta, a designer who has supported her every season that she's been a model. Arlenis told Lancôme that she was quite nervous, especially when she looked out at the audience filled with Latinos, and was overcome with pride and gratitude.
Arlenis just shot a major Lancôme makeup ad in Paris with a photographer Talking Makeup is yet to find out. We will keep you posted! She's also hard at work on a special charity project to benefit the underprivileged in her country. Stay tuned for details! Arlenis is currently in Europe taking part in the Spring 2010 collections. To see what shows she's walked in, click on the link below from Style.com.