All Posts Tagged With: "Velecta Paramount Paris"
Fine Hair Solutions: No doubt Cameron Diaz was one of my favorite beauties on the red carpet at Oscars 2010. I also loved Cameron's voluminous hair, Rita Hayworth Hollywood waves style, which went really well with her Oscar de la Renta dress. If you wonder how to get Cameron Diaz' full of volume hair here's the secret. This is according to hairdresser Lona Vigi who created Miss Diaz' hairstyle: "I also used (in addition to blow drying her hair using Velecta Paramount Paris TGR 4000 blow dryer) the Volumizing Catalyst from LiQWD ($28), which is the greatest product for fine hair."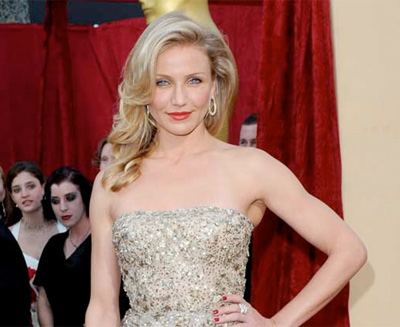 Vera Farmiga Oscars 2010: The Hairstyle
Best Supporting Actress nominee Vera Farmiga wore a swirling, ruffled Marchesa gown in a vibrant berry color that was pure red carpet. Her Oscar hair look, created by celebrity stylist Lona Vigi, was soft, romantic and very modern.
How to get Vera Farmiga's Oscars 2010 hairstyle: The design emphasized soft, wavy texture as well as volume, and used a professional Velecta Paramount Paris X:Q Onyx blow dryer ($299.95) to create its essential structure and shape. Vigi started with wet hair, sprayed on volumizer, and used the high setting of the powerful dryer to quickly dry the hair while sculpting curls using a small round brush. She then pinned each barrel curl in place to build in height, and used the cool setting to lock in the curls.
"This French-made dryer is my new favorite tool," explained Vigi. "It's really fast and powerful yet so lightweight, and quiet enough to have a conversation while I'm working. The quality is amazing! Velecta Paramount Paris dryers are made by hand from start to finish by one person, and I love that it's ergonomic and low-EMF."
For 2010 Oscar night, Cameron Diaz wore an elegant metallic Oscar de la Renta gown and a luminous hair look reminiscent of the Old Hollywood glamour of Veronica Lake – created with a modern point of view by stylist Lona Vigi.
How to get Cameron Diaz' Oscars 2010 hairdo: Vigi started by spraying on a volumizer, then used the high-tech Velecta Paramount Paris TGR 4000i hairdryer to create texture and shine in a unique way. The dual-function French-made dryer is built with the ability to turn an ionics switch off to build volume, and then back on to create shine and smoothness.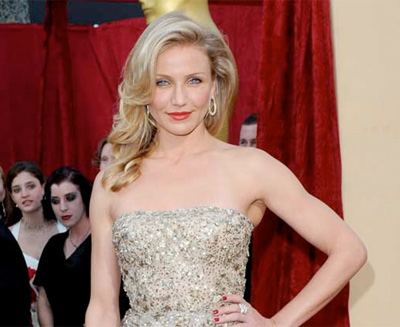 She first blow dried the hair with ionics turned off, volumizing by taking small sections of hair and using a medium round bristle brush to dry the hair back and up using high velocity and heat. Vigi then "set" the hair and gave it a boost of shine by turning on both the ionics switch and cool button to lock in curls and add a polished shine. She then freed the barrel curls and held each one in place with a pin.