All Posts Tagged With: "Vera Farmiga"
Hollywood was buzzing last night at the "Source Code" premiere! Movie-star Vera Farmiga turned to Suave Professionals Celebrity Stylist, Jenny Cho, to create a "windswept updo" for the big event.
.
Vera Farmiga At The Source Code Los Angeles Premiere
How to get Vera Farmiga's hairstyle At The Source Code Los Angeles Premiere. Follow Suave Professionals Celebrity Stylist, Jenny Cho's tips to make this look your own:
1. Spray Suave Professionals Volumizing Root Boost Spray to damp hair, to support volume on the roots, and blow dry with a medium size round brush.
NARS Cosmetics dominated the red carpet at tonight's Metropolitan Museum Costume Institute Gala with makeup artists creating a variety of looks ranging from the subtly neutral to full-on drama. One thing's for sure: the new NARS PRO-PRIME Face Prep and Eyeshadow Base were essential in combating rainy makeup meltdowns and ensuring long-lasting perfection. See below for a recap of the stars who were shining in NARS and the makeup artists who lit them.

Demi Moore at the 2010 MET Ball
Jo Strettell using NARS Cosmetics
· Products: PRO-PRIME Skin Smoothing Face Prep & Smudge Proof Eyeshadow Base, Cadacques Multiple Tint, Angelique Pure Sheer SPF Lip Treatmen
Blake Lively at the 2010 MET Ball
NARS Makeup Artist Elaine Offers
· Products: PRO-PRIME Skin Smoothing Face Prep & Smudge Proof Eyeshadow Base, Goddess Soft Touch Shadow Pencil, Beverly Hills Multiple Tint, Love Devotion Lipstick
Zoe Saldana at the 2010 MET Ball
NARS Makeup Artist Vera Steimberg
· Products: PRO-PRIME Smudge Proof Eyeshadow Base, Turks & Caicos Multiple Tint & Cadacques Multiple Tint (blended!), D. Gorgeous Eyeshadow, Aigle Noir Soft Touch Shadow Pencil, Orgasm Illuminator, Lara Pure Sheer SPF Lip Treatment
Vera Farmiga Oscars 2010: The Hairstyle
Best Supporting Actress nominee Vera Farmiga wore a swirling, ruffled Marchesa gown in a vibrant berry color that was pure red carpet. Her Oscar hair look, created by celebrity stylist Lona Vigi, was soft, romantic and very modern.
How to get Vera Farmiga's Oscars 2010 hairstyle: The design emphasized soft, wavy texture as well as volume, and used a professional Velecta Paramount Paris X:Q Onyx blow dryer ($299.95) to create its essential structure and shape. Vigi started with wet hair, sprayed on volumizer, and used the high setting of the powerful dryer to quickly dry the hair while sculpting curls using a small round brush. She then pinned each barrel curl in place to build in height, and used the cool setting to lock in the curls.
"This French-made dryer is my new favorite tool," explained Vigi. "It's really fast and powerful yet so lightweight, and quiet enough to have a conversation while I'm working. The quality is amazing! Velecta Paramount Paris dryers are made by hand from start to finish by one person, and I love that it's ergonomic and low-EMF."
Vera Farmiga looks pretty in a MARCHESA gown at the 82nd Annual Academy Awards, March 7, 2010. Vera wears a silk crepe strapless column dress with sculpted pleated cascade. Do you love?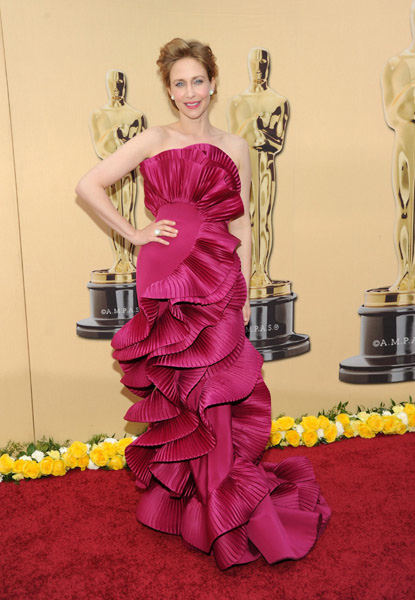 Arcona will be helping Vera Farmiga get red carpet ready for the Golden Globes – skincare wise, that is.
Golden Globes Nominee Vera Farmiga will be getting an in-room facial from Arcona's star esthetician Brandi Brown. Vera will be treated to Arcona's exclusive Facial Contouring Treatment – which includes an intensive acupressure massage that tones, lifts and tightens – leaving skin with a beautiful glow.

Other Arcona devotees to visit the studio this weekend:
· Emily Deschanel, Bones
· Joan Allen, Georgia O'Keefe
Vera Farmiga was sporting red lips at the Up in the Air LA Premier on Monday, November 30th, 2009, Westwood, Los Angeles, CA. Vera was wearing a dress by Dolce & Gabbana and her makeup look was created by Tina Turnbow, a Natural Makeup Artist.
"Vera's look was simple glamour: Her dress was ephemeral – a white, almost grecian Dolce & Gabbana, and I wanted her makeup look to shine forth her beautiful features, while keeping that simple, effortless air."-Tina Turnbow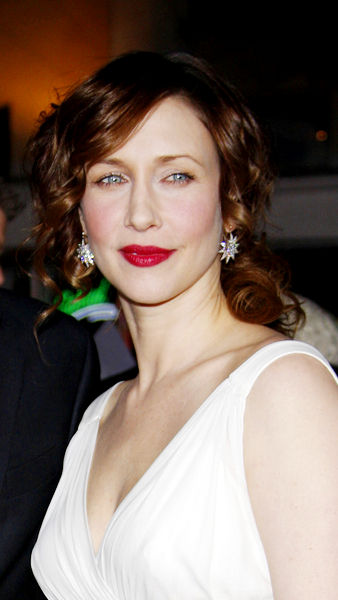 Face Products: "Vera has a beautiful, fair complexion, so I kept it simple – with a lightweight foundation and finished with a light, rosy blush.
Foundation: Almay Pure Blends Mineral Makeup in Fair – "l love that this foundation is 97.4% natural"
Blush: Revolution Organics Freedom Glow Beauty Balm in Blushed – "It's a beautiful cream stick that creates very natural-looking rosy cheeks." Mineral Fusion Blush in
Trace "a soft, baby pink to highlight cheek bones"
Powder: Tarte Provocateur SPF 8 Pressed Mineral Powder & Compact in Fair
The night before the big Orphan premiere, Vera Farmiga visited the ARCONA facial studio in Santa Monica and received their signature Facial Contouring & Enzyme Peel – her skin glowed.
Vera Farmiga's makeup look was created by celebrity makeup artist Tina Turnbow Inspired by Vera's gorgeous ivory Versace gown and her beautiful glowing skin, Tina created a soft look using gold and peach tones, with a shot of orange on her lips.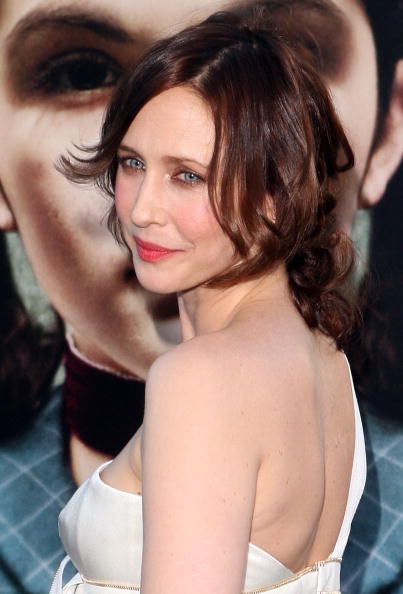 Skin: Tina prepped Vera's skin by first cleansing it with ARCONA's Triad Pads. She then spritzed ARCONA's Mineral Magic and applied ARCONA's Peptide Hydrating Complex to hydrate her skin thoroughly. "I loved using ARCONA's Mineral Magic on Vera's skin. It gave it a nice luminescent quality!" said Tina.
Foundation: Because Vera's skin had a natural glow, Tina kept the coverage to a minimum by using ARCONA's Sunsations Mineral Makeup in Ivory Seychelles.
Cheeks: Tina used Tarte Cheek Stain in Tipsy to add light peach tones to her skin.