All Posts Tagged With: "Acne & Blemish Control"
The VOTRE VU AU REVOIR Trouble Spot Treatment is perfect for that occasional "OMG I got a pimple" moments. It dries your pimple, cools it, & soothes! Bye bye annoying spots & acne! Remember to not shake the bottle. I use a Q Tip to apply directly on to the blemish or trouble spots. Yes, pimples happen to the best of us!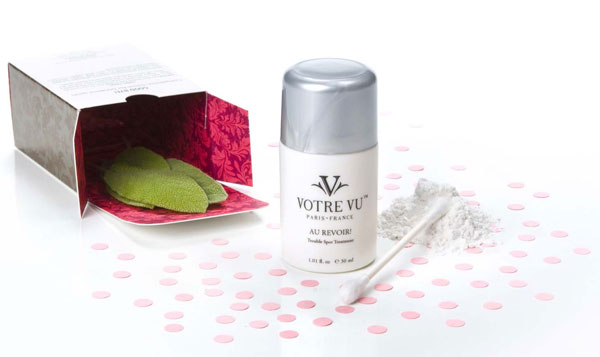 VOTRE VU AU REVOIR Trouble Spot Treatment retails for $19. Available at www.votrevu.com
Watch: Marta Walsh loving Clean & Clear Morning Burst Facial Scrub with Vitamin C & Ginseng and Clean & Clear Morning Burst with with Lemongrass and Fruit Extracts. Yes, I'm a Clean & Clear kinda girl:)
The Clean & Clear Shine Control Facial Scrub with Lemongrass & Fruit Extracts saved my after flight tired face on my recent trip to New York city. GOOD. This face scrub feels incredibly invigorating in the morning, or really anytime. The scent is very relaxing. It is gentle enough to use every day (works for me!). Although it's a scrub the exfoliating beads are not coarse, or as I call it 'aggressive'. It's a cross between a face scrub and a face wash. And you can get it at your local drug store without spending an arm and a leg.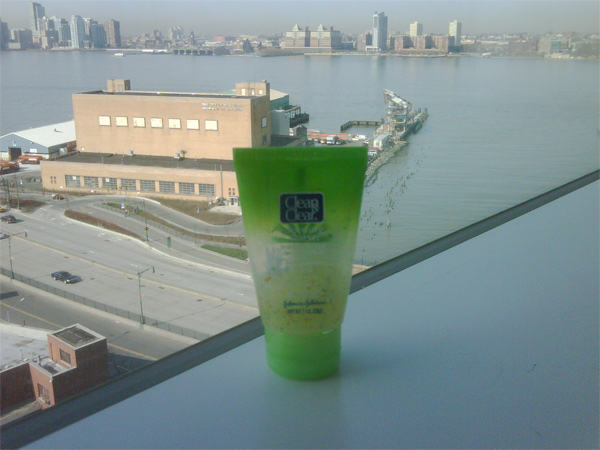 Clean & Clear Shine Control Facial Scrub with Lemongrass & Fruit Extracts looking pretty by the window at The Standard Hotel room in New York City (what a view!)
Any women have to deal with unsightly acne flare-ups throughout the year. While clogged pores may be one of the most common symptoms of this skincare concern, redness and irritation can be just as much a source of distress. Unfortunately, many over-the-counter treatments can be too harsh for your inflamed, acne-prone skin. To the rescue is NEW St. Ives Naturally Clear Green Tea, a line of skin care solutions that gently fights blemishes and reduces redness, while also containing 100% natural green tea which helps to soothe and calm skin. Formulated with Salicylic Acid and 100% natural green tea, this new two-step regimen offers an effective, yet gentle, acne solution.
St. Ives Naturally Clear Green Tea Cleanser ($5.69 for 6.75 fl oz. pump) is a refreshing cleanser that is made with 2% Salicylic Acid and 100% natural green tea, which help to clear blemishes and calm redness associated with acne.
Kairos Acne Care, a hair care line that can help treat acne? Read more.
A pioneering way to help treat and prevent acne. Throughout their twenty years of nursing, Catherine Parker and Doreen Campbell have treated countless patients who thought they had tried everything to combat their acne. From cleansing constantly to switching skincare products, many acne sufferers had given up hope until Catherine and Doreen asked a crucial question: What kind of hair products do you use? The vast majority of patients had no idea that the formulas they used on their hair could have a big impact on their skin.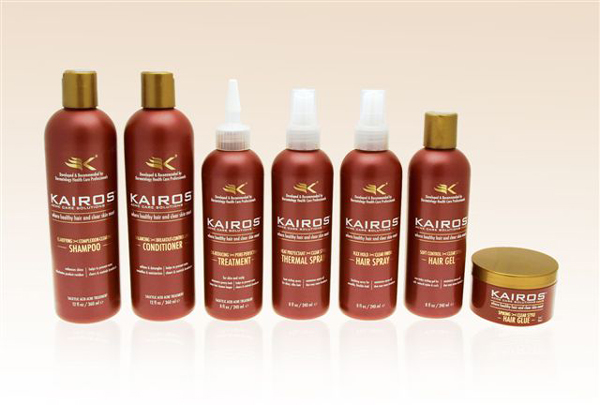 Drawing on years of experience working in an acne clinic as a Nurse Practitioner and Registered Nurse respectively, Catherine and Doreen developed the world's first hair care line designed to respond to the needs of acne sufferers: Kairos Acne Care.
Introducing Neutrogena's seasonal online shopping destination – Neutrogena Holiday.
This season's best beauty buys for family and friends:
FREE Shipping on Orders over $25
25% off When You Buy 3 or More Products
FREE Samples with Every Purchase
I'm always on the look out for great makeup removers. I like the process of removing my makeup before bed easy, clean , and very simple. This is why I love La Roche-Posay Rosaliac Gelee Micellar Make-up Removal Gel, $24.50. It literally feels like water on your face, maybe because one of its ingredients is actually La Roche-Posay's Thermal Spring Water? Skin feels fresh as soon as you apply this makeup remover on your face. It's fragrance-free, not oily, and very simple to remove or wipe off. Which means, there isn't a residue left after you apply. Do you know the feeling? Major plus!!  It felt gentle and didn't irritate my skin. OK to remove eye makeup as well. And, it's available at CVS *.

La Roche-Posay Rosaliac Gelee Micellar Make-up Removal Gel the company description: The first step in a dermatological regimen for redness-prone and reactive skin.
Watch Marta's video blog for today talking about some of her favorite drugstore beauty products!
Products mentioned in Marta's video blog:
Pantene nature fusion smooth vitality shampoo and conditioner
Pantene Blonde Highlighting Expressions shampoo and conditioner
Itch Defense Skin Balancing Moisture Lotion From Curél
Jergens Sensitive Skin Relief Fragrance Free Daily Moisturizer
Lubriderm Daily Moisture Lotion For Normal to Dry Skin Fragrance Free
St. Ives Blemish and Blackhead Control Apricot Scrub
Lierac Paris Crème Mesolift Anti-Aging Radiance Cream (Available at CVS)
Lierac Paris Diopticrème Age-Defense Cream eye cream (Available at CVS)
Glow for It. Here is how to Maintain a Clear Complexion for Fall: Expert skin care and makeup advice for bright skin year-round.
Healthy-looking skin never goes out of style; though darker makeup and matte complexions appeared on the fall 2009 runways clean, glowing faces made their mark too. With autumn in full swing, however, it's no wonder that maintaining a bright, luminous look may be proving difficult. But don't let the change in seasons get you down—there are ways to battle the cold and wind and keep your smooth skin intact.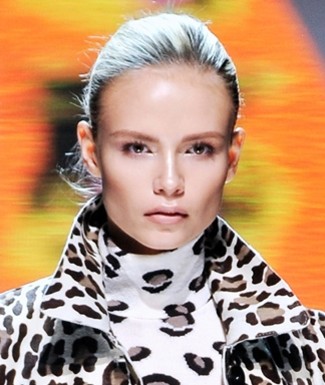 Photo: Imaxtree
Fight Back Against Flakes: Wearing a liquid foundation is a great way to achieve a dewy glow—but if you apply it over dry, flaky skin the results can be less than satisfactory. For a quick fix, Nicholas Perricone, MD, FACN recommends using a toner formulated with alpha lipoic acid and DMAE, "two excellent antioxidants that act as natural anti-inflammatories.
I love a good deep face cleanser and a face scrub in the mornings. Not sure if it's the right thing to exfoliate everyday, I'm just an amateur you know, but I can't stop. My favorite to use in the shower these days is: DDF Advanced Micro-Exfoliation Cleanser, $46. This DDF exfoliating cleanser is not greasy and leaves my skin refreshed and smooth. Perfect!
Available at www.sephora.com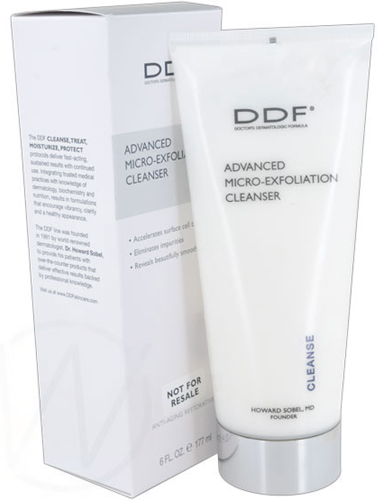 DDF Advanced Micro-Exfoliation Cleanser the description on sephora.com: A facial wash that stimulates cell turnover to impart a youthful glow. DDF Advanced Micro-Exfoliation Cleanser contains a breakthrough Turmeric Complex with exfoliating rice bran that is designed to accelerate surface-cell turnover and eliminate impurities. The complexion takes on a fresh, healthy, radiant quality as this rejuvenating must-have works its wonders.