All Posts Tagged With: "drugstore"
Attention beauties: If you are a CeraVe skincare fan there are two NEW CeraVe products, CeraVe Skin Renewing Day Cream with Broad Spectrum SPF 30 and CeraVe Skin Renewing Gel Oil, available now at: ULTA, Walgreens, RitaAid, Wegmans, and Meijer.
You don't need to break the bank to look your best. Get glowing skin at a price you'll love with the Freeman Feeling Beautiful Cucumber Facial Peel-Off Mask, $3.99. It's enriched with Cucumber extract, Chamomile and Vitamin A to clarify, moisturize and renew skin. Say bye-bye to built up dirt and pores by applying a generous amount to face and neck, avoiding eye area, and leave on skin for 10 minutes. Rinse well with warm water for a cleaner, hydrated new you! The Splurge: Peter Thomas Roth Cucumber Gel Masque, $45!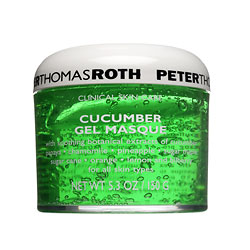 Freeman products are available at mass merchandise stores nationwide and by visiting www.freemanbeauty.com .
Holiday parties are just around the corner and after a year of pinching pennies, we all deserve to kick back and enjoy, while looking absolutely fabulous! So maybe you have to skip that new dress – no problem! You can get a stunning new look simply by heading to your nearest drugstore. Here are some tips on how to hit those holiday parties looking (and feeling) like a million bucks by spending only a few:
Beauty is really skin deep
Want to look younger? Brighter? Beautiful? Don't we all… And now we can! RoC's new Multi-Correxion Skin Perfecting System is clinically shown to transform skin in just two weeks! The three-step system has all you need for you daily skin routine and works to combat multiple signs of aging so you get transformational results.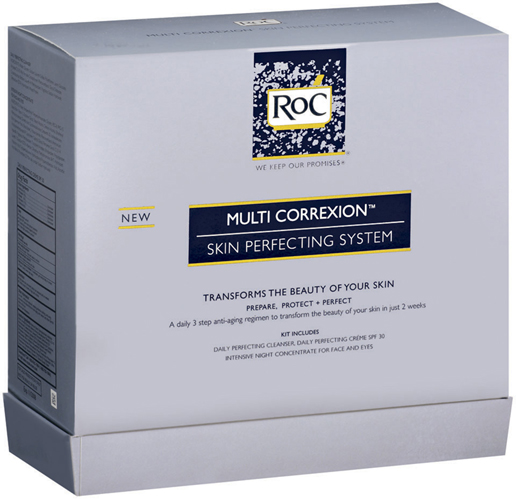 Looking for stocking stuffer or last-minute gift? Have you thought about a vintage inspired gift that can be found in the aisle of any local drugstore?
For a limited time this holiday season, Yardley of London is offering a Limited Edition Gift set in two time-tested fragrances: Oatmeal & Almond and English Lavender.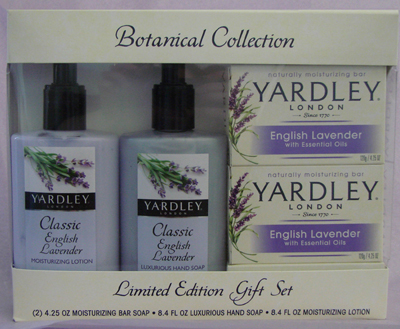 Yardley of London's Botanical Soap Collection Limited Edition Gift Set – $9.99 – Includes two moisturizing bar soaps, one luxurious hand soap and one moisturizing lotion. Available exclusively at Walgreens Drugstores nationwide.
Does this scenario sound familiar: You are standing in front of a huge skincare isle or shelf in your local drugstore and you just can't decide which moisturizer to buy. Well, my decision is easy these days: I'm in LOVE with Olay PROx Intensive Wrinkle Protocol. The creams are super hydrating, silky to touch, and never heavy or greasy. No strong fragrance, which is a big plus. Honestly, this is my favorite Olay moisturizer line, alot of it to do with the fact that not only it works amazing on my skin, there is no strong perfume smell. You know me, I'm not so keen on perfume in my skincare.
The Olay PROx Intensive Wrinkle Protocol kit includes: age repair lotion with SPF 30. wrinkle smoothing cream. deep wrinkle treatment.
Pamela Anderson was out for her big perfume launch party at the W Hotel in Ft Lauderdale, Florida last week. The "Baywatch" babe donned a sexy little ensemble as she posed for pictures with her Malibu Blue and Malibu Pink scents via International Beauty Brands, "Both fragrances are fresh, chic and luxurious — and totally inspired by the Malibu surf lifestyle that I love. They are all-natural and embody my free spirit and passionate, 'get in trouble' side. Plus, the line is so affordable!"
As for the pricing model, the blonde beauty tells, "I am a drugstore whore. I worship drug stores. You have to pull me out of them. My dream is for every woman to be able to go to her favorite drug store and buy an affordable fragrance which will make her feel sexy."
via: celebrity-gossip.net
Watch Marta's video blog for today talking about some of her favorite drugstore beauty products!
Products mentioned in Marta's video blog:
Pantene nature fusion smooth vitality shampoo and conditioner
Pantene Blonde Highlighting Expressions shampoo and conditioner
Itch Defense Skin Balancing Moisture Lotion From Curél
Jergens Sensitive Skin Relief Fragrance Free Daily Moisturizer
Lubriderm Daily Moisture Lotion For Normal to Dry Skin Fragrance Free
St. Ives Blemish and Blackhead Control Apricot Scrub
Lierac Paris Crème Mesolift Anti-Aging Radiance Cream (Available at CVS)
Lierac Paris Diopticrème Age-Defense Cream eye cream (Available at CVS)