All Posts Tagged With: "Curel"
I sometimes like to stick to the good beauty basics such as Curel Itch Defense fragrance-free lotion. Also Dove deodorants and their latest cleartone line. They smell really good.
The Kardashian family is unstoppable. TV star and celebrity mom Kris Jenner has joined forces with Curél® Skincare to create an exclusive limited edition coat for the season in honor of One Warm Coat, a charity dedicated to keeping America warm. Drawing on the fashion savvy her family is famous for, Kris collaborated with the designers at Searle to create a custom coat that's as warm and protective as it is stylish.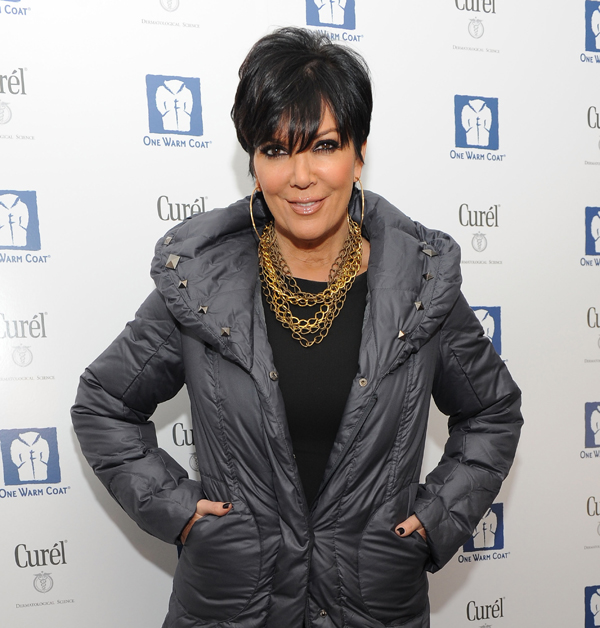 This is a Sponsored Post written by me on behalf of KAO Brands. All opinions are 100% mine. Win a tempting trip to Las Vegas for you and 3 of your friends with $1,500 in spending money!
How to enter to WIN: Simply check out the Temptation is Beautiful and  to learn more about the sweepstakes follow their instructions.
The PRIZES:
* A daily tempting beauty basket filled with KAO Brands best of beauty products, such as: John Frieda, Jergens, Curel, Biore, and Ban will be awarded everyday so be sure to get in your daily entries!
* The Grand Prize of a tempting trip to Las Vegas for you and 3 of your friends with $1,500 in spending money!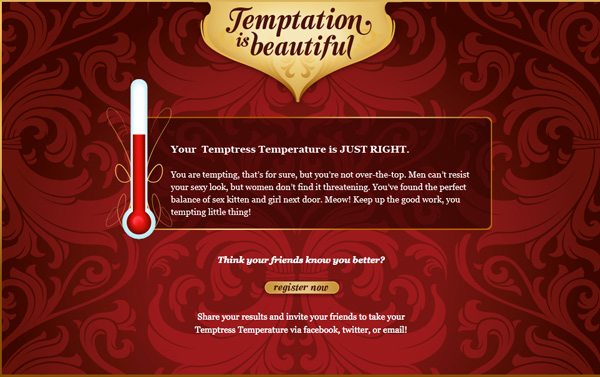 Also make sure to take your Temptress Temperature interactive quiz and Share your Temptress Temperate on Facebook, and Twitter and let your friends know if you are "hot, hot, hot" or "cool as a cucumber"! Also let Talking Makeup know your Temptress Temperature, by simply leaving your comment under this post. I took mine (image above and looks like my Temptress Temperature is Just Right:), the girl who hosted the quiz was hilarious! Remember sharing your score with your friends will get you bonus entries in to the sweepstakes!
Rules: Contest is for US Residents only. Official Rules!
The following are Marta's picks of her favorite skincare products for face and body & also perfume 2009 ! Please note that the numbers don't go in order of importance.
Hey guys, I don't look a day over 25 thanks to my top skincare products LOL (see images below).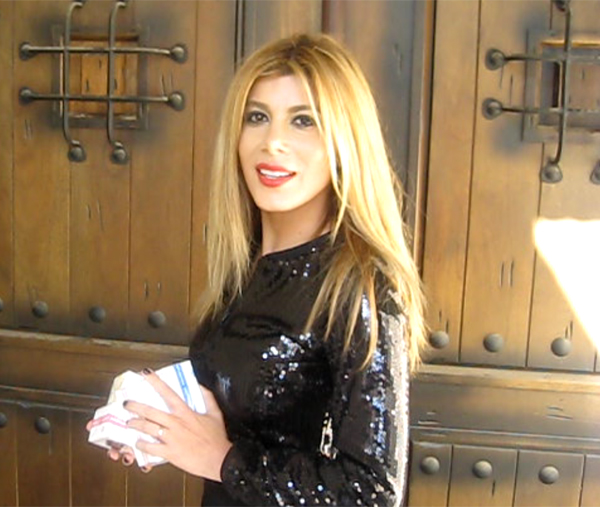 Marta Walsh Founder & Editor of Talking Makeup
Face Cleanser
1. Philosophy purity made simple one-step facial cleanser
2. CHANEL PRECISION Gel Purete: Purity + Anti Pollution Foaming Gel Cleanser
3. Liz Earle Cleanse & Polish Hot Cloth Cleanser
4. Mission Skincare Active Daily Facial Cleanser Sweet Citrus By Serena Williams5. Purpose Gentle Cleansing Wash 
5. Mario Badescu Enzyme Cleansing Gel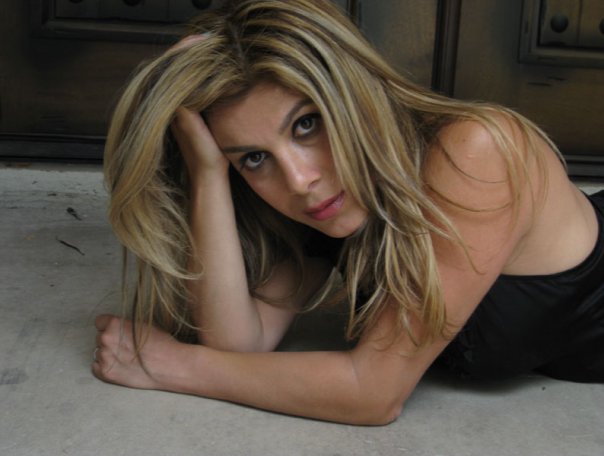 Makeup Removers & Eye Makeup Removers
1. Boscia MakeUp BreakUp Cool Cleansing Oil
2. La Roche-Posay Rosaliac Micellar Make-Up Removal gel Cleanses and Soothes Face & Eyes
3. Lumene Eye Makeup Remover Senstive Touch
4. Almay Oil-Free Eye Makeup Remover Pads
5. Talika lash conditioning cleanser oil free mascara & waterproof mascara
6. Physicians Formula Organic Wear Facial Makeup Remover Lotion
7. Pampers Sensitives Fragrance Free Baby Wipes
Foot Tools: I'm always on the look out for quick and easy tools to help my sometimes dry cracked feet. Especially in the summer time, I wear flip flops a lot living in Arizona which takes a toll on my feet. My latest great discovery is: Tweezerman Pink Travel Pedro Callus Stone, $12, (also comes is in light aqua green). Amazing! It actually works in gently filling off my dry skin on my heels. I use it on dry feet, in the shower, and on my at-home pedicure days. I also find the shape of the Pedero very comfortable to hold and to 'operate'. After exfoliating my feet I like to use body lotions by Jergens, Curel, or Lubriderm my drugstore jewels! Success:)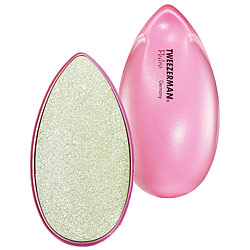 Watch Marta's video blog for today talking about some of her favorite drugstore beauty products!
Products mentioned in Marta's video blog:
Pantene nature fusion smooth vitality shampoo and conditioner
Pantene Blonde Highlighting Expressions shampoo and conditioner
Itch Defense Skin Balancing Moisture Lotion From Curél
Jergens Sensitive Skin Relief Fragrance Free Daily Moisturizer
Lubriderm Daily Moisture Lotion For Normal to Dry Skin Fragrance Free
St. Ives Blemish and Blackhead Control Apricot Scrub
Lierac Paris Crème Mesolift Anti-Aging Radiance Cream (Available at CVS)
Lierac Paris Diopticrème Age-Defense Cream eye cream (Available at CVS)
I can't rave enough about this body lotion: Itch Defense Skin Balancing Moisture Lotion for dry itchy skin from the Curél skincare experts. I've been looking for a body lotion like this that I can purchase at a local drugstore for the longest time. As you probably already know, I'm a fragrance-free body lotion fanatic. I do not like lotions that smell. I do not want it to clash with my D&G The One perfume. It hydrates my skin so well and it's perfect if you have sensitive skin or dry winter skin. Itch Defense Skin Balancing Moisture Lotion From Curél is on Marta's top list of body lotions!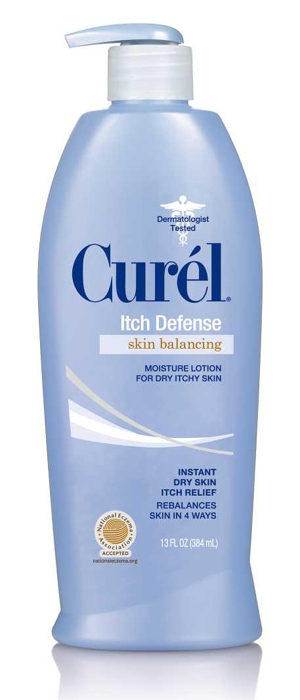 Itch Defense Skin Balancing Moisture Lotion From Curél the official comany description:
WHAT IT IS: Instant itch relief. Over one-third of women experience itchy skin all the time, regardless of season. And over 15 million people—including children—suffer from the most common type of eczema, which causes an intense itch. So why are so many people scratching? They haven't found relief—until now. Introducing Curél Itch Defense Skin Balancing Moisture Lotion for Dry Itchy Skin, a revolutionary solution to the irritation that causes itching.
Collaborating for the second time, Cynthia Nixon and Curél are proud to launch the "Share the Gift of Caring" campaign in support of the American Red Cross.
Cynthia Nixon and Curél skincare encourage you to support the American Red Cross Through the "Share the Gift of Caring" Campaign.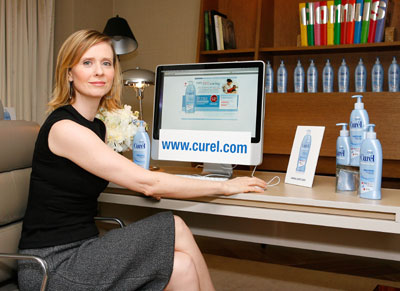 Cynthia Nixon joins Curél skincare again this year to kick off their "Share the Gift of Caring" campaign, benefiting the American Red Cross. Follow in the footsteps of Cynthia and stars like Jennie Garth, Lindsay Price, Karina Smirnoff, Stacy Keibler, Katie Cassidy, Eva La Rue and Marissa Jaret Winokur by logging on to curel.com today and dedicating a portion of Curél's donation to someone you love. Encourage them to share the gift of caring by doing the same!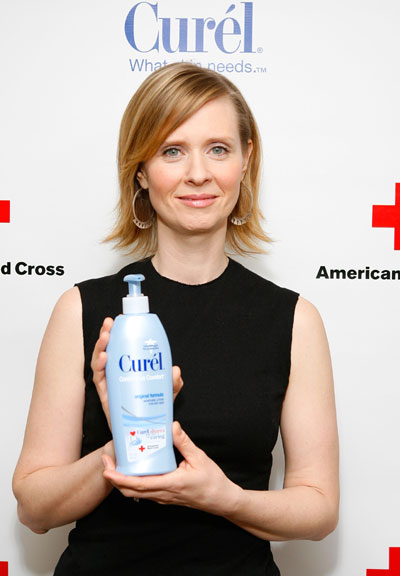 In order to help rally people across the country and share the gift of caring, Curél has made a contribution of $250,000 to the American Red Cross, and has pledged to donate $10,000 more. Through the "Share the Gift of Caring" campaign, it's easier than ever to help the American Red Cross-in fact, you can make a donation without spending a dime.
Take your first step towards spring-ready skin with Curel Continuous Comfort Fragrance Free Moisture Lotion.
"Now that winter is over, it's time to shelve those heavy creams and replace them with a lotion that works effectively, yet light on the skin," says Dr. Diane Berson, Dermatologists and Assistant attending Physician at New York Presbyterian Hospital. "A lotion like the Curel Continuous Comfort Fragrance Free Moisture Lotion is perfect because it hydrates skin and sooths irritation with it's sensitive formula."  
Curel Continuous Comfort Fragrance Free Moisture Lotion is non-greasy, absorbs quickly, and comforts dry and easily irritated skin. It contains a controlled release micro-bead delivery system, providing all day healing.
Available: At drug stores and mass market retailers for $7.49 (13 oz) and $9.99 (20 oz).
Curel Deep penetrating Foot Cream is part of Curel's new line called: Targeted Therapy.  This line also includes: Curel Targeted Therapy Fast-Absorbing hand and Cuticle Cream with soy Milk Monoi Oil and Vitamin E, $4.79. 
New Curel Deep Penetrating Foot Cream main ingredients are: shea butter, coconut milk, and vitamin E.  New Curel Deep Penetrating Foot Cream significantly improves dry cracked feet making them soft and smooth in just two nights.  Cost: $4.79.