All Posts Tagged With: "Ban"
This is a Sponsored Post written by me on behalf of KAO Brands. All opinions are 100% mine. Win a tempting trip to Las Vegas for you and 3 of your friends with $1,500 in spending money!
How to enter to WIN: Simply check out the Temptation is Beautiful and  to learn more about the sweepstakes follow their instructions.
The PRIZES:
* A daily tempting beauty basket filled with KAO Brands best of beauty products, such as: John Frieda, Jergens, Curel, Biore, and Ban will be awarded everyday so be sure to get in your daily entries!
* The Grand Prize of a tempting trip to Las Vegas for you and 3 of your friends with $1,500 in spending money!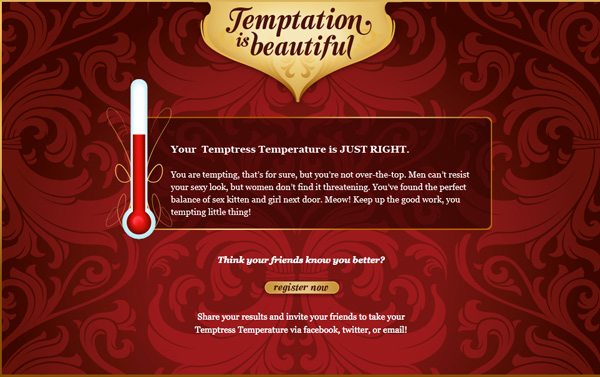 Also make sure to take your Temptress Temperature interactive quiz and Share your Temptress Temperate on Facebook, and Twitter and let your friends know if you are "hot, hot, hot" or "cool as a cucumber"! Also let Talking Makeup know your Temptress Temperature, by simply leaving your comment under this post. I took mine (image above and looks like my Temptress Temperature is Just Right:), the girl who hosted the quiz was hilarious! Remember sharing your score with your friends will get you bonus entries in to the sweepstakes!
Rules: Contest is for US Residents only. Official Rules!
The Ban brand is introducing The Island Falls Scent. Ban Invisible Solids have you covered when it comes to stress odor. Now the #1 invisible solid in stress odor protection comes in a new fresh, clean scent just in time for spring. The sheer floral scent of the new Ban Island Falls evokes a fresh island breeze, with top notes of shimmering water greens and citrus, creamy woodsy bottom notes, and a hint of powder freshness.
The backstory: The experts of the Ban brand were the first to discover and address the two distinct types of stress related odors-spicy odor and s-odor. Traditional antiperspirant/deodorant merely mask odors and reduce odor-causing sweat in general. Ban Invisible Solids, with kihada extract and silver cancrinite, use patented, breakthrough technology to specifically target and virtually eliminate (not cover up) spicy and s-odor that other antiperspirant/deodorant may leave behind.
Price: $2.99. Where to buy: Grocery and Drugstores nationwide.