All Posts Tagged With: "Jergens"
This is a Sponsored Post written by me on behalf of KAO Brands. All opinions are 100% mine. Win a tempting trip to Las Vegas for you and 3 of your friends with $1,500 in spending money!
How to enter to WIN: Simply check out the Temptation is Beautiful and  to learn more about the sweepstakes follow their instructions.
The PRIZES:
* A daily tempting beauty basket filled with KAO Brands best of beauty products, such as: John Frieda, Jergens, Curel, Biore, and Ban will be awarded everyday so be sure to get in your daily entries!
* The Grand Prize of a tempting trip to Las Vegas for you and 3 of your friends with $1,500 in spending money!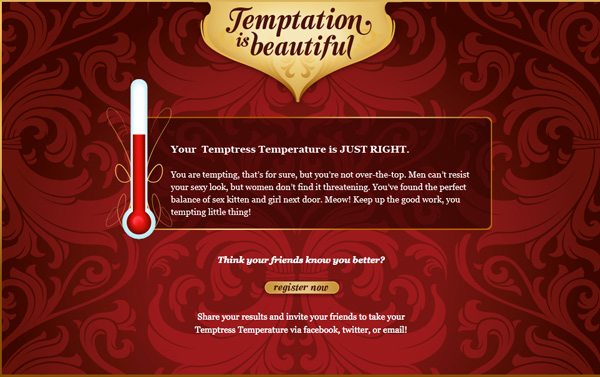 Also make sure to take your Temptress Temperature interactive quiz and Share your Temptress Temperate on Facebook, and Twitter and let your friends know if you are "hot, hot, hot" or "cool as a cucumber"! Also let Talking Makeup know your Temptress Temperature, by simply leaving your comment under this post. I took mine (image above and looks like my Temptress Temperature is Just Right:), the girl who hosted the quiz was hilarious! Remember sharing your score with your friends will get you bonus entries in to the sweepstakes!
Rules: Contest is for US Residents only. Official Rules!
Best sunless tanner: Jergens natural GLOW Daily Moisturizer. WATCH Marta Walsh talking about her favorite way to get her GLOW on:
Get "In the Glow" with Jane Krakowsi, Jergens Skincare and The Skin Cancer Foundation: Get your glow the smart way this summer. A friendly reminder about the safe way to get a natural-looking glow. Want sun-kissed color without the consequences? The experts at Jergens Skincare know you don't want to give up the glow. That's why the Jergens Skincare Experts have teamed up with The Skin Cancer Foundation and Jane Krakowski to remind you to get your glow the healthy way this season.

Jane Krakowski launches the Jergens Skincare In-The-Glow Campaign at The London Hotel in NYC on March 23, 2010
"Even though we all know the facts, it's hard to resist the lure of a tan," says Jane Krakowski. "With this video, I'm hoping to pass on that reminder to women and steer them toward a safe option like Jergens natural glow moisturizers."
The following are Marta's picks of her favorite skincare products for face and body & also perfume 2009 ! Please note that the numbers don't go in order of importance.
Hey guys, I don't look a day over 25 thanks to my top skincare products LOL (see images below).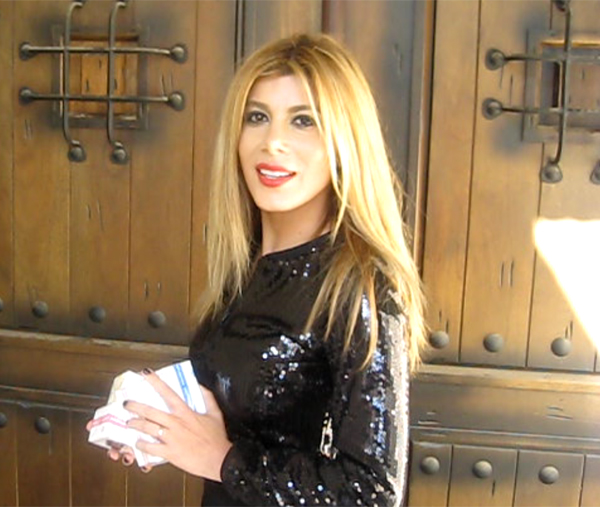 Marta Walsh Founder & Editor of Talking Makeup
Face Cleanser
1. Philosophy purity made simple one-step facial cleanser
2. CHANEL PRECISION Gel Purete: Purity + Anti Pollution Foaming Gel Cleanser
3. Liz Earle Cleanse & Polish Hot Cloth Cleanser
4. Mission Skincare Active Daily Facial Cleanser Sweet Citrus By Serena Williams5. Purpose Gentle Cleansing Wash 
5. Mario Badescu Enzyme Cleansing Gel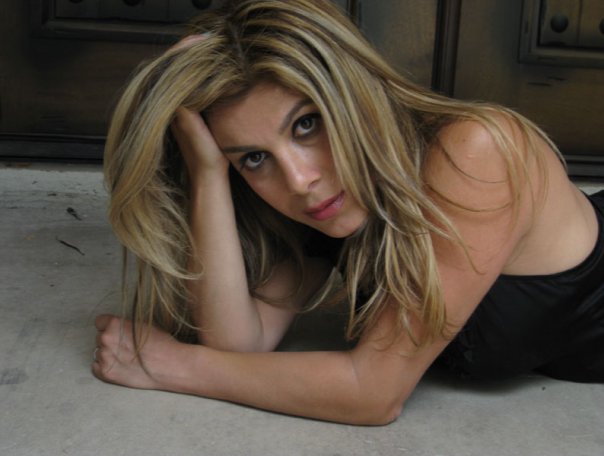 Makeup Removers & Eye Makeup Removers
1. Boscia MakeUp BreakUp Cool Cleansing Oil
2. La Roche-Posay Rosaliac Micellar Make-Up Removal gel Cleanses and Soothes Face & Eyes
3. Lumene Eye Makeup Remover Senstive Touch
4. Almay Oil-Free Eye Makeup Remover Pads
5. Talika lash conditioning cleanser oil free mascara & waterproof mascara
6. Physicians Formula Organic Wear Facial Makeup Remover Lotion
7. Pampers Sensitives Fragrance Free Baby Wipes
Jergens is looking for a Winterless Weather Forecaster. Jergens is asking you to log onto Jergens.com to enter and post your videos on how you keep your skin looking beautiful and winterless no matter what the weather. 10 finalists will be selected to have their videos posted on youtube.com. One winner could receive a $5,000 talent contract to film winterless weather forecasts for online broadcast, and a luxury trip for two to New York City for a VIP behind-the-scenes tour of the show Wake Up With Al! along with $1,000 cash. Contest ends 12/11/09.
Foot Tools: I'm always on the look out for quick and easy tools to help my sometimes dry cracked feet. Especially in the summer time, I wear flip flops a lot living in Arizona which takes a toll on my feet. My latest great discovery is: Tweezerman Pink Travel Pedro Callus Stone, $12, (also comes is in light aqua green). Amazing! It actually works in gently filling off my dry skin on my heels. I use it on dry feet, in the shower, and on my at-home pedicure days. I also find the shape of the Pedero very comfortable to hold and to 'operate'. After exfoliating my feet I like to use body lotions by Jergens, Curel, or Lubriderm my drugstore jewels! Success:)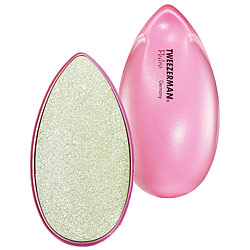 Watch Marta's video blog for today talking about some of her favorite drugstore beauty products!
Products mentioned in Marta's video blog:
Pantene nature fusion smooth vitality shampoo and conditioner
Pantene Blonde Highlighting Expressions shampoo and conditioner
Itch Defense Skin Balancing Moisture Lotion From Curél
Jergens Sensitive Skin Relief Fragrance Free Daily Moisturizer
Lubriderm Daily Moisture Lotion For Normal to Dry Skin Fragrance Free
St. Ives Blemish and Blackhead Control Apricot Scrub
Lierac Paris Crème Mesolift Anti-Aging Radiance Cream (Available at CVS)
Lierac Paris Diopticrème Age-Defense Cream eye cream (Available at CVS)
Summer is a beautiful time of the year: it's nice and hot outside, we swim in the ocean or the pool, we get great skin and beachy waves thanks to sea water, get sun-kissed, and eat delicious and succulent fruits. Sometimes summer is SO good we don't want it to go away.
Here are some beauty tip to stretch your summer just a little longer into fall…
Take a nice bath with Philosophy Raspberry Sorbet shower gel & Bubble bath to remind you of succulent summer fruits and ice cream. $16 at www.sephora.com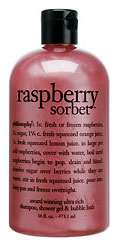 A nice sea salt body scrub such as Origins Incredible Spreadable Scrub Sea Salt Body Smoother will help satisfy your craving for sea water and ocean, $26. Available at www.beauty.com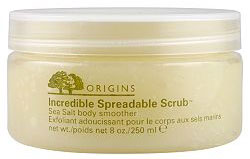 You've spent hours on the beach or by the pool. You squeezed fresh lemon on your hair in your garden. Or you've spent some decent cash on your blond highlights. Whichever way you've achieved beautiful blonde highlights, you can stretch their life with Redken Blonde Glam Shampoo & Conditioner, and Blonde Glam Color Enhancer Rich Vanilla or Perfect Platinum. Available at redken.com for salons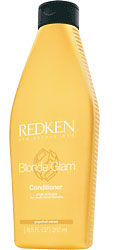 Love the look of firm, healthy, glowing skin?  No need to spend hours slaving the sun.  All you need is Jergens Natural Glow Daily Moisturizer which is a body lotion gradually develops a soft, natural glow, without streaking or orange coloration often experienced with using a self-tanner.  Jergens Natural Glow Daily Moisturizer is formulated with a unique blend of non-drying Erythrulose and DHA.  All you need is moisturise and glow!  Jergens Natural Glow Daily Moisturizer comes in three different shades to complement your unique skin tone: form light to dark skin tones.  Cost: under $10.
You might also like Jergens Natural Glow Face Daily Moisturizer which is a non greasy, light weight face moisturizer that will add glow and color to your skin.