All Posts Tagged With: "Tweezerman"
Looking for a new eye lash curler? Tweezerman Pro Curl Curler ($20) comes with a distinctive rose gold design and it is ergonomically crafted for a pinch-proof precision. Perfectly designed to fit all eye shapes.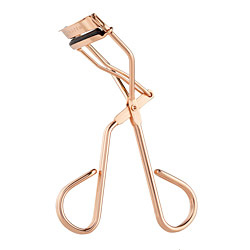 Key Benefits:
Larger opening area for ease of use
Thick, rounded silicone pad ensures an always-intense curl
Narrower top bar adapts to all types of eye shapes
Foot Tools: I'm always on the look out for quick and easy tools to help my sometimes dry cracked feet. Especially in the summer time, I wear flip flops a lot living in Arizona which takes a toll on my feet. My latest great discovery is: Tweezerman Pink Travel Pedro Callus Stone, $12, (also comes is in light aqua green). Amazing! It actually works in gently filling off my dry skin on my heels. I use it on dry feet, in the shower, and on my at-home pedicure days. I also find the shape of the Pedero very comfortable to hold and to 'operate'. After exfoliating my feet I like to use body lotions by Jergens, Curel, or Lubriderm my drugstore jewels! Success:)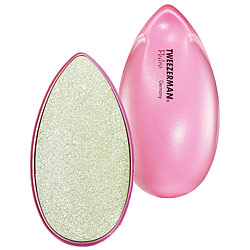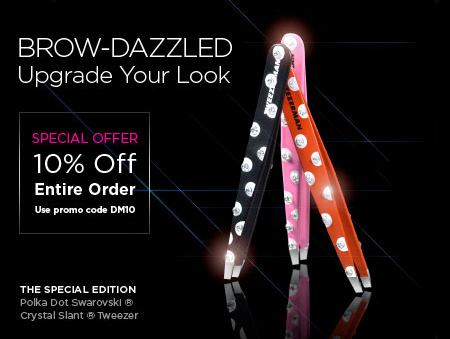 Top makeup artists recommend the award-winning Tweezerman Slant® Tweezer for expert brow shaping. The perfectly aligned, hand-filed slanted tips grab every hair, every time with exact precision. This holiday season, tweezing aficionados and novices alike will adore these festive Tweezerman stocking stuffers at a range of prices:
The Petite Tweeze® Set ($25) contains smaller versions of the Slant® and Point® Tweezers, which are ideal for grooming on the go.
The Special Edition Polka Dot Swarovski® Crystal Slant® Tweezers ($40) are adorned with delicate Swarovski crystals to add a hint of glamour to the everyday. Available in Midnight Sky, Signature Red or Neon Pink.
The new Winter Print Mini Slant® Holiday Tweezers ($15) are the perfect holiday beauty treats, are petite enough to fit in the palm of your hand and come decorated with either a snowflake or star motif in shades of red, blue or green.
Special Offer! Get 10% off your entire order at tweezerman.com. Get free shipping when you spend $40, and a free gift when you spend $75.
*Please note this blog is an affiliate of DailyMakeover.com.
The best tweezers in the world just gone wild!  Check out Tweezerman's Limited- Edition Animal Print Slant Tweezers.  Tweezerman's tweezers are a must-have, animal print or not!  Nothing compares.  Cost: $25.

Looking to shape up your eyebrows?  The best tool on the market to make your eyebrows look well groomed and beautiful is Tweezerman Stainless Steel Slant Tweezers.  These tweezers by Tweezerman work excellently to eliminate even the most stubborn stray hairs, they are professional-quality tweezers and a must have tool for all your hair-removal needs.  Use the point to tweeze smaller hairs and the broader more slanted side for general tweezing. Cost: $20.
Your best eye brow shaping is not complete with Tweezermate 10x Magnification Travel Mirror.  With Tweezermate 10x Magnification  Travel Mirror there is no need to struggle with your conventional bathroom mirror for eyebrow grooming perfection.  This magnifying mirror by Teezerman gives you a close up to your eyebrows and can also be used for makeup application at home or when you travel.  Cost: $15.