All Posts Tagged With: "beauty"
(SAN FRANCISCO, CA) FEBRUARY 2, 2018. Olivela, the next generation of philanthropic retail, expands into the beauty category with the launch of a curated selection of makeup, fragrance and nail polish from luxury brands including Acqua di Parma, By Terry, Christian Louboutin Beauté, Eve Lom, Frederic Malle, Oribe and Sisley among others.
THIS WEEK | Jamie Kern Lima, Co-Founder and CEO of IT Cosmetics, calls for change and rallies industry leaders to rethink the images of beauty they put out to the world, while being honored today by Cosmetic Executive Women (CEW) with the prestigious Achiever Award at the Hilton Midtown in New York City.
"This season's look is a modern take on sun-kissed beauty."—Mark Carrasquillo using NARS Cosmetics.
CALLING ALL BEAUTY LOVERS! CVS Pharmacy is introducing a faster way to earn its Beauty Club Rewards with limited-time updates, just in time to check out some seriously exciting fall launches from brands like Burt's Bees (available at more CVS Pharmacy stores than any other retailer), L.A. Girl and Moroccan Magic. And since you'll be earning rewards faster, make sure to check out the exciting products launching in-stores and online this month – like the NEW Burt's Bees Goodness Glows Liquid Foundation and NEW L.A. Girl Intense Stay Auto Liner – to put that extra cash towards!
For the Fall/Winter 2017 Prabal Gurung collection, Jin Soon Choi created a "half-dipped" negative space nail art, re-imagining nails that were dipped in paint. The final look is fun and playful, yet still clean and sophisticated.
Are you causing your own stress in our modern world? Local and world news is bombarding us 24/7. This makes it difficult to relax and not worry so much and avoid the stress this causes. You need to develop a way to turn this information off if you want to reduce your level of stress. Many people do not sleep well and this is almost always caused by internal tension. An agitated mind will not let you drift off into easy sleep and will wake you up long before you have slept enough.
Problems with sleeping or getting to sleep can be caused by high levels of stress. Not only is it important to get enough sleep, the quality of sleep is important to decrease the stress levels in your body. It is difficult to cope with stress unless you have some quality sleep every night. 8 hours for adults has been suggested by the sleep experts. Stress can become chronic and start taking its toll on your health when you have less than optimal hours of sleep. Many medical conditions have thought to have stress as a major contributor. Panic attacks, heart disease and stroke are some of the conditions that can be influence by stress levels
An excellent night rest is essential as part of an effective stress relief activities program. Here are five top stress relieving tips to help you do just that:
1. Reading the Right Books
Book reading should be included in any stress reduction program as a good relief from stress. Good reading should help you relax, slow your breathing and fine yourself not thinking about daily stress. Books that interest you should be a priority. I have to admit that I have started to read boring textbooks and was asleep before I the second page! Keep in mind that pent up stress can be released with reading a good book. As your mind relaxes you should be able to drift easily off to sleep.
2. Water Therapy
A hot shower or bath will help bring on sleep and assist in stress relief. This is because the hot water causes increase blood flow to the surface of the body, soothes sore muscles and joints, and promotes sleep. As you get out, your temperature gradually starts to fall and sleep usually comes naturally.
Speaking of water, why not try some Chamomile tea. It is naturally de-caffienated and besides relieving indigestion it has mild relaxant and sedative properties.
3. A Bedroom Should Be Where You Escape Stress
Take everything out of your bedroom that is not directly related to bedroom activities. If you have become used to watching television in bed, or have a computer console in your bedroom, you will be tempted to engage in these activities instead of unwinding, de-stressing and going to sleep.
Have soft lighting available for use in the bedroom. And if you can, replace central ceiling lights with more restful wall lights. When you make your bedroom more suitable to sleep, you will find that you will be able to get to sleep more naturally.
4. Sleep and Sex In The Bedroom
The bedroom should be where you sleep and not a TV or computer room. It should be tranquil and your haven from the world. By using the bedroom for sex and sleep you will maximize its stress reducing potential. Remove all stress inducing activities from it and you will find a more relaxed and stressless feeling when you go into the bedroom. With less distraction, restful sleep should come easily.
5. Aim For A Routine Bed Time
If you want to promote a more restful sleep, you have to develop a restful sleeping routine. You choose when to go to bed by determining how many hours of sleep you need to be rested. Most people need eight hours but some people thrive on six and other cannot function without ten. Yes, you may have to go to bed fifteen to thirty minutes earlier in order to fall asleep.
Stick to your bedtime and wake up time every day. Your mind and body will feel rejuvenated with good quality and restful sleep.
Also check out the best stress relief activities article for some excellent tips.
Understanding your stress is the first step to anxiety relief
We encounter stress in our lives on a daily basis. Many things cause stress and our reaction to these external stressors is the key to whether or not we feel anxiety. For example, many people find social situations particularly unnerving and this can have a lot to do with your state of mind. If you think that meeting new people can be fun and you are excited about hearing new stories and new opinions, then a visit to a friend's family gathering could be a source of positive stress. However, if the thought of spending time with new people puts you on edge and makes you self-conscious, nervous and hesitant, then this is a source of negative stress for you.
There are other regular and unavoidable external stressors that cause anxiety on a daily basis.
If you know that social situations are a source of stress and anxiety, you can manage to avoid them on occasion and therefore avoid the symptoms that affect you. Unfortunately, there are many regular daily stressors that cause anxiety and they cannot be avoided. These are things like financial burdens, an extremely heavy workload at your job, relationship complications, a medical condition affecting yourself or a loved one and even the death of a loved one. These stressors are real and cannot be avoided. The problem is the feeling of fear, worry, or nervousness that highlights this anxiety can lead to more serious medical conditions so it is extremely important to handle this stress effectively and avoid terrible consequences.
Stress prevention is the key to anxiety relief
There are many natural ways to successfully handle the day to day stressors that cause anxiety and provide yourself with some relief of the terrible symptoms. As mentioned above, knowing your stressors is the first step to handling them well enough to avoid anxiety. The first tip is to change the way you view these things in your life. It is proven that positive thought and a good outlook on life goes a long way to fight the effects of stress and anxiety. Think positively to lighten your mood and you will feel better almost immediately.
The second tip to handle stress and anxiety better is to manage your time to be more efficient. Proper time management will not only relieve you of the pressure you feel when your schedule is extremely tight, but it may provide you with additional free time to spend doing things you love – that in itself will go a long way towards relieving stress and therefore relieving anxiety. Organize your schedule and put your things to do in priority order. Evaluate your daily tasks and remove things that waste time. Instead of stopping for coffee on the way to work, make coffee at home. Not only will this small change help you save money, you will gain at least 10 minutes every morning. Other time wasters are things like looking for lost keys or trying to remember what you need to buy at the grocery store. Try setting a designated area for your keys and always putting them there. Also, keep a list by the refrigerator for groceries and add to it as things come to mind. This will help you avoid several trips to the grocery store each week, thus saving hours of time.
Thirdly, regular exercise is extremely important. Many say there is just not enough time in the day to add exercise to their regular schedule. But, after prioritizing your schedule and removing those things that waste time, you are surely to find there is plenty of time to exercise on a regular basis. Not only will exercise relieve stress and make you feel significantly better, it helps to alleviate and prevent many physical ailments. For instance, chronic fatigue can be a symptom of stress and anxiety as well as a lack of physical activity. Take a walk, park your car far away from your destination, ride your bicycle when you pick up the newspaper on Sunday morning. There are many things one can do to incorporate even a little exercise into an otherwise busy day.
The fourth tip, which is fairly intuitive, is to get enough sleep. A minimum of seven hours of sleep is imperative. Anything less can be extremely detrimental if performed on a regular basis. Be careful not to exceed nine hours of sleep each night as this can be counterproductive. It seems improbably that too much sleep would be a bad thing, but studies show that the optimum amount of sleep is between seven and nine hours each night.
And, lastly, laughter is the best medicine. Humor is a wonderful way to relieve stress and alleviate the anxiety that is so detrimental and can even be debilitating. Essentially, try not to take everything so seriously and you'll do well to find the humor in everyday circumstances.
We all have distress in our lives, and none of us is a stranger to the highs and lows, or stress and and anxiety it brings. That stress is not good for you, and it can negatively impact your health and lead to other problems.
Stress that has built up over time can cause a rapid deterioration of one's health since hormones are released in response; this can affect your metabolism, your blood pressure, and your breathing and heart rates.
Yoga can help you to overcome the effects of stress on your body. The many breathing exercises involved when you practice Yoga can help relax your body as well as your mental state. As a result, you can improve your emotional well-being. You will start seeing positive changes in your body once you begin practicing Yoga. Yoga will help to improve your health and you will also experience better relaxation.
Yoga has a powerful effect on your brain waves, and it actually slows them down to help you to de-stress. This causes a reduction in stress and calms the mind. As you focus on various Yoga exercises, you will notice a certain calmness and peace about your mind. Yoga helps to restore balance in your brain waves, which in turn lessens the amount of stress you experience.
Medical science has just begun to view Yoga as a means for improving health, although it is a very old practice. Doctors are just now realizing the powerful connection between the mind and body. Yoga can definitely help managing your stress levels, and you will see changes in your well-being gradually. It all starts with you making the commitment to learn more about Yoga and how it can help you become a better, healthier person.
NARS worked with Evan Rachel Wood at the 69th Annual Golden Globe Awards, who is nominated for Mildred Pierce. Makeup by Toby Fleischman for NARS Cosmetics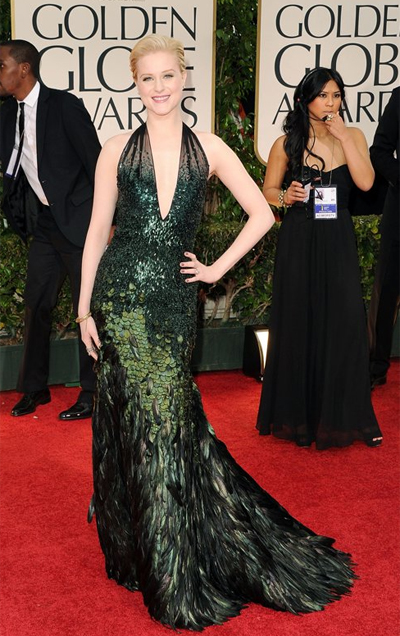 Makeup Inspiration: "Sometimes the stars just align (pun intended) and tonight with nominee Evan Rachel Wood, her look came together so organically. Of course with a Gucci Premiere gown such as hers, it was all about the dress so we wanted to keep the make up clean and soft.
Evan Rachel Wood wears NARS at the 2012 Golden Globes
Whether accessorizing your favorite party outfit or looking for the perfect gift, Stacy Keibler (aka the lucky chic who gets to be George Clooney's girlfriend) recommends picking up a chic clutch from John Frieda and Lauren Merkin; together, these trendsetters have created this season's ultimate accessories!
Stacy Keibler Beauty Secrets