All Posts Tagged With: "CVS Pharmacy"
CALLING ALL BEAUTY LOVERS! CVS Pharmacy is introducing a faster way to earn its Beauty Club Rewards with limited-time updates, just in time to check out some seriously exciting fall launches from brands like Burt's Bees (available at more CVS Pharmacy stores than any other retailer), L.A. Girl and Moroccan Magic. And since you'll be earning rewards faster, make sure to check out the exciting products launching in-stores and online this month – like the NEW Burt's Bees Goodness Glows Liquid Foundation and NEW L.A. Girl Intense Stay Auto Liner – to put that extra cash towards!
The latest launch from Beauty 360—the NEW Beauty 360 No-Light Gel Polish. Now, achieving a salon-quality, long-lasting manicure at home is easier (and more affordable) than ever!
Some exciting news from premium-quality cosmetics brand, Makeup Academy – sold exclusively at CVS Pharmacy nationwide and CVS.com. This month, Makeup Academy is adding three NEW exciting lip products to its popular line, the Intense Rescue Lip Mask and Smooth & Soothe Lip Oil – both subtly tinted and perfect for winter – along with a Matte Lip Crayon, available in four eye-catching shades. Additionally, Makeup Academy is unveiling new, on-trend shades for some classic products including the Color Intense Lipstick and Liquid Lipstick!
Must have mascara, L'Oreal Shocking Extensions & Maybelline the Rocket Volum available at CVS Pharmacy @CVSBeautyClub. Both are good but I seem to use the L'Oreal Shocking more, the brush is good, and I see results in an instant. Very long lashes that is.
I am very impressed with Covergirl Outlast Stay Brilliant Nail Gloss nail polish. If you're into that French manicure look without fussing with the the white tips then this nail polish is the one. Shade wise is the perfect white with a hint of pink, it's not sheer white pink but also not too opaque. It's glossy and long lasting. Easy breezy…Available at CVS Pharmacy.
Good anti-Aging Skincare: VICHY LIFTACTIV Serum 10. I absolutely love this serum. I apply it right after shower and after cleansing my face while my skin is still damp. It feels invigorating, refreshing, skin thirst-quenching, and a great wake up call in the morning. The serum is super light almost like water. And did you know you can buy VICHY in CVS Pharmacy! Makes life super easy.
The latest addition to the NUANCE Salma Hayek for CVS Pharmacy is their Exfoliating Body Cleansing Scrub. It's smells like coconut and warm and very hydrating. It's paraben free. A fantastic drugstore find. It feels and smells expensive, ha!
This month Salma Hayek debuted her 100-piece Nuance cosmetics line for CVS, according to  Women's Wear Daily. 100-stockkeeping-unit Nuance Salma Hayek line will bow in August 2011 exclusively in 7,000 CVS Pharmacy stores and online. I actually had the chance to visit the CVS headquarters in WOONSOCKET, Rhode Island just last week and got a sneak peek to Slama's new makeup, skincare, and hair care collection which are priced between $7.99 and $19.99. The collection was inspired by Hayek's grandmother, who was a Vichy Lab-trained cosmetologist and incorporated Native American and Mayan ingredients into her beauty treatments.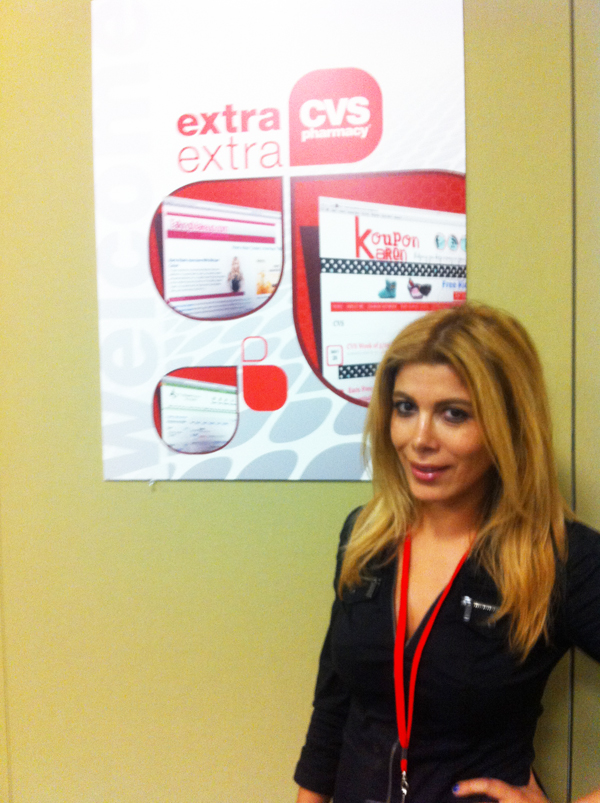 Marta Walsh standing infront of a poster about www.talkingmakeup.com which was hanging on the wall at the CVS headquarters in WOONSOCKET, Rhode Island