All Posts Tagged With: "Salma Hayek"
Top 5 Celebrities Who Look Great Over Age 45. Expert Plastic Surgeon Weighs In on Their Instagram Photos.
There are celebrities who seem to get better with age and maintain their looks while others seem to be at war with aging. From lip injections and fillers that make faces look oddly distorted; to full face lifts that lead to slanted eyes and an expression-less appearance, we can't help to notice when celebrities get it so wrong. In a sea of over-the-top plastic surgery, there are many celebrities who may have had a procedure or four, but managed to preserve the integrity of their faces. Dr. Kirk Brandow, founder and director of the Brandow Clinic for Cosmetic Surgery in Philadelphia; who has appeared on national programs such as Good Morning America and 20/20, shared his list of the top 5 celebrities who look great over age 45 and explains why.
The best part, these images are from the Instagram accounts of these gorgeous ladies so the photos are current and in many cases, unretouched. Let's begin.
In 2011 I met Salma Hayek during lunch at the Mandarin Oriental hotel New York City for the launch of her cosmetics line NUANCE for CVS Pharmacy…and I just came across this photo of me first row in the charcoal botton shirt…with Salma Hayek.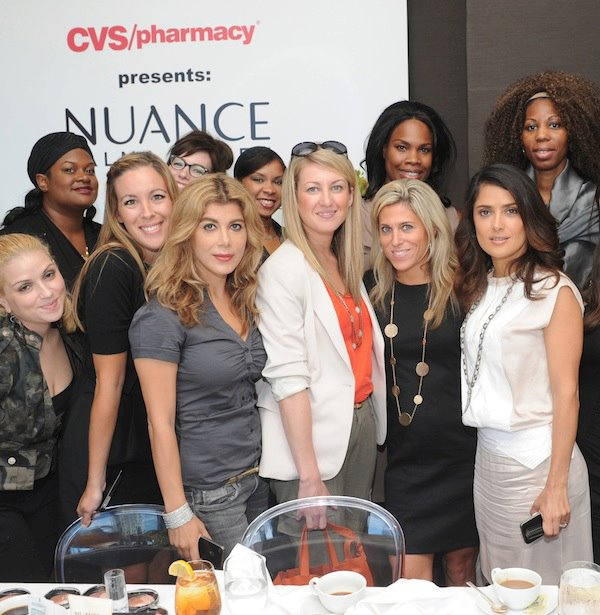 Marta Walsh Meets Salma Hayek
Last week I had an amazing opportunity to meet Salma Hayek during lunch in New York City..Read Full Story In TM.
CVS/pharmacy and actress Salma Hayek were honored today with the "Launch of the Year: Mass" Award at the 2011 Beauty Inc Awards in New York City. The award was presented by Beauty Inc, a Women's Wear Daily special-issue magazine, for the introduction of the exclusive beauty collection, Nuance Salma Hayek.
CVS/pharmacy and Salma Hayek
Last week I had an amazing opportunity to meet Salma Hayek during lunch in New York City at the Mandarin Oriental Hotel and chat all about her new superstar cosmetics line for CVS Pharmacy: Nuance Salma Hayek.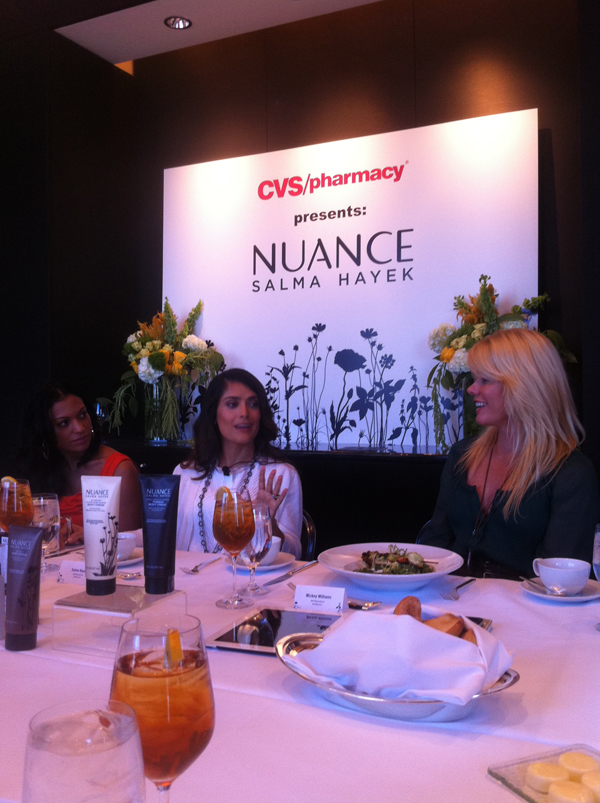 Although Salma Hayek admitted to being tired & jet-lagged she looked absolutely beautiful at lunch. At age 45 Salma is truly one of the best looking natural beauties I've seen.
It's not easy to come up with one good product not alone a whole cohesive cosmetics line. I'm glad to see that Hayek is using her uber celebrity power to create products that actually work and mean a lot to her as oppose to just put her name on anything like some other celebs do (and I'm not naming any names).
I snapped this pic on my recent trip to San Diego for BlogHer 2011. At the CVS booth I got to sample the NEW NUANCE by Salma Hayek for CVS Mascara & I loved it. I've been a Salma Hayek fan for years now. One of the things I relate most about Salma Hayek is the accent, which I also have, and her contagious passion for everything she does.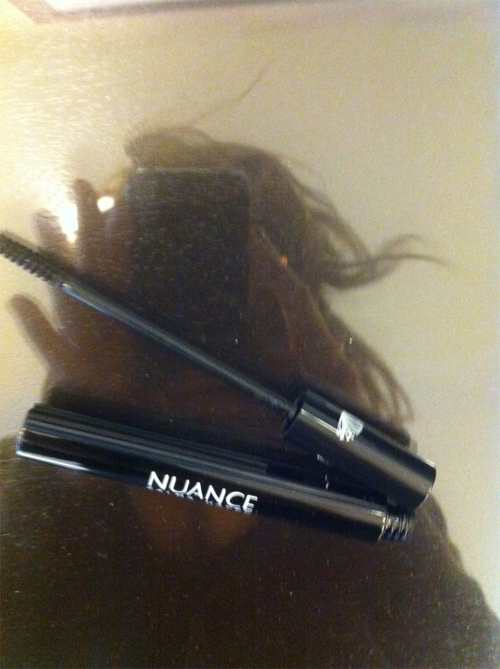 Marta Walsh & NUANCE by Salma Hayek for CVS Ultra Defining Mascara.
Also when I used to have dark brown hair in my New York City years people used to say I kinda look like her. Ha! Now with the blonde hair I get Jennifer Aniston. Funny. Anyways, let's go back to the subject in hand-this mascara adds volume, length, and the pigment is nice and bold. "Precision fibers hug lashes for extra length."-via www.cvs.com. I can't wait to try more from Salma Hayek's new cosmetic line with CVS, NUANCE. I will keep you posted.
See more pics from my San Diego BlogHer 2011 trip!
This month Salma Hayek debuted her 100-piece Nuance cosmetics line for CVS, according to  Women's Wear Daily. 100-stockkeeping-unit Nuance Salma Hayek line will bow in August 2011 exclusively in 7,000 CVS Pharmacy stores and online. I actually had the chance to visit the CVS headquarters in WOONSOCKET, Rhode Island just last week and got a sneak peek to Slama's new makeup, skincare, and hair care collection which are priced between $7.99 and $19.99. The collection was inspired by Hayek's grandmother, who was a Vichy Lab-trained cosmetologist and incorporated Native American and Mayan ingredients into her beauty treatments.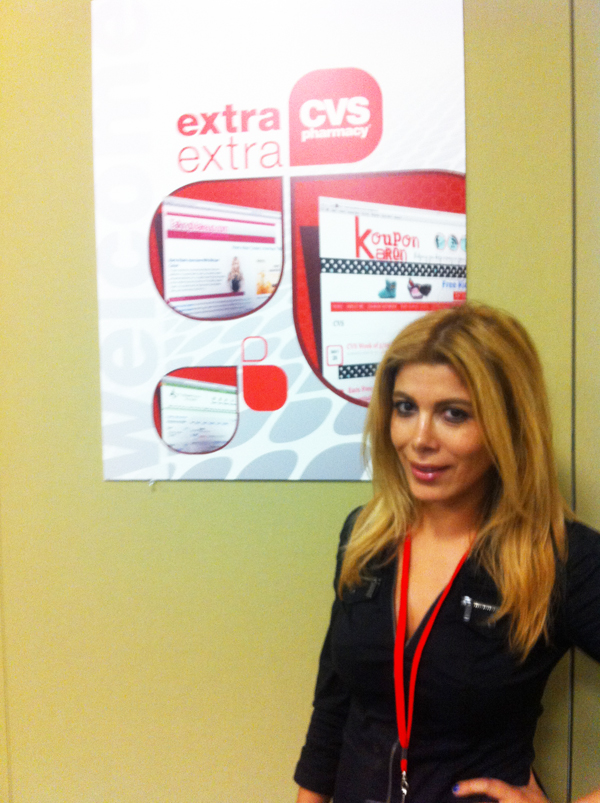 Marta Walsh standing infront of a poster about www.talkingmakeup.com which was hanging on the wall at the CVS headquarters in WOONSOCKET, Rhode Island
Moroccanoil, the fast-track luxury Argan oil hair product pioneer and leader, sponsored what could be the season's most exciting beauty book launch last week for celebrity stylist Robert Vetica's new "Good To Great Hair." (Fair Winds Publishing).
Hosted by Salma Hayek, the star-filled beauty bash filled Eva Longoria-Parker's restaurant, Beso, to capacity. Hollywood's leading celebrity hair stylists, make-up artists, fashion stylists were in attendance, as well as Debra Messing, film star Maggie Q, Slumdog Millionare's Anil Kapoor, Melissa George of Grey's Anatomy, Rose McGowan and Moroccanoil's Carmen and Ofer Tal.

Debra Messing, Carmen Tal, Robert Vetica and Salma Hayek at the "Good to Great Hair" Book launch party. Photo © Amy Graves for Moroccanoil.
To cap the high-energy evening, multi-platinum-winning recording artist Anastacia gave an exciting performance that had guests, VIPs, and media on their feet and cheering.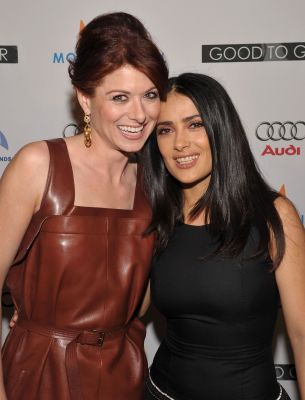 Debra Messing & Salma Hayek at "Good to Great Hair" Book Launch Party.
image via: MahaloFashion.com