All Posts Tagged With: "Robert Vetica"
GET THE LOOK:  Jennifer Lopez dazzled at the 52nd Annual Grammy Awards, wearing a dramatic silver Versace gown, and 70's-inspired hair designed by stylist Robert Vetica. Volume and texture were the hallmarks of the all-one-length, below the shoulder look.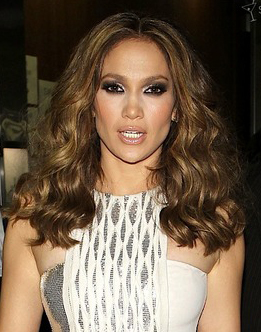 Vetica started by applying Moroccanoil Treatment on wet hair and blow-dried it smooth, creating a middle part using a large round brush for volume. He then used a 1″ curling iron, curling each section, and dragging the curled spirals down. He started in the back, working towards the front of the head and lifting her hair away from the face.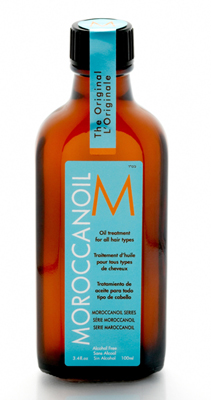 Moroccanoil, the fast-track luxury Argan oil hair product pioneer and leader, sponsored what could be the season's most exciting beauty book launch last week for celebrity stylist Robert Vetica's new "Good To Great Hair." (Fair Winds Publishing).
Hosted by Salma Hayek, the star-filled beauty bash filled Eva Longoria-Parker's restaurant, Beso, to capacity. Hollywood's leading celebrity hair stylists, make-up artists, fashion stylists were in attendance, as well as Debra Messing, film star Maggie Q, Slumdog Millionare's Anil Kapoor, Melissa George of Grey's Anatomy, Rose McGowan and Moroccanoil's Carmen and Ofer Tal.

Debra Messing, Carmen Tal, Robert Vetica and Salma Hayek at the "Good to Great Hair" Book launch party. Photo © Amy Graves for Moroccanoil.
To cap the high-energy evening, multi-platinum-winning recording artist Anastacia gave an exciting performance that had guests, VIPs, and media on their feet and cheering.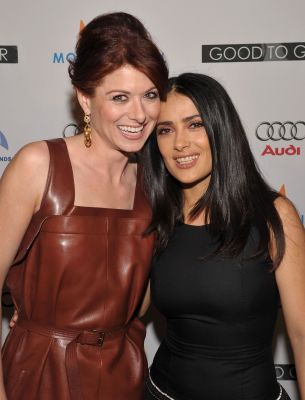 Debra Messing & Salma Hayek at "Good to Great Hair" Book Launch Party.
image via: MahaloFashion.com
Oscar presenter Marion Cotillard once again proved to be one of the most striking and beautiful arrivals on the red carpet. Robert Vetica for Moroccanoil Styles Marion Cotillard's Hairstlye for Oscars 2009. Robert Vetica is the author of the new book, "Good to Great Hair" (Fair Winds Publishing).
Top celebrity hair stylist Robert Vetica, who styled Marion Cotillard's hair for her La Vie En Rose Best Actress Oscar win last year, created a flawless, dramatic look that worked to perfection with the elegant John Galliano for Christian Dior gown that she wore.

Marion Cotillard.
Vetica created a shimmering, ultra modern take on the French Twist, that was inspired by Cecil Beaton's portraits of the great fashion and society icons of the 40's and 50's. Polished and styled close to the head, the French Twist was rolled large and emphasized volume for a contemporary edge.
To create the beautifully sculptured French Twist, Vetica first blow-dried Marion Cotillard's hair with a round brush using Moroccanoil Hydrating Styling Cream (MSRP: $30.00 / 10.2 fl. oz.) to smooth, detangle strands and to prevent frizz, and created a low side part. He then teased the hair all over with added attention to the crown and the back of the head.
Kyra Sedgwick's hairstyle at the 2009 Golden Globe Awards was created by hair stylist Robert Vetica using Moroccanoil products.
Robert Vetica also created the hairstyle for Salma Hayek at the 2009 Golden Globe Awards.
Kyra Sedgwick's Golden Globes Look: Kyra Sedgwick's look was reminiscent of Rita Hayworth, but more delicate and loosely curled. He then pulled it back to show off her face with cascading hair when she turned. He wanted the hair down but still elegant, Hollywood and fresh.Her Oscar de la Renta gown with a fitted bodice and deep neckline helped Vetica make the decision to sweep the hair back off the face. The result: a retro-style pin-up 'do with a more soft and relaxed feel.
How to get Kyra Sedgwick's hairstyle: Kyra's hair was blow-dried to a smooth finish with a touch of Moroccanoil Treatment, directed away from the face using a strong spray gel to hold her hair up and away from her forehead.
For this season's Golden Globes, celebrity stylist Robert Vetica created two of the most glamorous looks on the red carpet: Salma Hayek.
Salma Hayek's Sleek and Sexy Style: To create Salma Hayek's sexy and slicked-back style, Vetica started with wet hair. "I worked Moroccanoil(tm) Treatment through to detangle and smooth out split ends and then dried the hair straight using Moroccanoil Hydrating Styling Cream to give added shine and smoothness," he explains.
Salma Hayek wore a Boucheron $250,000 diamond hair wrap which was specially made for her, and the key was to keep the hair looking sleek.
How to get Salma Hayek's hairstyle: Vetica pulled the hair back into two ponytails, the first one from ear to
crown to opposite ear and pulled it back low at the nape of the neck.