All Posts Tagged With: "2009 Golden Globes"
See all the glamorous looks and learn how to easily recreate them at home
The Golden Globes are a great way to kick off awards season. We love watching stars like Angelina Jolie, Kate Winslet and Jennifer Lopez get all glammed up. But who says these styles are just for the red carpet? Not us. Use our tips to recreate these hair and makeup looks for yourself. (No reason celebrities should be the only ones looking fab.) Bonus: There was only one major hairstyle disaster of the night — can you guess who? See her photo revealed at the end.
Kyra Sedgwick's hairstyle at the 2009 Golden Globe Awards was created by hair stylist Robert Vetica using Moroccanoil products.
Robert Vetica also created the hairstyle for Salma Hayek at the 2009 Golden Globe Awards.
Kyra Sedgwick's Golden Globes Look: Kyra Sedgwick's look was reminiscent of Rita Hayworth, but more delicate and loosely curled. He then pulled it back to show off her face with cascading hair when she turned. He wanted the hair down but still elegant, Hollywood and fresh.Her Oscar de la Renta gown with a fitted bodice and deep neckline helped Vetica make the decision to sweep the hair back off the face. The result: a retro-style pin-up 'do with a more soft and relaxed feel.
How to get Kyra Sedgwick's hairstyle: Kyra's hair was blow-dried to a smooth finish with a touch of Moroccanoil Treatment, directed away from the face using a strong spray gel to hold her hair up and away from her forehead.
For this season's Golden Globes, celebrity stylist Robert Vetica created two of the most glamorous looks on the red carpet: Salma Hayek.
Salma Hayek's Sleek and Sexy Style: To create Salma Hayek's sexy and slicked-back style, Vetica started with wet hair. "I worked Moroccanoil(tm) Treatment through to detangle and smooth out split ends and then dried the hair straight using Moroccanoil Hydrating Styling Cream to give added shine and smoothness," he explains.
Salma Hayek wore a Boucheron $250,000 diamond hair wrap which was specially made for her, and the key was to keep the hair looking sleek.
How to get Salma Hayek's hairstyle: Vetica pulled the hair back into two ponytails, the first one from ear to
crown to opposite ear and pulled it back low at the nape of the neck.
How did celebs like Debra Messing, Taraji Henson, and Kristen Scott Thomas prepare for the Golden Globes? Getting gorgeous isn't just about the dress, the shoes, the hair and the makeup! Before you slip into the gown, before the makeup goes on and the hair goes up – Celebs make sure their skin is sexy and in shape! They visit Kate Somerville to get glowing!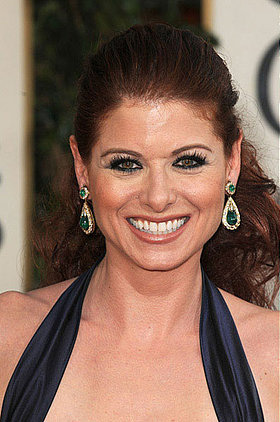 What Kate Services are the Celebs Having? 
Kate Somerville Signature Facial: Designed to deliver healthier, radiant skin, the signature facial is customized to each individual's needs. The treatment begins with enzymatic exfoliation, necessary extractions and a customized treatment mask follows. The facial finishes with an acupressure massage. Skin is left smoother, clearer and healthier than before.
This Year for the 66th Annual Golden Globe Awards, Nominee America Ferrera, walked the red make-up with make-up designed by Linda Hay using Jouer makeup products.
The Look: "Inspired by America's effortlessly chic Oscar de la Renta dress, I kept her look sweet and simple," said celebrity make-up artist, Linda Hay. Linda used Jouer's Age Repairing Brightener around the eye and on the nose to illuminate America's eyes. "The skin, I kept as sheer as possible by using as little as possible. I like to cover whatever's required without over doing it because America has beautiful skin," Linda said.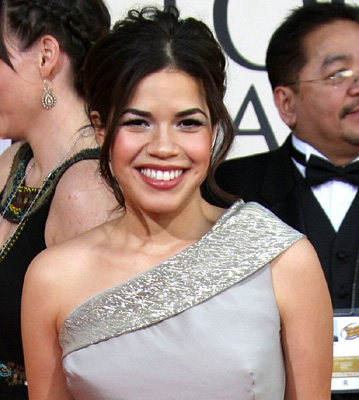 On the cheeks, using finger-tip application, Linda applied Jouer's Lip and Cheek Tint in Amaryllis, a sheer warm read which blended in to compliment America's skin tone.
Salma Hayek wears NARS makeup on the red carpet at the 66th Golden Globe Awards.
"Salma's makeup look was directly inspired by her dress," said NARS Makeup Artist Matthew Vanleeuwen. "She chose a very neutral colored dress and wanted to make sure her makeup look would pop. I made her eyes the focus and added a lot of rich, jewel skin tones and fresh color to her cheeks and lips. Her look was very classic and chic, with some modern textures."
Below is Matthew's step-by-step to recreate Salma's look:
Eyes: Apply the China Blue Single Eyeshadow to top and bottom lash line [Matthew's tip: "I love using navy colors because they make the whites of the eyes pop."] Next, use the Corfu Cream Eyeshadow as a base, all over eyelid.