All Posts Tagged With: "Lip Treatments"
Valentine's Day Kiss: Make that kiss memorable.
Simple, heartfelt gestures are the best way to offer the gift of love. In fact, the most desired gift this Valentine's Day is a kiss. Luckily, NIVEA Lip Care offers a wide variety of products to protect that pucker so you're irresistibly kissable. Enriched with natural Beeswax and Shea butter, NIVEA A Kiss of Flavor (Cherry, Passion Fruit, Pearly Shimmer) and A Kiss of Moisture will hydrate and offer long-lasting protection for soft, yummy kissable lips. SRP: $2.99.


Dior Serum de Rouge is not a gloss, is not a lipstick: this is a Luminous Colour Lip Treatment. It moisturizes, smoothes and brings a youthful look to lips. Formulated like a skincare product, Sérum de Rouge targets lips on every level, from the surface to the epidermis and dermis and is the first lipstick to feature 10 times more active ingredients than a classic lipstick, including: concentrated vegetable butter for texture and softness, SPF 20 for environmental protection and Dior's exclusive blend of active ingredients for hydration, firmness and volume.
You are invited to  join Kiehl's celebrate Fashion's Night Out Thursday, September 10th 7-11PM.
Also, celebrate the 40th anniversary of Lip Balm #1 & get ready for surprise celebrity performances. Sing karaoke for complementary Lip Balm #1, enter a raffle to win exclusive Kiehl's products and shopping sprees, with prizes awarded every half hour, or just come for the cocktails and hors d'oeuvres!
WHERE:
Kiehl's Flagship Store
109 Third Avenue, at 13th Street, New York City.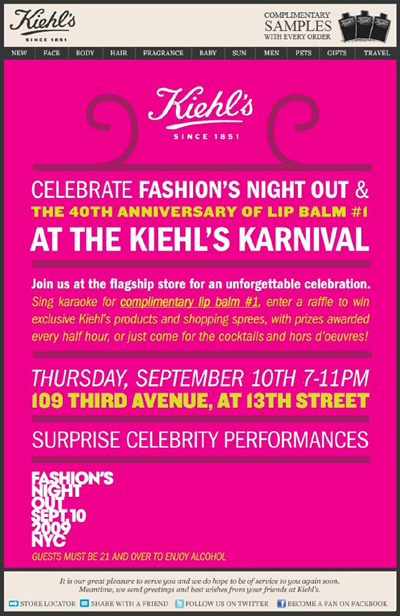 Kiehl's Since 1851, the venerable New York-based purveyor of fine quality skin and hair care preparations, is pleased to introduce a limited edition Lip Balm #1 Set to celebrate its most iconic product. Commemorating the 40th anniversary of Kiehl's best-seller, and longstanding favorite of both male and female patrons alike, this gift set consists of six Lip Balm #1 formulas in Coconut, Cranberry, Mango, Mint Vanilla, and Original – all of which treat, soothe and hydrate lips.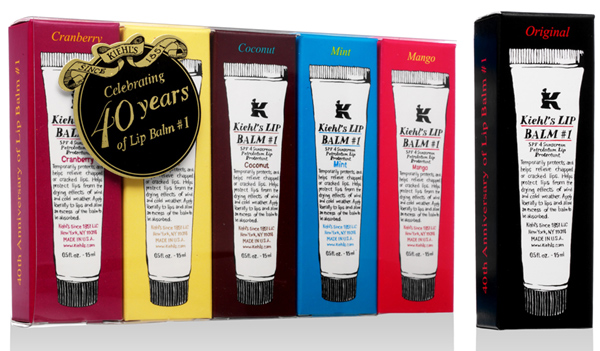 A must-have of many celebrities – including John Mayer, Gwyneth Paltrow and Halle Barry – Lip Balm #1 is the most well-known and beloved formula worldwide. Infused with Squalane, Sweet Almond Oil, Allantoin, Aloe Vera and Vitamin E, this rich, emollient balm is recommended for all skin types and is particularly beneficial to those with dry, parched lips.
New from Josie Maran Cosmetics: Josie Maran's New Argan Product Launches on Sephora.com.
The Argan Oil Revolution continues!! Josie's latest launch: Argan Moisturizing Stick has debuted yesterday and is now exclusively available at Sephora.com ($22.00).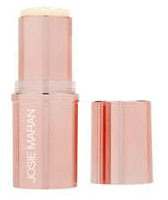 Josie's best-selling Argan Oil now comes in a stick form. This multi-purpose balm offers all the benefits of the nourishing oil, which includes anti-aging ingredients rich in fatty acids and vitamin E. A head-to-toe spot treatment for dry areas in need of moisture, this soothing balm conditions and repairs skin as it hydrates. Use it to moisturize chapped lips, soothe dry skin, tame fly aways, alleviate itching and stinging from insect bites, moisturize dry cuticles, relieve chafing skin, soothe stretch marks, calm sunburn, soothe waxed skin, and much, much more.
I've been trying to interview Lisa Price the fabulous founder of Carol's Daughter for quite some time now. And, finally, here it is!
I'm so excited to share with you Lisa's story of  an incredible journey creating a sought after skincare and fragrance line: Carol's Daughter.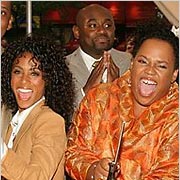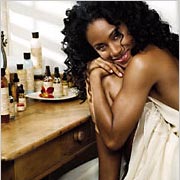 In this interview Lisa Price talks to me about her fascination with fragrance. The Carol's Daughter Philosophy. Why did she choose Jada Pinkett Smith and Mary J. Blige as the faces for her brand, and what's new with Carol's Daughter.
Marta Walsh: When did your fascination with skincare begin?
Lisa Price: It wasn't so much a love for skincare as it was a love for fragrance which began when I was a little girl. I started creating my own scents and creams because I loved to experiment—it's always been a hobby and passion of mine.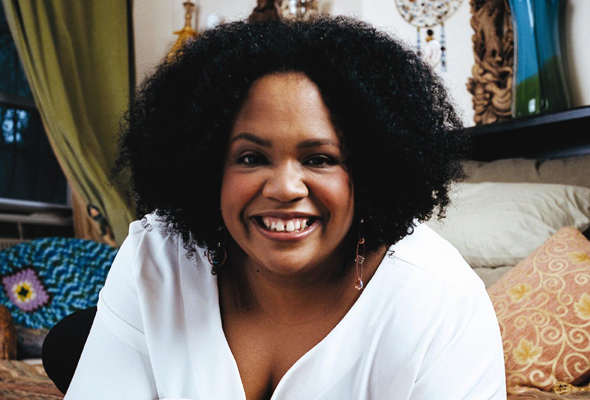 MW: At what point did your love for making your own skincare products in the kitchen turn into a promising business?
LP: After some time of working as a writing assistant for The Cosby Show, and creating personalized scents and products for the cast, my mom encouraged me to make a small batch to sell at a local church flea market. I nearly sold out on the first day!
MW: What is Carol's Daughter philosophy?
LP: Every Carol's Daughter product I create is made with love, and inspired by my own life. Each product is truly unique and created especially for my customers, who are part of the Carol's Daughter family. The idea is not just about looking good, but feeling good inside and out, comforting your body and spirit. Carol's Daughter is also about having a strong sense of family as well as love and respect for yourself and others.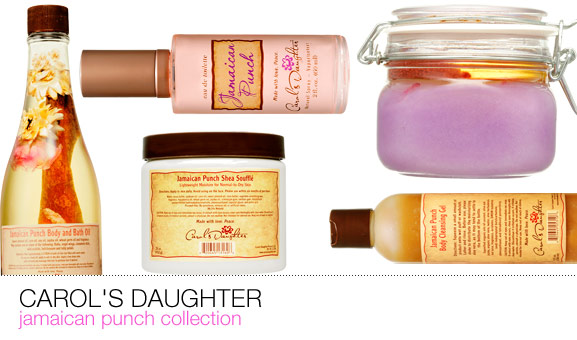 Prevention magazine put the leading anti-aging beauty products to the test again this year and found seven products deserving of the "Defy Your Age" seal, including Olay ProX Age Repair Lotion, Neutrogena Norwegian Formula Age Shield Hand Cream and Estée Lauder Idealist Dual-Action Refinishing Treatment.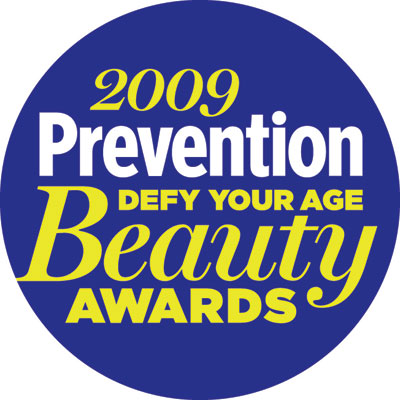 To determine the winners, Prevention enlisted seven leading dermatologists to test the claims of the 35 most promising products of the year on a group of 175 women, ages 40-plus, for a period of up to eight weeks. The doctors then employed state-of-the-art equipment to measure which products best delivered on their claims using before and after skin analysis. The teams investigated seven categories of products including hand, eye and night creams; lip, adult acne and microdermabrasion treatments; and day lotions with . This year's winners are all available for less than $50.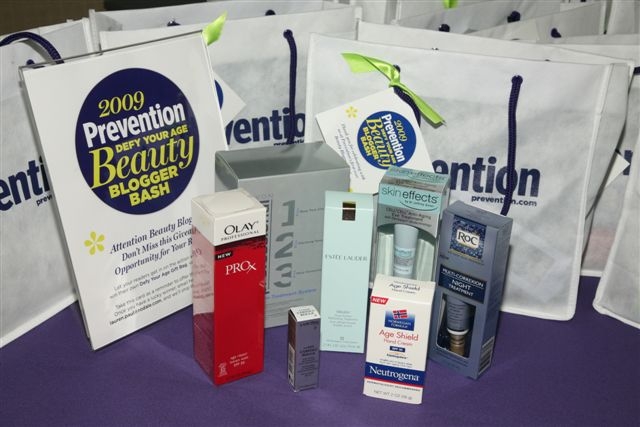 Calling all beauty junkies in New York, New Jersey, California and Texas! Lancôme boutiques are offering you an exclusive Friends & Family discount. Enjoy 20% off everything you love at the Lancôme boutiques.
Just print image below and bring it with you to one of Lancôme boutiques between 8/01/09 – 8/08/09. Go to www.lancomeboutique.com  for a location near you.
*Note:This discount is not valid at any other Lancôme locations, counters or lancome-usa.com.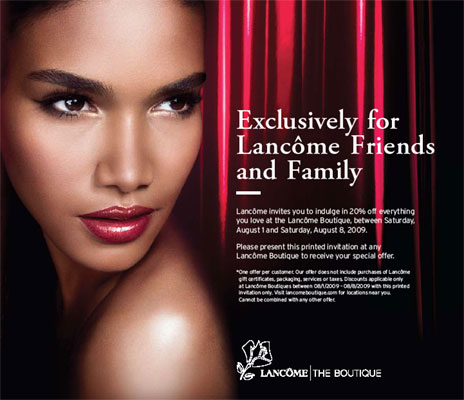 Click image above for full size.
This is a great opportunity to stock up on your favorite products or try something new, such as Lancôme's  limited-edition fall collection Declaring Indigo. Also, Lancôme classics: Dual Finish
 and Bi-facil,
Talking Makeup is excited to share with you 6 Summer Skincare Tips by Celebrity Esthetician Renée Rouleau!
Renée Rouleau is a trusted skin care expert and celebrity esthetician who has been helping men, women and teens attain healthy, glowing skin for more than 20 years. Her skin care product line, sold on her website and in her two Dallas skin care spas, addresses nine distinct skin types, with more than 70 award-winning products that blend the best of science and nature.
Renée's products are consistently cited in publications including Allure, Marie Claire, and In Style. Her proven results have earned her the confidence of celebrities, like Lisa Rinna, Eva Amurri, Jessica Simpson and Ashlee Simpson, as well as cosmetic surgeons and dermatologists. www.reneerouleau.com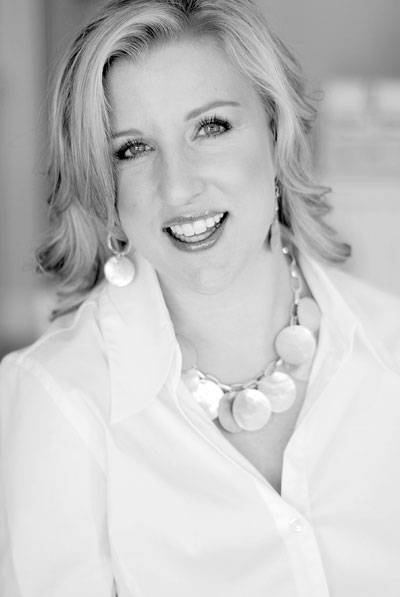 Celebrity Esthetician Renée Rouleau
Hot weather, salt water, humidity and chlorine take their toll on our skin during the summer months. Here's some of my summer skin care tips and solutions for keeping your skin safe and beautiful all summer long.
1. Wearing sunscreen everyday will significantly cut back on accumulative sun damage:
Recent information from the UCLA skin research department indicates that 78% of all the sun damage incurred in a lifetime is from incidental exposure! You may say "I'm not out at all during the day" but just walking to your car, and even driving in your car will expose you to unnecessary sun damage. Windshields do nothing to protect you from UV rays! Wear a moisturizer that contains a sun block with a minimum of SPF #15. Apply it in the morning so you'll be covered all day! Try Renée Rouleau Daily Protection SPF #30…
själ is the skincare choice of a new generation of consumers drawn to its groundbreaking blend of luxury, cosmeceuticals and spirituality, all in a simple, fast, and effective regimen. It has won numerous best of beauty awards in the US and around the world for its pioneering concept, modern design, exceptional quality and dramatic, beautiful results for all skin types for women.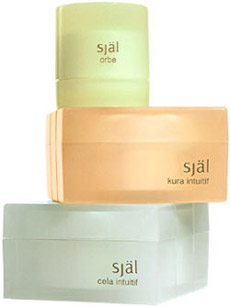 Please Join Kristin Petrovich, Co- Owner & Creator of själ skincare for a complimentary consultation & deluxe samples of the själ skincare collection, as well as a gift with purchase!
WHEN & WHERE:
White's Chemist and Perfumers
81 Main St.
East Hampton, NY
631-324-0082
Saturday, July 18th
11-4pm
And also…