All Posts Tagged With: "Josie Maran Cosmetics"
On Tuesday night, April 20th, 2010, Josie Maran was honored as "The Role Model" for her eco-fabulous cosmetic line, Josie Maran Cosmetics. Hearst's green living website, The Daily Green, recognized people, organizations and companies that take being "green" to heart.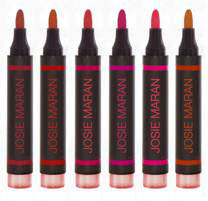 L to R: Josie Maran and the NEW Josie Maran Cosmetics Magic Markers
And, as many of you know, Josie is dedicated to growing her brand and innovating her line, all while maintaining true to her natural values. Check out the latest launch, Magic Markers (exclusively at Sephora) and get the latest updates on the Heart of Green Awards here: www.thedailygreen.com/awards
Happy New Year! Hope you enjoyed the holidays and are gearing up for a brand new decade! This year we should all vow to be a little greener, and actually do something to reduce our carbon footprints. Go green simply by choosing paraben-free mascara, a biodegradable compact, or a body wash with the Natural Product Association seal of approval! Start your new natural collection off right with some of the below eco-chic cosmetics and skincare items—they're natural beauty best-sellers!
Clean up your act with Josie Maran Bear Naked Wipes. These natural cleansing cloths are biodegradable (meaning they won't clog landfills after you throw them away) and they're made with natural ingredients that will soothe, comfort, and gently cleanse your skin without harsh chemicals or toxins. Plus, a portion of proceeds goes to the NRDC's Polar Bear Initiative, the campaign to save polar bears' natural habitats, bringing a whole new meaning to "Earth-friendly". Now available in a new travel size! Sephora.com; $6.00 – $12.00.
I'm excited to share with you my interview with American model and actress Josie Maran. Josie is also the founder of her own natural cosmetics product line, named Josie Maran Cosmetics.
In this interview Josie Maran talks about what led her to create Josie Maran Cosmetics. Her ultimate beauty secret. Her passion to protect the environment and for all things green. The people that inspire her the most, and future plans.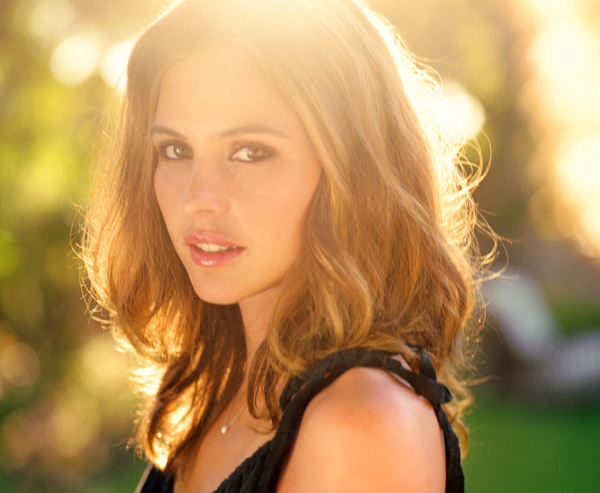 Marta Walsh: You are known for your career as a model and actress, what inspired you to create your own cosmetics line?
Josie Maran: When pregnant with my daughter a few years ago, I decided to look for natural makeup formulas to use and discovered that none lived up to the levels of sophistication and luxury as I wanted. It was then I realized that after spending so many hundreds of hours in the makeup chair, I was uniquely qualified to create my own line of cosmetics, the type of makeup that I was searching for: chic, luxurious and, most importantly, healthy. Not long after the birth of my daughter, Josie Maran Cosmetics was born.
New from Josie Maran Cosmetics: Josie Maran's New Argan Product Launches on Sephora.com.
The Argan Oil Revolution continues!! Josie's latest launch: Argan Moisturizing Stick has debuted yesterday and is now exclusively available at Sephora.com ($22.00).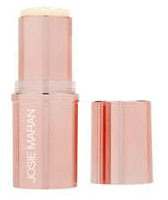 Josie's best-selling Argan Oil now comes in a stick form. This multi-purpose balm offers all the benefits of the nourishing oil, which includes anti-aging ingredients rich in fatty acids and vitamin E. A head-to-toe spot treatment for dry areas in need of moisture, this soothing balm conditions and repairs skin as it hydrates. Use it to moisturize chapped lips, soothe dry skin, tame fly aways, alleviate itching and stinging from insect bites, moisturize dry cuticles, relieve chafing skin, soothe stretch marks, calm sunburn, soothe waxed skin, and much, much more.
Introducing the first in a series of video tutorials on how to get the latest looks from Josie Maran Cosmetics—straight from the supermodel herself. In this episode, Josie's go-to artist Sole preps you for Date Night with a natural sultry eye courtesy of Josie Maran Cosmetics. Get the look now, and share the tutorial with everyone you know!! Stay tuned for more!
Here are some photos of Josie Maran 's party in LA last night at Akasha to celebrate her cosmetic line, Josie Maran Cosmetics, launch into Sephora.

Actress Josie Maran at the Sephora launch party.

Actress Josie Maran and actress Amy Smart.

Actress Josie Maran and Actress Emilie de Ravin.
Celebrate style with a conscious with Josie Maran Cosmetics, Compai and Living Homes.
Come celebrate a green spring and join environmentally conscious women and companies such as: Josie Maran Cosmetics, Compai and Living Homes which are also going to debut their spring 2008 collections. Help raise awareness for three earth friendly companies and to generate funds and recognition to the national environment organization Global Green USA which Josie is a board member.
Enjoy complementary makeovers, organic refreshments and reclaim sustainable fashions at an exclusive event by Compai Design Studio and Josie Maran cosmetics, and hosted by Living Homes.
WHEN: Saturday May 3rd, 2008. 4:00pm-7:00pm.
WHERE: Steve Glenn's Living Home, 2914 Highland Avenue Santa Monica California.

Josie Maran.
About Josie Maran Cosmetics: Model/Actress Josie Maran, has graced the pages of some of the biggest magazines including multiple covers of Glamour and appearances in Sport Illustrated Swimsuit Issue, and most recently, the cover of Domino Magazine's green issue. She was also feature in national as campaign for Guess and Maybelline, and has appeared in films like "The Aviator" and "Van Helsing". Currently Josie taking the natural cosmetics industry in storm with her new line, Josie Maran Cosmetics.

Josie Maran Cosmetics.
About Compai: Is a crafty, green design studio owned by sisters Faith and Justina Blakeney.
About Living Homes: Steve Glenn's Living Homes work with leading architects to create lines of home that feature modern form functionality with a superior level of healthy materials and energy systems.