All Posts Tagged With: "interview"
Good read. Chanel Beauté Interviews from the 2017 Golden Globes. Chanel Beauté Partners with Makeup Artists and Manicurists at the 2017 Golden Globe Award
An Interview with Makeup Artist Mélanie Inglessis (@melaniemakep) on creating her beauty look for Ruth Negga:
What steps did you take to prep for the look, and what inspired you?
Products mentioned in this post are available at: chanel.com
I'm excited to share with you my interview with Paris-born Teddy Charles, one of the fashion industry's most notable hairstylists. Teddy is known for creating contemporary femininity and glamour with an edgy, bohemian sensibility. His cutting-edge hair creations have been featured in the pages of major fashion magazines, such as: French, Italian, American and Teen Vogue. Teddy also created hairstyles for countless runway shows, showcasing his role as a hair and fashion industry trendsetter. Teddy has worked with A-listers such as Cameron Diaz, Sarah Jessica Parker, Hayden Panettierre and Ellen Page. He has recently collaborated with Sunsilk co-creating their NEW hair care collections: Hydra TLC, Captivating Curls, Daring Volume and ThermaShine.

Teddy Charles in his element, hairstyling
In this interview Teddy Charles talks to Marta Walsh about his beginnings as a hairstylist, his creative partnership with Sunsilk, biggest inspirations in life, personal style, and future plans.
Marta Walsh: Where do you call home?
Teddy Charles: My first home will always be Paris, but New York is a home away from home.
I'm so excited to share with you my interview with the gorgeous Erin Kaplan. You may know Erin from staring in MTV's hit series The City opposite Whitney Port and Olivia Palermo. And, at 26, Erin is ELLE Magazine's youngest ever Director of Public Relations.
In this interview Erin Kaplan talks to Marta Walsh about her beginnings working at ELLE Magazine. How working with Joe Zee ELLE Magazine's Creative Director has changed the way she's thinking. Puts the on camera drama with co-star Olivia Palermo in perspective. She even dishes out some style and beauty secrets and reveals another secret about her hair.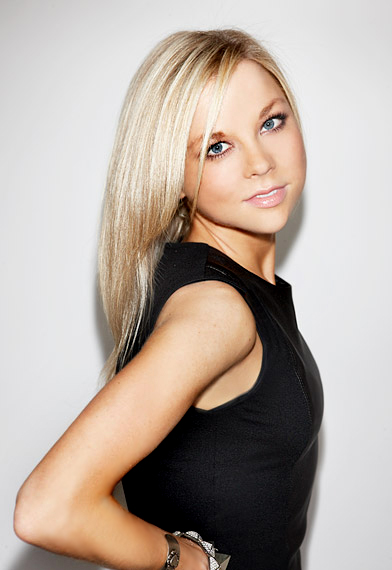 Erin Kaplan
Photo courtesy of MTV
Marta Walsh: When did your fascination with fashion and style begin?
Erin Kaplan: Honestly, it wasn't until I started working at ELLE that I really became interested in fashion. I grew up with three brothers so there definitely wasn't a lot of fashion-talk around the house. However, I have always been interested (obsessed really) with magazines and publishing…
Watch Marta Walsh interview with MAC Cosmetics lead makeup artist Lisa Butler about the makeup look and inspiration for the Halston Fall Winter 2010 Fashion Show and collection. Lisa's must-have product for the show is MAC Strobe Cream.
"The look is sophisticated, sculpted and well defined – using creamy textures to create a natural yet intense face" – Lisa Butler
The makeup breakdown, products are all by MAC Cosmetics.
Eyes:
Eye Kohl in Teddy – penciled into the inner corner of the eye
Paint Pot in Quite Natural – applied to the eyelid and blended up into the brow
Zoom Fast Mascara in Zoomblack – brushed through top and bottom lashes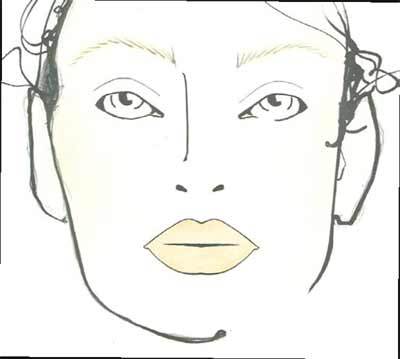 Halston Fall 2010 MAC makeup face chart
I'm SO excited to share with you my interview with FASHION & STYLE and their fabulous host Natascha Bessez! Executive Producer Robert Reynolds delivers yet another segment of FASHION & STYLE featuring my first ever on camera interview! Robert is brilliant at video production and I'm a big fan. Visit his official website at  Reynolds & Associates to learn more about him and his company.

L to R: Marta Walsh and FASHION&STYLE host Natascha Bessez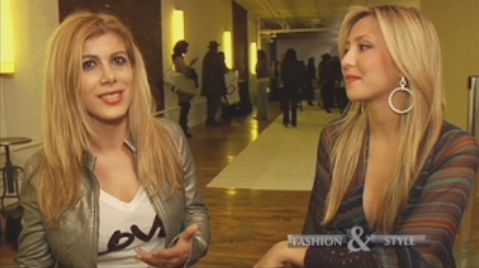 I met YouTube sensation Michelle Phan backstage at the Chris Benz Fall 2010 fashion show during New York Fashion Week. Michelle was there as part of her work with Lancome and the Lancome makeup artistry team creating the makeup look for the Chris Benz show. The sound in the video is not best but I'm way too excited to leave this video interview with Michelle Phan in the back burner. Hope you understand:) xo Marta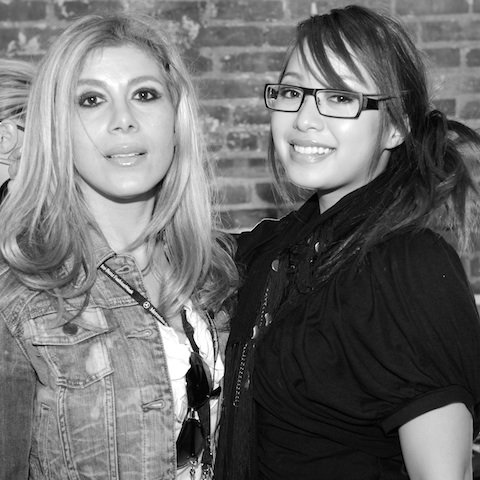 From Left: Marta Walsh and Michelle Phan Backstage at Chris Benz Fall 2010
Photo Credit: © amber rima mclinn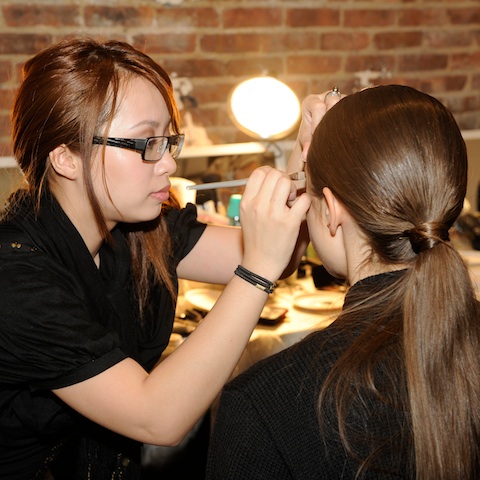 Michelle Phan backstage at Chris Benz Fall 2010 applying Lancome makeup on
model. Photo Credit: © amber rima mclinn
Visit lancome-usa.com to learn about the latest from Lancome. Also watch Romantic Makeup by Michelle Phan makeup tutorial for Lancome!
Contributed by Megan McIntyre of Daily Makeover
Fall/Winter 2010 Fashion Week started today, and Daily Makeover kicked it off backstage at L.A.M.B. with designer Gwen Stefani. She gave us an exclusive look into what inspires her, how she creates that fab red lip (girlfriend does her own makeup!) and what beauty look her husband can't get enough of.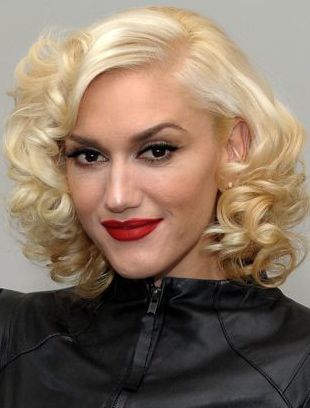 Photo: © Andrew H. Walker/Getty Images
What inspired the beauty look for the L.A.M.B. show?
The collection is based on a vintage, naughty, Hollywood starlet girl, a little bit of a modern, futuristic girl and a little bit of a soldier girl. I found these Ellen von Unwerth pictures with black makeup and the dark lips [that I loved] so we're going to do the hair very set, vintage and glamorous with a lot of bangs.
On behalf of Apparition, Talking Makeup is pleased to share a Sundance 2010 Video featuring Kristen Stewart and Dakota Fanning from the Sundance Junket for THE RUNAWAYS!
WATCH an interview with Kristen Stewart and Dakota Fanning: Kristen & Dakota on Joan Jett and The Runaways at Sundance 2010.
Watch FASHION & STYLE with host Robert Reynolds as he interviews actor Tobias Truvillion. Many of you may know Tobias from playing the character Vincent Jones on ABC's "One Life To Live". Tobias talks about his career, inspirations and his role in the new movie "Brooklyn's Finest" – Launch Date: March 2010. FASHION & STYLE is brought to you by Reynolds & Associates.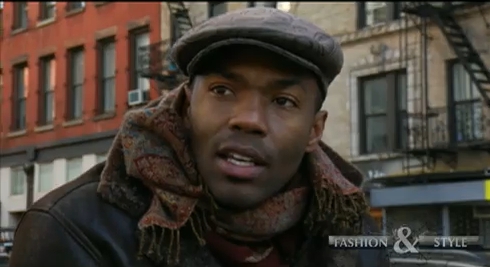 Tobias Truvillion
Moments before making her debut as Lancôme's global ambassador, Julia Roberts was coming to grips with her new responsibilities, reports today's Women's Wear Daily. In a candid interview, Roberts talks about her role in her upcoming movie "Eat, Pray, Love," owing her career to Garry Marshall, her new role at Lancôme and how having kids has changed her beauty regimen.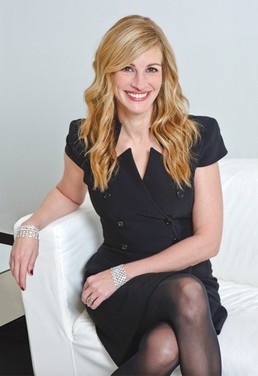 Julia Roberts
Photo By Stephane Feugere
On being Lancôme's global ambassador:
"I think I have to stand up straighter and wash my face more," Roberts laughed. "It's kind of like every girl's dream, really," she continued, referring to her role with the L'Oréal-owned brand. "To be 42 and have three kids and be a working mom, it's a great moment to be asked to do this and to be able to do it. I think it says a lot about Lancôme and what they stand for."