All Posts Tagged With: "Gwen Stefani"
As the lead vocalist of Grammy-winning band No Doubt, a fashion icon and one of L'Oréal Paris' leading ladies, Gwen Stefani knows how to rock… a red lip, of course. In the music video for No Doubt's highly-anticipated new single, "Settle Down" music video (just released), Gwen is spotted applying L'Oréal Paris Infallible Le Gloss 8HR in Red Fatale to create her signature fiery pout.
How to get Gwen Stefani's Settle Down hair & makeup look using L'Oréal Paris products
I absolutely love Gwen Stefani's hair, makeup, and outfit (jumpsuit by Stella McCartney I hear) at the "Tree of Life" Lovers Cannes 2011. It's a modern take off 70s glamour. I like how Gwen keeps it sleek and elegant yet rock chick/chic. Kinda what Marta Walsh likes. I had to share:)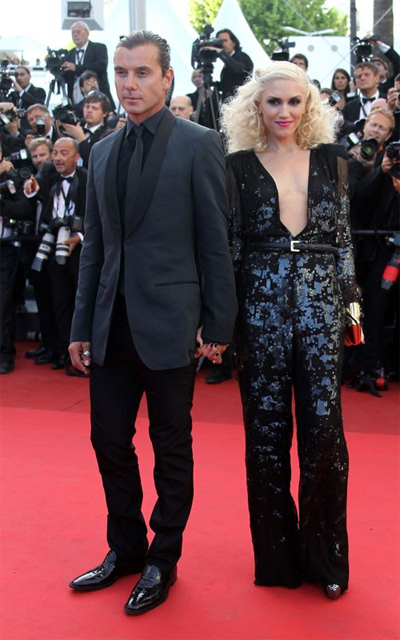 Gwen Stefani & Gavin Rossdale at the Tree of Life Lovers Cannes 2011
L.A.M.B – Thursday, February 17th, 2011, at the Theatre at Lincoln Center.

L to R: Gwen Stefani and model at L.A.M.B. Fall 2011 Photo credit: Ann Lawlor
To create a cohesive nail look for the Soldier Girl, Ragga Muffin Girl, London Girl, Buffalo Girl, Mod Girl and Glamour Girl 'gangs' in Gwen Stefani's collection, Pattie used Dashing Diva's Limo Service polish for an edgy take on a neutral polish. The creator of the Love Angel Music Baby line said black is back for polish for Fall/Winter 2011.
See Dashing Diva's Limo Service polish here…
Marta Walsh got the sneak peek to Karen T. Fondu, President of L'Oréal Paris, announcing Gwen Stefani as the brand's latest spokesperson.
January 14, 2011. I am extremely pleased to share the news that Gwen Stefani is the newest member of the L'Oréal Paris family. Over the next few months, the multi-talented rock star and fashion icon will begin appearing in advertising campaigns for Infallible Le Rouge, a new collection of conditioning long wear lip color and Superior Preference hair color.
Pantene Celebrity Stylist Danilo created Gwen Stefani's hairdo for the 2010 MET Ball.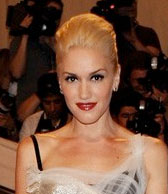 According to Danilo: "Gwen's dress was made from a gold, vintage thread fabric from the 30's, and we wanted to honor the ethereal flow by creating a chic silhouette from head to toe. I created a dramatic, contemporary twist inspired by Grace Kelly and the Hitchcock film goddesses."
New York Fashion Week. Backstage at L.A.M.B by Gwen Stefani Fall/Winter 2010 hairstyle created by Danilo with Moroccanoil. The Look and Inspiration: Definitely modern. A glance back to the 30's and 40's with an eye toward the future. Glistening Bangs. The graceful ease of Curled Waves. Long hair flowing, or strengthened and rolled up to chin and shoulder lengths. The sweet power of high-shine and beautiful healthy-looking hair.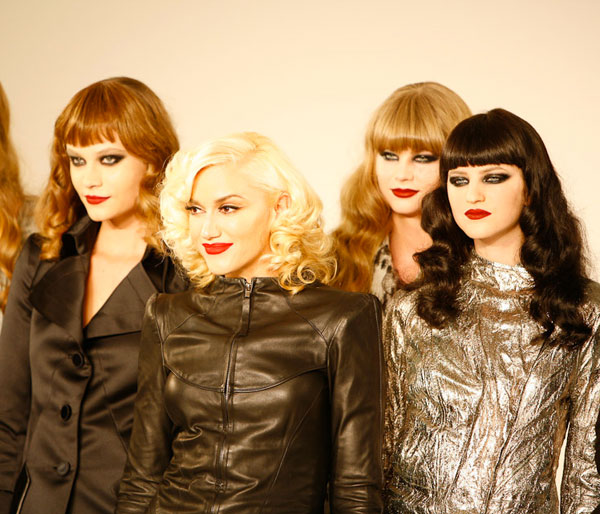 To create the dramatic, eye-catching hair designs for the L.A.M.B. Fall/Winter 2010 Collection master stylist Danilo used a combination of techniques and emphasized smooth waved curls with a very modern, beautifully luminous shine. Professional argan oil-infused Moroccanoil products were layered to achieve the silky texture, refined shine, and provide free-flowing, moveable hold.
Gwen Stefani is gracing In Style Magazine cover April 2010. Do you love?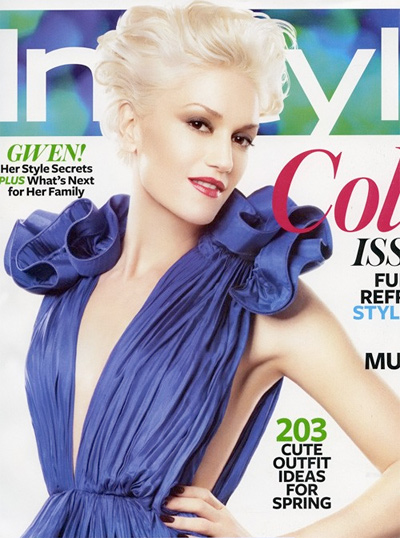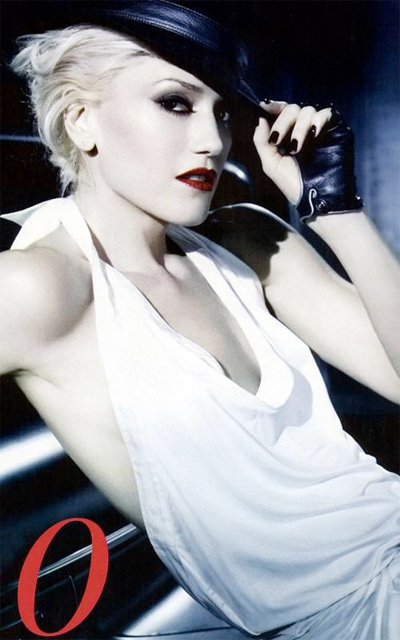 Contributed by Megan McIntyre of Daily Makeover
Fall/Winter 2010 Fashion Week started today, and Daily Makeover kicked it off backstage at L.A.M.B. with designer Gwen Stefani. She gave us an exclusive look into what inspires her, how she creates that fab red lip (girlfriend does her own makeup!) and what beauty look her husband can't get enough of.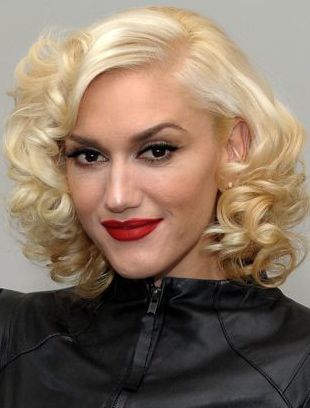 Photo: © Andrew H. Walker/Getty Images
What inspired the beauty look for the L.A.M.B. show?
The collection is based on a vintage, naughty, Hollywood starlet girl, a little bit of a modern, futuristic girl and a little bit of a soldier girl. I found these Ellen von Unwerth pictures with black makeup and the dark lips [that I loved] so we're going to do the hair very set, vintage and glamorous with a lot of bangs.
Watch Marta's Vlog and enter to WIN Talking Makeup's Harajuku Lovers Snow Bunnies Perfume Gift Set GIVEAWAY!!
The Harajuku Lovers perfumes are inspired by the electric street scene of the Harajuku shopping district in Tokyo, the Harajuku Lovers fragrance collection captures the lyrics and iconography from Gwen Stefani's albums.
*Products in above vlog were provided by Harajuku Lovers
Talking Makeup & Marta Walsh are excited to present: Leonor Greyl Haircare:Gwen Stefani Inspired GIVEAWAY!
How to enter to WIN:
1. Subscribe to Talking Makeup's YouTube Channel HERE!
2. Leave a comment HERE! Note: Do not leave a comment under this post, you must leave the comment under video on YouTube, Thanks:)
3. MUST have US or Canada shipping address.
Watch Marta's video blog for more details: