All Posts Tagged With: "Bangs"
Naomi Watts seems to keep getting more beautiful. At the premiere of Salt last night she looked beyond fabulous as she wore a shorter, dramatic new blunt bob with layered side-swept bangs.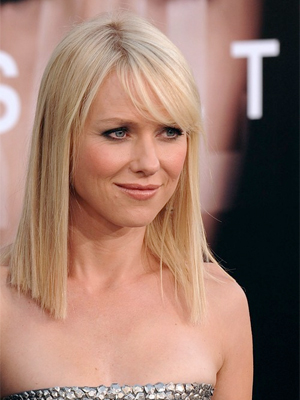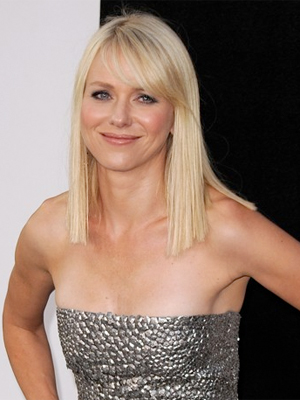 Hair care products used on Naomi Watts for the Salt premiere by Moroccanoil
The hairstyle & Inspiration: Inspired by the lines of the metallic strapless Gucci mini-dress that Naomi wore, stylist Robert Vetica created a sleek look that referenced 60's British pop and a Studio 54 vibe refined by a soft, natural mood.
How Naomi Watts got her hairdo: According to Vetica, "It was quite a change for Naomi. I cut 2 inches off , kept her hair blunt and collarbone length, and created bangs that swooped to the side. The length is a bit longer in front and slightly higher in back. The bangs were first cut long and blunt, then razered and texturized to about the bridge of the nose so they looked lighter around the face and were easily swept to the side.
Sienna Miller was spotted with bangs in London, May 26th, 2010, for the the Matthew Williamson's (the handsome man on right) new store opening. I find Sienna's entire look inspiring: dress, shoes, handbag, and red lips. Bangs look great on Sienna, however, I would have to pass that look on me. I do not look good with bangs. It's good to be inspired by others sometimes but I have to keep something of my own.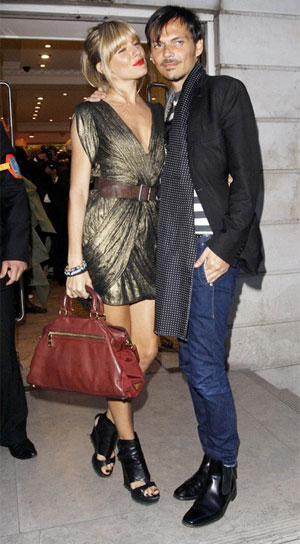 L to R: Sienna Miller and Fashion Designer Matthew Williamson
Sienna Miller Got Bangs: Do you love?
New York Fashion Week. Erin Fetherston Autumn/Winter 2010 Collection hair looks created by Odile Gilbert for Moroccanoil. The Look and Inspiration: Erin Fetherston's Autumn/Winter 2010 collection takes inspiration from iconic Chelsea Girl, Nico (Velvet Underground).

L to R: Fashion designer Erin Fetherston and model backstage at the Erin Fetherston Autumn/Winter 2010 Fashion Show during New York Fashion Week back in February 2010
The Hair Design: "I love this inspiration," said Odile. "It's very 70's New York rock and roll, yet chic and modern. The hair looks beautiful. It's straight in a natural way, full of body, and shimmering with silky shine. All these Nico (Velvet Underground & Nico) inspired looks have long dramatic bangs that just barely touch the eyebrows and are longer at the sides. In fact, this modern edgy style is identical to the look that Erin Fetherston wears herself.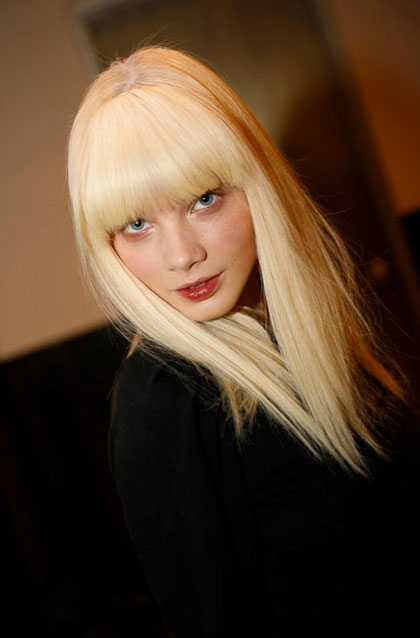 New York Fashion Week. Backstage at L.A.M.B by Gwen Stefani Fall/Winter 2010 hairstyle created by Danilo with Moroccanoil. The Look and Inspiration: Definitely modern. A glance back to the 30's and 40's with an eye toward the future. Glistening Bangs. The graceful ease of Curled Waves. Long hair flowing, or strengthened and rolled up to chin and shoulder lengths. The sweet power of high-shine and beautiful healthy-looking hair.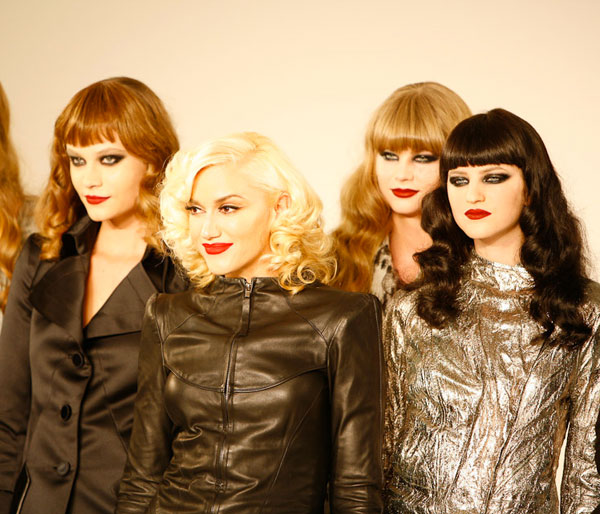 To create the dramatic, eye-catching hair designs for the L.A.M.B. Fall/Winter 2010 Collection master stylist Danilo used a combination of techniques and emphasized smooth waved curls with a very modern, beautifully luminous shine. Professional argan oil-infused Moroccanoil products were layered to achieve the silky texture, refined shine, and provide free-flowing, moveable hold.
WATCH: Marta Walsh interviews Makeup by MAC Cosmetics Lead Makeup Artist Lucia Pica backstage at Erin Fetherston Fall 2010 during New York Fashion Week.
The Inspiration: The designer wanted to have 70s gorgeous glowing skin but not too retro to keep it very natural, cool, young, and fresh. She looks like a girl who's been running through the fields. Keeping the techniques and products very simple as if the look happened naturally in the fields, as if the makeup artist was not there. All the models have fringes/bangs which was inspired by Nico from The Velvet Underground.
It was a mod, mod world backstage at Fall 2010 Fashion Week. From Erin Fetherston to Cynthia Steffe, the look for hair was all about thick, blunt-cut bangs that harkened back to the mod squad models of the late 1960's and early 1970's. Here, some of our favorite versions of the look. Consider yourself warned: The bang is back and it's bigger (and blunter) than ever.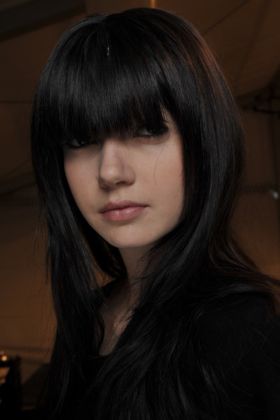 Cool girl chic at Cynthia Steffe.
Photo: © Luca Cannionieri
At Cynthia Steffe, Bumble and bumble lead stylist Rolando Beauchamp gave models a clip-on faux bang to help embody the late 1960's cool British/French girl inspiration. "We're doing a really thick fringe, but the texture on the hair is dirty, like two-day old hair," he said. The slept in texture added to the cool girl feel, giving models a messy-sexy hairstyle that was retro without being too literal.
Read full article in dailymakeover.com
Related Articles:
Fashion Week: Funky, Chunky Haircolor
Vampire Inspired Fashion Week
Fashion Week: The Bold And The Beautiful
Katy Perry may have kissed a girl (and liked it), but the sultry songbird is now betrothed to British funny man Russell Brand. She is quite the style chameleon: In the past year, the blue-eyed brunette experimented with bangs, retro waves, bobs and updos with reckless abandon. So when we heard about her recent engagement, we couldn't resist giving her a bridal-specific makeover. Here, our favorite looks for Katy impending nuptials: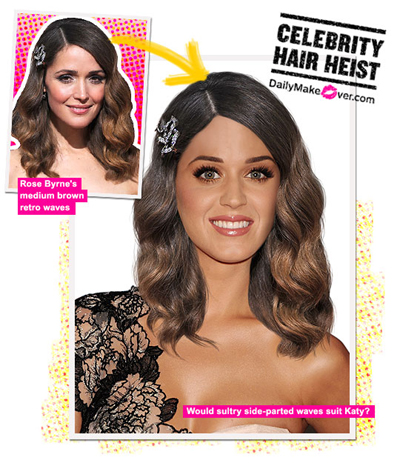 We loved Rose Byrne's sparkly barrette she rocked to anchor her side-parted Old Hollywood waves. Katy loves a side-part and would be able to pull off a little dazzle against her canvas of deep black tresses. Read full article in dailymakeover.com
Here's lovely Beyonce Knowles and Chris Martin at the Hope for Haiti Now Telethon on Friday, January 22, 2010. I love Beyonce's new bangs. Definitely a rock star hairdo. Must be amazing to do a duet with Coldplay's Chris Martin. Classic. I'm a huge Coldplay fan. I have a thing for British rock stars as you probably already noticed. In addition, it is beautiful how celebrities come together to give back and help Haiti!
Beyonce got bangs: Do you love?
Britain's It Rock Star Daughters and How I met Simon Le Bon
Celebrity stylist extraordinaire Ken Paves joins QVC for its first tweetchat of 2010. As part of The Whole You celebration, Ken will be live tweeting with fans on Monday, January 18th, 2010, at 1pm ET, answering questions about hair care, styling tips, and products. Make sure to follow @behindtheq and @kenpaves for all the fun and to submit your questions!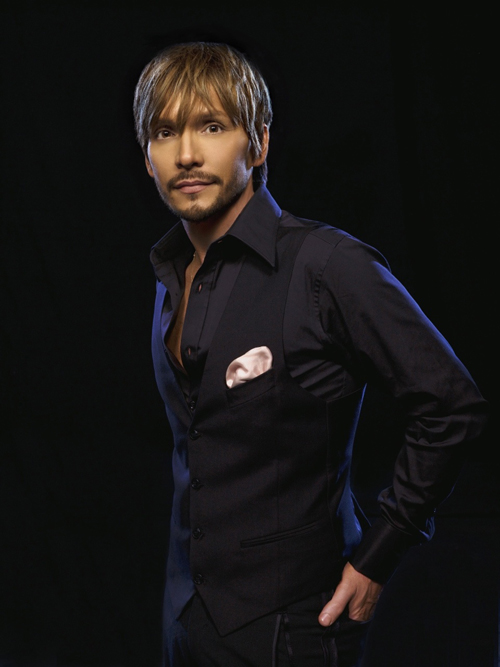 Ken Paves
Want more Ken? Check out hairdo by Ken Paves & Jessica Simpson. Inspired by styles Ken Paves has created for Jessica Simpson, and test-driven by Jessica herself, this wig line is a collection of easy-to-use, affordable, clip-in hair extensions, wigs, bangs and bands."
Ken Paves interviews with Marta Walsh
Celebrity hair stylist Ken Paves tells Talking Makeup how to get Nelly Furtado's hairdo at the 2009 AMA's!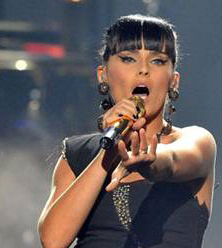 "For Nelly, we (Roberta Rogers from my LA salon and I) created a sleek ponytail with thick, modern chunky bangs. We started by spraying her damp hair with a volumizing spray (try my Ken Paves Healthy Hair Volumizing Spray, $22), and blowing it straight with my Ken Paves Professional Hair Dryer ($100, ULTA), using a Mason Pearson brush.