All Posts Tagged With: "Mason Pearson brush"
Cutler set the trend once again at the Donna Karan Resort show that took place on Friday, June 4th, 2010. The sexy, sleek ponytail was a glam accessory for the after-dark fashions that Donna Karan showcased on the runway. Didier Malige for Cutler, who created the look for the show, shares tips with us on how to recreate this sleek pony.
How to get a sleek pony:
1: Spray dry hair with Cutler Volumizing Spray, as well as Cutler Protectant Treatment Spray to add a base to the hair. Using a Mason Pearson brush and a blow dryer, manipulate the product into the hair for added texture and volume
Amanda Seyfried Oscars 2010 Hair Tutorial by Celebrity Hairstylist Sally Hershberger.
"I thought Amanda Seyfried looked amazing, so youthful and modern. There were a lot of up-dos out there that left me totally underwhelmed but Amanda was perfection!" – Sally Hershberger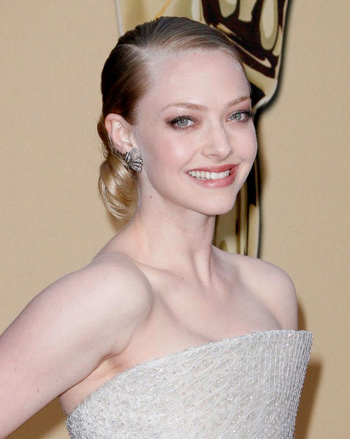 How to get Amanda Seyfried's Oscars 2010 up-do by Sally Hershberger:
1. To start, shampoo hair with Sally Hershberger's Normal to Thin Shampoo and avoid using conditioner so you can create a texture that will hold throughout the night.

The cast of Sherlock Holmes traveled from Berlin to Madrid then to Paris for three star-studded international premieres for the global blockbuster. Sebastian stylist Thomas Dunkin, who also styled leading lady Rachel McAdams' hair for the world premiere, created three different looks for the actress in these three different cities to complement her gorgeous gowns.
In Berlin, Thomas styled 40's-inspired finger-waves for Rachel that bespoke elegance and grace.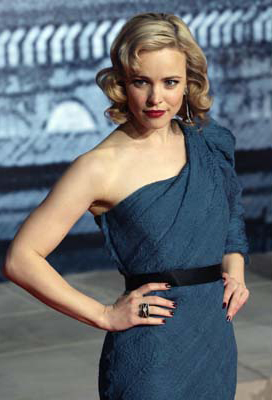 Thomas shares the step-by-step on how to get Rachel McAdams' hairdo at the Berlin Sherlock Holmes Premiere:
1) Begin by saturating damp hair from root to tip with Sebastian Professional Volupt Spray
2) Blow-dry hair with a medium-sized round brush and set whole head in medium-sized Velcro rollers
3) Leave the rollers in hair for about 5-10 minutes to cool down
4) Remove rollers beginning at the bottom, then use a ¼-inch curling iron to curl each section beginning at the root and eventually wrapping the entire section around the iron
5) Brush through hair with a Mason Pearson brush and use large section clips to define the waves where they naturally indent
6) Spray hair with Sebastian Professional Shaper Zero Gravity hair spray over the entire head and leave to set for another 10 minutes
7) Finish by removing the section clips and shaking head for an easy, sexy look
In Madrid, Thomas styled Rachel's unstructured updo with vixen-like volume.
Celebrity hair stylist Ken Paves tells Talking Makeup how to get Nelly Furtado's hairdo at the 2009 AMA's!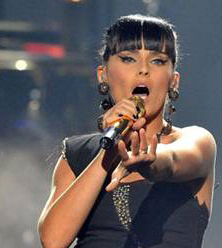 "For Nelly, we (Roberta Rogers from my LA salon and I) created a sleek ponytail with thick, modern chunky bangs. We started by spraying her damp hair with a volumizing spray (try my Ken Paves Healthy Hair Volumizing Spray, $22), and blowing it straight with my Ken Paves Professional Hair Dryer ($100, ULTA), using a Mason Pearson brush.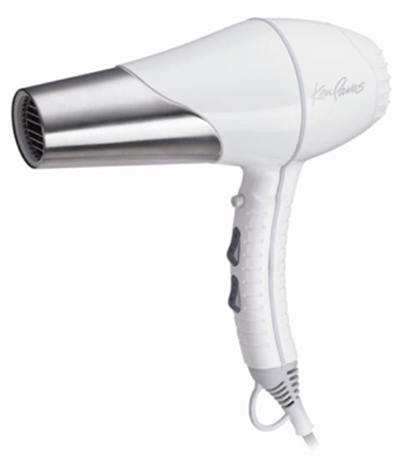 Celebrity Hairdressers Oscar Blandi & Mark Townsend get Hollywood's biggest stars glam for the 2009 Costume Institute Gala.
Calvin Klein (styled by Oscar Blandi, wearing Calvin Klein Collection).
With Brooke's hair, Oscar wanted to keep it very clean. "I decided to give her curls and keep them loose so that the look stayed soft." When her hair was still wet, he applied his Volumizing Spray to the root and then the Onde Wave Spray all over the hair to really lock in the curl. After drying the hair, he used both a medium and large barrel curling iron throughout. Using two different size barrels prevents the curls from all being the same size and ultimately blending together, so this way we avoid the blending and create more dimension. Once the curls were finished, he gently applied a small amount of Jasmine Oil on the hair to create sheen and sprayed Lacca hairspray all over.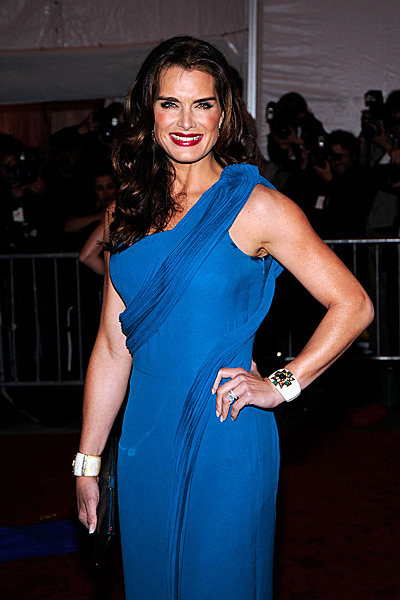 Rosario Dawson (styled by Oscar Blandi, wearing Diane von Furstenberg)
"For Rosario, I created what I like to call an abstract chignon." First Oscar blow dried the hair straight and then secured a low pony tail above the nape of the neck. Once the ponytail is set, you add medium and large size plastic rollers to the loose hair (again with both sizes to ensure texture throughout the hair). Then he sprayed Onde Wave Spray while setting the curl make sure the hair takes. Once he pulled out the rollers, it was easy to create a chignon with loose pieces– you just follow the curve of the hair and begin pinning sections in place with a bobby pin. Feel free to let hair hang and fall as it may and pull out pieces in the front to layer around the face. The final step was to spray the look with Lacca for hold through the night.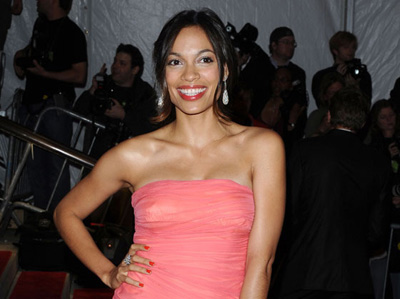 Ashley Olsen (styled by Matrix stylist Mark Townsend, wearing The Row)
Matrix celebrity stylist Mark Townsend recently cut Ashley's hair into an asymmetrical bob, so for the Met Ball they wanted to leave her hair down.