All Posts Tagged With: "acting"
The cast of Sherlock Holmes traveled from Berlin to Madrid then to Paris for three star-studded international premieres for the global blockbuster. Sebastian stylist Thomas Dunkin, who also styled leading lady Rachel McAdams' hair for the world premiere, created three different looks for the actress in these three different cities to complement her gorgeous gowns.
In Berlin, Thomas styled 40's-inspired finger-waves for Rachel that bespoke elegance and grace.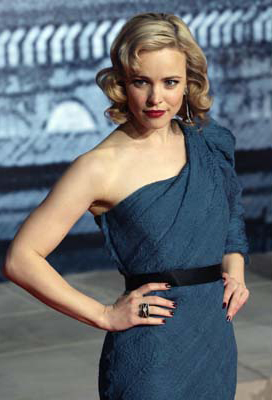 Thomas shares the step-by-step on how to get Rachel McAdams' hairdo at the Berlin Sherlock Holmes Premiere:
1) Begin by saturating damp hair from root to tip with Sebastian Professional Volupt Spray
2) Blow-dry hair with a medium-sized round brush and set whole head in medium-sized Velcro rollers
3) Leave the rollers in hair for about 5-10 minutes to cool down
4) Remove rollers beginning at the bottom, then use a ¼-inch curling iron to curl each section beginning at the root and eventually wrapping the entire section around the iron
5) Brush through hair with a Mason Pearson brush and use large section clips to define the waves where they naturally indent
6) Spray hair with Sebastian Professional Shaper Zero Gravity hair spray over the entire head and leave to set for another 10 minutes
7) Finish by removing the section clips and shaking head for an easy, sexy look
In Madrid, Thomas styled Rachel's unstructured updo with vixen-like volume.
I'm excited to share with you my interview with actress, singer, musician, and artist Persia White.
A little bit about Persia White (via wikipedia.org): she was born in Miami, Florida and raised in Nassau, Bahamas, and Miami. At the age of three, she earned a scholarship to the Nassau Civic Ballet Company. At age eight, she joined the Miami Coconut Grove Children's Theater. As a teen, White studied dance, acting, singing, and painting. Her films roles include: various independent films, including Red Letters (opposite Peter Coyote) and the cult horror Blood Dolls.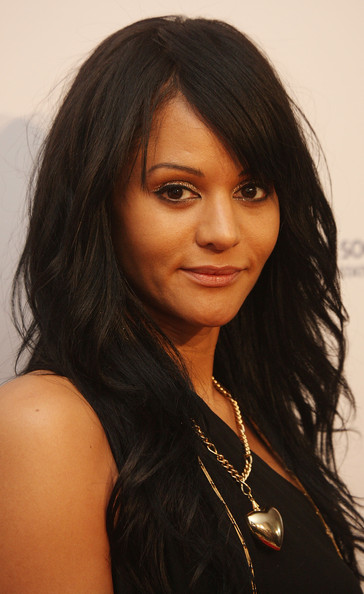 Persia White's TV movies roles includes: Operation Sandman (opposite Ron Perlman), and Suddenly, opposite Kirstie Alley. Her television work includes guest starring roles on Angel, NYPD Blue, The Steve Harvey Show, Brooklyn South, Buffy the Vampire Slayer, as well as a series regular role on Breaker High with co-star Ryan Gosling. In 2008, White appeared in The Fall of Night, as the character Dawn. She can also be seen in Chrisette Michele's video, "Be OK". White recently completed the drama Spoken Word, set for release in 2010. Persia is a vegan and an animal welfare and environmental activist.
I spoke to Persia White on the phone this past summer. I had the most amazing conversation with her about her beginnings as an actress. Her role on the long-running sitcom "Girlfriends". The award-winning documentary Earthlings which she co-produced and was narrated by Joaquin Phoenix. What does fame really mean to her. What's in her makeup bag. And future plans. Persia to me came across as absolutely beautiful inside out. I want to thank Persia for taking the time to chat with me!!
Marta Walsh: How did you decide on a career in acting, and what were some of your first breaks as an actress?
Persia White: I loved acting since I was 8 years old. I started to do theatre in Miami on the Coconut Grove Children's Playhouse. That was my big introduction to acting. Then a talent scout founded me suggested I should find an agent. I was also a dancer and kept dancing but eventually I got into acting, which is a bit easier. Dancing is such a hard career. I still love dancing. I used to be one of these artistic kids and always loved make people laugh. I would do stand-up comedy skits when I was young. I moved to LA when I was a teenager and booked my first TV Series: "Breaker High" with co-star Ryan Gosling. I did several TV guest star appearances like in NYPD Blue and Buffy the Vampire Slayer. I then booked a soap opera in New York which so happened to get cancelled. I moved back to LA, which was good because I booked the role of Lynn Ann Searcy in the sitcom "Girlfriends".