All Posts Tagged With: "Rachel McAdams"
From premieres, to parties, the following celebrities wore NARS makeup on the red carpet this past week in Cannes at the 64th Annual Cannes Film Festival. Marta Walsh has the scoop including Rachel McAdams' multitude of looks courtesy of makeup artist (and sis!) Kayleen McAdams.
Rachel McAdams At the photo call for Midnight in Paris, May 11, 2011.
NARS Products Used: Silk Road Duo Eyeshadow; Mata Hari Blush
Marta Walsh has the scoop about Rachel McAdams makeup looks created for her appearances at 2011 Cannes. Makeup artist Kayleen McAdams worked with Rachel McAdams at this year's Cannes International Film Festival.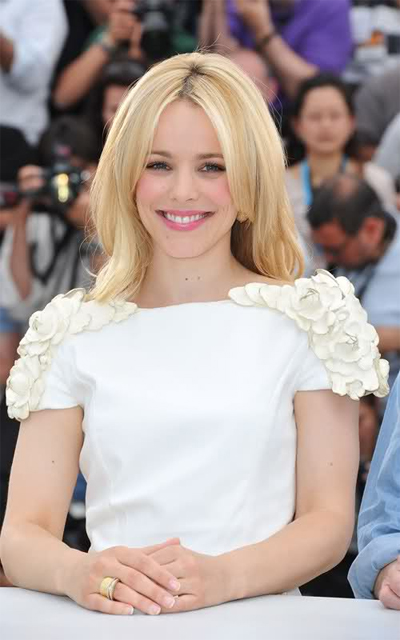 Rachel McAdam' Makeup Look at Midnight in Paris Premiere, May 11, 2011. Inspiration: "For the Midnight in Paris photo call, the dress was very youthful and fun. We knew we were focusing on the eyes and skin for the premiere, so we chose to do a bright fun lip."
Blonde sexy shag? Or dark curly locks?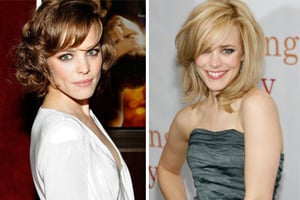 This is a TotalBeauty.com celebrity hairstyles article
At the premiere of her new film "Morning Glory" Rachel McAdams sported a blonde sexy hairstyle to kill. Do you dig it? Or do you like the dark curly 'do better?
Rachel McAdams Oscars 2010: The Hairstyle
For Hollywood's biggest night of the year, Sebastian Stylist Design Team Member Thomas Dunkin styled actress Rachel McAdams' tresses to complement her pastel watercolor-print strapless couture gown. The voluminous texture of Rachel's bun evoked a spring-time look that is effortlessly chic and breathtakingly beautiful.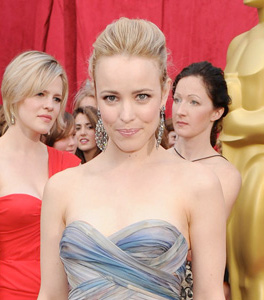 Hair Tutorial: Thomas shares styling tips for recreating Rachel's red carpet look at home
1) Start by applying Sebastian Professional Liquid Gloss to slightly damp hair.
2) Blow dry hair straight with a large round bristle brush to give hair a smooth, polished base and voluminous texture from which to start styling.
3) Brush hair back and put in a ponytail just above the occipital bone. Secure with bobby pins.
Rachel McAdams in CHANEL Beauté at the 82nd Annual Academy Awards.
Beauty Inspiration: "We chose our colour palette based on the water colour look of Rachel's dress. There was a wash of cool tones in the dress, blue, green, purple, pink so we wanted the eye, cheek and lips to all have this same water colour sheerness to it."-Makeup Artist Kayleen McAdams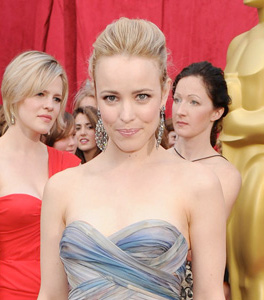 How to get Rachel McAdams Oscars 2010 Makeup Look:
For Rachel's eyes, Kayleen used a combination of grey and pink shades. On the lid, she used CHANEL Fluid Iridescent Eyeshadow in Fountain. She kept the grey on the outer corners of the lid and underneath the eye. She used the rose gold shade in the CHANEL Quadra Eyeshadow in Spices up to the brown bone and along the lid.
The cast of Sherlock Holmes traveled from Berlin to Madrid then to Paris for three star-studded international premieres for the global blockbuster. Sebastian stylist Thomas Dunkin, who also styled leading lady Rachel McAdams' hair for the world premiere, created three different looks for the actress in these three different cities to complement her gorgeous gowns.
In Berlin, Thomas styled 40's-inspired finger-waves for Rachel that bespoke elegance and grace.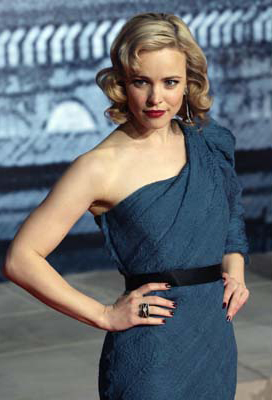 Thomas shares the step-by-step on how to get Rachel McAdams' hairdo at the Berlin Sherlock Holmes Premiere:
1) Begin by saturating damp hair from root to tip with Sebastian Professional Volupt Spray
2) Blow-dry hair with a medium-sized round brush and set whole head in medium-sized Velcro rollers
3) Leave the rollers in hair for about 5-10 minutes to cool down
4) Remove rollers beginning at the bottom, then use a ¼-inch curling iron to curl each section beginning at the root and eventually wrapping the entire section around the iron
5) Brush through hair with a Mason Pearson brush and use large section clips to define the waves where they naturally indent
6) Spray hair with Sebastian Professional Shaper Zero Gravity hair spray over the entire head and leave to set for another 10 minutes
7) Finish by removing the section clips and shaking head for an easy, sexy look
In Madrid, Thomas styled Rachel's unstructured updo with vixen-like volume.
Love Rachel McAdams hairdo at the 'Sherlock Holmes' London Premiere? Talking Makeup has the scoop on how to get Rachel's hairstyle thanks to Sebastian Stylist Design Team Member Thomas Dunkin!
For the world premiere event of the highly-anticipated Sherlock Holmes movie, Sebastian Stylist Design Team Member Thomas Dunkin styled actress Rachel McAdams' tresses to complement her Grecian-inspired gown for a red carpet look that radiated grace and glam. All eyes were on Sherlock's leading lady's asymmetrical, loosely textured side braid styled by Thomas Dunkin.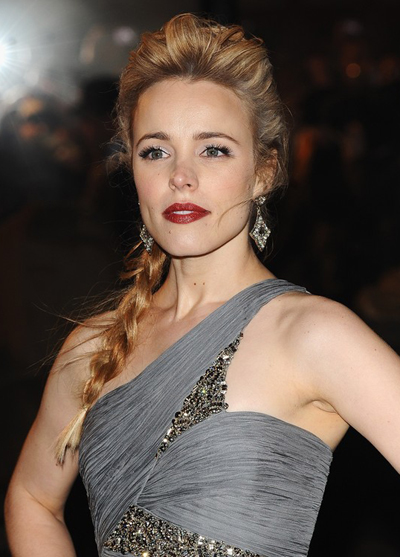 Thomas shares styling tips for recreating Rachel's red carpet look at home:
1. Start by applying a volumizing product like Sebastian Professional Texturizer to wet hair.
2. Blow dry in sections, and pin each section in medium and large sized Velcro rollers throughout whole head and allow to set for 5-10 minutes.
3. Allow to cool then take down rollers, and spray hair with a dry shampoo for added texture.
4. Emulsify a small dab of Sebastian Professional Microweb Fiber between palms and run through top of hair. Backcomb front section and manipulate for height and volume. Secure with pins.
The January 2010 issue of Vogue Magazine which is on newsstands nationwide December 22nd,2009,  is featuring Rachel McAdams, the star of the highly anticipated Sherlock Holmes.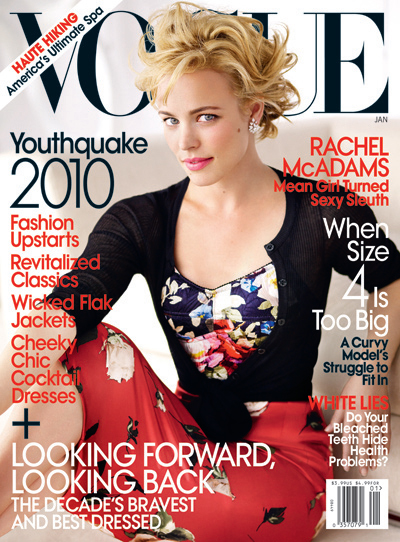 The Rachel McAdams article and interview in Vogue Magazine January 2010 is titled: Mean Girl Turned Sexy Sleuth By Sally Singer.  Photographs: Mario Testino. Cover fashion: Dolce & Gabbana; De Beers white gold–and–diamond earrings.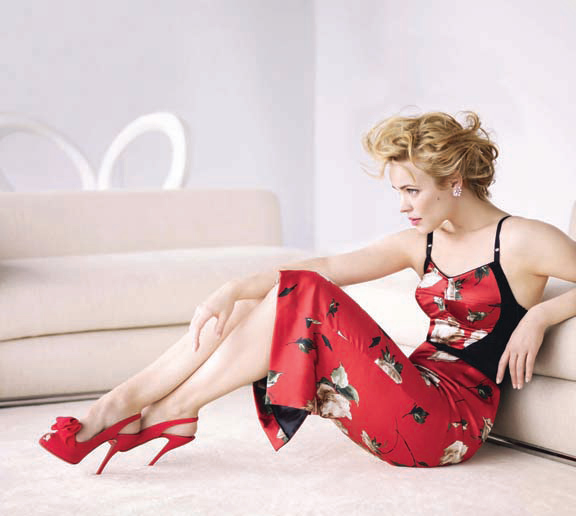 "Such a brilliant actress—not like Meryl, but she has that kind of intelligence. That brain is substantial, and if you have that along with a face you can't take your eyes off, it's so compelling. It's rare."—Diane Keaton on Rachel McAdams
Chantecaille is proud to be part the eagerly awaited feature length film Sherlock Holmes directed by Guy Ritchie and staring the beautiful Rachel McAdams and Kelly Reilly. Sherlock Holmes is opening December 25, 2009.
Makeup artist Patricia Regan used and array of Chantecaille products on the set of Sherlock Holmes: "I love their sheerness, the natural finish, the organic color and consistency. Chantecaille products give me perfect control over the look I like to achieve."-Patricia Regan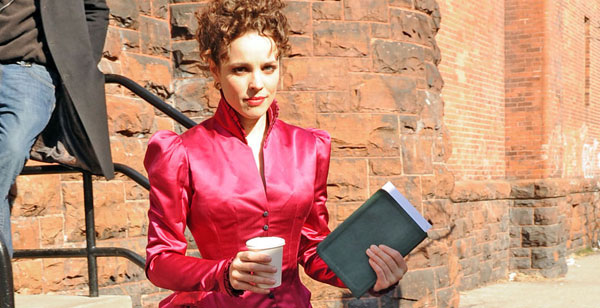 Image via: comingsoon.net
Patricia Regan used an array of Chantecaille products on the set of Sherlock Holmes including:
Compact Makeup in Petal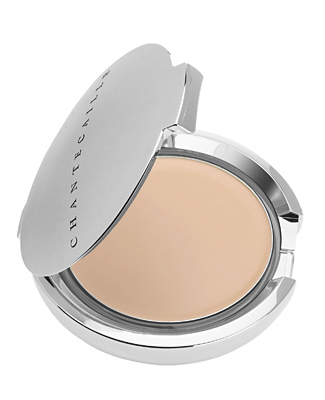 If you haven't visited Troy Jensen's website yet you are missing out on some of the best kept Hollywood makeup tips and tricks! Troy Jensen does makeup for celebrites like: Kim Kardashian, Kendra Wilkinson, Melanie B, Nicole Scherzinger, Rachel McAdams and more.
Troy Jensen did the makeup for Jennifer Lopez in image below & shares his experience: "I finally got to work with one of my favorite beauties, Jennifer Lopez. I'm a fan of her music, movies, and her stunning beauty. I got her ready for my friend Andrea Lieberman's launch of her new clothing line collection A.L.C. at Barney's New York in Beverly Hills. Andrea asked if I would be so kind to glam Jennifer for her event. I responded with a "Hell yeah!"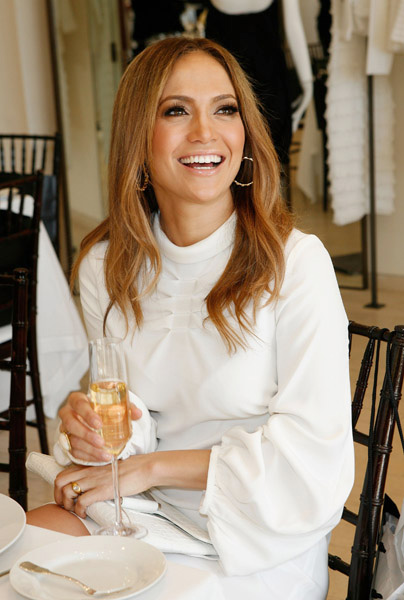 Troy Jensen used Dior makeup to get her daytime Bardot beauty look. Click image below to enlarge!