All Posts Tagged With: "Vogue"
Just in case you've missed Kendall Jenner In VOGUE September 2014. Do you love?
Amal Alamuddin's Wedding Dress: ​Behind the Scenes at Her Final Fitting with Oscar de la Renta in Vogue, the October issue hits newsstands October 1st.
"It's the most important dress in the life of a woman," de la Renta says. "Any girl from any walk of life dreams of that special dress, and I try to make that dream a reality for her. Amal and I looked at a lot of evening dresses and wedding dresses together, and we discussed what she liked. That gave me the idea of what she wanted."-Read Full Article in vogue.com
Michelle Williams is Back on Broadway – and Starring in Cabaret. Practice Makes Perfect: Williams, between rehearsals, in a Cadolle bustier. Velvet coat from New York Vintage Inc. VBH ring with black diamonds. Boots from Early Halloween, NYC. Hair: Orlando Pita for Orlo Salon. Makeup, Angela Levin for Chanel Beauté. Fashion Editor: Phyllis Posnick. Production design, Piers Hanmer.
Read Full Story in Vogue.com
Taylor Swift graces the cover of Vogue's February 2012 issue, available on newsstands nationwide January 24th. In her first appearance on the cover of the magazine, the country-pop sensation embraces a glamorous new look and talks to Contributing Editor Jonathan Van Meter about fame, ambition, and the joys of being on her own. Read full story in: Vogue.com.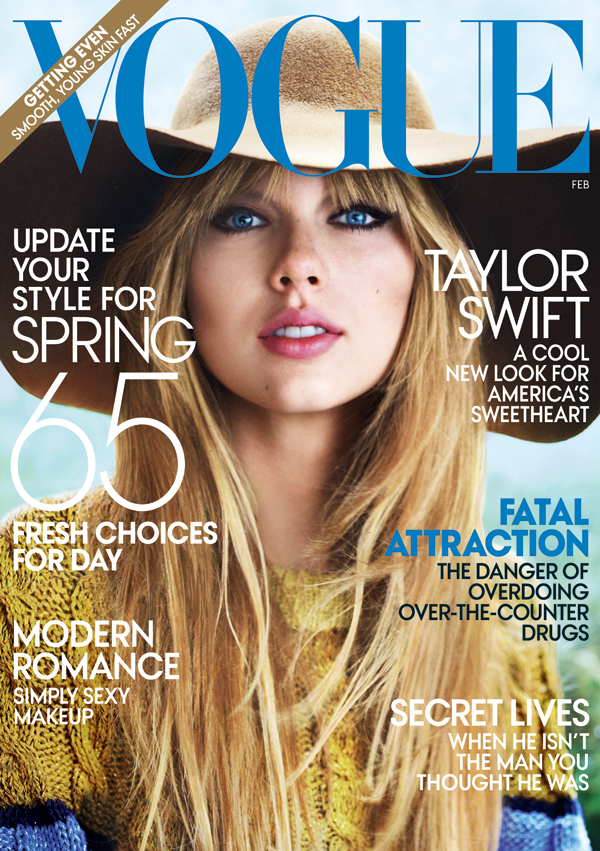 Taylor Swift
Photo credit VOGUE/Mario Testino
Meryl Streep graces the cover of Vogue's January 2012 issue, available on newsstands nationwide December 20th, 2011. Never one to shirk a challenge, the actress takes on the iconic British prime minister Margaret Thatcher in her latest screen incarnation for Iron Lady. In Vogue's first issue of the new year, Contributing Editor Vicki Woods sits down with the Hollywood legend to talk about women, power, and the view from the top. Read full article in VOGUE.com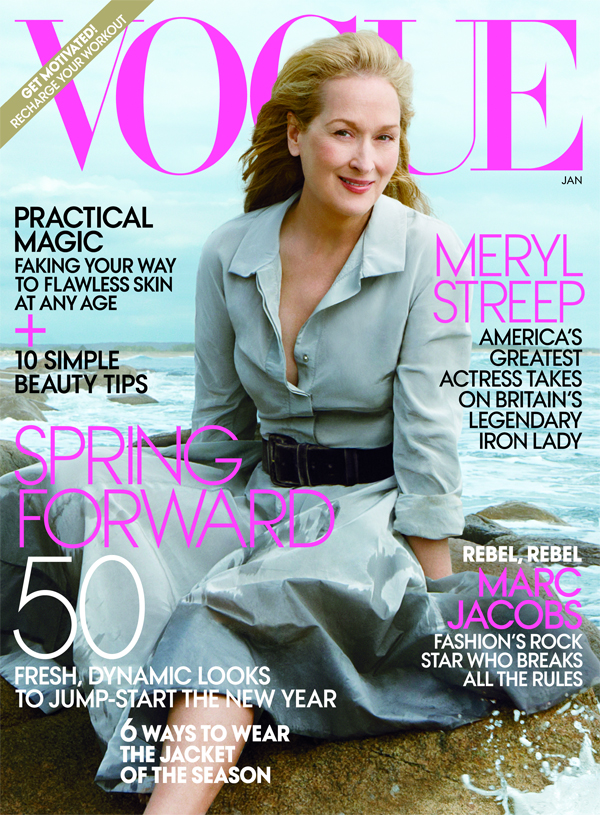 VOGUE/Annie Leibovitz
Meryl Streep VOGUE January 2012 Cover
Two iconic American dynasties converge as Lauren Bush and David Lauren tie the knot at a rustically elegant ranch in the Rocky Mountains. Contributing Editor William Norwich reports on the wedding for the December 2011 issue of Vogue, on newsstands nationwide November 22nd.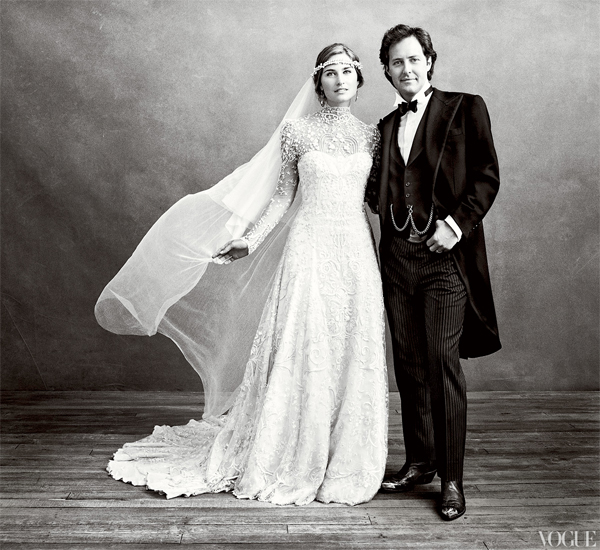 Lauren Bush and David Lauren Wedding
And…
Charlize Theron graces the cover of Vogue's December 2011 issue, on newsstands nationwide November 22nd. After a hiatus from leading roles, the actress returns full-on with this month's Young Adult, a film that showcases her Oscar-worthy talents—and the liberating energy of her newly single life. Read full story in Vogue.com.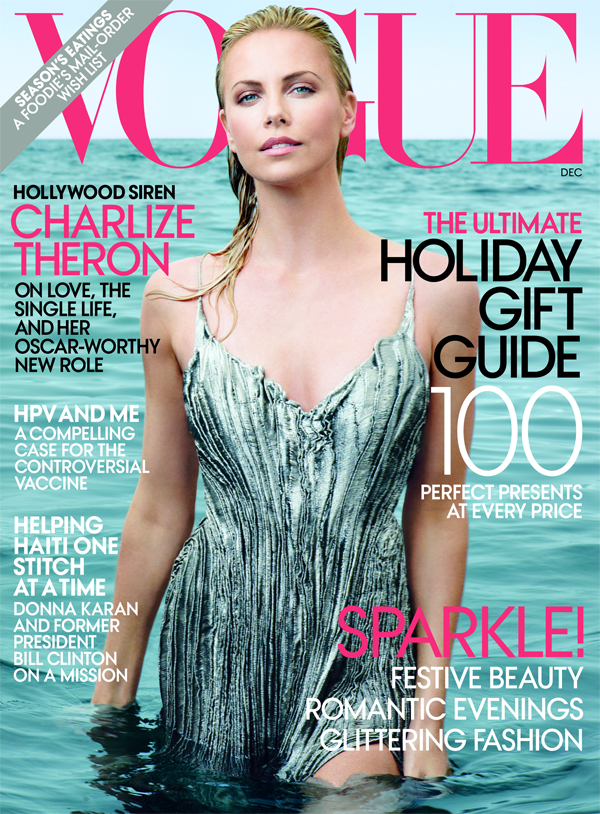 VOGUE Charlize Theron December 2011 cover
Emma Watson graces VOGUE Cover July 2011. It is definitely a fashion photo shoot with extreme makeup and photoshop and at times I wish Emma looked more like herself.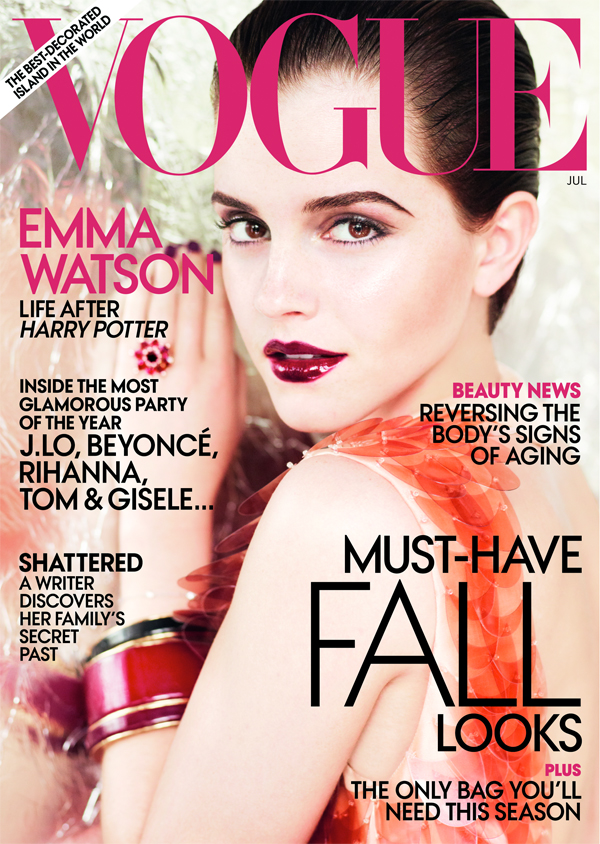 "At 21, Emma Watson has finally reached the grand finale of the Harry Potter movies that have dominated her young life. She discusses her next chapter in the July issue of Vogue, on newsstands nationwide June 21st, 2011. Ms. Watson was photographed for the cover (in Prada) by Mario Testino." Read complete article is available on Vogue.com.
Emma Watson VOGUE Cover July 2011, see more of Emma.
Oribe shares with TM how to get Penelope Cruz's Stunning VOGUE Cover June 2011 hairstyle. Iconic hairstylist Oribe created care‐free beach hair to highlight Penelope Cruz's natural beauty and celebrate summer for the June 2011 cover of Vogue.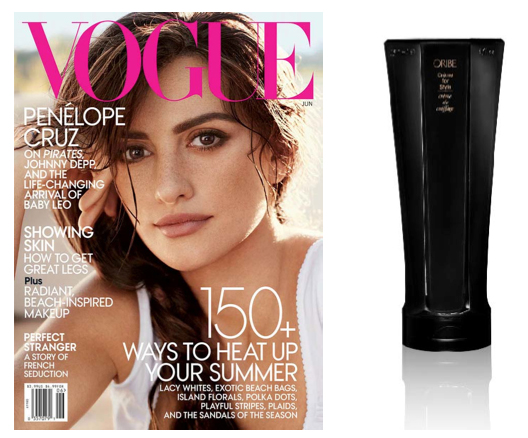 "I wanted her to have a cool, casual type of look," said Oribe. "The best part about this style is that there really are no rules – it's natural with a twist." Oribe found that his soon‐to‐be released beach spray was perfect to add separation, moisture and shine for relaxed yet elegant, simply styled locks. "It's just beautiful summer hair."
How to Get Penelope Cruz's hairdo:
Marta Walsh has the sneak peek to the images of Penelope Cruz in Vogue Magazine June 2011. Penelope is one my biggest beauty inspirations and the one I relate the most. It's not just her physical beauty it's her charming accent, wit, and the way she carries herself that makes her stand out from the rest.
"Fresh from the set of Pirates of the Caribbean, Penélope Cruz assumes her most exhilarating role ever: motherhood. In the June 2011 issue of Vogue (on newsstands nationwide May 24th) the magazine reports on the Oscar-winner's life-changing year…"-Read full article in Vogue.com