All Posts Tagged With: "Prada"
Redken Creative Consultant Guido created hair with a bit of an edge at Prada today, which offset the beautiful Spring/Summer 2012 collection. "The look for Prada today is a bit like a girl curling her hair and putting in a bobby pin before going out at night- she did her hair herself. It's kind of homemade, not finished, the hair of a woman with a David Lynch darkness– she's more night than day with her hair. But she is overall a Prada woman because there is a refinement to her quirkiness."–Guido, Redken Creative Consultant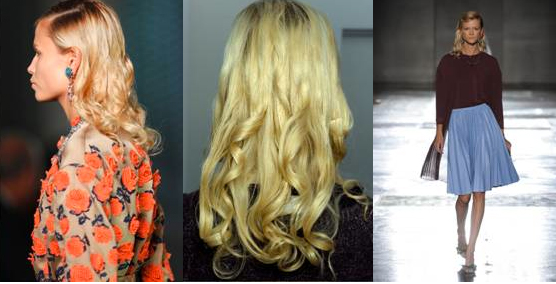 Prada Spring/Summer 2012 collection the hairstyle: Milan FashionWeek
Emma Watson graces VOGUE Cover July 2011. It is definitely a fashion photo shoot with extreme makeup and photoshop and at times I wish Emma looked more like herself.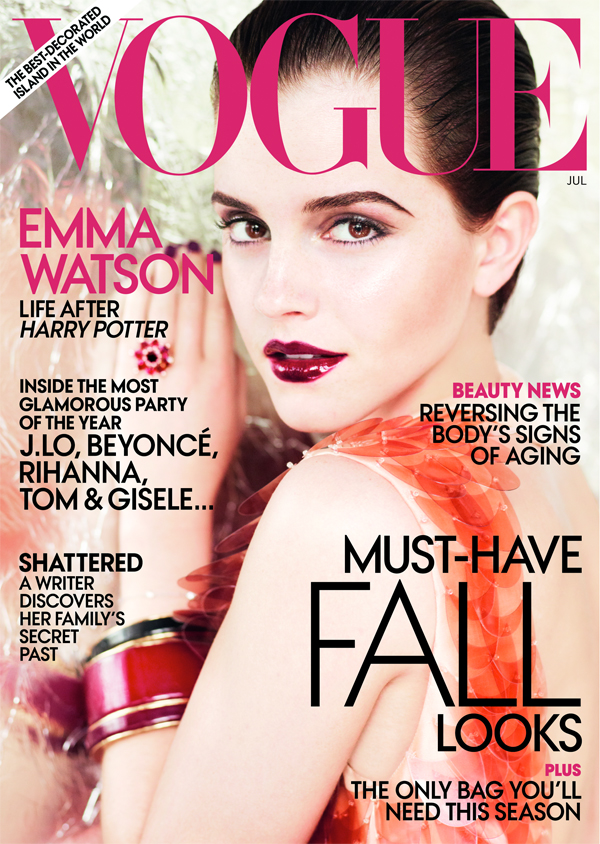 "At 21, Emma Watson has finally reached the grand finale of the Harry Potter movies that have dominated her young life. She discusses her next chapter in the July issue of Vogue, on newsstands nationwide June 21st, 2011. Ms. Watson was photographed for the cover (in Prada) by Mario Testino." Read complete article is available on Vogue.com.
Emma Watson VOGUE Cover July 2011, see more of Emma.
To celebrate The Town's debut in theaters today, September 17th, 2010, with Rebecca Hall, Blake Lively, John Hamm and Ben Affleck, NARS highlights Rebecca's looks from the film's recent premieres at the Toronto International Film Festival and the Venice International Film Festival. Created by Stephen Sollitto for NARS Cosmetics, below are details on what she wore!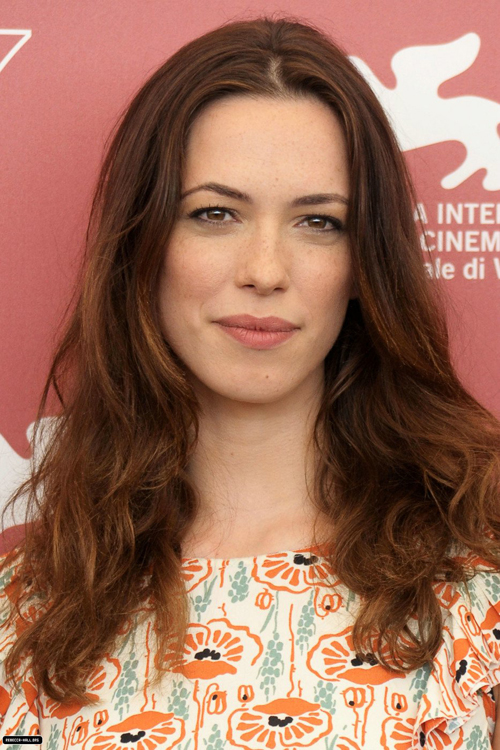 Rebecca Hall at the Venice International Film Festival (Day, September 4, 2010)
To complement her printed Prada dress during the day, Stephen kept the look pretty but simple.
Sneak peek to V Magazine's The Sexy Body Issue, which includes a 20-page collections story by Willy Vanderperre and styled by Olivier Rizzo. The story underscores the message of The Sexy Body Issue, which is that beautiful bodies and shapely women are firmly back in fashion. The story's casting, which features everyone from Miranda Kerr (who just got engaged to actor Orlando Bloom) to Kasia Struss to Karolina Kurkova to Jacquelyn Jablonski, reflects that.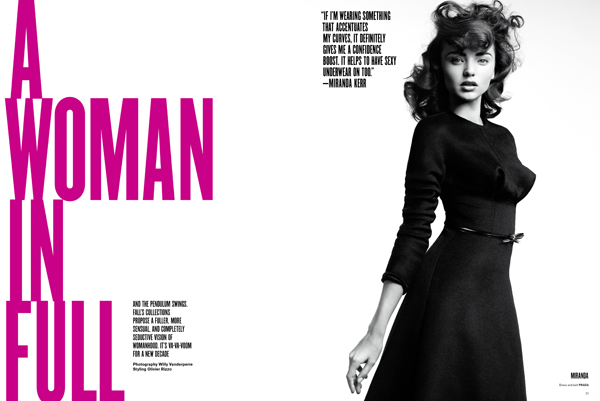 "If I'm wearing something that accentuates my curves, it definitely gives me a confidence boost. It helps to have sexy underwear on too." – Miranda Kerr
Two new fragrances join Prada's Ephemeral Infusion Collection, the women's fragrance, Infusion de Tubéreuse, and the men's fragrance Infusion de Vétiver.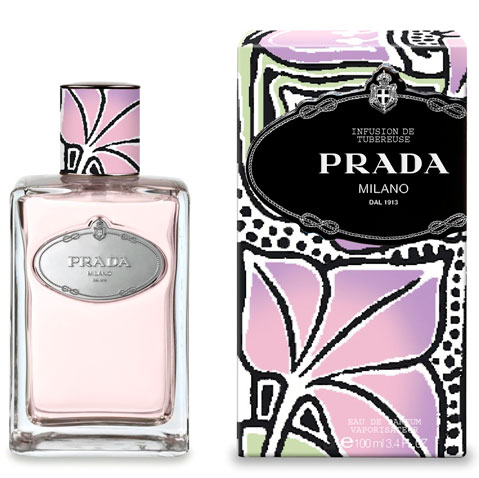 A surprising mix of Tuberose from India, Petitgrain Bigarade, Blood Orange from Italy and Dynamone combine to create Infusion de Tubéreuse (image above), a delicate impression of this traditional scent.
Prada Parfums has launched a new advertising campaign for Prada Infusion d'Iris which features model Lara Stone, shot by famed photographer, Steven Meisel.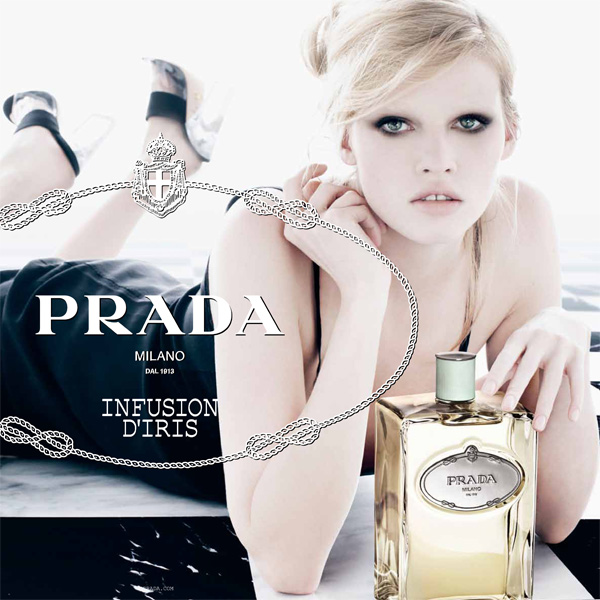 Prada Infusion d'Iris: Since its arrival in 2007, Infusion d'Iris has redefined the rules of contemporary perfumery through its delicately balanced mix of tradition and sensuality: an inspiring and joyful vision of what it means to be a woman today. Infusion d'Iris captured the attention of the market, opening up a new space within the Prada Parfums portfolio for fresher scents, within the context of Prada's vision of timeless heritage fused with uncompromising modernity. Now, Prada Parfums has launched a new advertizing campaign that brings these qualities into a fresh alignment.
Nicole Kidman Grammy's Hair How-To. The Hair Tutorial.
Celebrity hairdresser David Babaii created this romantic and elegant up-do to emphasize Nicole's beautiful bone structure and Prada dress design. He began by spraying her entire head with David Babaii for WildAid Bohemian Beach Spray, scrunching into her hair for body, lift and texture. Next, he dried her hair using a large round brush concentrating on the root area for maximum lift.
Once dry, he divided tresses into 4 sections (top, sides and back leaving the nape area free). Using the H2Pro 300SE Styling Iron, he created "ribbon curls" by taking small "V" shaped partings. To achieve, wrap the hair around and inside the styling iron close to the scalp area and pull the iron down (similar to curling ribbon). After curling the entire head, he applied some David Babaii for WildAid Hair Polish into his hands, using his fingers to loosen the curls from the mid-section to the ends only.
At the Prada Fall/Winter 2010 runway show in Milan, Redken Creative Consultant Guido created a 60s inspired lacquered voluminous egg-shaped chignon.
"The look at Prada was all about classic French hairdressing done with a very chic uptown look with a nod to the 60s – a modern take on a classic, sophisticated look." – Guido, Redken Creative Consultant

Miranda Kerr at the Prada AW 2010 Fashion Show in Milan
Products all by Redken:
thickening lotion 06 body builder
hardwear 16 super strong gel
forceful 23 super strength finishing spray



Create the Look:
1- Section hair into two sections by a horizontal part at ear height.
From The Design House Prada we get a sensual fragrance just for men called:  Prada Eau De Toilette for Men.  Main notes include:  amber surrounded by woodsy musks.  Prada Eau de Toilette is a muscular version of Prada Tendere for women with its fabulous earthy notes.  If you like sleek and modern looking stuff then Prada Form Men is made for you.  Prada Eau De toilette unique glass shape can me a collectors item.  Cost:  $49.50 for 1.7 oz Eau de Toilette Prada Beauty.  $68.00 for 3.4  oz Eau de Toilette Prada Beauty.
Prada Tendre is a new take off of the original perfume Prada by Prada.  Tendre is a creation reminiscent of Prada's signature women's fragrance that translates each of the four main, iconic ingredients at their true origins into a compelling, luminescent scent with hypnotic impact.  Notes include:  Siamese Benzoin, Plum Accord, Indonesian Patchouli Leaves, Verbena, Cedarwood, Labdanum, Cardamom, Mate Leaves, Indian Sandalwood, Jasmine, Vetiver.  Prada Tendre is a true classic it smells pure and very seductive.  The new fragrance from Prada falls into the woody-oriental type of perfume.  And if you haven't watch the new film The Devil Wears Prada staring Meryl Streep and Anne Hathaway, then you are missing out.  Cost:  $65 for 1.7 oz Eau de Parfum Natural Spray, $95 for 2.7 oz Eau de Parfum Refillable Spray, $87 2.7 oz Eau de Parfum Natural Spray.