All Posts Tagged With: "Steven Meisel"
I stumbled upon this video and love it: Making of Louis Vuitton Fall/Winter 2010 Ad Campaign. Watch fashion designer Marc Jacobs talking about the photo shoot and ad campaign. Also models: Christy Turlington, Karen Elson, Natalia Vodianova. Other credits: Photographer: Steven Meisel. Stylisht: Karl Templer. Hair: Guido. Makeup: Pat McGrath.
Prada Parfums has launched a new advertising campaign for Prada Infusion d'Iris which features model Lara Stone, shot by famed photographer, Steven Meisel.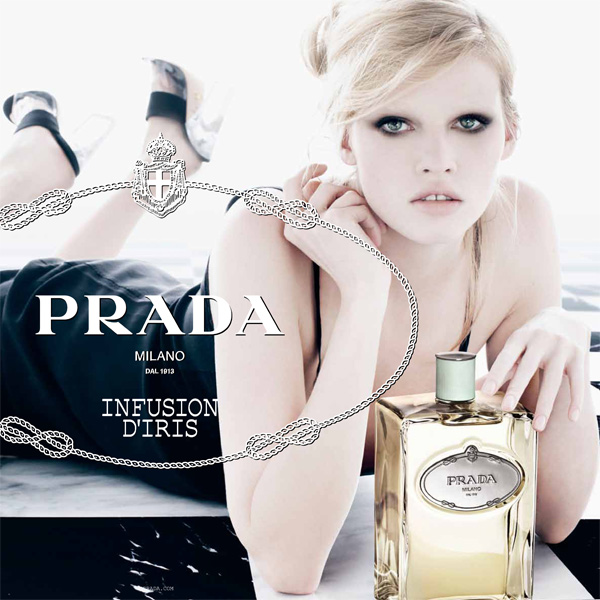 Prada Infusion d'Iris: Since its arrival in 2007, Infusion d'Iris has redefined the rules of contemporary perfumery through its delicately balanced mix of tradition and sensuality: an inspiring and joyful vision of what it means to be a woman today. Infusion d'Iris captured the attention of the market, opening up a new space within the Prada Parfums portfolio for fresher scents, within the context of Prada's vision of timeless heritage fused with uncompromising modernity. Now, Prada Parfums has launched a new advertizing campaign that brings these qualities into a fresh alignment.
The iconic unisex fragrance ck one will relaunch later this month with a NEW television and print ad campaign (shot by the legendary Steven Meisel), a beautiful song written by British musician and model Jamie Burke and a special, limited edition fragrance bottle packaged with an mP3 speaker.
About ck one Relaunches with Inaugural Campaign via Women's Wear Daily:
by JULIE NAUGHTON
Posted FRIDAY JANUARY 09, 2009
From WWD ISSUE 01/09/2009
Calvin Klein plans to bring new attention to its CK One franchise with a new TV campaign to be launched Jan. 20. Not coincidentally, it's the same day President-elect Barack Obama will be inaugurated.
"The CK One 'We are one' campaign is inspired by a social movement of people coming together in the spirit of unity," said Catherine Walsh, senior vice president of American fragrances for Coty Prestige, noting the campaign's centerpiece is a song commissioned from British musician Jamie Burke – who appears in the print and TV ads for this campaign, as well as two Calvin Klein Jeans spots. "There is such a natural synergy between the message of the campaign and the essence of our new president's platform that it seemed the ideal moment to share the TV spot. The campaign – and its original song – give voice to an optimistic new generation, that certainly made its voice heard in the latest election. This is a celebration of the power of coming together as one."
Madonna is the new face for Louis Vuitton.
Madonna's looks ageless and very flexible in this Louis Vuitton ad . Yoga must me a big part in Madonna's fitness routine.
Madonna's hair is left natural with soft curls and parted aside. Madonna's makeup look is elegant, red lips and flawless complexion.
I love Madonna's shoes, and of course, her Louis Vuitton bag!
The new Louis Vuitton ads featuring Madonna in a grainy petite French bistro. Photographed by Steven Meisel. LV's creative director Marc Jacobs hand picked Madonna for the campaign after seeing her perform in Paris. via http://www.fashionfirstlunchlater.blogspot.com/