All Posts Tagged With: "Louis Vuitton"
Redken Creative Consultant Guido worked to create styles for two very distinct powerhouse collections at his last day of shows in Paris this week.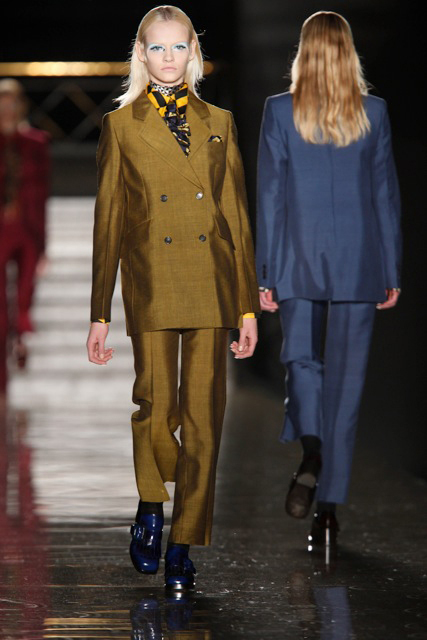 Miu Miu Fashion show Fall 2012
Celebrity Hairdresser David Babaii flew to Paris to create Uma Thurman's looks for Paris Fashion Week's Spring/Summer 2012 Collections.

Uma Thurman Front Row at Chanel on October 4, 2011
At the Chanel Show, Uma Thurman sat front row with her tousled Bohemian up-do by celebrity hairstylist David Babaii. He created this romantic and elegant style to emphasize Uma's beautiful bone structure and timeless Chanel dress.
Redken Creative Consultant Guido created a French twist with an edge today to pair with the lovely, luxurious Louis Vuitton collection. "Today is the last day of Fashion Week and at the Louis Vuitton show, we're creating an easy updo, a French twist with bits sticking out so it's a little bit punky. We took inspiration from the Marc Jacobs show in New York and evolved the look with a dryer texture for the Louis Vuitton woman. Some of the models are wearing tiaras and this is overall a very pretty look."–Guido, Redken Creative Consultant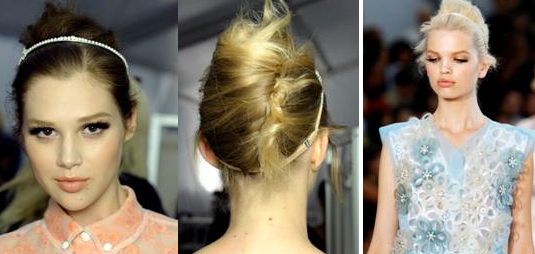 Louis Vuitton Spring/Summer 2012 Paris Fashion Week
Redken Products Used:
Redken's Runway Report from Paris: Louis Vuitton & Miu Miu with hair by Guido. Ending Paris Fashion Week with two show-stopping styles, Guido ended his three city, four week tour with Louis Vuitton and Miu Miu. At Louis Vuitton, the hairstyle was a very "dominatrix-like rich, ponytail to complement the constricting head pieces."–Guido, Redken Creative Consultant.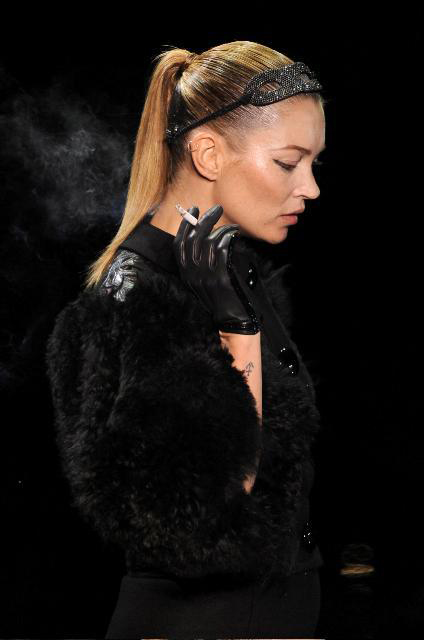 Kate Moss at Louis Vuitton Paris fashion week 2011
Paris Fashion Week SS 2011. Redken Creative Consultant, Guido created a head turning style at Louis Vuitton. The Hairstyle & Inspiration: At Louis Vuitton, the hair was a highly polished twist close to the head.

All photos by Matt Lever for Redken
"We've been seeing a lot of smaller shapes this season, and the look for Louis Vuitton is very sophisticated, V-shaped twist." –Guido, Redken Creative Consultant
Redken Products & how to:
I stumbled upon this video and love it: Making of Louis Vuitton Fall/Winter 2010 Ad Campaign. Watch fashion designer Marc Jacobs talking about the photo shoot and ad campaign. Also models: Christy Turlington, Karen Elson, Natalia Vodianova. Other credits: Photographer: Steven Meisel. Stylisht: Karl Templer. Hair: Guido. Makeup: Pat McGrath.
Sneak Peek: The cover for the next V Magazine (issue #65) which hits newsstands Tuesday, May 11th, 2010: "The Summer Scorcher issue," starring gorgeous actress Scarlett Johansson. Scarlett stars in Iron Man 2 which opens in theaters today, May 7th, 2010. The 21st century starlet was shot by famed photographers Inez van Lamsweerde and Vinoodh Matadin, and discussed her transformation as a woman with the various challenges she has faced throughout her career as an actress.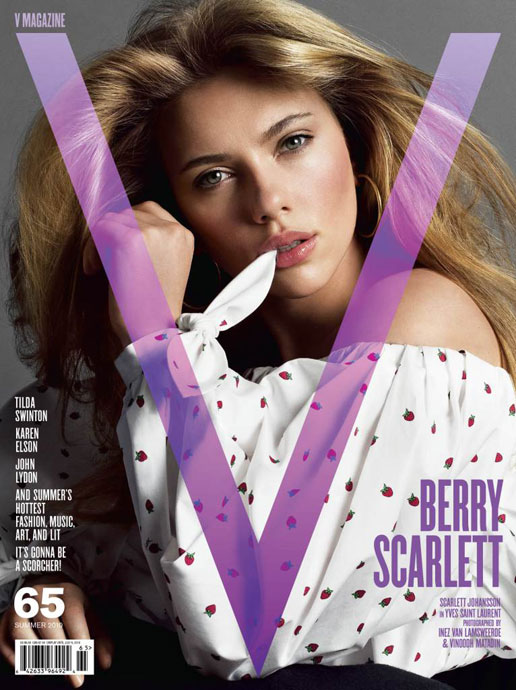 "Working with these incredible hair and makeup teams, you go in looking like a schmoe, and you come out like a movie star."-Scarlett Johansson
Rachel Bilson looked stunning at the 2010 Costume Institute Gala. Her Louis Vuitton gown inspired her look: elegantly fresh with a modern asymmetrical edge. Master hairstylist Marco Santini for Moroccanoil created a virtuosic design emphasizing a playful counterpoint of smooth and wavy textures.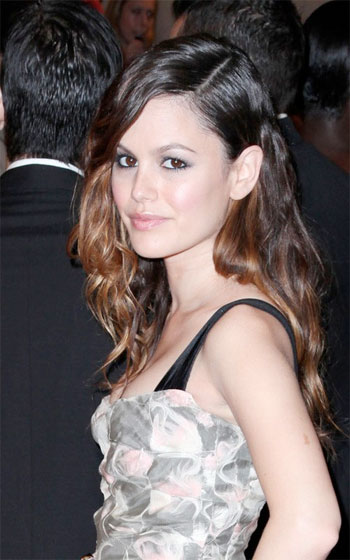 "It was very humid tonight and Rachel's hair is fine so we had to layer products into her hair in a different way to make sure the style not only looked beautiful, shiny and natural, but held up throughout the evening."
How To: Hair Tutorial
While her makeup was being applied Marco created a low part then finger-set the hair with Moroccanoil Hydrating Styling Cream, "I used the product to hydrate and smooth her curly texture. Afterwards, I shaped the core texture using my hands and the blow dryer.
To wrap up Fashion Week Fall/Winter 2010, Guido, Redken Creative Consultant ended with a bang of ponytails at the Louis Vuitton and Miu Miu shows in Paris. Find out the must-have products and inspiration!
LOUIS VUITTON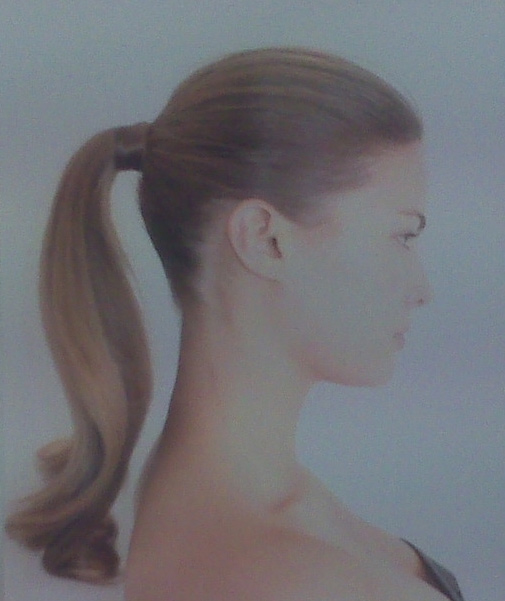 Guido created the perfect classic ponytail with curls at the ends and a piece of hair wrapped around the elastic. "We wanted to create a retro ponytail to complement the 1950s feel of the clothes." -Guido, Redken Creative Consultant
Products: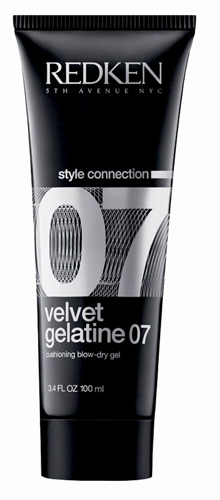 Redken Style Connection velvet gelatine 07 cushioning blow dry gel
Amber Valletta as Catherine Deneuve wearing Belle de Jour Lipstick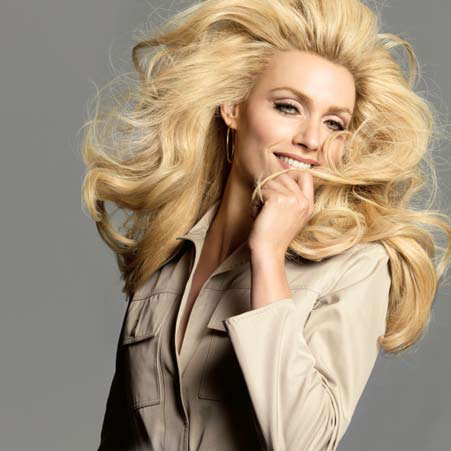 Supermodel Amber Valletta has walked hundreds of runways, appeared on countless covers, and has been the face of Louis Vuitton, Calvin Klein and Versace. She has also appeared in many films such as What Lies Beneath, The Family Man, and Hitch, and works internationally to raise awareness about the dangers of mercury in our waters. She appears as legendary French model and actress Catherine Deneuve in her most iconic role as a housewife turned prostitute in 1967's Belle de Jour. She wears Belle de Jour Lipstick, a demure sheer beige. "I really wanted to use Belle de Jour—it's one of my favorite shades and perfect for this fun, young interpretation of Catherine Deneuve," says François. Proceeds to benefit The Friendly House.
Daphne Guinness in Modern Edwardian wearing Night Breed Single Eyeshadow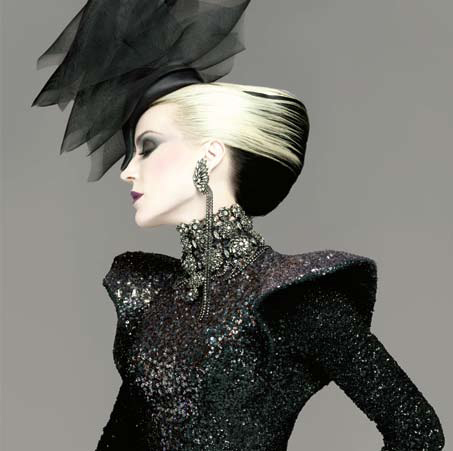 Daphne Guinness is a style icon, socialite, heiress, film producer and fashion designer, and a regular fixture in the most exclusive front rows. She has a legendary haute couture collection, impeccable taste, and never disappoints fashion critics. She appears in modern, glittering metallic Edwardian clothing, hat, and a mixture of Erickson Beamon and her own jewelry. "This look is so Daphne—very sultry, very sexy, very evening—so daring. Daphne can pull anything off—she's such an inspiration," says François. She wears the Night Breed Single Eyeshadow, a black with silver glitter hue that can be worn sheer or layered as it is here—perfect for creating a little drama. Proceeds to benefit Meath Women's Refuge & Support Services.
Marc Jacobs as China Machado wearing Dovima Nail Polish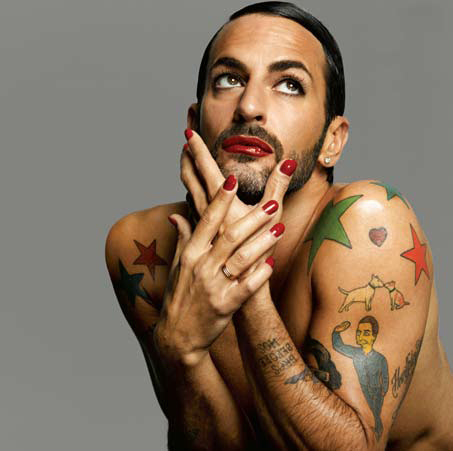 American fashion designer Marc Jacobs knows a thing or two about icons. He is as famous for his unusual and ingenious choice of models and collaborative partnerships as he is for his stirring designs—at both his eponymous fashion house and at Louis Vuitton, where he serves as Creative Director. He appears as 1960s supermodel China Machado in a photograph taken by legendary photographer Richard Avedon, who has always been an inspiration to François. "China is wearing bright red polish in her 1959 photo, so I wanted Marc to do the same—plus he's always up for anything," says François. Marc wears Dovima Nail Polish, named for one of Avedon's favoritemodels—a very modern, very sophisticated bold tomato red. Proceeds to benefit amfar.
Naomi Campbell as an Iconic Supermodel wearing Taj Mahal Blush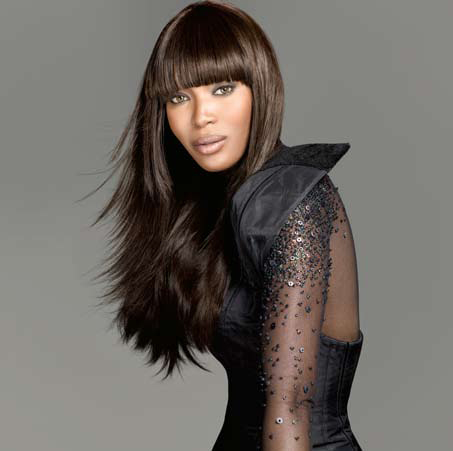 Naomi Campbell was an overnight sensation when she began her career in the mid-eighties, changing the face of the industry as the first black model to appear on the covers of French, British, and Japanese Vogue. She was famously filmed for George Michael's Freedom '90 video, as well as for Madonna's Erotica video, and has appeared on over 100 magazine covers. She is a supermodel in the truest sense. Naomi is the epitome of glamour in an Olivier Theyskens for Nina Ricci dress, and Taj Mahal Blush, a burnt orange with shimmer. "Naomi is one of the most iconic symbols of beauty today, and I wanted to use a makeup color that would show this by name and by hue. It's a bright shade, but sheer, so it looks very natural and yet, ultra-glam—just like her," says François. Proceeds to benefit White Ribbon Alliance.