Amber Valletta as Catherine Deneuve wearing Belle de Jour Lipstick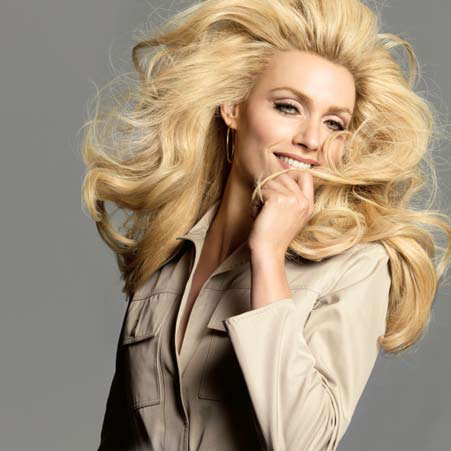 Supermodel Amber Valletta has walked hundreds of runways, appeared on countless covers, and has been the face of Louis Vuitton, Calvin Klein and Versace. She has also appeared in many films such as What Lies Beneath, The Family Man, and Hitch, and works internationally to raise awareness about the dangers of mercury in our waters. She appears as legendary French model and actress Catherine Deneuve in her most iconic role as a housewife turned prostitute in 1967's Belle de Jour. She wears Belle de Jour Lipstick, a demure sheer beige. "I really wanted to use Belle de Jour—it's one of my favorite shades and perfect for this fun, young interpretation of Catherine Deneuve," says François. Proceeds to benefit The Friendly House.
Daphne Guinness in Modern Edwardian wearing Night Breed Single Eyeshadow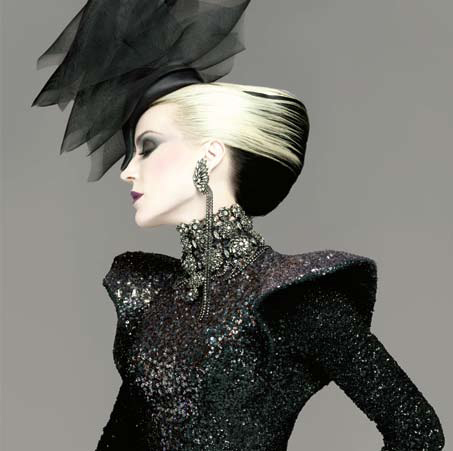 Daphne Guinness is a style icon, socialite, heiress, film producer and fashion designer, and a regular fixture in the most exclusive front rows. She has a legendary haute couture collection, impeccable taste, and never disappoints fashion critics. She appears in modern, glittering metallic Edwardian clothing, hat, and a mixture of Erickson Beamon and her own jewelry. "This look is so Daphne—very sultry, very sexy, very evening—so daring. Daphne can pull anything off—she's such an inspiration," says François. She wears the Night Breed Single Eyeshadow, a black with silver glitter hue that can be worn sheer or layered as it is here—perfect for creating a little drama. Proceeds to benefit Meath Women's Refuge & Support Services.
Marc Jacobs as China Machado wearing Dovima Nail Polish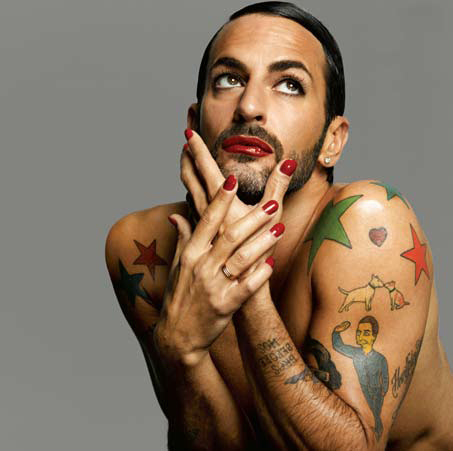 American fashion designer Marc Jacobs knows a thing or two about icons. He is as famous for his unusual and ingenious choice of models and collaborative partnerships as he is for his stirring designs—at both his eponymous fashion house and at Louis Vuitton, where he serves as Creative Director. He appears as 1960s supermodel China Machado in a photograph taken by legendary photographer Richard Avedon, who has always been an inspiration to François. "China is wearing bright red polish in her 1959 photo, so I wanted Marc to do the same—plus he's always up for anything," says François. Marc wears Dovima Nail Polish, named for one of Avedon's favoritemodels—a very modern, very sophisticated bold tomato red. Proceeds to benefit amfar.
Naomi Campbell as an Iconic Supermodel wearing Taj Mahal Blush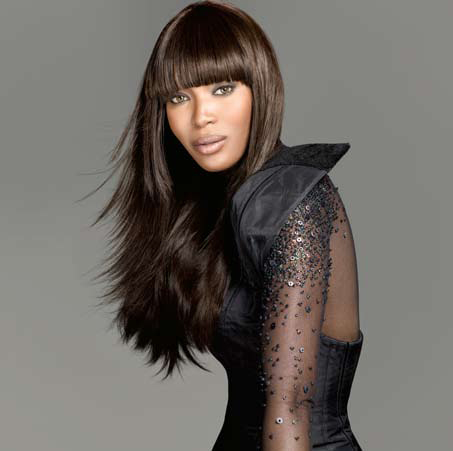 Naomi Campbell was an overnight sensation when she began her career in the mid-eighties, changing the face of the industry as the first black model to appear on the covers of French, British, and Japanese Vogue. She was famously filmed for George Michael's Freedom '90 video, as well as for Madonna's Erotica video, and has appeared on over 100 magazine covers. She is a supermodel in the truest sense. Naomi is the epitome of glamour in an Olivier Theyskens for Nina Ricci dress, and Taj Mahal Blush, a burnt orange with shimmer. "Naomi is one of the most iconic symbols of beauty today, and I wanted to use a makeup color that would show this by name and by hue. It's a bright shade, but sheer, so it looks very natural and yet, ultra-glam—just like her," says François. Proceeds to benefit White Ribbon Alliance.
Dayle Hadd on as Elizabeth Taylor wearing Butterfield 8 Lip Lacquer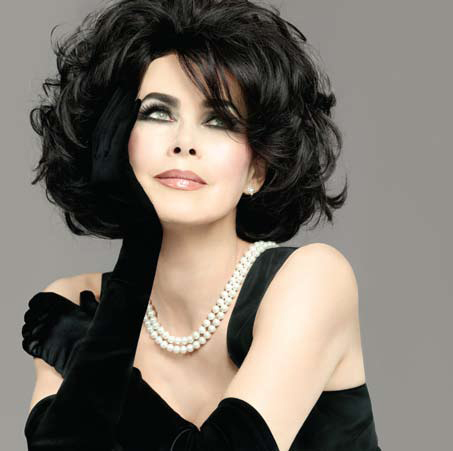 Dayle Haddon was a top fashion model and icon in her own right in the 1970s, appearing on countless covers, including Vogue, Harper's Bazaar, the Sports Illustrated Swimsuit issue, and Playboy. Today, she is a dedicated philanthropist working with numerous global causes such as UNICEF. She appears as the glamorous, cosmopolitan and promiscuous Elizabeth Taylor in Butterfield 8, a character that served as a dark portrait of Upper East Side sophistication and savvy that still holds true today. Dayle wears Butterfield 8 Lip Lacquer—a shiny, sexy, luscious, sheer chocolate brown. Proceeds to benefit WomenOne.
François Vincentelli as Cary Grant wearing Malaysia Multiple Bronzer
François Vincentelli is an actor well known throughout France for his role on the popular television series Clara Sheller. He appears as a modern day Cary Grant from The Philadelphia Story (a role he will be taking on in the theatrical adaptation in Paris this Fall), and the very definition of a debonair, virile, charismatic and charming leading man. François wears Malaysia Multiple Bronzer, a medium to dark formula with red undertones for sunkissed, radiant, healthy skin—perfect for François' tanned, Corsican complexion. Proceeds to benefit CESTmed.
Amanda Lepore as the Amanda Lepore doll wearing Jungle Red Lipstick
Amanda Lepore is a transsexual icon who is a model and muse to many, and one of the most sought-after party hostesses on the international nightclub circuit. Her notoriety is so great that a doll was created in her likeness. François designed the makeup for this doll, and it was sold to raise money for the Design Industry Foundation to Fight Aids (DIFFA). "Amanda is so sexy, so overt, so bold, but she's also very sincere, which is why she is so admired," says François. Amanda wears Jungle Red Lipstick, a highly-pigmented, full-bodied, bright red with a velvety finish. Proceeds to benefit Gay Men's Health Crisis.
Natasha Poly in Punk Rock wearing Rated R Duo Eyeshadow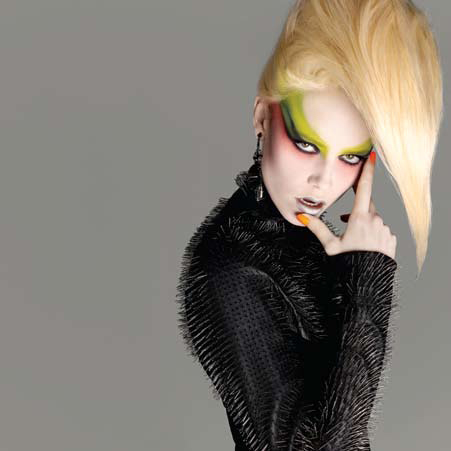 Natasha Poly is a Russian model whose career began in 2004. During that year, she walked a staggering 54 catwalks and graced two consecutive covers of French Vogue. She appears influenced by the Fall 2009 Marc Jacobs runway show (where she and François met), sporting a punk ensemble and attitude, with a nod to Stephen Sprouse's uptown/punk/pop aesthetic. "I wanted her to look as if she could go from the shoot, straight to a club in the eighties and not have to change a thing," says François. Natasha wears Rated R Duo Eyeshadow, a shocking chartreuse green and cobalt blue pairing with shimmer that can work as a shadow, a liner or on brows, as it is shown here. Proceeds to benefit amfAR.
Lisa Marie Smith as Futuristic wearing Pandora Duo Eyeshadow
Lisa Marie Smith is a model and actress who has appeared in photographs by Robert Mapplethorpe, and Calvin Klein Obsession ads by Bruce Weber, as well as in the films Let's Get Lost, Woody Allen's Alice, and Mars Attacks!, where she first met François, who did the makeup on-set. She appears in a futuristic ensemble, with bold, geometric-inspired patterns, a clean, bright, uncomplicated palette, and hard, straight lines. Lisa Marie wears Pandora Duo Eyeshadow, a richly-pigmented contrast, like Pandora herself, of white shimmer and matte black hues that evokes the future fetchingly. Proceeds to benefit Greenpeace.
Olivier Theyskens as Olivier Theyskens wearing Lovejoy Blush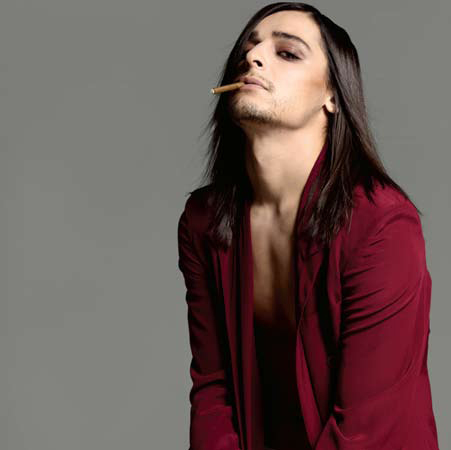 Olivier Theyskens was thrust into the fashion limelight when Madonna wore a dress of his design to the 1999 Oscars. He has since received the 2006 CFDA Award for International Designer of the Year. Olivier has also design-directed at the helm of the fashion houses Rochas and Nina Ricci. Today, he continues to dress the most discriminating celebrities, including Jennifer Aniston, Nicole Kidman, and Melissa Auf der Mauer of The Smashing Pumpkins. "Olivier has a really strong personal style and attitude—he's so Parisian and I just wanted him to come through as himself, not anyone else. Olivier is his own inspiration," says François. Olivier wears his own jacket and Lovejoy Blush, a shimmering bronzed rose with transparent pigments and a hint of color that's soft, sheer, and imparts a natural, healthy glow. Proceeds to benefit CARE.
Carla Gugino in 1940s Glamour wearing Cruella Velvet Matte Lip Pencil
Carla Gugino is an acclaimed American actress who is known for her role in Entourage as well as in many films. She recently completed a run on Broadway in Desire Under the Elms. She appears as a glamorous yet very modern 1940s movie star who is ready for her close-up. "Carla has the most perfect eyes for this look—they're incredibly light and bright, so they go well with the porcelain skin and dark makeup. It's very sophisticated," says François. Carla wears Cruella Velvet Matte Lip Pencil, a supremely scarlet red. Proceeds to benefit Raise Hope for Congo.
Shalom Harlow in Galliano Couture wearing Jolie Poupée Duo Eyeshadow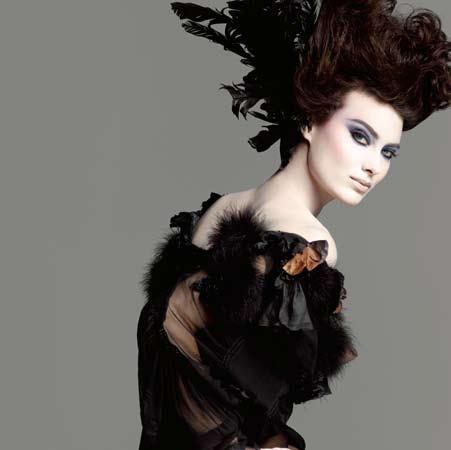 Shalom Harlow is a supermodel and actress who has appeared on countless magazine covers and films, including In & Out, Vanilla Sky, and How to Lose a Guy in 10 Days. She is featured as an ornate, Galliano Couture-laden French aristocrat. "She looks so incredible here, very noble, like a rare, exotic bird—but still very feminine and real," says François. Shalom is wearing Jolie Poupée Duo Eyeshadow (meaning pretty doll), a richly-pigmented pairing of vibrant violet and pearlescent purple, which can be worn sheer, or built-up for a more dramatic effect. Proceeds to benefit Forest Ethics.
Tyson Ballou as a warrior wearing Monoï Body Glow II
Texan-born Tyson Ballou is a campaign and runway model who has worked for Giorgio Armani, Versace, Exte, Calvin Klein, and Dolce & Gabbana. He appears as a Greek warrior in a headdress by Gareth Pugh. He wears Monoï Body Glow II, that contains a pure extract of coconut oil for glowing, healthy, fragrant skin—it is the ultimate multi-purpose product. Proceeds to benefit United States Fund for UNICEF.
Jennifer Jason Leigh in Old Hollywood wearing Black Moon Eyeliner Pencil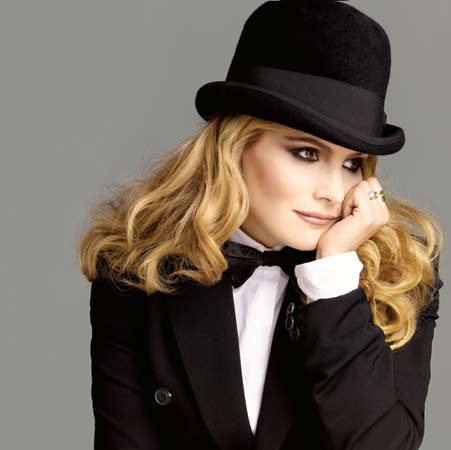 Jennifer Jason Leigh is an American actress who is known for her roles in films such as Fast Times at Ridgemont High, Last Exit to Brooklyn, Single White Female, and Mrs. Parker and the Vicious Circle. She wears a dinner jacket and shirt by Maison Martin Margiela and hat by Rod Keenan for a look that is right out of old Hollywood. "Jennifer and I both love this look. It comes from a time when people really dressed up every time they left the house—so tailored, but here, it's still very feminine," says François. Jennifer wears Black Moon Eyeliner Pencil, a dense black hue with a creamy texture, ideal for precision definition, blending, and smudging. Proceeds to benefit The Ackerman Institute for the Family.
Isabella Rossellini in Junya Watanabe wearing Misfit Duo Eyeshadow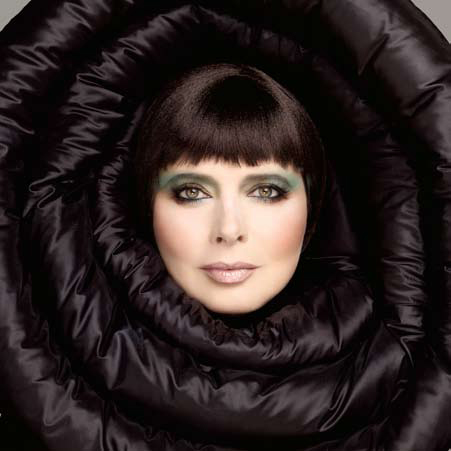 Isabella Rossellini is an Italian actress, model, filmmaker, author, philanthropist, and icon so renowned that an entire exhibit was devoted to her image when Portrait of a Woman was shown at Musee d'Art Moderne in Paris. Her portrait references her most recent project, Green Porno, a series of short films written, directed and featuring Isabella, which examines the sex life of bugs. She is cocooned beautifully in a jacket by Junya Watanabe, and wears Misfit Duo Eyeshadow in Ecru and Emerald, a richlypigmented pair that can be worn sheer or layered, wet or dry. Proceeds to benefit The Guide Dog Foundation.
From now until December 12th, 2009 log on to www.15X15project.com  to purchase a copy of the NARS 15X15 book, celebrity inspiration pictures and individual portraits of the celebrities.
Log on to YouTube to view exclusive behind-the-scenes video footage from the photo shoots: NARS 15X15 – Behind The Scenes.
15 Years: NARS Cosmetics, like the concept of beauty, is many things to many people: A stylish accessory, a guilty pleasure or a luxury makeup staple. Yet its allure, fueled by Founder and Creative Director François Nars, makes NARS a state of mind and venue of self expression. Fifteen years ago, François Nars shook up the cosmetics world when he launched a collection of 12 perfectly edited lipsticks with names as evocative as the shades: Honolulu Honey, Blonde Venus, Funny Face, Heatwave, Scarlet Empress, Trans Siberian, Morocco, Casablanca, Red Lizard, Shanghai Express, Jungle Red, and Transeurope Express. The premiere NARS collection launched a tradition of indelibly branding each product with a personality and reference based on a person, place, event, film, or simply, an emotion. Today, the NARS will to defy convention remains unwavering, as does François' use of iconic beauties as muses. Says François, "True icons are larger than life, unforgettable with an elegance that's mesmerizingly timeless."
15X15 examines the use of makeup and icons in a way that is provocative, extending further than cosmetics, and using portraiture and photography to convey emotion. This 15th anniversary initiative features a collection of 15 celebrity portraits, each inspired by a NARS product shade and based on an iconic reference chosen by François (who personally did the makeup and photographed every portrait). Each participating celebrity subsequently took on the role of guest editor, photographing their interpretation of the NARS product shade that inspired his or her own portrait, providing insight into the age-old question of what, indeed, is in a name. The 15 celebrity portraits appear in the book 15X15 (highlighting 15 years of NARS and 15 icons). The book, along with the individual portraits and the series of photographic interpretations taken by each celebrity, will be available for purchase on the 15X15 Online Gallery (www.15x15project.com), to be launched mid-November 2009. Profits from the project will be distributed among the 15 charities chosen by the participating celebrities.