All Posts Tagged With: "Jennifer Jason Leigh"
Amber Valletta as Catherine Deneuve wearing Belle de Jour Lipstick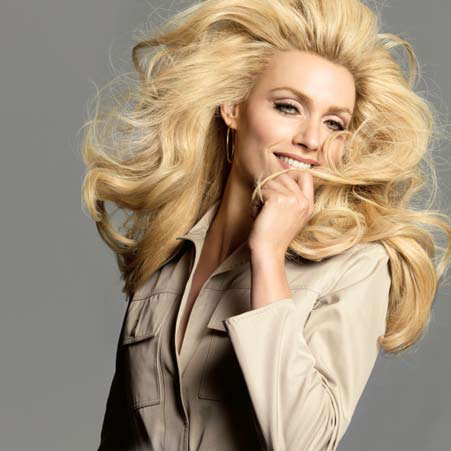 Supermodel Amber Valletta has walked hundreds of runways, appeared on countless covers, and has been the face of Louis Vuitton, Calvin Klein and Versace. She has also appeared in many films such as What Lies Beneath, The Family Man, and Hitch, and works internationally to raise awareness about the dangers of mercury in our waters. She appears as legendary French model and actress Catherine Deneuve in her most iconic role as a housewife turned prostitute in 1967's Belle de Jour. She wears Belle de Jour Lipstick, a demure sheer beige. "I really wanted to use Belle de Jour—it's one of my favorite shades and perfect for this fun, young interpretation of Catherine Deneuve," says François. Proceeds to benefit The Friendly House.
Daphne Guinness in Modern Edwardian wearing Night Breed Single Eyeshadow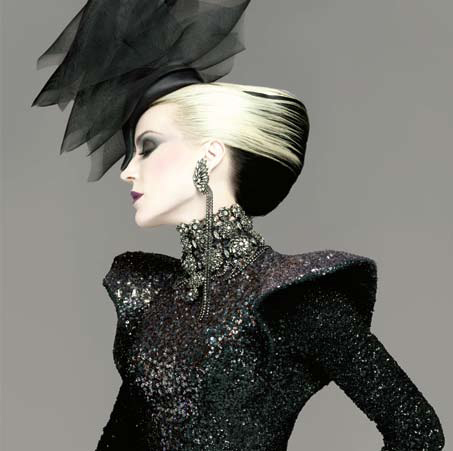 Daphne Guinness is a style icon, socialite, heiress, film producer and fashion designer, and a regular fixture in the most exclusive front rows. She has a legendary haute couture collection, impeccable taste, and never disappoints fashion critics. She appears in modern, glittering metallic Edwardian clothing, hat, and a mixture of Erickson Beamon and her own jewelry. "This look is so Daphne—very sultry, very sexy, very evening—so daring. Daphne can pull anything off—she's such an inspiration," says François. She wears the Night Breed Single Eyeshadow, a black with silver glitter hue that can be worn sheer or layered as it is here—perfect for creating a little drama. Proceeds to benefit Meath Women's Refuge & Support Services.
Marc Jacobs as China Machado wearing Dovima Nail Polish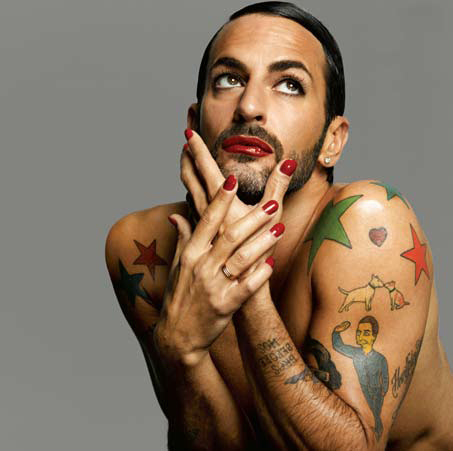 American fashion designer Marc Jacobs knows a thing or two about icons. He is as famous for his unusual and ingenious choice of models and collaborative partnerships as he is for his stirring designs—at both his eponymous fashion house and at Louis Vuitton, where he serves as Creative Director. He appears as 1960s supermodel China Machado in a photograph taken by legendary photographer Richard Avedon, who has always been an inspiration to François. "China is wearing bright red polish in her 1959 photo, so I wanted Marc to do the same—plus he's always up for anything," says François. Marc wears Dovima Nail Polish, named for one of Avedon's favoritemodels—a very modern, very sophisticated bold tomato red. Proceeds to benefit amfar.
Naomi Campbell as an Iconic Supermodel wearing Taj Mahal Blush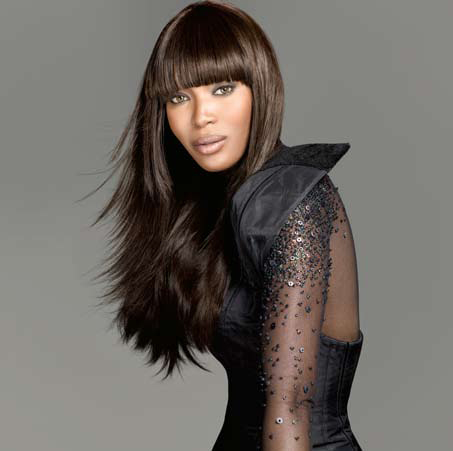 Naomi Campbell was an overnight sensation when she began her career in the mid-eighties, changing the face of the industry as the first black model to appear on the covers of French, British, and Japanese Vogue. She was famously filmed for George Michael's Freedom '90 video, as well as for Madonna's Erotica video, and has appeared on over 100 magazine covers. She is a supermodel in the truest sense. Naomi is the epitome of glamour in an Olivier Theyskens for Nina Ricci dress, and Taj Mahal Blush, a burnt orange with shimmer. "Naomi is one of the most iconic symbols of beauty today, and I wanted to use a makeup color that would show this by name and by hue. It's a bright shade, but sheer, so it looks very natural and yet, ultra-glam—just like her," says François. Proceeds to benefit White Ribbon Alliance.
In celebration of 15 years of iconic beauty and François Nars, the limited-edition15X15 book (ONLY 1,500 copies available!), individual portraits from the book, and photographic interpretations taken by the participants, will be available for purchase on the 15X15 Online Gallery (www.15X15project.com ) beginning tonight at 8pm EST through December 12, 2009. 100% of the proceeds from the project will be distributed among the 15 charities chosen by the participating celebrities.
SNEAK PEEK – see below a never seen before behind-the-scenes image of Marc Jacobs! Once the site launches, behind-the-scenes images and videos of the participating celebrity icons will be available.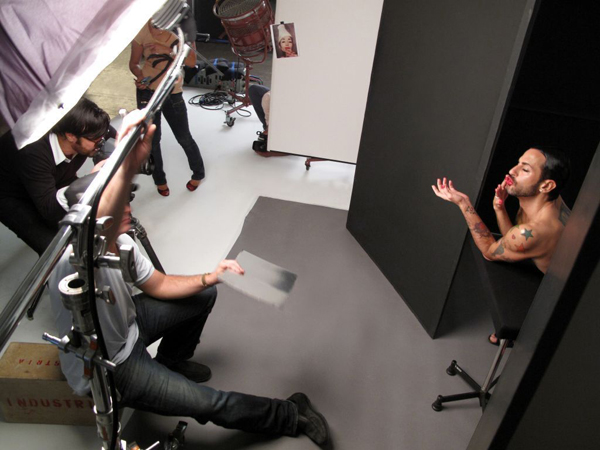 For more exclusive details leading up to the launch become a fan of NARS 15X15 Project on Facebook!
CELEBRITY PARTICIPANTS:
· Amanda Lepore
· Amber Valetta
· Carla Gugino
· Daphne Guinness
· Dayle Haddon
· Francois Vincentelli
· Isabella Rossellini
· Jennifer Jason Leigh
· Lisa Marie Smith
· Marc Jacobs
· Naomi Campbell
· Natasha Poly
· Olivier Theyskens
· Shalom Harlow
· Tyson Ballou
Women's Wear Daily reports François Nars is celebrating the 15th anniversary of the founding of his eponymous company by combining beauty products and photography — in a new book. Nars did both the makeup and the photography for the book, "15×15," due out in mid-November for 30 days only at 15x15project.com. There are two inspirations for each shot, an iconic image, person or emotion and a classic Nars product.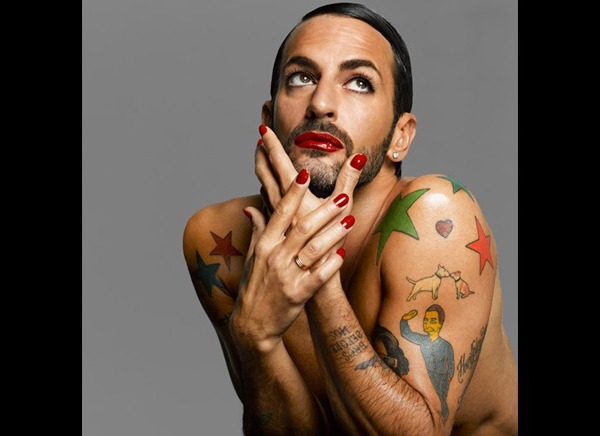 Fashion Designer Marc Jacobs
Photo By François Nars
The book features portraits of 15 celebrities including Marc Jacobs, Isabella Rossellini, Amber Valletta, Naomi Campbell, Daphne Guinness, Olivier Theyskens, Shalom Harlow, Jennifer Jason Leigh, plus others.
"Basically, I wanted people who reflected my taste, friends and people I admired for their look and talent," said Nars. "I love the way Marc looks, but also what he is and does."
Read full article in wwd.com