All Posts Tagged With: "Eyeliner Pencil"
Actress Jessica Szohr looked beautiful at the 2010 Breakthrough of the Year Awards where she won for "Breakthrough Actress in Film". mark Celebrity Makeup Artist Mai Quynh shares with Talking Makeup and Marta Walsh how she created Jessica's sultry red carpet makeup look.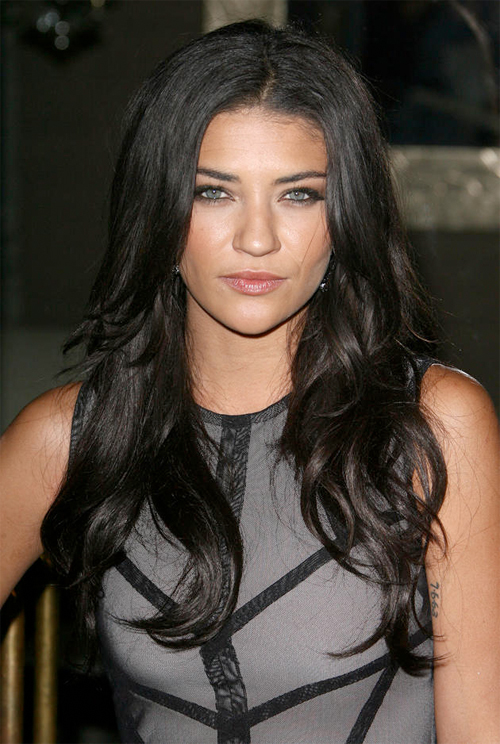 How To Get Jessica Szohr's Makeup At The Breakthrough of the Year Awards by mark Celebrity Makeup Artist Mai Quynh using mark Cosmetics:
Face
"For Jessica's face, I first applied mark For Goodness Face Antioxidant Skin Moisturizing Lotion SPF 30 all over her skin to create a nice base. Next, I followed by applying mark Face Xpert Flawless Touch Makeup in Golden using the mark Foundation Brush to create an even skin tone.
Backstage Makeup: Watch: NARS for 3.1 phillip lim Autumn/Winter 2010 Fashion Week. Lead Artist: Lisa Butler for NARS Cosmetics. Key Products Used: Douceur Blush (new for Fall!), Coconut Grove Single Eyeshadow (new for Fall!), Abyssinia Eyeshadow, London Eyeliner Pencil, Sex Machine Velvet Matte Lip Pencil, Luxor Multiple, Riviera Multiple.
The Makeup Look & Inspiration: "This look has many layers," said Lisa Butler for NARS Cosmetics. "The eyes are edgy while the skin was kept healthy and glowing. The lips are a soft, sheer pink for the elegant punk-rock princess style that Phillip was looking for."
New York Fashion Week Fall Winter 2010: NARS Cosmetics created the makeup look at the Marc Jacobs AW2010 show.
INSPIRATION: "I was inspired by the film La Vie des Autres. I wanted the models to have a dirty look as if the hair and makeup had been slept in," said designer Marc Jacobs, who specifically requested Barbarella lipstick to be used on the models' lips.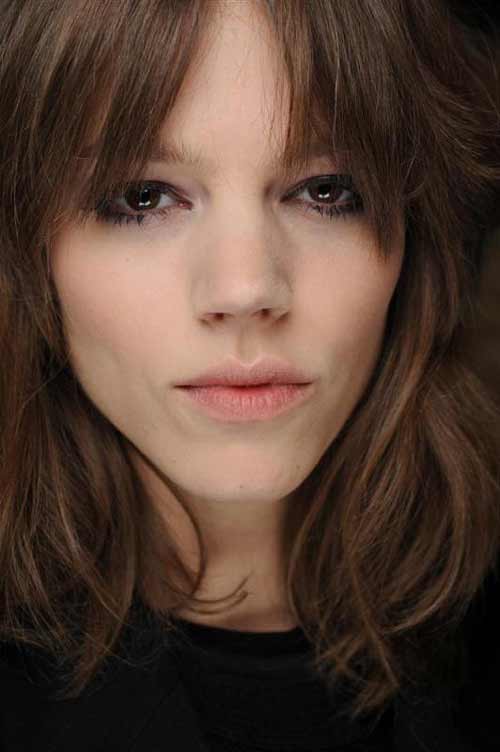 LOOK: "This look is what you'd see on a girl from the East Village or St. Germain des Pres-an existentialist with a modern twist," said NARS Cosmetics Founder and Creative Director François Nars whose application technique included using his fingers to achieve the faded effect. "These girls are sexy and cool. Their makeup looks dirty and worn out as if it has been on all night but still translates beautifully on the runway."
New York Fashion Week Fall/Winter 2010: NARS Cosmetics created the makeup look at the 3.1 phillip lim AW2010 show.
INSPIRATION: Disco-punk. "This is a youthful, rebellious look that exudes a strong sense of confidence. Energy radiates within the girls through their makeup with eyes that have a bit of a rock and roll feel," said designer Phillip Lim whose inspiration stemmed from an image of Blondie's Debbie Harry.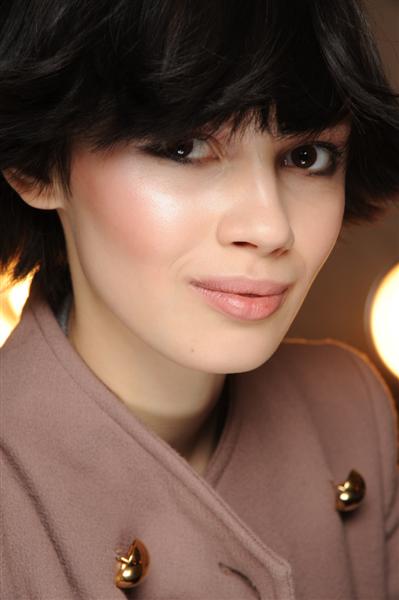 LOOK: "This look has many layers," said NARS lead artist Lisa Butler. "The eyes are punchy and edgy while the skin was kept healthy and glowing. The lips are a soft, sheer pink for the elegant punk-rock princess style that Phillip was looking for."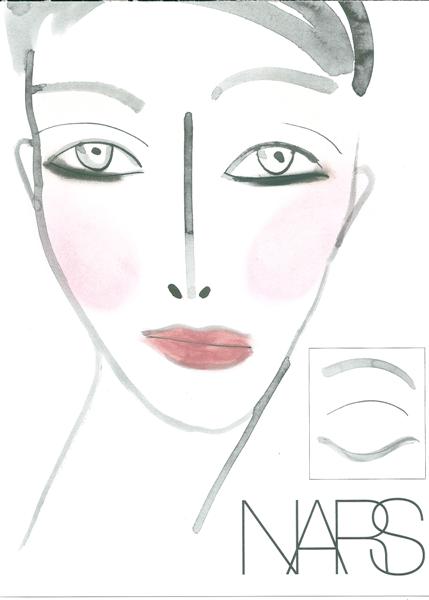 Molly Sims Wears NEW NARS Orgasm Illuminator: On January 27, Molly Sims attended the 'Unforgettable Evening' event to benefit EIF's Women's Cancer Research Fund. NARS International Lead Stylist Uzo used the Orgasm Illuminator to give Molly an amazing lit-from-within glow. "Molly best represents that Los Angeles 'girl next-door look'. The Orgasm Illuminator was the perfect product to keep her skin looking fresh and polished." says Uzo about Molly's makeup.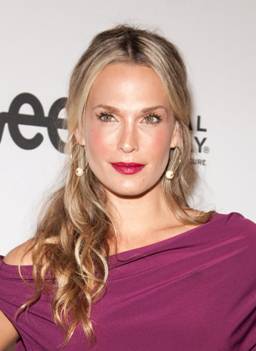 GET THE LOOK:
Aside from the new Orgasm Illuminator, Uzo used the below products to complete Molly Sims makeup look.
COMPLEXION:
NARS Barcelona Sheer Glow Foundation
NARS Orgasm Illuminator (on cheeks and forehead for added illumination)
Laguna Bronzer
Desire Blush
GET THE LOOK: Toni Colette 2010 Golden Globe Winner for Best Actress in a TV Show United States of Tara.
The rain couldn't stop stars from the glamorous looks they created. Toni shimmered in a gold Carolina Herrara dress and her personal makeup artist, Gita Bass helped accentuate her beauty with SENSAI by Kanebo and DEX New York Cosmetics to perfect her Golden Globe Look.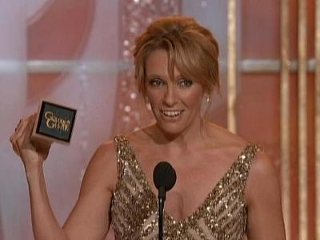 Gita Bass created a smoky bronze eye for Toni by using DEX New York Rockefeller Gold as the base. She applied thenewest version of cult favorite SENSAI 38 Degrees Mascara – Volumizing to her lashes for long lasting full coverage for the entire night that even the rain couldn't wash off. Toni's skin was veiled in SENSAI's New Bronzing Gel – Bass received special access to this line coming out for Spring 2010 in March (3 shades) to give her a sun kissed golden -glow while leaving her skin moist and refreshed.
Amber Valletta as Catherine Deneuve wearing Belle de Jour Lipstick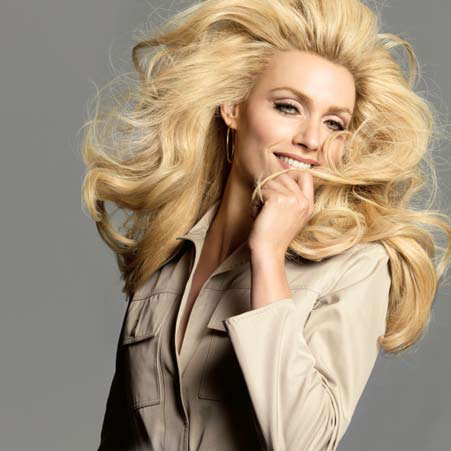 Supermodel Amber Valletta has walked hundreds of runways, appeared on countless covers, and has been the face of Louis Vuitton, Calvin Klein and Versace. She has also appeared in many films such as What Lies Beneath, The Family Man, and Hitch, and works internationally to raise awareness about the dangers of mercury in our waters. She appears as legendary French model and actress Catherine Deneuve in her most iconic role as a housewife turned prostitute in 1967's Belle de Jour. She wears Belle de Jour Lipstick, a demure sheer beige. "I really wanted to use Belle de Jour—it's one of my favorite shades and perfect for this fun, young interpretation of Catherine Deneuve," says François. Proceeds to benefit The Friendly House.
Daphne Guinness in Modern Edwardian wearing Night Breed Single Eyeshadow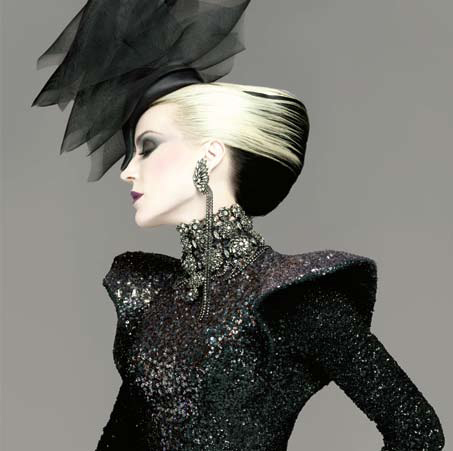 Daphne Guinness is a style icon, socialite, heiress, film producer and fashion designer, and a regular fixture in the most exclusive front rows. She has a legendary haute couture collection, impeccable taste, and never disappoints fashion critics. She appears in modern, glittering metallic Edwardian clothing, hat, and a mixture of Erickson Beamon and her own jewelry. "This look is so Daphne—very sultry, very sexy, very evening—so daring. Daphne can pull anything off—she's such an inspiration," says François. She wears the Night Breed Single Eyeshadow, a black with silver glitter hue that can be worn sheer or layered as it is here—perfect for creating a little drama. Proceeds to benefit Meath Women's Refuge & Support Services.
Marc Jacobs as China Machado wearing Dovima Nail Polish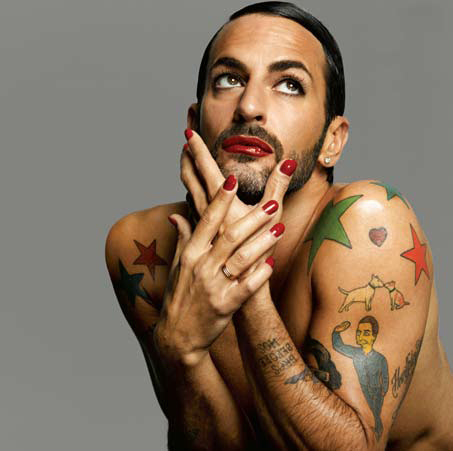 American fashion designer Marc Jacobs knows a thing or two about icons. He is as famous for his unusual and ingenious choice of models and collaborative partnerships as he is for his stirring designs—at both his eponymous fashion house and at Louis Vuitton, where he serves as Creative Director. He appears as 1960s supermodel China Machado in a photograph taken by legendary photographer Richard Avedon, who has always been an inspiration to François. "China is wearing bright red polish in her 1959 photo, so I wanted Marc to do the same—plus he's always up for anything," says François. Marc wears Dovima Nail Polish, named for one of Avedon's favoritemodels—a very modern, very sophisticated bold tomato red. Proceeds to benefit amfar.
Naomi Campbell as an Iconic Supermodel wearing Taj Mahal Blush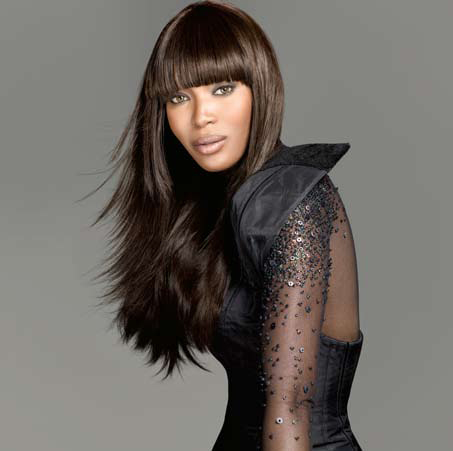 Naomi Campbell was an overnight sensation when she began her career in the mid-eighties, changing the face of the industry as the first black model to appear on the covers of French, British, and Japanese Vogue. She was famously filmed for George Michael's Freedom '90 video, as well as for Madonna's Erotica video, and has appeared on over 100 magazine covers. She is a supermodel in the truest sense. Naomi is the epitome of glamour in an Olivier Theyskens for Nina Ricci dress, and Taj Mahal Blush, a burnt orange with shimmer. "Naomi is one of the most iconic symbols of beauty today, and I wanted to use a makeup color that would show this by name and by hue. It's a bright shade, but sheer, so it looks very natural and yet, ultra-glam—just like her," says François. Proceeds to benefit White Ribbon Alliance.
Jennifer Lopez lit up the red carpet at the 'This Is It' premiere.
Here is how you can get Jennifer Lopez aka JLO's look for less with MILANI COSMETICS:
"She will usually emphasize one feature at a time, never allowing her makeup to overpower her exquisite features," says Celebrity Makeup Artist Bebe Booth, who has worked with everyone from Britney Spears to Shannon Elizabeth. Bebe reveals how you can recreate Jennifer's look for less with MILANI COSMETICS for around $50! www.milanicosmetics.com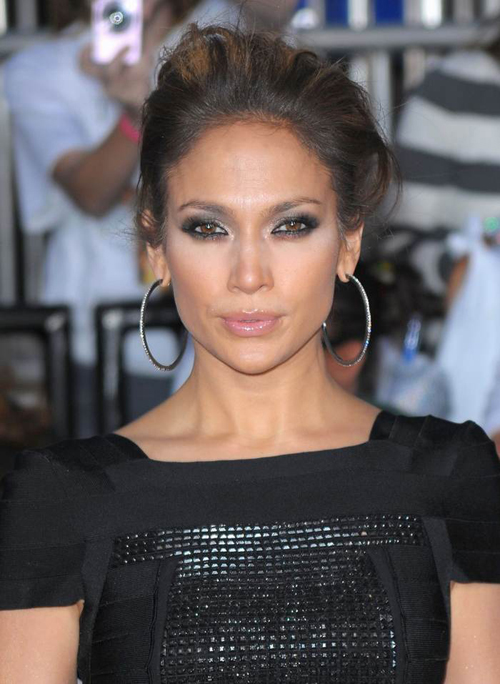 EYES: It is all about the eyes for this look. To achieve these beautiful bold smokey eyes for an evening out on the town, you will need several shadows to create the look. I recommend two palettes from Milani's Runway Eyes Fashion Shadows; Backstage Basics ($8.99) for your shimmery silver & black shades and the Ready To Wear ($8.99) palette for the golden highlight around the inner corners of your eyes. Each of these palettes has six shades to choose from, so you have many options for creating a soft or heavy smokey eye. For this look, keep the darker shades toward the outer crease and the shimmer highlights toward the inner crease of the eye.
Show: Marc Jacobs Spring 2010
Lead Artist: François Nars, Founder and Creative Director of NARS Cosmetics
Trend: Theatrical Makeup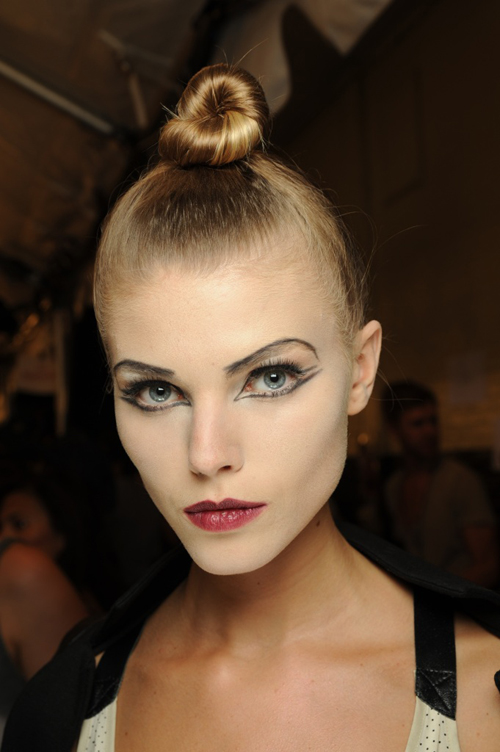 Inspiration: The look of the Marc Jacobs collection was inspired by the contemporary dancer, Martha Graham: Old-fashioned and theatrical but graceful and precise. At the same time, however, there was a darker side that was shone through: a quality of gothic romance. Ballerinas with a sense of mystery- as if part of them, along with some of their makeup, had been left behind on stage.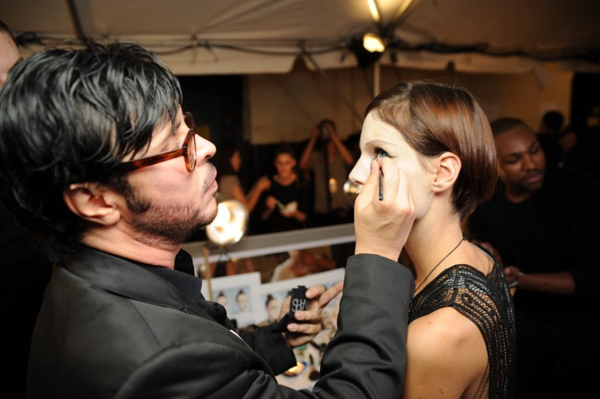 Look: Left-over stage makeup. The models weren't meant to have perfect makeup- rather, they were meant to encompass a "just came off-stage" effect. "Dancers in theater and opera always have white faces, pointed lips and an eye that is drawn outward, not upward-it's very theatrical, very ballet," said François Nars. He stressed the importance of the eye for this look, noting that "the shape of the eyeliner is important- it should open the eyes, especially underneath. The slashes of white is something they used to do in the 70s- it brings a 3-dimensional feeling to the makeup."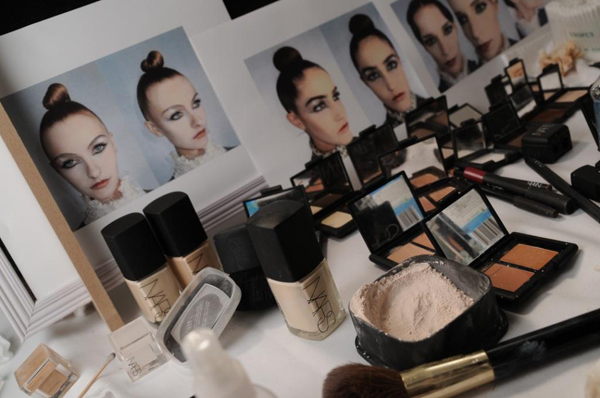 Below are some key products and steps for recreating the look:
The Show: Maria Grachvogel
Lead Artist: James Boehmer, NARS Cosmetics International Lead Makeup Artist
Trend: Bold Red Matte Lips and Strong Brows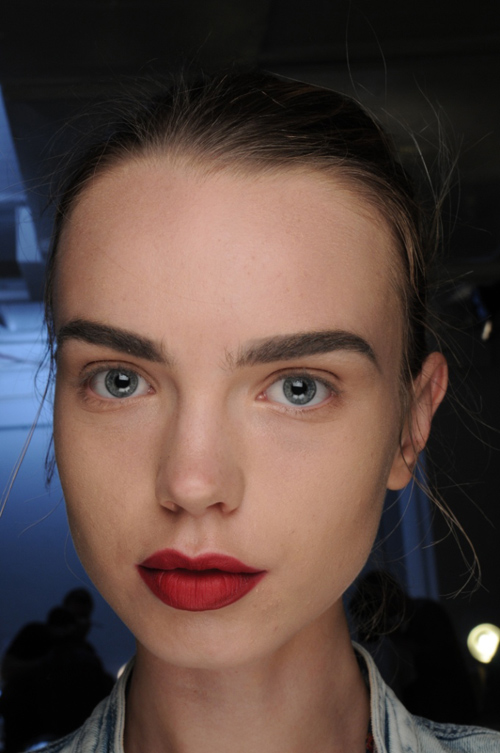 Inspiration: Maria Grachvogel used iconic references of Princess Margaret as photographed by Lord Snowden and Tippi Hedren in "Marnie" to convey the mood of her collection in a modern way- polished yet glamorous.
Look: The look is polished and strong- inspired by a glamorous and modern twist of Hitchcock's femme fatale. "This look is not about the glowing skin underneath- it's about the makeup- the brows need to be long and sketchy and the lips need to be rounded and bee-stung," said lead artist James Boehmer. A flat, matte lip paired with a strong brow was balanced by a bare eye. "The lip," James warns, "has to be really rich and vibrant- the focus is getting that rich lip otherwise the look can appear as if something is lacking."
Below are some key products and steps for recreating the look: