GET THE LOOK: Toni Colette 2010 Golden Globe Winner for Best Actress in a TV Show United States of Tara.
The rain couldn't stop stars from the glamorous looks they created. Toni shimmered in a gold Carolina Herrara dress and her personal makeup artist, Gita Bass helped accentuate her beauty with SENSAI by Kanebo and DEX New York Cosmetics to perfect her Golden Globe Look.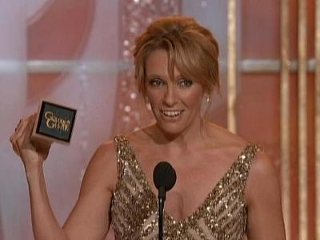 Gita Bass created a smoky bronze eye for Toni by using DEX New York Rockefeller Gold as the base. She applied thenewest version of cult favorite SENSAI 38 Degrees Mascara – Volumizing to her lashes for long lasting full coverage for the entire night that even the rain couldn't wash off. Toni's skin was veiled in SENSAI's New Bronzing Gel – Bass received special access to this line coming out for Spring 2010 in March (3 shades) to give her a sun kissed golden -glow while leaving her skin moist and refreshed.
Gita Bass suggests "To intensify the bronze smoky eye I used the SENSAI Eyeliner pencil in brown inside the eye, it has amazing pigment and stays put."About Gita Bass: Gita Bass is represented by Exclusive Artists Management and has worked extensively in Europe and New York with a number of celebrities for red carpet appearances, editorial, advertising campaigns and runway shows. Celebrities she has worked with have included: Toni Collette, Cate Blanchett, Heidi Klum, Kate Hudson and Josh Duhamel amongst many others.
Looks like Toni Collette is also a fan of St. Tropez. VIP skin-finishing expert, Fiona Locke, says, "The trend that St. Tropez is bringing to the Golden Globes is all about 'Skin Finishing.' If you finish your hair, make-up, and wardrobe, why wouldn't you finish your skin? This look is all about healthy, glowing, bronzed skin with a pop of iridescence, providing a very ethereal complexion and a definite enhancement of color on the skin. St. Tropez's Custom Body Finish also provides contouring and definition of the muscle tones, so it is an absolute must."
For more information visit www.kanebo.com  or www.dexnewyork.com