All Posts Tagged With: "Golden Glow"
GET THE LOOK: Looking camera ready, Giuliana Rancic and Toni Collette were glowing as they stepped on the red carpet with HDTV perfect skin for the 16th Annual Screen Actors Guild Awards. Once again, Hollywood's leading celebrities turned to the ultimate skin-finishing brand, St. Tropez, for an award winning look.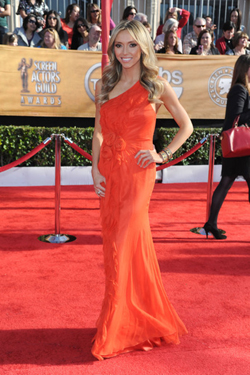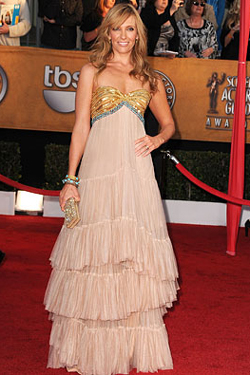 Giuliana Rancic says, "I can't live without my bi-monthly St. Tropez skin-finishing appointment. St. Tropez gives the most natural and gorgeous color on the market. I'm also obsessed with the products like the Bronzing Rocks and the Radiance Mousse. They give me a beautiful glow on the set of E! News everyday, as well as on the red carpet. I love St. Tropez!"
"Not even the rain will stop the stars skin from glowing radiantly at the16th Annual SAG Awards in Hollywood" says St. Tropez Skin Finishing Expert Fiona Locke. Rain or shine I will still be providing St. Tropez Skin Finishing treatments to some of Hollywood's hottest stars nominated for a SAG Award this weekend, providing a healthy, confident boost of color to the skin that will glow with pure radiance even under dark skies."
GET THE LOOK: Toni Colette 2010 Golden Globe Winner for Best Actress in a TV Show United States of Tara.
The rain couldn't stop stars from the glamorous looks they created. Toni shimmered in a gold Carolina Herrara dress and her personal makeup artist, Gita Bass helped accentuate her beauty with SENSAI by Kanebo and DEX New York Cosmetics to perfect her Golden Globe Look.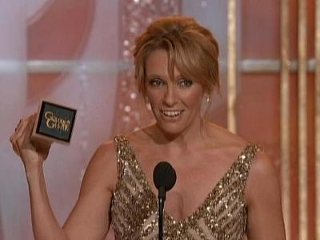 Gita Bass created a smoky bronze eye for Toni by using DEX New York Rockefeller Gold as the base. She applied thenewest version of cult favorite SENSAI 38 Degrees Mascara – Volumizing to her lashes for long lasting full coverage for the entire night that even the rain couldn't wash off. Toni's skin was veiled in SENSAI's New Bronzing Gel – Bass received special access to this line coming out for Spring 2010 in March (3 shades) to give her a sun kissed golden -glow while leaving her skin moist and refreshed.