All Posts Tagged With: "fashion and style"
Sneak Peek: The nerves were palpable this morning at the Condé Nast offices, where ten promising young designers of womenswear, menswear, and accessories appeared one by one before the selection panel to present who they are and what they're about in heart-stopping fifteen-minute time slots. Between presentations, filming, and photographs, each candidate took time out to give Vogue the lowdown on the process. Some were meeting for the first time, others were in competition with their friends, but all's fair in love and the CFDA/Vogue Fashion Fund. . . .

Joseph Altuzarra, Altuzarra. Photo: VOGUE/Evan Sung
1. Joseph Altuzarra, Altuzarra
Describe in five words what your label is about.
"Seduction, power, strength, femininity, tailoring."
Not sure if you know this about me but not only I'm a beauty addict but I'm also very much into fashion & style. They all intertwine, don't they? I like to have my hair and makeup beautifully done but I also like to make a presence with a great sense for style. In addition to just loving to dress up, I'm also fascinated with fashion history and watch many documentaries about it (they happen to be English ones). Really my dream one day is to have my own travel and fashion show. Anyways, BALMAIN is my latest fashion obsession. If I had to design my own clothes they would come out BALMAIN. They are so Marta Walsh. Their collections are very rock and roll with timeless elegance and with a bit of party and fun spirit attached to them.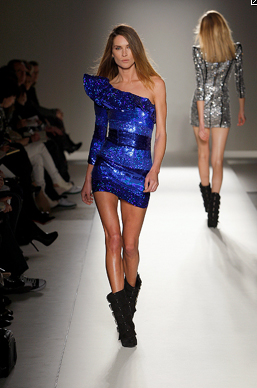 LOVE love love this BALMAIN dress! I want it xo Marta Walsh
I stumbled upon this in the Official CatherineMalandrino Facebook page and love! "A closer look at the beauty details from the Malandrino + FFAWN Runway Show".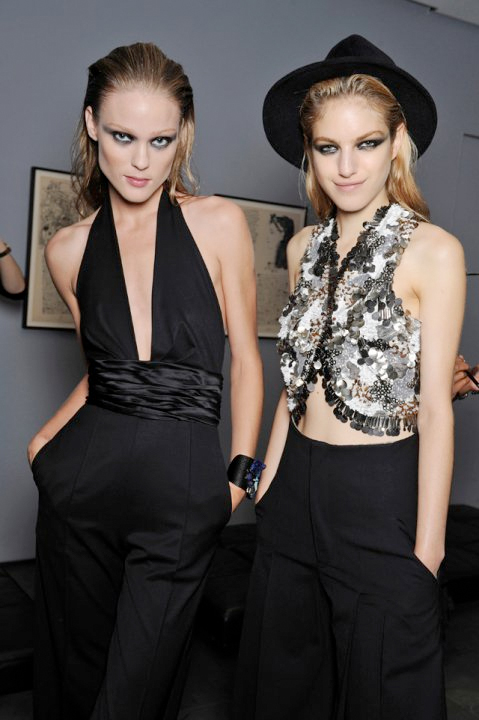 Tori Spelling looked fresh and polished in a frock! by Tracy Reese dress while promoting her new tell-all, "Uncharted Terri-TORI," on the "Today" show yesterday morning, June 17th, 2010. The frock by Tracy Reese ZWL3V7N- Alix in Wild Violet is from the current spring 2010 collection and retails for $225.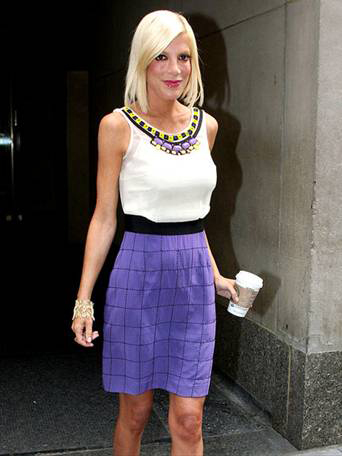 Express celebrated the launch of the brand's second men's fragrance, Honor, while commemorating our men in uniform during NYC's Fleet Week celebration during Memorial Day weekend.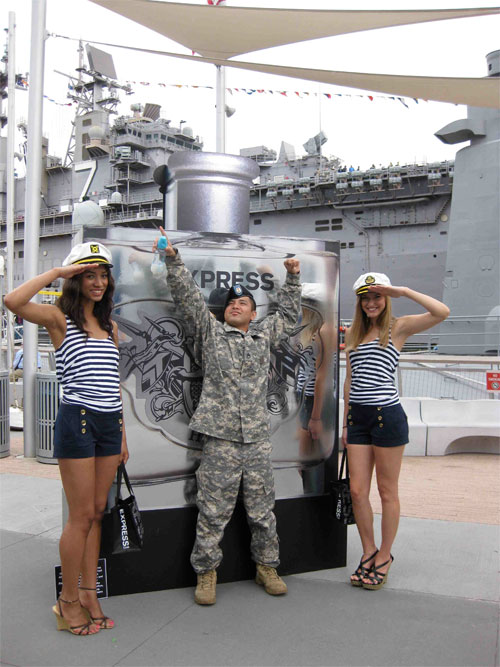 Girls dressed in Express sailor-inspired pieces at the Intrepid Pier on Saturday, May 29th, 2010, were handing out samples of Express Honor. A over-sized, 12 foot replica of the Express Honor bottle was stationed at the pier all day for the sailors and visitors to take photos with the nautically dressed Express girls. Express was taking photos of Fleet Week participants who may go on to be featured in an upcoming issue of GQ Magazine.
Victoria Beckham received rave reviews today for the gorgeous collection of dresses she showed yesterday, February 16, 2010, and the makeup was equally praise worthy. Victoria wanted minimal makeup, but with maximum impact. The result: nude lips, silvery eyes and shimmery skin.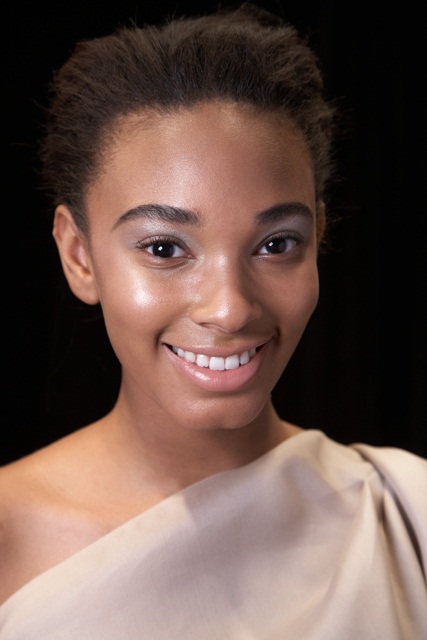 Makeup Tutorial: For the makeup, Francelle did a modern take on 1930's Hollywood glamour (in keeping with Victoria's "Dick Tracy" inspiration for the clothes) so she paired a metallic eye with a pale, nude lip. First, Francelle swept Color Design Eyeshadow in Optic on the entire lid to the brow bone and added Color Design Eyeshadow in Crème Lustré to the lower lid. Ombre Magnetique in Silver (coming this fall 2010!) was used in the crease for a shiny, metallic finish. The new Hypnôse Drama Mascara coated the top lashes only. The skin was dusted with Ageless Minérale Powder in Translucent for a luminous complexion. Blush Subtil in Miel Glace was applied lightly to the cheekbones for an added touch of color. For the lips, Francelle first dotted them with concealer (a great trick for ensuring you get a super nude pout with staying power) then applied L'Absolu Rouge Lipstick in Rich Cashmere. The nails were short and groomed with just clear nail polish and the hair, by Didier Malige, was pulled back in messy version of a French twist.
The Row, the collection designed by Mary-Kate and Ashley Olsen, had its Fashion Week debut yesterday, February 16, 2010, at a gallery on New York's west side. The line has earned a following for its simple yet sophisticated structured pieces and the new collection continued beautifully on that theme.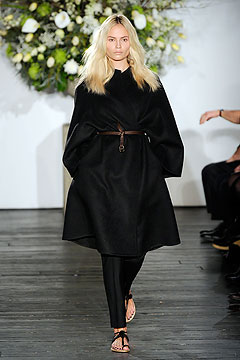 Makeup Tutorial: Lancôme's creative director for makeup Aaron De Mey keyed the show. Aaron sought an exaggerated yet natural makeup look that focused on strong, defined brows and a dewy complexion. The neutral color palette meant that skincare played an important role. To prep, Aaron used Lancôme Eau Fraiche Douceur Micellar Cleansing Water and followed it with Lancôme Genifique Youth Activating Concentrate massaged generously into the skin; this duo gave each model a luminous complexion. Lancôme Le Crayon Poudre filled and defined the brows—a focal point of this look. To finish, Aaron dabbed Lancôme Effeacernes Concealer on the lips, a trick that removed the natural lip color and kept the focus squarely on the brows.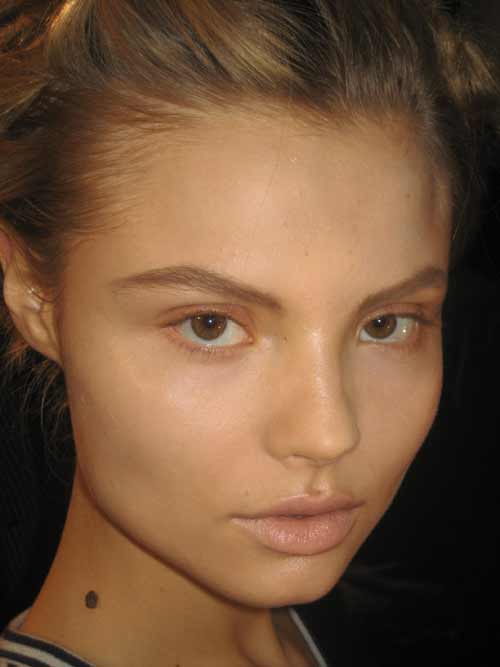 Everyone backstage and front of house was obsessed with the braided black Louboutin sandals made exclusively for the show. (And the models were clearly happy to get a break from all the skyscraper heels!) Mary-Kate and Ashley chose a deep wine colored polish –Lancôme Le Vernis in Untamed Plum – for the toes, but kept the fingernails clean and shiny with a coat of clear nail polish.
New York Fashion Week Fall/Winter 2010 Week REPORT: Get a sneak peek to the Vivienne Tam Fall 2010 fashion show which held last night, February 13th, 2010, at the Vivienne Tam Boutique on Grand st & Mercer SOHO New York City. Fashion designer Vivienne Tam greets her audience at the end of the show. At the entrance to the show I bumped into PR guru Lizzie Grubman.
Introducing LES FIDÈLES DE CHANEL.
Coco Chanel was a famously unique woman with her own visionary lifestyle and aesthetic. The iconic house of Chanel has always celebrated women of her likeness, with strong personal styles and engaging histories. In 2009, Chanel selected five women to be ambassadresses of the Brand. Known as "les fidèles de chanel", they are (see image below, from left): Jen Brill, Caroline Sieber, Vanessa Traina, Leigh Lezark, and Poppy Delevingne.

LES FIDÈLES DE CHANEL, from left: Jen Brill, Caroline Sieber, Vanessa Traina, Leigh Lezark, and Poppy Delevingne.
Jen Brill, photo agent: 
Personal Style: High heels, red lips and red nails
Fashion Inspiration: Exene Cervenka from the band X
Beauty Icons: Lula (Laura Dern) and Perdita (Isabella Rossellini) from David Lynch's Wild at Heart
Beauty Routine: Facials from Christine Chin, CHANEL Rouge Coco Lip Colour in Gabrielle and CHANEL Dragon nail colour
Her Cause: RxArt, which raises money to incorporate fine art in children's hospitals
SUPER EXCLUSIVE: Madonna Backstage at the Dolce&Gabbana SS2010 campaign shooting! Do you love?
See more Madonna photos backstage at the Dolce&Gabbana SS2010 campaign shooting.