All Posts Tagged With: "fall 2010"
MAC has a seductive new take on the feline mystique. MAC Fabulous Felines. Available August 26th – October 2010. By MAC: The most alluring, preening, fawned-over facets of the feline are magnified and accentuated in three new collections inspired by the colours and textures of the world's most prized pedigrees, perfectly mirroring the rich shades and slinky sophisticated looks we saw on the Fall 2010 runways.

MAC Fabulous Felines Burmese Beauty
There's the pampered creature of luxury, the chocolate-hued Burmese, the wild and sleek ginger Ocicat, and the plush and privileged sable Russian Blue. It's everything compelling we loved on the catwalk…chic, couture-inspired and cunningly compulsory!!! Create the perfect cat eye with our new Superslick Liquid Eye Liner in six new hues from an eye-warming Defiantly Feline to golden Pure Show. Lustrous and gorgeous, with an ounce of danger for good measure, Fabulous Felines is an elegant standout. Now, strut your stuff, walk the walk and strike a pose!
This year, Fashion's Night Out is staging the largest ever public fashion show in NYC history! On September 7th, 2010 of the industry's top models will storm Lincoln Center and present the show of a lifetime.
The show, produced by Vogue in conjunction with SPEC Entertainment, will highlight key trends of the Fall 2010 season (as identified by the magazine), will feature merchandise intended for fall delivery, and inspire shoppers as they prepare their wish lists for the main Fashion's Night Out event on Friday, September 10th.
CND introduces Fall's limited edition Colour & Effect: "Texture adds to the strength of the look – and autumn is all about dimensional manicures," says CND Co-founder Jan Arnold. Nails take their cue from striking blue-greens, effervescent reds, and offbeat beige, camels and grays this season.

Steely Dan: Extravagant midnight manicures and tonal shades of heathered mushroom and gray nails complement this Fall's masculine palette of mossy greens, black leather and textured fabrics. To achieve Ruffian's (seen in image above) "Lunar Eclipse" manicure, pair deep blue Inkwell with Gold Chrome around the cuticle edge for a metropolitan look.
Irina Shabayeva, the season six winner of Project Runway, debuted her Fall 2010 collection on Saturday, February 13th, 2010, during Mercedes-Benz Fashion Week at SIR Stage 37. Kate Bazazian has worked as the makeup key for Irina's show and she talks to Talking Makeup about the makeup look and inspiration!
"It went through a few different ones until we settled on what walked down the runway. The look started much softer in effect, but with the same ethereal earth tones. A few days before the show, Irina said to me "if we're gonna make a statement, lets really make it" and that opened it up to a lot more to ideas I had floating around. The line itself was very inspired by flight and what better way to capture that than by making the makeup look as though it was put on by the quill of a feather as well.
Rebecca Taylor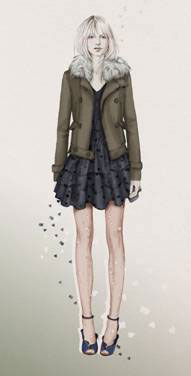 The fall 2010 collection was inspired by a mixture of 70's Parisian attitude and an urban New York City girl. With a renewed love for classic sportswear, silhouettes have been re-worked with a twist to give subtle edge on signature feminine designs. The palette includes dusty hues and new neutrals contrasted with military olives and hints of old gold. Fabrics are washed to provide a worn, overly-loved appeal and are combined with cashmere wool suits, leopard faux furs and down quilted coats, together giving this collection an affordable luxe quality.
Last Thursday, March 25th, 2010, Rodney Cutler and his team of amazing stylists created the "undone pony" for the Ann Taylor Fall 2010 presentation at the Ace Hotel, with celebrity guests Rachel Bilson and Christina Hendricks in attendance. Rodney and his team just worked on over 30 shows during Fashion Week for Fall 2010.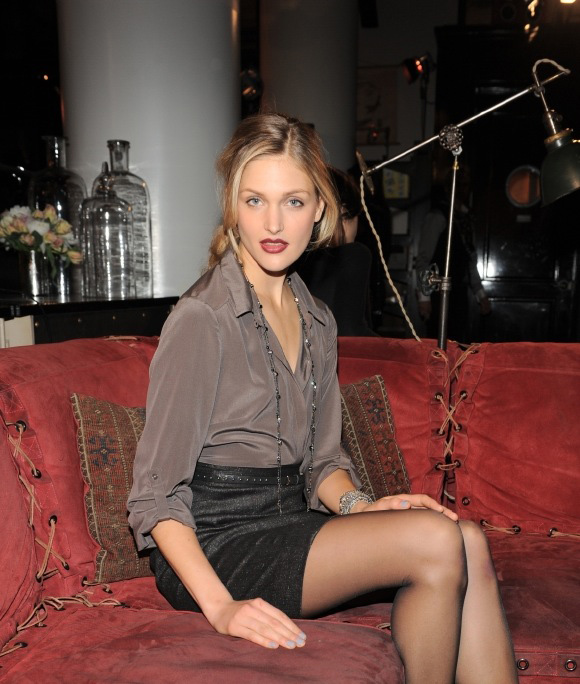 The hairstyle and Inspiration: 20's Parisian Lounge. "We wanted the hair to look finished and polished, yet loosely deconstructed," says Rodney Cutler, lead stylist and owner of Cutler/Redken salons.
Paris Fashion Week. Show: Emmanuel Ungaro Fall Winter 2010. Makeup by MAC Cosmetics.
The Makeup Look and Inspiration: "She is a young French girl going out at night. As natural as an evening look can be."-Carole Lasnier
Emmanuel Ungaro Paris Fall/Winter 2010 MAC Makeup Chart
The makeup breakdown. Products are all by MAC.
Eyes
Face and Body foundation in White as a base to the lids to highlight the eye
Porcelain Set Powder to highlight the inner corner of the eye
Eye Shadow in Kid on the outer corner of the eye and blended outwards
Studio Fix Mascara in Black on top lashes only
Brow Set Clear combed through the brows
New York Fashion Week. Isaac Mizrahi AW 2010. Makeup by Val Garland for MAC Cosmetics.
The look and inspiration: "The theme was Siberian winter storm – we wanted the girls to look frosty, as if they had been caught in a snowy wind."– Val Garland

Isaac Mizrahi AW 2010 makeup face chart by MAC Cosmetics
The makeup breakdown. All products by MAC.
Eyes:
Eye Shadow in Vanilla – washed over the eyelid and into the crease of the eye
Select Cover-Up Concealer – applied to the lashes and brow to mute natural colour
Acclaimed fashion designer Thuy Diep selected MAKE UP FOR EVER to perfect her models' faces at the Thuy Fall 2010 Fashion Show at the Salon in Bryant Park during Mercedes-Benz Fashion Week.
MAKE UP FOR EVER ALLIANCE team member, Lottie www.makeupforever-alliance.com , served as key make up artist for the show, where she created a cool, fresh look to complement the vibrant jewel tones of the collection.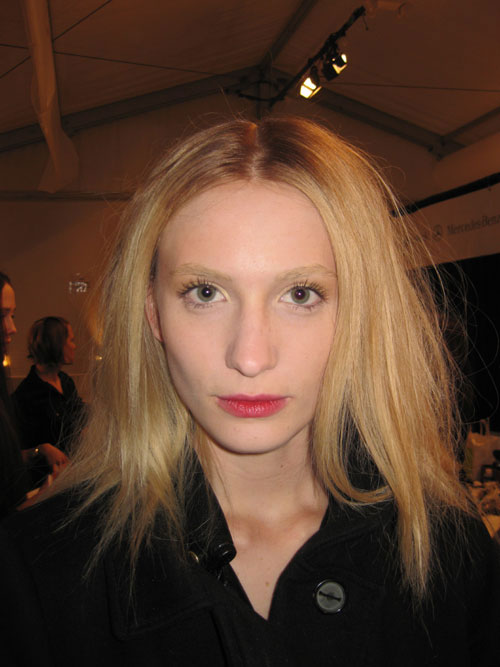 Complexion & Cheeks: Lottie first applied HD Invisible Cover Foundation to perfect the models' complexion. Next, she created a contour on the cheeks using Mat Bronze #2, and then applied more bronzer high on the apple of the cheeks. The look was set with Super Matte Loose Powder #12 on the t-zone.
New York Fashion Week Fall Winter 2010. Show: Peter Som. Makeup by MAC Cosmetics.
The look and inspiration: "The look was Uptown girl meets Woodstock, a shimmery golden eye to contradict the deep, dark purple lip ." – Tom Pecheux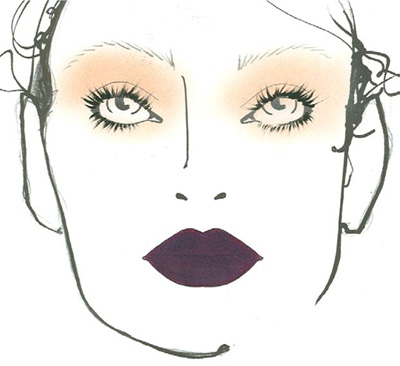 The makeup breakdown, products are all by MAC Cosmetics.
Eyes:
Studio Sculpt Concealer – applied over the eyelid
Set Powder in Invisible – powdered over the eye area to set concealer
Pigment in With Legal – swept over the concealed eyelid from lash to brow and in the inner eye corner
Iridescent Powder in Silver Dusk – lightly applied to the inner eye corner and under the brow bone
Studio Fix Lash – applied to top and bottom lash