All Posts Tagged With: "Ponytail"
Last night, Rita Ora's natural hair texture made a statement on the red carpet in an undone, flirty ponytail. Inspiration: Brent wanted to complement Rita's extravagant Giambattista Valli Couture gown by creating a look that was young and fresh
Last night, 2/10/201, TRESemmé Stylist Jeanie Syfu created the sleek and polished ponytails backstage at Charlotte Ronson's Fall 2012 runway show.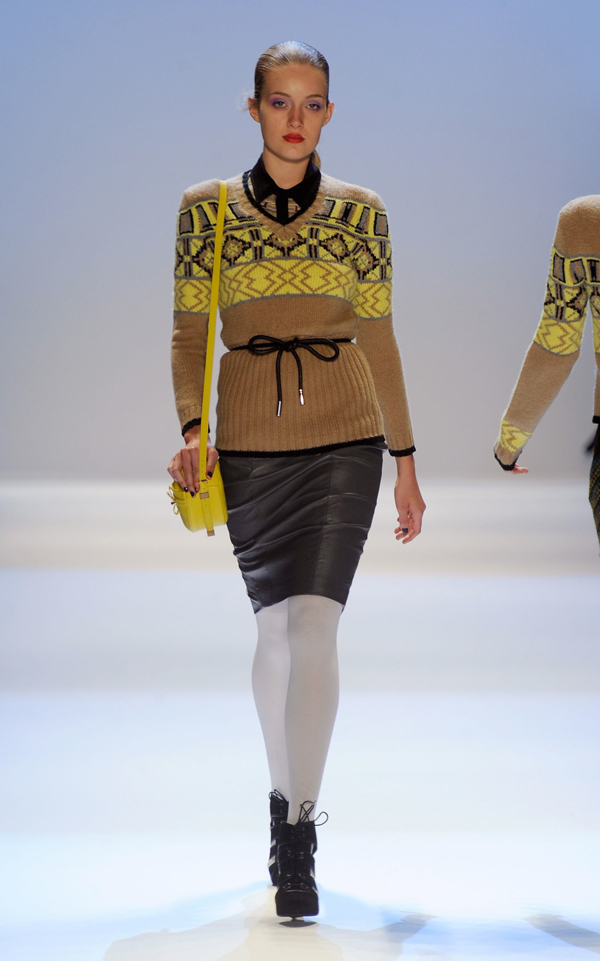 HAIRSTYLE
Inspired by the 70s, the designer's collection was refined and glamorous with edgy accents.
Cutler set the trend once again at the Donna Karan Resort show that took place on Friday, June 4th, 2010. The sexy, sleek ponytail was a glam accessory for the after-dark fashions that Donna Karan showcased on the runway. Didier Malige for Cutler, who created the look for the show, shares tips with us on how to recreate this sleek pony.
How to get a sleek pony:
1: Spray dry hair with Cutler Volumizing Spray, as well as Cutler Protectant Treatment Spray to add a base to the hair. Using a Mason Pearson brush and a blow dryer, manipulate the product into the hair for added texture and volume
Adir Abergel for Frederic Fekkai tamed the tresses of Elizabeth Banks. The Hairstyle & Inspiration: American Rock & Roll. A rough, peicey ponytail with undone texture and a bit of height.
How To Get The Look: Hair Tutorial
Abergel started out by using Fekkai Coiff Ironless Straightening Balm ($25) for frizz free texture. He then dried her hair with his hands. Once hair was completely dry, he drew a part down the middle.
Hair Trend report 2010 with Advanced Techniques Salon Professional Haircare. Avon Global Stylists Advisors worked backstage at Charlotte Ronson's Fashion Show, where they interpreted the clothing designs to create a simple, girly style that any woman could wear. With just a few Advance Techniques products, the team teaches us how to transform bland hair to beautiful styles.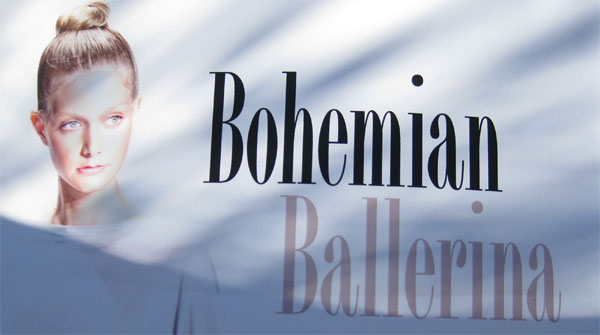 The hairstyle: Bohemian Ballerina. "Create a fresh, young wispy look to amp up simple designs in your wardrobe this season."-Tippi Shorter
Hair Tutorial
1 . Prep wet hair from root to tip with Volumizing Mousse to enhance the natural shine and create volume. Using the Cushion Brush, blow dry hair section by section to distribute the product and create natural texture.
Last Thursday, March 25th, 2010, Rodney Cutler and his team of amazing stylists created the "undone pony" for the Ann Taylor Fall 2010 presentation at the Ace Hotel, with celebrity guests Rachel Bilson and Christina Hendricks in attendance. Rodney and his team just worked on over 30 shows during Fashion Week for Fall 2010.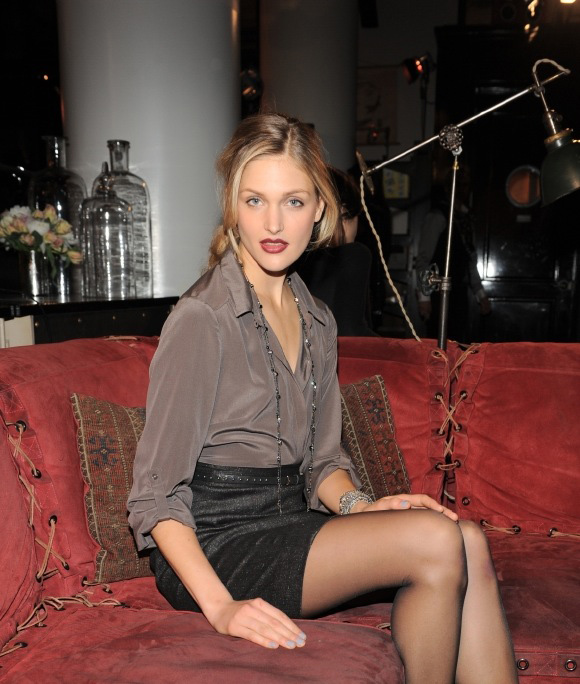 The hairstyle and Inspiration: 20's Parisian Lounge. "We wanted the hair to look finished and polished, yet loosely deconstructed," says Rodney Cutler, lead stylist and owner of Cutler/Redken salons.
To wrap up Fashion Week Fall/Winter 2010, Guido, Redken Creative Consultant ended with a bang of ponytails at the Louis Vuitton and Miu Miu shows in Paris. Find out the must-have products and inspiration!
LOUIS VUITTON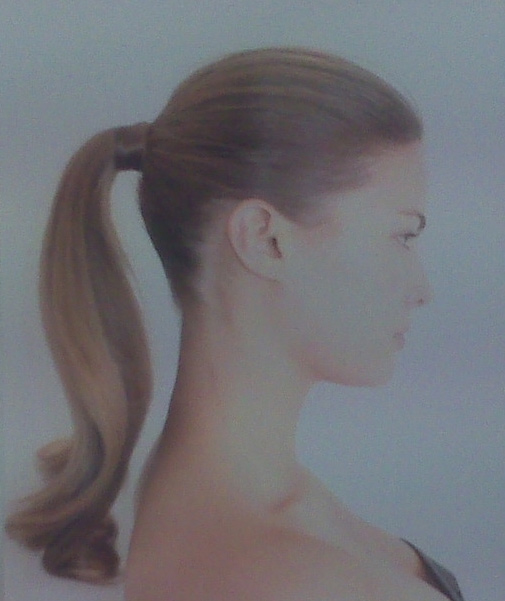 Guido created the perfect classic ponytail with curls at the ends and a piece of hair wrapped around the elastic. "We wanted to create a retro ponytail to complement the 1950s feel of the clothes." -Guido, Redken Creative Consultant
Products: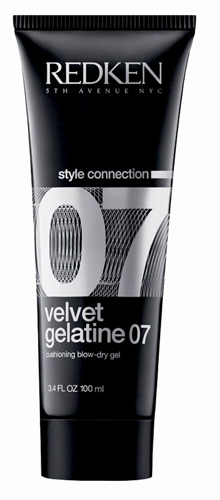 Redken Style Connection velvet gelatine 07 cushioning blow dry gel
DKNY Fall 2010 – Hair by Wella's Eugene Souleiman and Eva Scrivo.
The Look: A refined side-swept ponytail projects a sexy equestrian vibe with a subtly strong, yet not too masculine look. The ponytail's length falls over the shoulder on the side where hair is parted, while just a few face framing layers are left to brush along on the opposite side of the face. The effortless elegance of this asymmetric look complements the proportions of any face because it offsets any imbalance of the facial structure.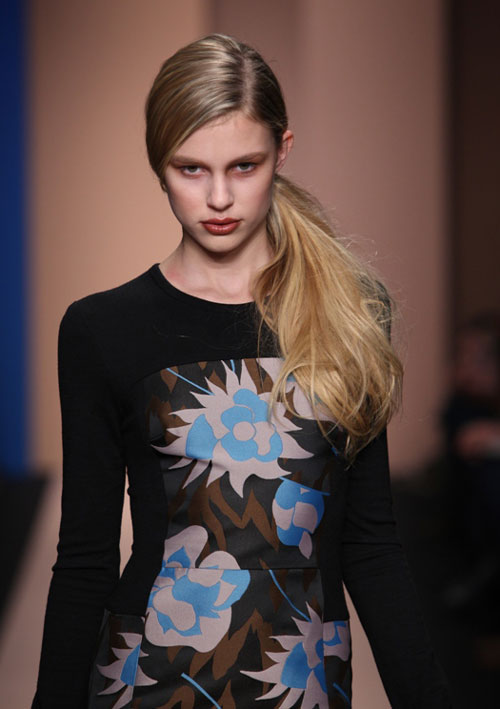 Inspiration: The fall '10 DKNY collection encapsulates NY art and soul, reflecting the convergence of creative worlds and individual style that is the spirit of New York City. The graphic, modern, and unique style resonates throughout the collection, including silhouettes as tall and lean as the skyline. A neutral palette of blacks, charcoal, umber, vicuna and oxblood is brightened with accents of bluebird, sapphire, peach, and oyster. Pieces are architecturally paneled with color, texture, and pattern, but maintain the versatility of the classic urban and sporty chic modernism befitting of NYC sophistication.
Actress Mila Kunis looked stunning at last night's LA premiere of 'The Book of Eli' in a sexy one-shoulder black dress paired with an ultra sleek ponytail.
Thanks to TRESemmé Celebrity Stylist Mara Roszak who created Mila Kunis' gorgeous look…for under $10 Talking Makeup has the scoop on how to get Mila's hairdo at home!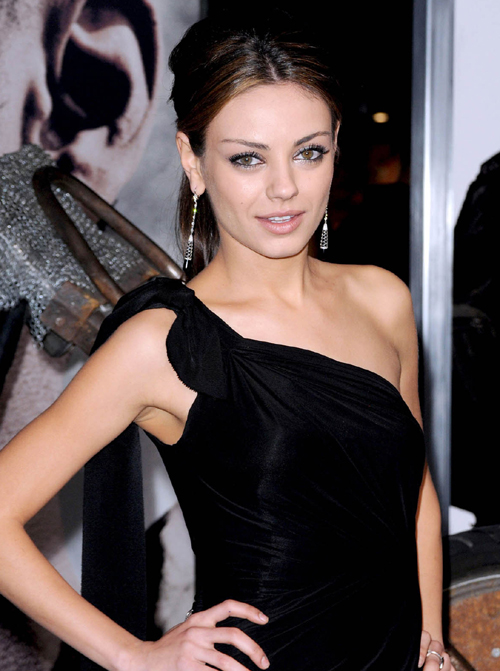 1. Apply TRESemmé 24 Hour Body Foaming Mousse to towel-dried hair, and blow dry using a medium-sized boar bristle round brush.
Matrix celeb stylist Mark Townsend styled Natalie Portman for the Gotham Awards on Monday night and she looked amazing!!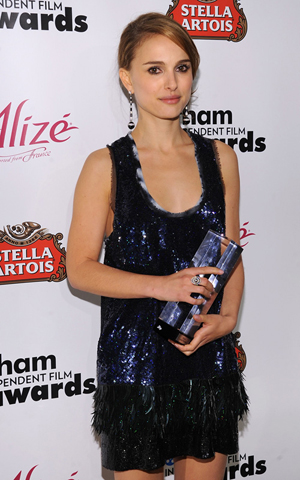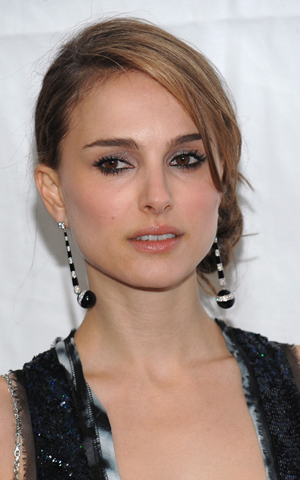 To get Natalie Portman's asymmetrical side bun for the 19th annual Gotham Independent Film Awards, Matrix celebrity stylist Mark Townsend sprayed Biolage Bodifying Spray Gel in Natalie's damp hair and blow dried it with a medium round brush. Next, he took 2 to 3 inch sections of hair and sprayed each with Vavoom Gold Heat Iron-In Control, wrapping the hair around a 1 inch curling iron.