All Posts Tagged With: "Wella System Professional"
The Event: EXPRESS celebrated its 30th anniversary of fashion with Vogue at the Eyebeam Studio with a fashion show and live performance by VV Brown, Thursday, May 20, 2010. The event was hosted by: Chanel Iman, Caroline Trentini, Elettra Weidemann & Ed Westwick.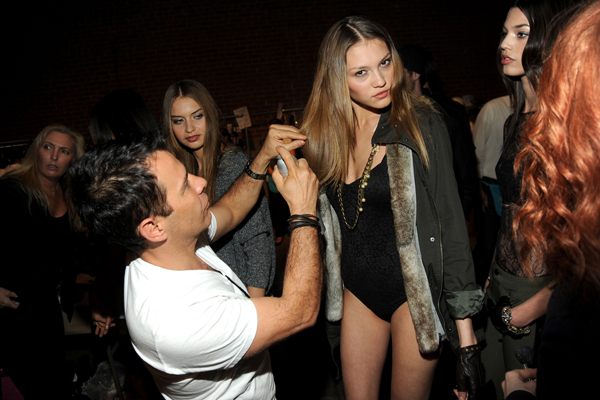 Express Fashion Show. Hair Color/Style: Ricardo Rojas for Wella Color Charm
Runway models showcased Express' hottest looks of the season and glamorous look to complement the trend. Celebrity stylist Ricardo Rojas added the finishing touches, styling the models' and VV Browns' show stopping locks with Wella Color Charm haircolor and Wella System Professional styling products.
Winter Hair:  Take care of your hair this season! Fight harsh winter elements by hydrating, protecting and nurturing brittle, flat and damaged hair. Wella System Professional Power Mask is designed to smooth and condition severely damaged hair, while improving manageability and shine.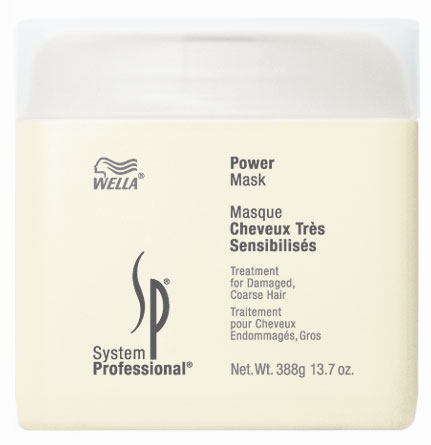 Tip: Cold weather drains the moisture from your hair. Wear a scarf, hat or cap to protect your hair from the cold and wind. This will also help to prevent knots and dry ends. Stash a smoothing balm in your purse to tame flyaways.
DKNY Fall 2010 – Hair by Wella's Eugene Souleiman and Eva Scrivo.
The Look: A refined side-swept ponytail projects a sexy equestrian vibe with a subtly strong, yet not too masculine look. The ponytail's length falls over the shoulder on the side where hair is parted, while just a few face framing layers are left to brush along on the opposite side of the face. The effortless elegance of this asymmetric look complements the proportions of any face because it offsets any imbalance of the facial structure.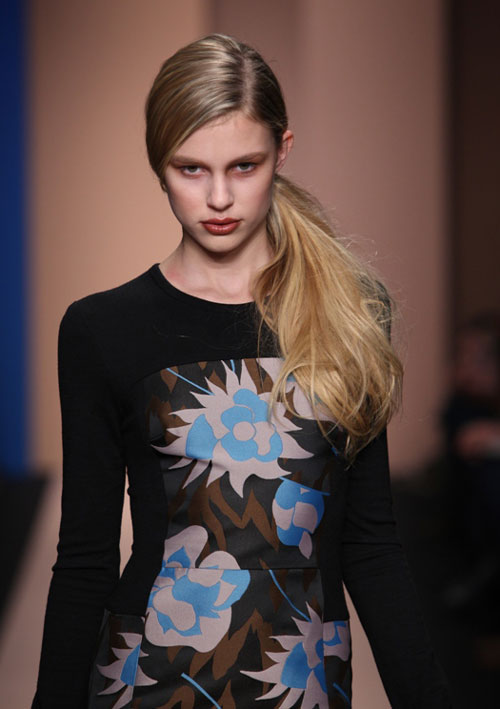 Inspiration: The fall '10 DKNY collection encapsulates NY art and soul, reflecting the convergence of creative worlds and individual style that is the spirit of New York City. The graphic, modern, and unique style resonates throughout the collection, including silhouettes as tall and lean as the skyline. A neutral palette of blacks, charcoal, umber, vicuna and oxblood is brightened with accents of bluebird, sapphire, peach, and oyster. Pieces are architecturally paneled with color, texture, and pattern, but maintain the versatility of the classic urban and sporty chic modernism befitting of NYC sophistication.
Food Inspired Beauty: GOT MILK? – It's like treating your hair to a glass of milk, an ageless beauty aide for its nourishing and conditioning properties. Wella System Professional Hydro Milk instantly conditions hair and makes it noticeably smoother and more supple. This multi-faceted daily leave-in treatment actively protects against dry-out as it detangles, nourishes and conditions hair without creating buildup.