All Posts Tagged With: "Wella Professionals"
Celebrity makeup artist Monika Blunder worked with Megan Fox for Ferrari's 60th Anniversary in the USA Gala on Saturday, October 11th in Beverly Hills, CA.
BEAUTY INSPIRATION: "Megan wore a red Versace dress and I matched the lip color exactly to the dress. The look was effortless and chic. On her eyes I did hardly anything, just a very thin black eyeliner and a pop of shimmer in the inner corners of her eyes."
How to get Megan Fox's makeup look
"I started off by applying Cle de Peau Silk Cream Foundation in 030 with a foundation brush all over her skin. For a bit of coverage under her eyes, I used NARS Radiant Creamy Concealer in Custard.
Celebrity mom and TV star Brooke Burke helped Wella Professionals kick-off their eight city Color Discovery Tour on Monday, June 21st, 2010, at New York City's South Street Seaport. The tour celebrates 130 years of haircolor innovation by providing access to top colorists in each region to help demystify professional haircolor with on-site, free personal haircolor consultations and recommendations.

L to R: Brooke Burke and Wella's new celebrity colorist Aura Friedman. Aura works at the Serge Normant salon and has tended to the tresses of celebs like Lady Gaga and M.I.A.
Missed the tour today? Wella will be at the South Street Seaport again tomorrow, Tuesday, June 22nd, 2010, with top colorists from NYC salons Arrojo Studio, Mark Garrison Salon, Patrick Melville Salon, Pepper Pastor Salon and Pipino Salon from 11 am to 6 pm. Stop by and receive 25% off your next haircolor service at one of the participating salons.
New York Fashion Week Fall Winter 2010. Show: Cynthia Rowley. Hair by Wella Professionals. Hair Trend: Color Extensions.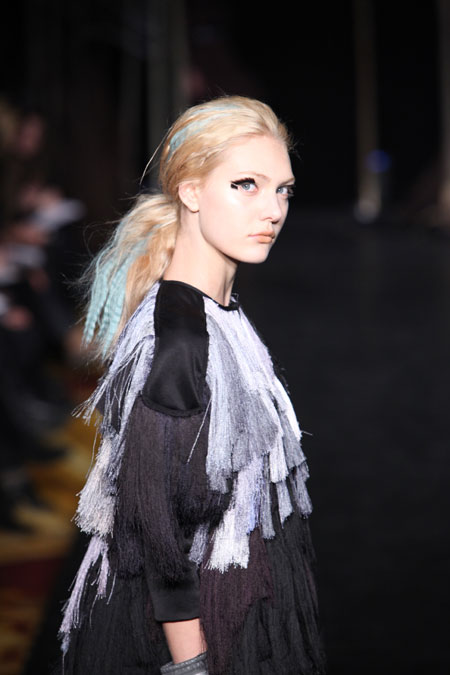 Inspiration: Cynthia Rowley is known for her whimsical-yet-sophisticated aesthetic with a vintage-inspired slant. For Fall '10, the collection feels more indie and tough, not ladylike. She takes classic, feminine wardrobe elements, like the dress and the elbow glove, but redefines them for the modern, tough girl. The clothing and accessories for Fall concentrate on volume, texture and movement, which is accomplished with lots of feathers, fringed leather, and silk fringe. [The array of shaded extensions prepared for the show.]
DKNY Fall 2010 – Hair by Wella's Eugene Souleiman and Eva Scrivo.
The Look: A refined side-swept ponytail projects a sexy equestrian vibe with a subtly strong, yet not too masculine look. The ponytail's length falls over the shoulder on the side where hair is parted, while just a few face framing layers are left to brush along on the opposite side of the face. The effortless elegance of this asymmetric look complements the proportions of any face because it offsets any imbalance of the facial structure.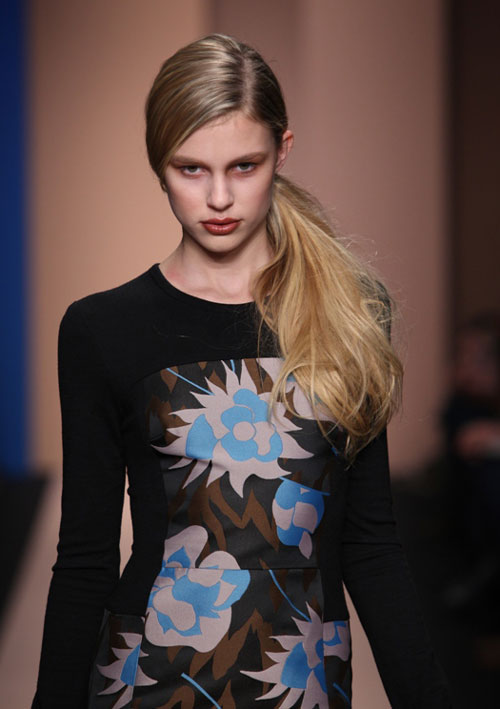 Inspiration: The fall '10 DKNY collection encapsulates NY art and soul, reflecting the convergence of creative worlds and individual style that is the spirit of New York City. The graphic, modern, and unique style resonates throughout the collection, including silhouettes as tall and lean as the skyline. A neutral palette of blacks, charcoal, umber, vicuna and oxblood is brightened with accents of bluebird, sapphire, peach, and oyster. Pieces are architecturally paneled with color, texture, and pattern, but maintain the versatility of the classic urban and sporty chic modernism befitting of NYC sophistication.
Backstage at New York Fashion Week with Eugene Souleiman, Global Creative Director, Wella Professionals creating the Hair Look for Halston A/W  2010.
The Look: Nature's Fall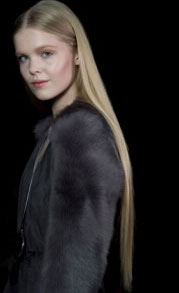 The AW '10 Halston collection utilized classic draping techniques with linear modernity. When creating the hair look for the show, Eugene Souleiman drew inspiration from one of the four of Wella Trend Vision directions, Nature's Goddess. This look portrays a confident, assertive woman by using the enchantment of nature to create a new form of femininity and seduction.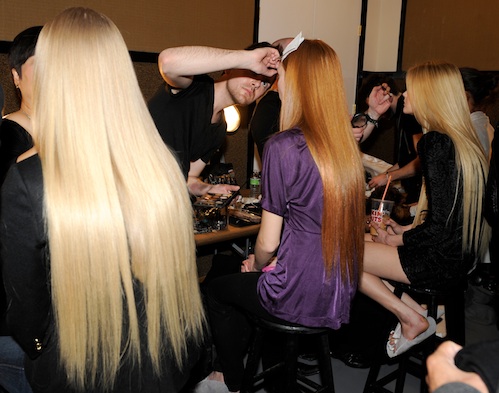 Photo credit: © amber rima mclinn
Looks like it's time to break out the Manic Panic. The big beauty trend for hair at Fashion Week was bright, chunky streaks of color that brought to mind punk-inspired street style circa 1996. At the Cynthia Rowley Fall 2010 fashion show, Eva Scrivo for Wella Professionals custom colored hair extensions in shades of emerald, lapis, amethyst, navy and turquoise to replicate the rich jewel tones present in the collection. Each hair extension was completely saturated with professional salon haircolor and then woven into the hair and styled, creating an element of surprise and intrigue when models hit the runway. Read full article in dailymakeover.com

Turquoise tresses at Cynthia Rowley.
Photo courtesy of Wella Professionals
For more Beauty Trends and News visit dailymakeover.com
I'm excited to share with you my interview with Wella colorist Eva Scrivo. Eva is a stylist, colorist, and owner of the Eva Scrivo Salon in New York. Eva is also known as the Long-time stylist to Martha Stewart and a frequent guest on her show. And on top of it all, she is an all around beauty expert and has a call-in show on Sirius called Beauty Talk and wrote a beauty guide that will be published for Fall 2010.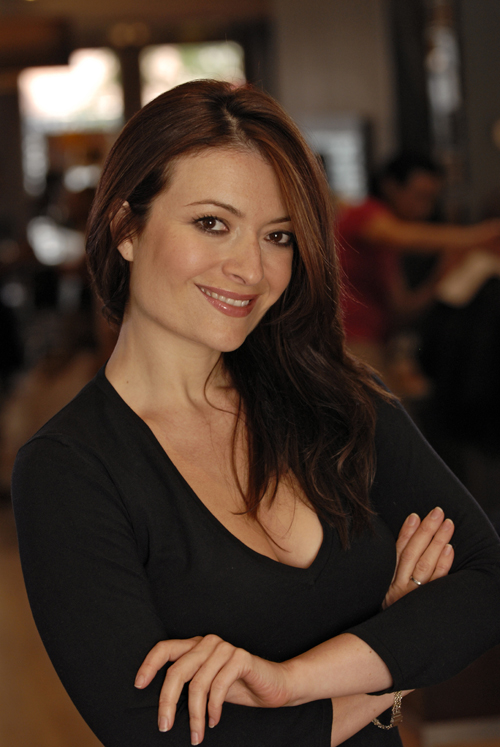 Eva Scrivo
In this interview Eva Scrivo talks about why she has decided on a career in hairdressing and some of her biggest breaks as a top colorist. Gives advice on hair and on what does it take to have a career as a top hairdresser. You will also find out which city Eva loves the most.
Marta Walsh: When and why did your fascination with hair begin?
Eva Scrivo: Growing up, I was an avid student of the arts. Painting, pottery and theatre were all subjects I loved. This absolutely laid the groundwork which led me to choose a creative field like hairdressing as a career.
For Thakoon's Spring '10, Eugene Souleiman, runway hair extraordinaire and Global Creative Director for Wella Professionals, and Wella's master runway colorist Eva Scrivo collaborated on the overall hair look, which resulted in a merging of East and West for a sleek, sculpted, surfer inspired 'do. Model Abby Lee (below) sported the style off the runway also and the hair color adds a completely new dimension to the look. Scrivo hand painted extensions using Wella Professionals to create depth of color with a natural, ombre effect – a trend we'll be seeing much more of come spring!