I'm excited to share with you my interview with Wella colorist Eva Scrivo. Eva is a stylist, colorist, and owner of the Eva Scrivo Salon in New York. Eva is also known as the Long-time stylist to Martha Stewart and a frequent guest on her show. And on top of it all, she is an all around beauty expert and has a call-in show on Sirius called Beauty Talk and wrote a beauty guide that will be published for Fall 2010.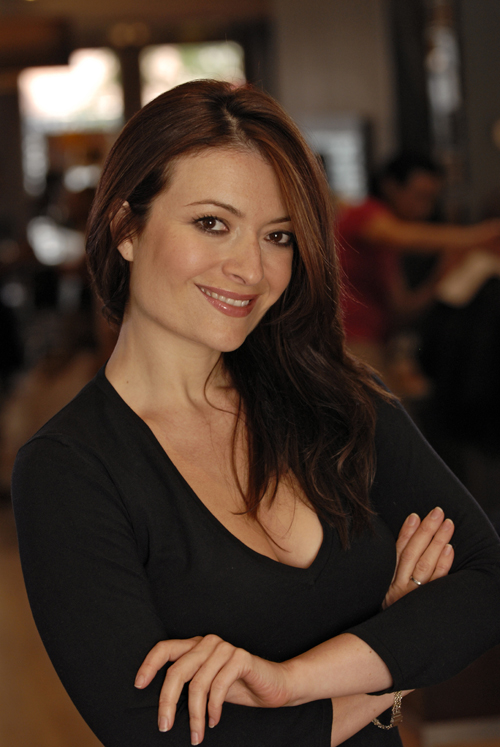 Eva Scrivo
In this interview Eva Scrivo talks about why she has decided on a career in hairdressing and some of her biggest breaks as a top colorist. Gives advice on hair and on what does it take to have a career as a top hairdresser. You will also find out which city Eva loves the most.
Marta Walsh: When and why did your fascination with hair begin?
Eva Scrivo: Growing up, I was an avid student of the arts. Painting, pottery and theatre were all subjects I loved. This absolutely laid the groundwork which led me to choose a creative field like hairdressing as a career.
MW: What were some of your biggest breaks as a top colorist so far?
ES: There were many opportunities which led me to where I am today. Owning salons and working behind the chair is the greatest experience a colorist can have. It is challenging, invigorating and exciting to be continually problem solving with a new client sitting in front of you every half hour. Each client has unique hair and expectations; it is a colorist's job to make their vision a reality. Having a radio show and articulating a visual craft on a weekly basis has been a tremendous learning experience for me. Connecting with the masses gives you an incredible insight into every woman's beauty challenges and allows you to tap into an audience you would not have an opportunity to learn about in the salon. Many years of diverse and multifaceted experience and hard work lead to my position with Wella Professionals as a spokesperson and Lead Colorist.
MW: What some common mistakes women tend to make when it comes to their hair color or hair coloring? Any hair color myths you would like to clear up?
ES: Over-blonding is a common mistake women make. Sometimes women get bored and end up taking it out on their hair. Dying hair too often can lead to irreparable damage. On the other hand, not dying hair frequently enough can also be an issue for women. It is a fine line to walk and any good colorist will be able to advise you on the ideal amount of time between colorings.

Eva Scrivo with Fashion Designer Thakoon backstage at fashion week for his Spring '10 collection
MW: What are some of the hottest hair color trends we expect to see with blonde hair, brunette, and red hair?
ES: For blondes, you can expect to see translucent, soft platinums with pale roots. The dark-root look is not going to be prevalent; think 1960's glamour. Brunettes are rich, solid with deep darker pieces woven through to add dimension. Reds will be bright and striking with saturated pigment and pink, blue and violet undertones.
MW: What hair care products do you recommend for color treated hair?
ES: System Professional has wide variety of amazing shampoos, conditioners and treatments for all hair types. The System Professional Color Saver line in particular has a shampoo and mask that can extend the life of hair color and keep it true to tone for much longer.
MW: Which celebrity hair colors are most popular and how can we achieve similar looks at home? What advice can you give us if we want to get a certain celebrity hair color (mine for example are Alessandra Ambrosio, Giselle, Jennifer Aniston)?
ES: Natural, sun-kissed and neutral colors are very big at the moment. It is very difficult to achieve these looks at home and to be done correctly, you need a professional. Wella's Color Touch demi-permanent line is excellent for achieving added depth and dimension that gives hair that more natural, youthful and healthy looking hair.

MW: What is your philosophy about hair color and beauty?
ES: My philosophy about hair color is that it is a woman's ultimate beauty accessory and should be treated as such. She wears it on a daily basis; it balances and compliments her skin tone; it brings out her eye color. Beyond all of that, hair color can make heads turn when a woman walks into a room.
MW: How can we get rid of brassiness or brassy hair?
ES: Attaching a filter to your shower head to remove metal deposits and chlorine from your water will help keep brassy tones out of your hair. The filters should be changed every six months or so. Applying an ash-based demi-permanent color or a glaze to your hair is also another great way to avoid brassiness in between visits to your salon.
MW: What is your favorite city in the world?
ES: Paris. Need I say more?
MW: What advice can you give anyone who is interested in a career as top hair stylist or colorist?
ES: Be selective and choose a great company to educate you and to give you opportunities. Be strong, because it can be so difficult to give great service and be a craftsman all at the same time. Most importantly, be open to criticism and always give more than you think you need to. And remember, be patient becoming a great hairdresser is a lifetime journey.
It was a pleasure to interview Eva Scrivo you can visit her salon at:
Eva Scrivo Salon 
50 Bond St., New York, NY 10014
nr. Lafayette
212-677-7315
Visit www.wellausa.com to learn more about Wella.