All Posts Tagged With: "Thakoon"
NARS created the look for the THAKOON AW'15 runway show. LEAD ARTIST: Diane Kendal for NARS Cosmetics.
LOOK: "Inspired by the northern lights, Thakoon wanted the girls to look beautiful, keeping the ideal of lights and reflection."
NARS created the look for the Thakoon runway show today. LEAD ARTIST: Diane Kendal for NARS Cosmetics. TREND: Strong brows. DESIGNER INSPIRATION: "Everything is light and transparent for the purpose of combining structure and transparency," said designer Thakoon Panichgul.
MAKEUP LOOK
NARS created the look for the Thakoon Spring 2012 runway show. LEAD ARTIST: Diane Kendal for NARS Cosmetics. TREND: Strong brows and luminous skin.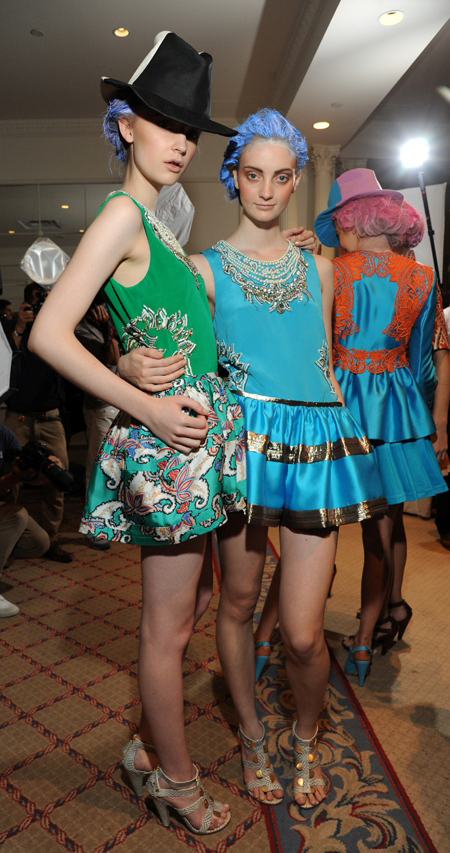 New York Fashion Week: Thakoon Spring 2012 Runway Show
On September 12th, 2010, following the Thakoon SS2011 show, NARS partnered with the brand to throw an after party held at the Jane Hotel Ballroom to celebrate the new collection.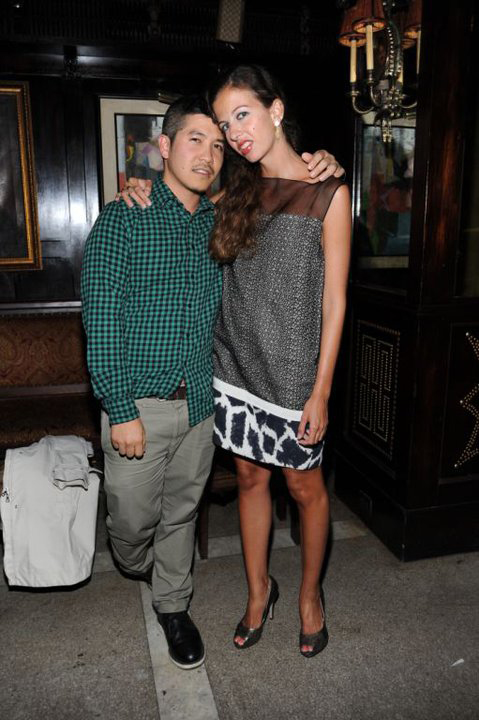 Designer Thakoon Panichgul (L) & filmmaker Chiara Clemente (R)

With music by DJ Wolf and attendees including Chiara Clemente, Harley Viera Newton and Becka Diamond, NARS rocked the night away with the designer himself who said "it's nice to take a break and hang out."
Watch: NARS for Thakoon Autumn/Winter 2010 Fashion Week. Lead Artist: Diane Kendal for NARS Cosmetics. Key Products Used: Douceur Blush (new for Fall 2010!), Coconut Grove Eyeshadow (new for Fall!), Tzarine Duo Eyeshadow (new for Fall!), Portobello Duo Eyeshadow, Belle de Jour Lipstick.
The Makeup Look & Inspiration: "The look is fresh, beautiful, luminous and quite confident," said Diane Kendal for NARS Cosmetics. "We focused on a strong brow and highlighted the eyes to show depth and boldness in a way that wouldn't fight with the various textures, layers and colors of the collection."
Models Coco Rocha, Hilary Rhoda, Doutzen Kroes and actress Riley Keough attended the the 2010 Costume Institute Gala to celebrate the launch of American Woman: Fashioning A National Identity at the Metropolitan Museum of Art, New York City, Monday, May 3, 2010.
Coco Rocha in a dress by Zac Posen.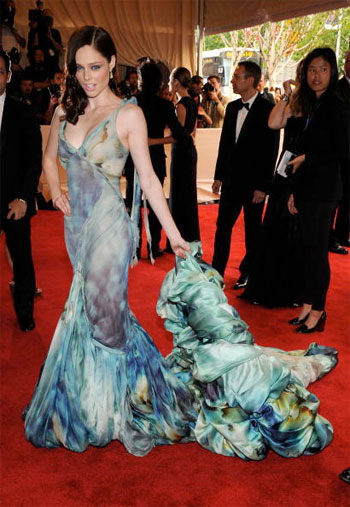 At the height of the Spring/Summer fashion season, NARS launches exclusive, behind-the-scenes video content from SS2010 New York Fashion Week. Feel the excitement of being backstage as you watch models transform from bare to beautiful with accents of theatrical dancer eyes (Marc Jacobs see video below), multi-textural skin (3.1 phillip lim), warrior-strength contouring (Thakoon), whimsical tribal makeup (Derek Lam), and couture feather lashes (Marchesa).

NARS for Marc Jacobs – Spring/ Summer 2010 Fashion Week video!
To watch more NARS Spring/Summer 2010 Fashion Week Behind The Scenes Videos visit their YOUTUBE Channel!
NEW NARS Orgasm Illuminator: Sheer, weightless fluid that instantly makes skin refreshed, radiant and glowing, the ORGASM ILLUMINATOR is a new product category for NARS. Flecks of gold, peach and pink shimmer softly diffuse light, melting into the skin to allow natural luminosity to shine through. It joins the cult-followed Orgasm franchise which includes Blush, Lip Gloss, Nail Polish and The Multiple.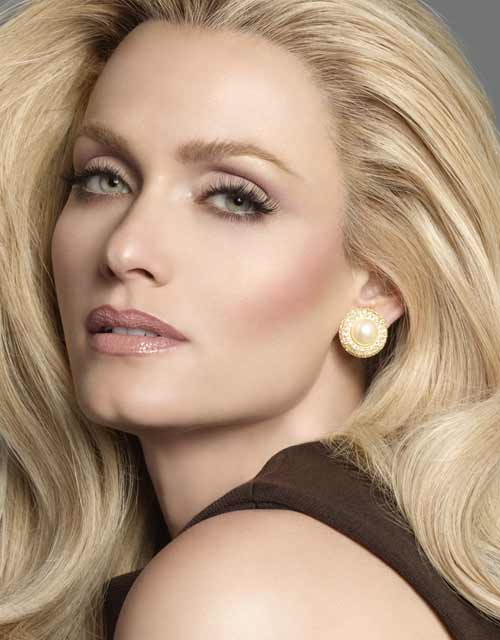 Amber Valletta for NARS Cosmetics
Revered by makeup artists, celebrities and consumers worldwide, NARS Orgasm products have been the recipient of numerous beauty accolades. Founder and Creative Director François Nars chose supermodel and long-time friend Amber Valletta to be the face of the product for the campaign. Additionally, the Orgasm Illuminator was used to create the looks backstage at many of the Spring/Summer 2010 Fashion Shows including 3.1 phillip lim, Marchesa and Thakoon.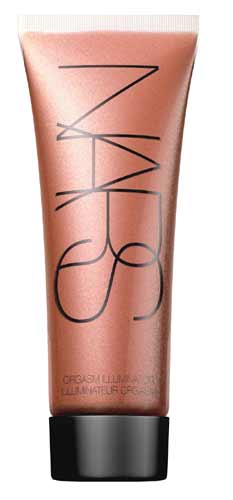 NARS ORGASM ILLUMINATOR contains raspberry and black currant; bisabolol; Indian Frankincense, Panthenol and Sodium Hyaluronate. It is non-comedogenic.
Price: $29.00 – 1.1 Oz. 30ml
Availability: Sephora.com
See more Amber Valletta behind the scene photos for the NARS Orgasm Illuminator ad campaign.
I'm excited to share with you my interview with Wella colorist Eva Scrivo. Eva is a stylist, colorist, and owner of the Eva Scrivo Salon in New York. Eva is also known as the Long-time stylist to Martha Stewart and a frequent guest on her show. And on top of it all, she is an all around beauty expert and has a call-in show on Sirius called Beauty Talk and wrote a beauty guide that will be published for Fall 2010.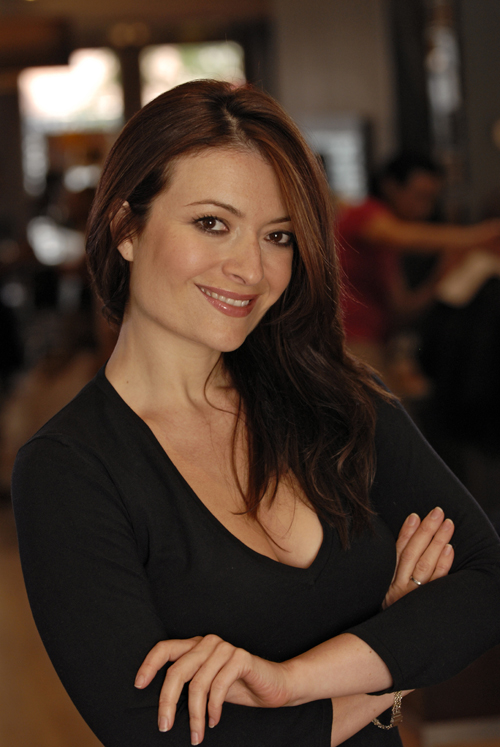 Eva Scrivo
In this interview Eva Scrivo talks about why she has decided on a career in hairdressing and some of her biggest breaks as a top colorist. Gives advice on hair and on what does it take to have a career as a top hairdresser. You will also find out which city Eva loves the most.
Marta Walsh: When and why did your fascination with hair begin?
Eva Scrivo: Growing up, I was an avid student of the arts. Painting, pottery and theatre were all subjects I loved. This absolutely laid the groundwork which led me to choose a creative field like hairdressing as a career.
Sneak Peak: Backstage Action at Thakoon's Spring '10 Show during New York Fashion Week.
Here's a Behind the Scenes Look at the "Kick-ass Hair" created by Eugene Souleiman (Global Creative Director) and Eva Scrivo (Master Colorist) for Wella Professionals.
Thakoon's Spring '10 collection demonstrates the dichotomy of east meets west by combining contrasting textures with tight and loose elements. The hair style reflects a surfer meets samurai look with a sleek half pulled back ponytail knot and the remaining bottom half flows down the back into beach tousled waves. Hair color completes the look! Eva Scrivo hand painted extensions with Color Touch demi-permanent with contrasting light and dark tones to create a beautifully, cohesive color palette of natural shades with excellent dimension and shine.