All Posts Tagged With: "Spring/Summer 2010"
At the height of the Spring/Summer fashion season, NARS launches exclusive, behind-the-scenes video content from SS2010 New York Fashion Week. Feel the excitement of being backstage as you watch models transform from bare to beautiful with accents of theatrical dancer eyes (Marc Jacobs see video below), multi-textural skin (3.1 phillip lim), warrior-strength contouring (Thakoon), whimsical tribal makeup (Derek Lam), and couture feather lashes (Marchesa).

NARS for Marc Jacobs – Spring/ Summer 2010 Fashion Week video!
To watch more NARS Spring/Summer 2010 Fashion Week Behind The Scenes Videos visit their YOUTUBE Channel!
NEW Spring/Summer 2010 makeup collection from Avon: High Definition Color. The effect: extreme lases, brilliant liners and soft focus skin.
Avon Ultra Color Rich Mega Impact Lipstick High-Definition Lip Color for Mega Watt Drama. Developed with breakthrough color magnifiers, this new Mega Impact lipstick by Avon highlights and reflects true color for bright, vivid, high impact looks. Gilds on smoothly for hours and has SPF 15.

Expert makeup tips by Jillian Dempsey Avon Global creative Color Director and Hollywood Makeup Artist: "With Mega Impact, lips will really pop with color, so it's important to keep eyes simple. To avoid color overload, pair bold lips with a sheer shadow and black mascara for a sophisticated, glamorous look."
Here is part 2 of the very exclusive photos from the Madonna Backstage Dolce & Gabbana Spring/Summer 2010 ad campaign shooting.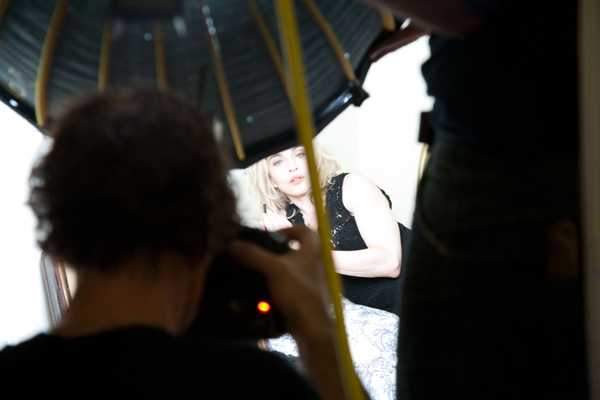 STRAIGHT FROM PARIS: I would love one day to attend the CHANEL Haute Couture presentation in Paris. Meanwhile all I can do is admire from the distance. I have selected some of my favorites looks from the CHANEL collection to give you a sneak peek. BTW I love the hairstyle and the true coral lips seen on the runway models. The hairstyle? It's a cross between Minnie Mouse and Hello Kitty. Better yet, I see an Asian influence, an Asian Doll perhaps, or the glamour of Shanghai. The fingerless gloves are so Karl Lagerfeld. The silver shoes add a bit of  a space-age element making the whole look very intriguing. And finally, can the skort (skirt plus shorts) make a comeback?
Which CHANEL Haute Couture Spring/Summer 2010 look is your favorite?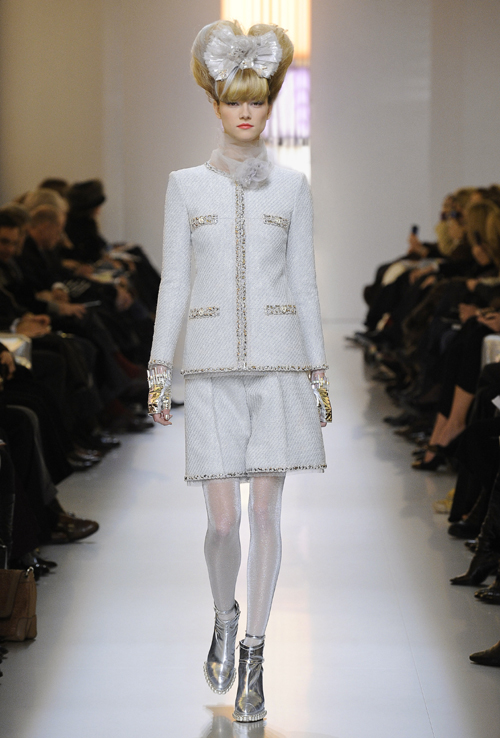 The CHANEL Haute Couture Spring/Summer 2010 collection debuted in Paris yesterday, Tuesday January 26th 2010.
Talking Makeup is excited to share with you exclusive VIP  CHANEL Haute Couture Spring/Summer 2010 photos!
Also, WATCH Karl Lagerfeld interview in French at the CHANEL Haute Couture Spring/Summer 2010 presentation: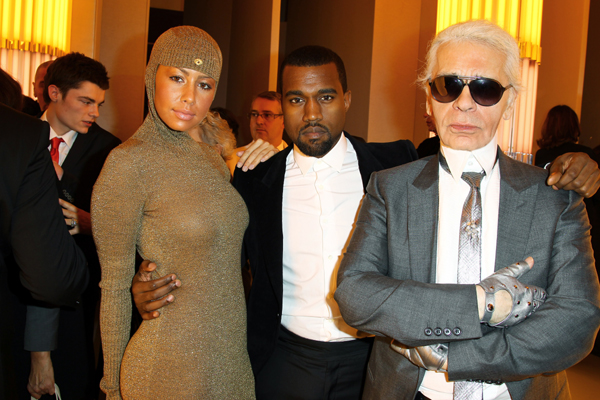 From Left: Amber Rose, Kanye West, and Karl Lagerfeld
It goes like this: Christmas and the New Year and then it's an Awards and Fashion Week season. Talking Makeup is ready for New York Fashion Week this February, but meanwhile we have Paris. Here's Dita Von Teese all in black leather at the Christian Dior runway show as part of Paris Fashion Week Haute Couture Spring/Summer 2010. I don't really get Dita's "shtick" ("Talent" or "Act" in Yiddish) nevertheless she always manges to look beautiful. I love the leather outfit, very different. Do YOU?