All Posts Tagged With: "Derek Lam"
JINsoon Show Recap: Derek Lam Fall/Winter 2017. Overall Look: Sheer Nude. Nail Inspiration: The Derek Lam FW17 collection is full of bold hues like red, gold, black and white. To complement these standout shades, Jin Soon Choi chose to use Muse, an essential nude shade that is the perfect complement to bold colors, and automatically creates a contrast against all skin tones.
How-To Steps:
Derek Lam's Spring 2017 collection pulled inspiration from artist Georgia O'Keeffe's untroublesome, lucid, style of dressing. Jin Soon Choi was moved by the clean, quiet vibe when choosing Nostalgia to complement the collection. The pink beige shade is elegant yet glamourous and elongates the shape of the hands.
How to steps manicure or pedicure:
TM is excited to share with you Derek Lam 10 Crosby's 60 second trailer for the launch of his new fragrance collection! This trailer is a sneak peak of 10 larger films that will launch on Feb 2nd that coincide with each of the 10 new scents that are launching Sephora.com on Jan 28th. The full 10 films will be available to watch on February 3rd on 10crosbyfilms.dereklam.com
Derek Lam New York Fashion Week 2015 "Get the Look" tips from Orlando Pita for PHYTO. INSPIRATION: Classic American New York woman. Sportswear with a New York edge. Super contemporary.
THE LOOK:
The look is a clean, graphic ponytail with a sharp center part.
GET THE LOOK:
·         Blow dry hair with PHYTO Phytovolume Actif or PHYTO Intense Volume Mousse, depending upon the hair type.
·         Pull back hair into a pony tail at the nape of the neck.
·         Once the hair is pulled back, secure it with custom-made leather holders.
·         Finish the look by spraying with PHYTO Phytolaque Soie Hairspray.
Say hello to my new fashion bible The Book by Neiman Marcus. So many fabulous looks shown in this book I want to own:) I find fashion and well-made clothes are addicting. I can't get over the attention to details fashion designers put into their design, this is what makes them classic timeless and an inspiration to future generations.
For instance, I love these wine colored leather pants by Derek Lam…
New York Fashion Week SS 2011. Estée Lauder teams up with Derek Lam for SS2011 Runway Show!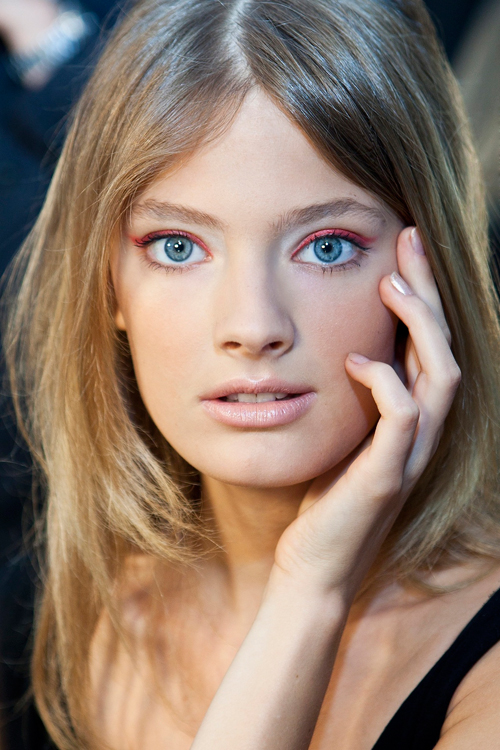 For the second consecutive season, Estée Lauder embarked on New York Fashion Week – once again sponsoring the beauty look (makeup & nails) at the Derek Lam SS 2011 runway show. Bright orange-shaded eyes, nude lips, peachy-bronzed cheeks and neutral nails ruled the catwalk at Lincoln Center on Sunday, September 12th, 2010.
Estée Lauder Fall 2010 Launches: Blue Dahlia Pure Color Collection.
''The blues and purples in the collection are iconic colors for autumn and winter. I like to give women choices in the way that they look. From a neutral to a smoky to a fashionable, strong look, these shades can be used with them all."– Tom Pecheux, Creative Makeup Director, Estée Lauder
New York Fashion Week. Derek Lam Fall 2010 Fashion Show. Hair by Orlando Pita @ Orio for Moroccanoil.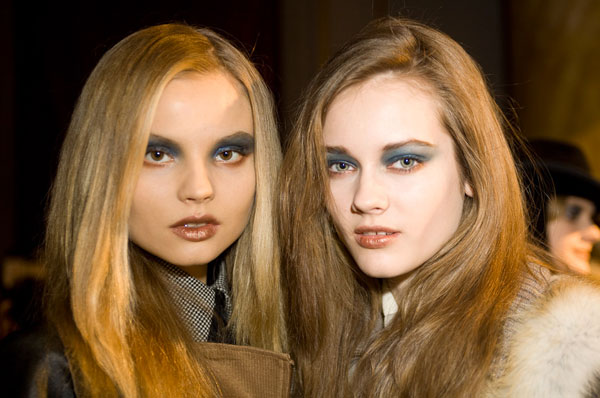 The hairstyle and inspiration: A focus on texture underlines this ethereal hair look. A closer glance reveals the absolute essential required for this courageous look. Hair in superb condition, healthy, strong and vital, with natural-shine that emanates from each strand. "It's a different, very natural take on straight texture," says Orlando, "one with a airiness, almost a wispiness, especially when the model walks the runway."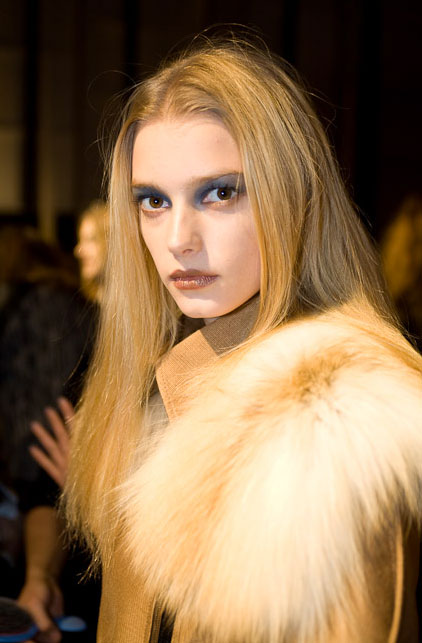 How to get the hairstyle: Hair Tutorial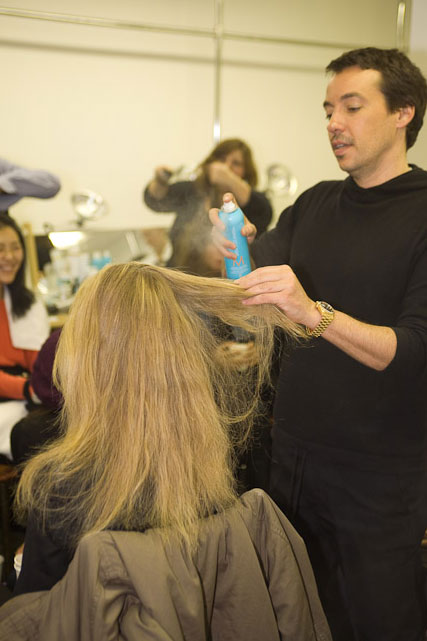 At the height of the Spring/Summer fashion season, NARS launches exclusive, behind-the-scenes video content from SS2010 New York Fashion Week. Feel the excitement of being backstage as you watch models transform from bare to beautiful with accents of theatrical dancer eyes (Marc Jacobs see video below), multi-textural skin (3.1 phillip lim), warrior-strength contouring (Thakoon), whimsical tribal makeup (Derek Lam), and couture feather lashes (Marchesa).

NARS for Marc Jacobs – Spring/ Summer 2010 Fashion Week video!
To watch more NARS Spring/Summer 2010 Fashion Week Behind The Scenes Videos visit their YOUTUBE Channel!
For the very first time in the Estée Lauder brand's 46 year history, they embarked on New York Fashion Week – sponsoring the beauty look (makeup & nails) at the Derek Lam AW 2010 runway show! Bold blue eyes, copper lips, matte skin, bare cheeks and neutral nails ruled the catwalk at Capitale on Tuesday, February 16th, 2010.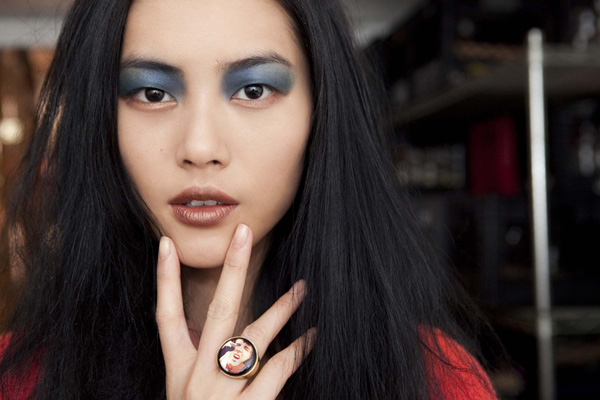 Liu Wen (Marilyn) Photo Courtesy of Estée Lauder
Estée Lauder Creative Makeup Director Tom Pecheux lead a team of 15 artists to create the stunning look on 22 models – While famed manicurist Jin Soon Choi and her team polished their nails with a new color that was tested backstage!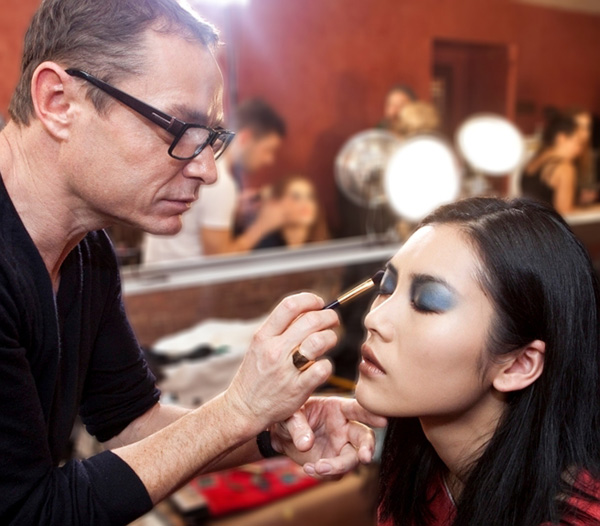 Tom Pecheux
"When Derek showed me the fabrics that inspired his Fall 2010 collection – bold and muted tones mixed with earthy pigments including terracotta, greens and browns – I thought the makeup shades should be complimentary. So we chose a blend of bold blue shadows on the eyes, shimmering copper lips and flawless, matte skin created with a light foundation — an on-trend beauty preview of what we will see for Fall 2010." Tom Pecheux, Estée Lauder Creative Makeup Director.