All Posts Tagged With: "Marchesa"
Marchesa Fall-Winter 2011 Fashion Week Presentation. Frederic Fekkai lead stylist, Renato Campora created an incredible chignon for Marchesa – drawing inspiration from the Famenco Dancer.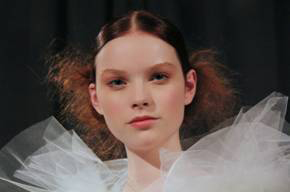 Inspiration: Campora was inspired by the volume, textures, and silhouettes of the Marchesa collection. Drawing from the style of Flamenco Dancer's chignon, the look was a modern take on a classic style: controlled and sleek in the front, and wildly voluminous. The result was a beautiful and artistically modern hairstyle with the appearance of being windblown.
2011 Golden Globes nominee for Best Performance by an Actress in a Supporting Role in a Feature Film, Amy Adams, looked radiant as she wore a gorgeous strapless Marchesa gown with her fabulous red hair worn in a flowing, back-braided updo created by celebrity stylist Laini Reeves.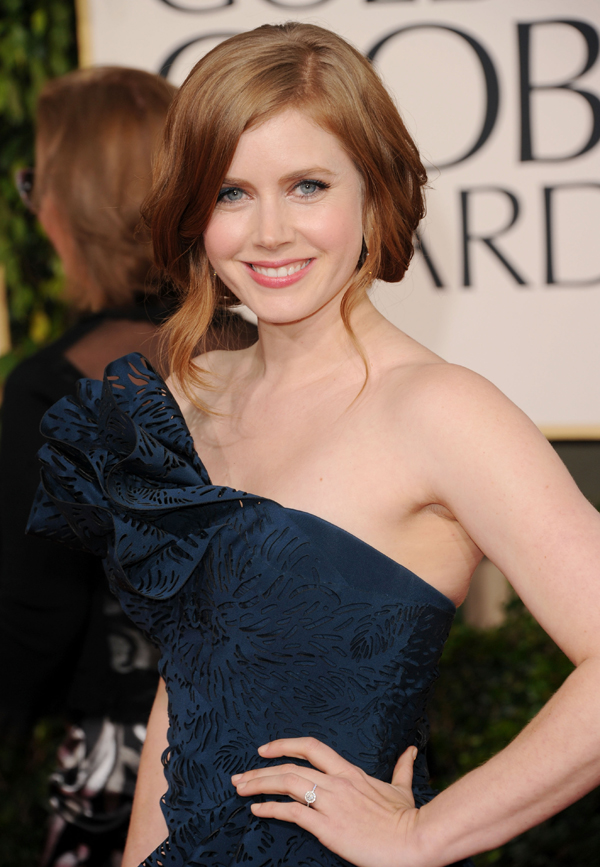 Laini Reeves explains how the look was styled:
"I wanted to create a soft 20's mood, but in a different, modern way. We started by changing the texture of her hair before we went on to loosely braid and roll the chignon. Amy has a beautiful, full and thick head of hair and a nice, natural wave. We started by washing her hairwith Moroccanoil® Moisture Repair Shampoo which infuses the hairwith argan oil, keratins, fatty acids, and proteins. Combined with Moroccanoil® Moisture Repair Conditioner, it immediately controlled the hair and left itsmoother, frizz free and easy to manage and style.
November 1, 2010, New York, NY. Christina Ricci wears a cropped Marchesa bolero jacket with wire crin skirt to the 2010 Library Lions Benefit. Do you love?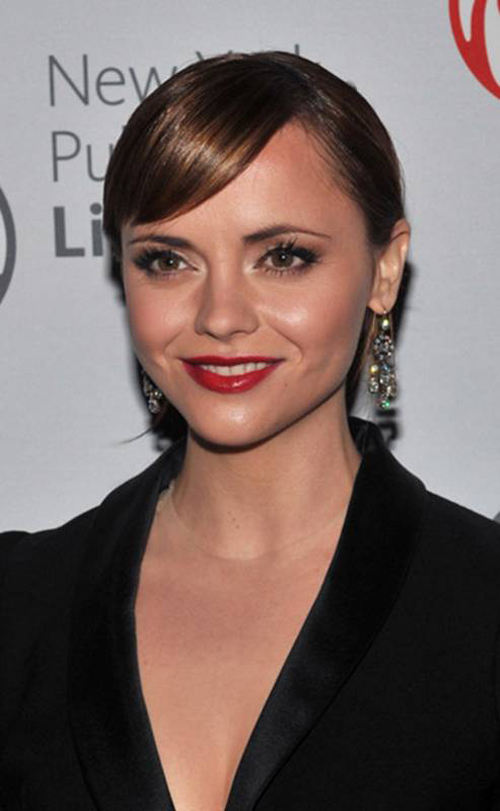 See Christina Ricci's complete red carpet look here:
November 1, 2010, Hollywood, California. Kelly Osbourne wears a Marchesa dress to the "Dancing With The Stars" 200th Episode. Kelly wears a lace appliqued sheath dress with chiffon drape overlay. Do you love?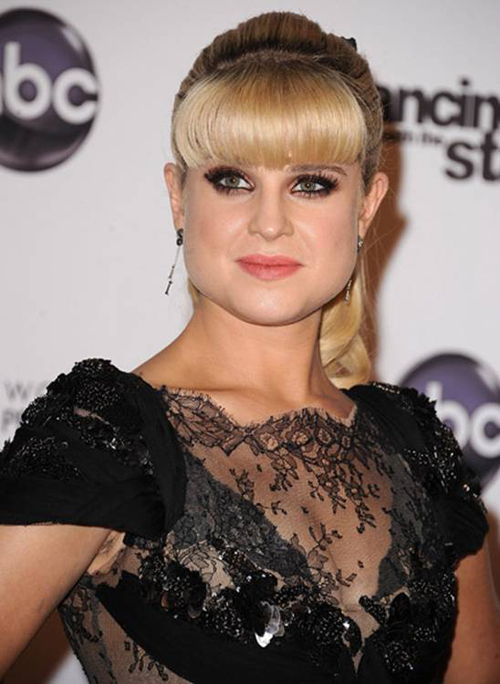 See Kelly Osbourne's Marchesa dress in full here:
New York Fashion Week SS 2011. Designer: Marchesa. The hairstyle by Renato Campora, lead stylist for Frédéric Fekkai.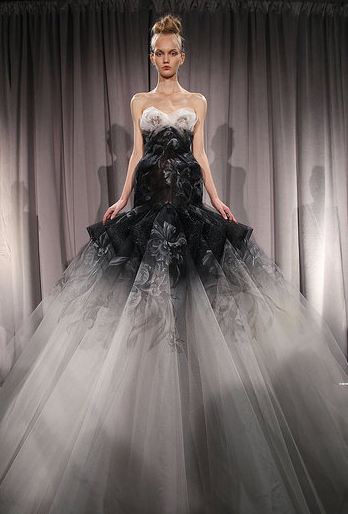 Renato Campora, lead stylist for Frédéric Fekkai, created a modernized rockabilly style for this seasons' Marchesa presentation. Campora applied the Fekkai Essential Shea Tame & Style Pot de Crème to the hair.
Nicole Scherzinger beautiful in Notte by MARCHESA.
Nicole Scherzinger wears a MARCHESA strapless black pleated dress to the Audi Celebrates The 2010 Emmy Awards Event, August 23rd, 2010. Do you love?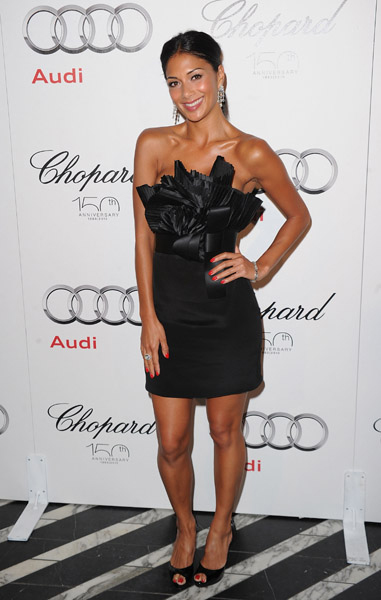 Frédéric Fekkai and Marchesa are excited to take you from New York chic to Hollywood glam at Henri Bendel.

Frédéric Fekkai Fifth Avenue Salon at Henri Bendel will present an interactive red carpet experience open to Fashion's Night Out revelers. New York Fashionistas will become the celebrity selecting from five award-winning Marchesa moments. The uber-talented Fekkai hair and make-up team will re-create these signature styles while your personal dresser waits to outfit and accessorize you in a glamorous Marchesa dress, House of Lavande jewelry and Christian Louboutin shoes. Finally, The City star and fashionista, Olivia Palermo, will be on the red carpet styling and instructing guests how to pose like a star in front of the cameras before having the paparazzi capture their Hollywood moment.
Anna Kendrick looked fabulous in MARCHESA at the Twilight Eclipse Premiere in Los Angeles, CA, June 24th, 2010. Anna wears a gold pleated fan cocktail dress. Do you love?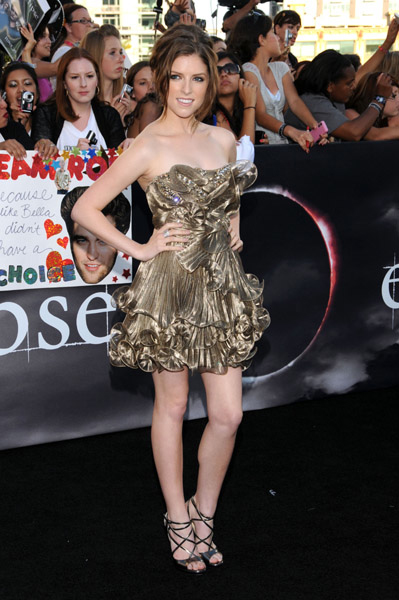 Nikki Reed stuns in MARCHESA Twilight Eclipse Premiere in Los Angeles, CA June 24th, 2010. Nikki wears an embroidered sky chiffon dress with feather skirt and shoulder detail. Do you love?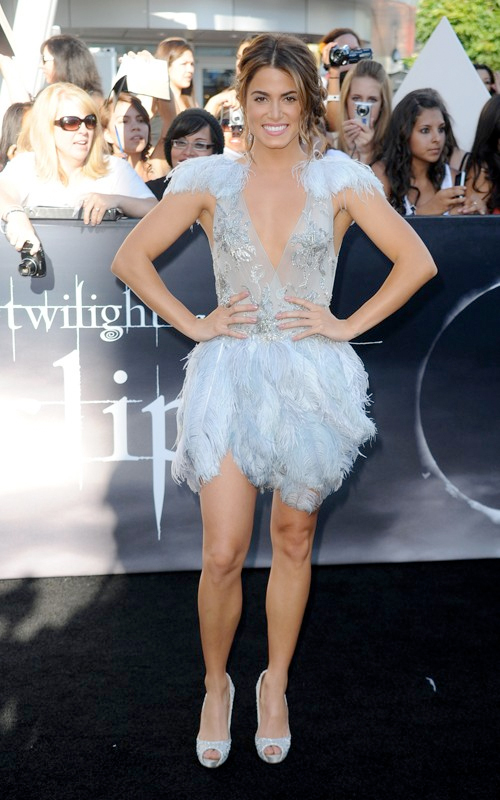 Kristen Stewart stuns in a Marchesa dress to the Italian Eclipse Premiere in Rome today, June 17, 2010. Kristen wears a black strapless embroidered dress with sculpted satin detail.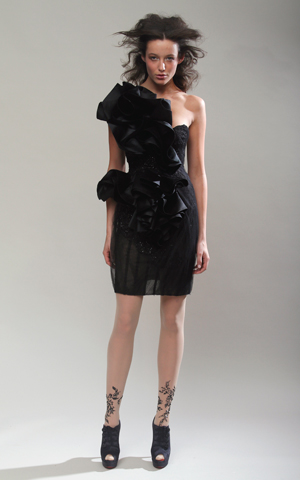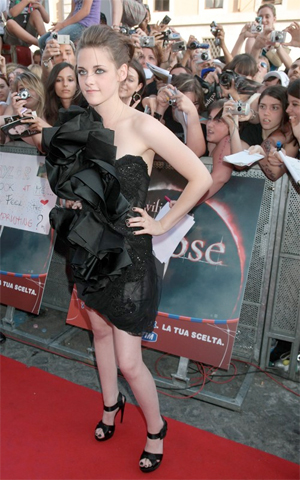 L to R: a black Marchesa strapless embroidered dress with sculpted satin detail on model. Kristen Stewart in the same Marchesa dress at the Italian Eclipse Premiere (click images to enlarge)
Marchesa was co-founded by Georgina Chapman and Keren Craig, the company's namesake and muse is the noted eccentric European style icon Marchesa Luisa Casati. The collection, designed by Georgina Chapman, is available in the United States at Bergdorf Goodman, Neiman Marcus, Saks Fifth Avenue and specialty stores nationwide. Internationally it can be found at Harrods in London, Holt Renfrew in Canada, Joyce in Hong Kong, Alothman in Kuwait and other prestigious stores worldwide.