All Posts Tagged With: "Amy Adams"
Get the Look: Amy Adams at the 2013 Critics Choice Awards.
Makeup by Stephen Sollitto. "I wanted to make Amy look simple yet polished for her first of many red carpets this season. First I used Tarte Amazonian Clay Foundation in light on her skin and one shade lighter (Fair) for under her eyes. This foundation has an easy applicable texture to it. It also makes the skin look beautifully creamy.
Amy Adams' Makeup Oscars 2011 by NARS.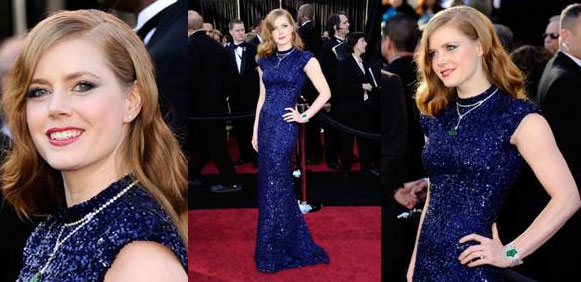 NEW NARS VELVET GLOSS LIP PENCIL USED ON NOMINEE AMY ADAMS AT THE ACADEMY AWARDS
The Fighter's Amy Adams, nominated for Best Supporting Actress, stepped out on the red carpet with bold lips and blue-hued eyes. Her look was "old Hollywood disco," says makeup artist Molly Stern who noted the nominee left the room "radiating!"
NARS products that Molly used in creating Amy's look:
Marta Walsh has just received the details on Amy Adams' Lancôme makeup look created by her makeup artist Molly Stern.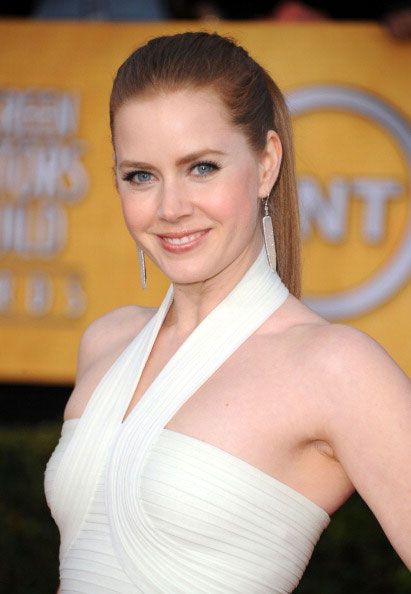 Celebrity makeup artist Molly Stern made up Amy Adams to look modern and ethereal, as if she were a "monument to sea goddesses." Molly accomplished this for the star of "The Fighter" with luminous eyes and glistening lips.
FREDERIC FEKKAI CELEBRITY STYLIST ADIR ABERGEL CREATED A SLEEK AND MODERN STYLE FOR NOMINEE, AMY ADAMS.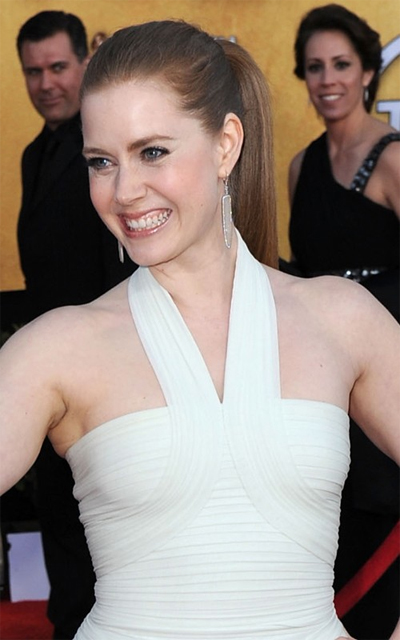 INSPIRATION: 
The dress was a statement on its own so Abergel wanted to accentuate the dress; this look is a sleek statuesque do with a modern twist
HOW TO GET THE LOOK:
Abergel applied Fekkai Coiff™ Contrôle Ironless Straightening Balm from the roots to the end of the hair and sprayed Fekkai Coiff™ Bouffant Lifting & Texturizing Spray Gel at the hair line to achieve the sleek 'do.
2011 Golden Globes nominee for Best Performance by an Actress in a Supporting Role in a Feature Film, Amy Adams, looked radiant as she wore a gorgeous strapless Marchesa gown with her fabulous red hair worn in a flowing, back-braided updo created by celebrity stylist Laini Reeves.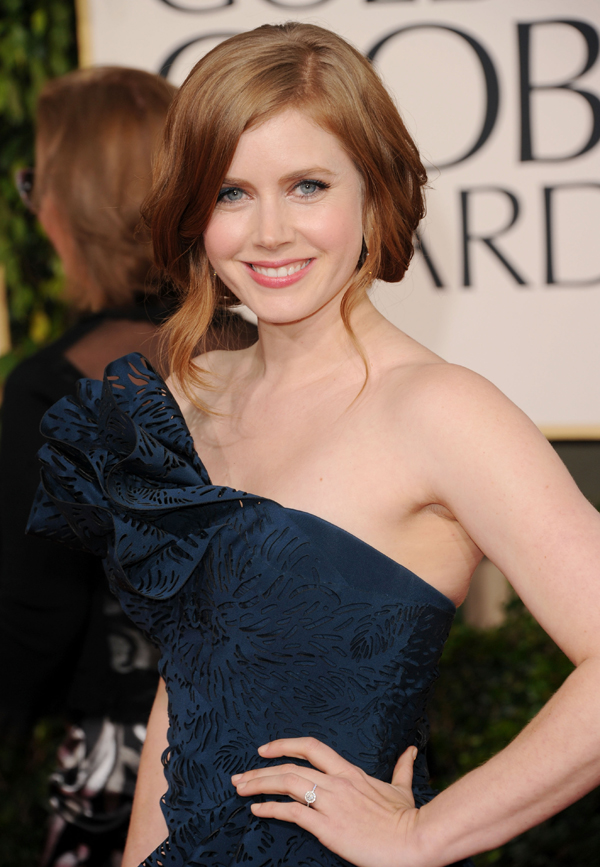 Laini Reeves explains how the look was styled:
"I wanted to create a soft 20's mood, but in a different, modern way. We started by changing the texture of her hair before we went on to loosely braid and roll the chignon. Amy has a beautiful, full and thick head of hair and a nice, natural wave. We started by washing her hairwith Moroccanoil® Moisture Repair Shampoo which infuses the hairwith argan oil, keratins, fatty acids, and proteins. Combined with Moroccanoil® Moisture Repair Conditioner, it immediately controlled the hair and left itsmoother, frizz free and easy to manage and style.
Matrix celebrity stylist Mark Townsend created Amy Adams' beautiful red carpet hairstyles for both the Los Angeles screening and New York premiere of "Julie & Julia."
For the New York premiere of "Julie & Julia," Matrix celebrity hairdresser, Mark Townsend, wanted Amy's hair to be modern and glamorous to match her Carolina Herrera gown. "I've been very inspired lately by hairstyles from the 80s with lots of volume," said Townsend.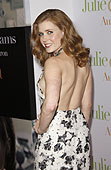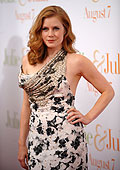 Mark started by spraying Biolage volumatherapie Bodifying Spray Gel into Amy's damp hair…

…and blow dried it with a medium size Spornette Mixed Bristle round brush to get a good deal of volume in her hair. Next, he set her hair with hot rollers, making sure to wrap the hair around the roller from roots to ends to give it a nice wave. Once the hair was cool, he removed the rollers and brushed out her hair with a flat brush, parting it to the side. To add some texture and shine, he sprayed Biolage Shine Endure Spritz into her hair and gave it a scrunch.
Emily Deschanel was seen at last night's ARCONA launch party for Eco-Beautiful, a guide to natural beauty & wellness authored by celebrity makeup artist Lina Hanson. The event took place at Vie Eco Boutique in West Hollywood and featured ARCONA mini facials, as well as eco-friendly makeovers.
Emily Deschanel is an actress, best known for playing Dr. Temperance "Bones" Brennan in the crime drama Bones.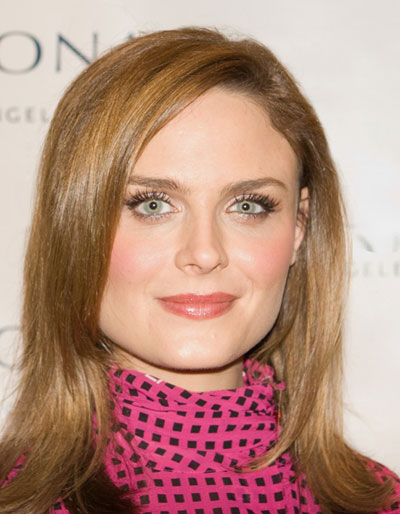 Here is how to get Emily Deschanel's makeup look as seen at last night's ARCONA launch party for Eco-Beautiful:
Emily Deschanel's makeup look was created by Celebrity Makeup Artist Spencer Barnes:
Spencer played up Emily's beautiful sea green eyes with a subtly smoky, yet luminous look. He kept the rest of her face neutral and fresh, with a hint of a raspberry cheek and sheer raspberry shimmer on her lips. The overall look was inspired by Emily's vibrant vintage dress and her beautiful glowing skin.
SKIN: Spencer prepped Emily's skin by first cleansing it with ARCONA's triad pads. He then spritzed ARCONA's Mineral Magic and applied ARCONA's Magic White Ice to hydrate her skin thoroughly.
Sunshine Cleaning, a heartfelt and funny film of complicated family dynamics and life's bizarre twists, released on March 13, 2009, features big hitters Amy Adams, Emily Blunt, Alan Arkin, Steve Zahn and Clifton Collins Jr. Thanks to Sunshine Cleaning hair designer Voni Hinkle who used Redken products on set, everyone's hair style on set lasted all day and was protected from the bright camera lights and hot New Mexico sun for during the all day shoots.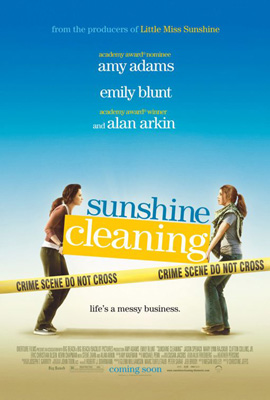 Hinkle styled the looks on-set by prepping both Amy Adams and Emily Blunt's hair with Redken Color Extend Shampoo and Conditioner to protect their haircolor from the fading effects of the lights and the sun.