Emily Deschanel was seen at last night's ARCONA launch party for Eco-Beautiful, a guide to natural beauty & wellness authored by celebrity makeup artist Lina Hanson. The event took place at Vie Eco Boutique in West Hollywood and featured ARCONA mini facials, as well as eco-friendly makeovers.
Emily Deschanel is an actress, best known for playing Dr. Temperance "Bones" Brennan in the crime drama Bones.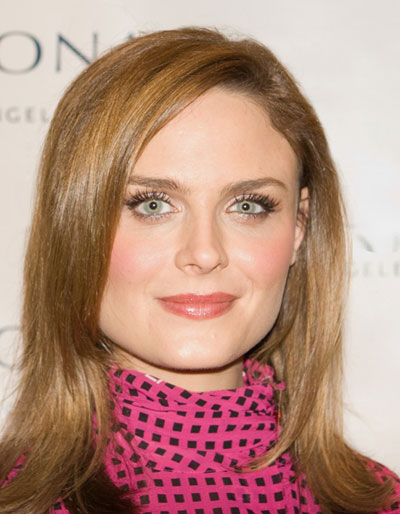 Here is how to get Emily Deschanel's makeup look as seen at last night's ARCONA launch party for Eco-Beautiful:
Emily Deschanel's makeup look was created by Celebrity Makeup Artist Spencer Barnes:
Spencer played up Emily's beautiful sea green eyes with a subtly smoky, yet luminous look. He kept the rest of her face neutral and fresh, with a hint of a raspberry cheek and sheer raspberry shimmer on her lips. The overall look was inspired by Emily's vibrant vintage dress and her beautiful glowing skin.
SKIN: Spencer prepped Emily's skin by first cleansing it with ARCONA's triad pads. He then spritzed ARCONA's Mineral Magic and applied ARCONA's Magic White Ice to hydrate her skin thoroughly.
FOUNDATION: Spencer kept Emily's foundation to a minimum, evening skin tone with Jane Iredale Liquid Minerals in Latte. He set her foundation with ARCONA's Sunsations Mineral Makeup in Almond for a healthy-looking, radiant finish.
UNDEREYE: Spencer dabbed a bit of ARCONA's Peptide Eye Serum to retain moisture. Eyeshadow & Spencer created Emily's subtly smoky eye look by starting with a neutral bronze shimmer (Nvey Eco Organic Eye Shadow 16), topped with Jane Iredale Eye Shadow in Cloud Nine (shimmery lavender) on her lid. He then lined her eyes with Inika Mineral Eyeliner 05 midnight blue, smudging Brown Nvey Eco Organic Cake Eyeliner.

Mascara: For seductively lush and lengthy lashes, Spencer applied Korrres Natural Products black mascara.
Lips: Spencer added a hint of raspberry color with Aveda Sheer Mineral Lip Color in Rhubarb 601.
Makeup artist Spencer Barnes is a rising star in the world of makeup, sought after by celebrities, fashion photographers, and commercial directors. His work has appeared on the pages of Vogue, Elle and Allure and his celebrity clients include Amy Adams, Mila Kunis, Jessica Biel and more.